From the Taiwan Strait to the Pacific Ocean
Text: Steven Crook; Photos: Vision
Taiwan's first railway line, between the cities of Taipei and Keelung, was established in 1891; but round-the-island rail travel wasn't possible for another hundred years. The opening in 1991 of the South Link Line not only made life more convenient for those traveling between the western and eastern halves of the island, but also created a new option for tourists who enjoy scenic rail trips.
Strictly speaking, the South Link Line starts at Fangliao Railway Station in Pingtung County and ends at Taitung Railway Station in Taitung County, but you are more likely to start your west-east railway journey further north than Fangliao.
While there is one train a day that connects Taipei with the city of Taitung via the South Link Line (Chu-Kuang Express; leaving at 6:10am and taking almost 8 hours; NT$929 one way), you are more likely to board the train at Tainan (five departures a day, including two Tze-Chiang services that take 3 hours, 15 minutes; NT$468) or Kaohsiung (17 express trains to Taitung each day; NT$279 to $362 one way; some needing just 2.5 hours).
As I'll make clear later, there are good reasons for getting off the train before Taitung City. But because relatively few trains stop in places like Dawu and Taimali, it's advisable to travel with a timetable in print-out form or on your smartphone.
Linbian
After passing through Kaohsiung's Fengshan District (see Sightseeing in Kaohsiung's FENGSHAN District), trains cross the Gaoping River, one of Taiwan's largest waterways, then stop at Pingtung City before continuing south through Pingtung County. Many trains stop at the town of Linbian, from where it's a short taxi ride to the Dapeng Bay National Scenic Area (www.dbnsa.gov.tw), a great place for water-themed fun, and the harbor town of Donggang, well known for its fresh seafood. Donggang is also the gateway to the small offshore island of Little Liuqiu, also part of the national scenic area.
Fangliao
If you want to spend some time at the next major stop, Fangliao, head to the town's main street for something to eat – the street is close to the station – or turn left as you exit the front of the station and explore the adjacent Fangliao F3 Art District. Artists have been encouraged to make the most of the district's disused warehouses, and within the studios you're sure to find something cute, gorgeous, and/or intriguing.
Fangshan
South of Fangliao, for the next 13km the rail line stays close to the Taiwan Strait. Then, just before Fangshan, it begins to climb and turn inland. Just two eastbound and two northwest-bound trains stop at Fangshan Railway Station (63m above sea level) each day.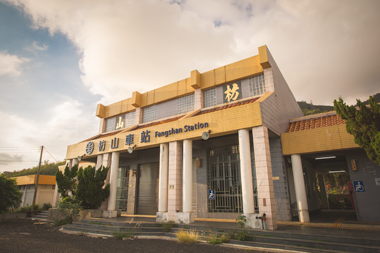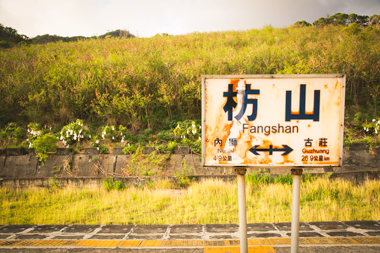 Hardly anyone gets on or off, and there's no reason for you to do so. But as soon as your train starts moving further inland past the station, look to the north. Depending on how much rain has fallen in the past few days, Kayoufeng Waterfall may be a wispy cascade or an impressive torrent. Either way, this 40m-high waterfall is easy to spot, and a good introduction to the views you'll enjoy as the train cuts through the rugged heart of this southern part of the island. Views of orchards, narrow valleys, and boulder-filled riverbeds predominate.
One moment you're flying across a bridge. Next you're entering a gloomy tunnel. There are 158 of the former in the 86.6km between Fangliao and Zhiben. The largest of the 36 tunnels is 8.07km in length, 175m above sea level, and took nearly seven years to build. After the seventeenth tunnel, you'll catch glimpses of the Pacific.
Dawu
After Fangshan, no trains stop until Dawu, 43.8km down the line from Fangliao and the first of four stations on the East Coast at which we'll be looking. Among the attractions here are a short hiking path and a picturesque lake.
Finding the trail isn't difficult. If you walk from the station toward the ocean, you'll hit Provincial Highway 9, the coastal road in these parts. (Note: Highway 9 is the longest numbered route in Taiwan, stretching more than 450km from Taipei, down through the East Rift Valley, and terminating at the small town of Fenggang on the west coast.) Along the highway in Dawu are convenience stores and inexpensive restaurants. Grabbing a bite to eat before proceeding any further is probably a good idea.
Walk south along the highway, cross the bridge over the Dawu River, then veer right and follow Dawu Street for around 400m. When you reach Fu'an Temple, look up the narrow side road on the right side of the temple and you'll spot a broad stairway leading uphill. The building at the top of the stairs is the local Forestry Bureau office. To the right of it, the Dawu Sea View Trail (aka Dawu National Forest Trail) wends its way up through the foliage.
The trail is a 1.1km-long circuit, but if you don't have much time, hiking a mere 400m or so will provide you with excellent views over the sea, the mouth of the Dawu River, and the town. If you're keen to really stretch your legs, continue on to – and perhaps around – Jinlong Lake. It's 1.7km inland from Fu'an Temple, and can be reached via the same road that passes in front of the temple. It's an ideal location for a picnic.
Duoliang/Jinlun
There are two reasons why you may prefer to catch a bus at a stop close to the trail for the next stage of your journey. The first is that getting back to Dawu Railway Station requires a good bit of walking on top of the tramping you've already done. The second is that, moving northward, the next point of interest is Duoliang Railway Station – and no trains stop there! Bus travel isn't nearly as user-friendly as the railway for visitors who neither speak nor read Chinese, so an alternative way of getting to Duoliang will be outlined later in this article.
The appeal of Duoliang is easy to explain: photo opportunities! Visitors position themselves on one of the viewing platforms above the railway tracks and try to catch a passing train, their friends, and the rugged topography in a single image.
Passenger services were suspended in 2006, because nowadays few people live nearby. Population outflow also led to the closure of the elementary school, which is to the north of the station. The classrooms have since been repurposed as carpentry and woodcarving workshops, and the practical and decorative items churned out are sold on-site.
The nearest active station to Duoliang is in Jinlun, 3.6km to the north. In good weather you may be tempted to hike this distance, but I  don't advise it. The coastal highway wasn't built with pedestrians in mind, and the vehicle traffic is sometimes heavy.
In Jinlun, one sightseeing option is to walk a short distance west through the town from Jinlun Railway Station to Kiokai Ni Santo Josef. This is the indigenous Paiwan-tribe name of a landmark called the "Church of St. Joseph" in English. This Roman Catholic house of worship dates from the 1950s, but was thoroughly renovated in 2007. In its current incarnation it presents a beguiling mix of indigenous and Catholic motifs. The images of the Crucifixion, for instance, feature people wearing traditional Paiwan clothing, and emblems of snakes – the tribe's animal totem – appear in many places. Do devote some time to fully appreciating these details.
Directly opposite the church is a scooter-rental business where you can hire a 125cc Vespa-style scooter for half a day (NT$300) or longer. If at least one person in your party holds a locally-issued motorcycle/scooter license, the friendly boss will almost certainly agree to rent you a set of wheels. Having a scooter makes zipping down to Duoliang very easy, if you haven't already been there. It's also a good way to explore the area's back roads. Within 1km of the church are a number of hot-spring facilities where you can soak for an hour or two.
Jinlun also has another attraction, and no vehicle is needed to enjoy it. The beach is less than 200m from the railway station, and though far from being Taiwan's most beautiful strand, it is certainly one of the more dramatic. At both ends, near-vertical hillsides reinforce a strong sense of isolation. High above to the rear, a new Highway 9 section bypasses the town. Beneath the highway, the Forestry Bureau nurtures saplings, creating a woodland that holds soil in place while sequestering carbon.
Taimali
Taimali town is one stop and about 13 minutes north of Jinlun. Jump-on/jump-off day passes aren't available for this section of Taiwan's railway network, so you'll need to swipe your EasyCard or buy a fresh ticket each time you hop on a train. Even so, rail travel is always inexpensive. Dawu to Jinlun is NT$21 to $46 one way; Jinlun to Taimali is NT$16 to $25.
Taimali is busiest in late summer when the area's daylily plantations are at their most spectacular. Tourists don't come merely to see and photograph these flowers. The orange buds are also used as a kind of vegetable. They're delicious when cooked in soup with pork ribs, mixed in with rice vermicelli, or battered and deep-fried.
Taimali Township's No. 1 attraction for young tourists is just north of the station. Yingmu Level Crossing began appearing on tourist maps after fans of Slam Dunk, the anime version of an ultra-popular Japanese sports-themed manga, noticed that (from the inland side) the view across the tracks down to the Pacific resembled that of a scene in the anime series. If your goal is getting good photos of moving trains, walk a little further inland and point your camera at the single-track rail bridge immediately north of the level crossing.
A section of the town's coastline is named Millennium Dawn Memorial Park, in honor of celebrations that were held here as the sun came up on January 1, 2000. That morning, many people gathered to enjoy a concert and witness the first rays of the new millennium. Since then, on any given weekend you can expect to find predawn sightseers here. Taimali is a fitting location to watch our nearest star come over the horizon, as the place name derives from the Paiwan toponym Tjavualji, meaning "village of the sunrise."
Zhiben/Taitung
The two stops north of Taimali are Zhiben and Taitung. The former is one of Taiwan's best-known hot-spring resort towns. The latter is the station for Taitung City, which offers visitors a wide range of accommodation and eating options.
If you think the little settlements along Taiwan's Pacific southeast may be too quiet for you to want to spend significant time exploring, stay in Zhiben or Taitung and day-trip south. Few trains take more than an hour-and-a-quarter to get from Taitung to Dawu.
Indeed, one of Taiwan's tourism advantages is that no one place is very far from anywhere else. At the same time, the density of attractions is so great that a traveler can happily spend an entire weekend exploring just one part of one county – especially a county as beautiful as Taitung.
Also read
Fun at DAPENG BAY and LITTLE LIUQIU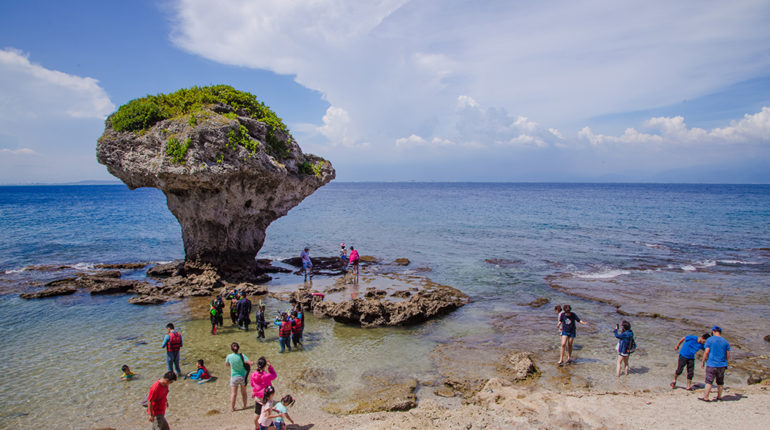 taiwaneverything.cc/2016/09/02/dapeng-bay/
Sun, Sea, and Scenery along TAITUNG'S Coast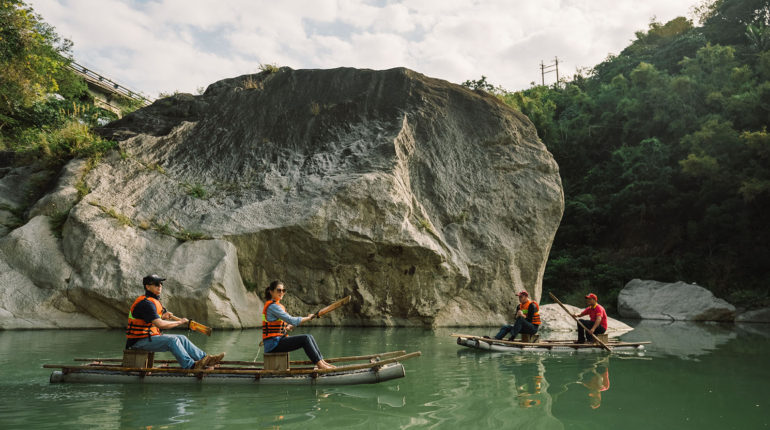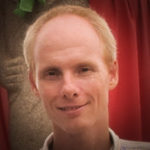 Steven Crook, who grew up in England, first arrived in Taiwan in 1991. Since 1996, he's been writing about Taiwan's natural and cultural attractions for newspapers and magazines, including CNN Traveler Asia-Pacific, Christian Science Monitor, and various inflight magazines. He's the author of four books about the country: Keeping Up With The War God (2001), Dos And Don'ts In Taiwan (2010), Taiwan: The Bradt Travel Guide (2010), and A Culinary History of Taipei: Beyond Pork and Ponlai (2018)
http://crooksteven.blogspot.com
http://bradttaiwan.blogspot.com