Way Up by the Sky in the High Central Mountains, Then Way Down South by the Deep Blue Sea
TEXT / RICK CHARETTE
PHOTOS / VISION, RICK CHARETTE

Let's head out on a virtual sample tour of two of Taiwan's most popular and easily accessible national forest recreation areas, visited back to back.
For this trip, which covered such large and far-flung destinations, we decided to set up a 'dueling writers' scenario, with two of our reporter-travelers heading out with the same group. Check out Twelli's file, ALISHAN and KENTING in One Go, for his take on the trip's myriad different sights and experiences.
I grew up in western Quebec, by the Ottawa River looking across at Canada's capital, Ottawa. My stomping grounds, after jumping up over the escarpment that parallels the river in this region, was the magical realm of low mountains, dense forest, and streams, rivers, lakes, and valleys that lie beyond, stretching toward the north. Most all my adult life has been spent with Taiwan as base, and though surrounded by sea and magnificent coastal scenery, it is in places like this island-nation's rich treasure trove of national forest recreation areas that I feel most comfortable.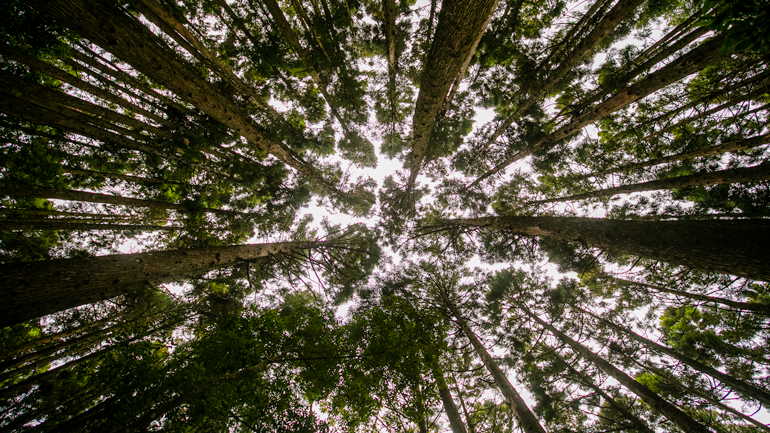 Taiwan may not be big in terms of land mass, but it punches far above its weight in terms of tourism diversity. In terms of its network of national forest recreation areas, which are run by the central government's Forestry Bureau, the variation is striking, taking you from high-mountain forests of soaring cypress and cedar down to thick forest covering upraised-coral hills down by the deep blue sea, from many areas first opened up by the colonizing Japanese (1895-1945) for commercial logging exploitation to areas created by the Japanese for commercial botanical experimentation.
The Forestry Bureau is now in the midst of a major international promotional campaign shining a spotlight on the natural and cultural treasures hidden away within its forest-area wards, entitled HIDDEN Treasure OF ASIA." Everyone is encouraged to "find your treasure in Taiwan" from 0-3,952m. The "0" here refers, of course, to the surface level of the surrounding sea lapping at – or pounding – the island's shores, and the "3,952" is the height of the highest peak in Taiwan, Yushan (Mt. Jade).
There are a total of 18 national forest recreation areas, and 10 that have been identified as being of particular interest to international travelers have been chosen for campaign spotlighting. Special itineraries targeting the overseas visitor have been developed, focused on a balance of natural, cultural, and exercise experiences.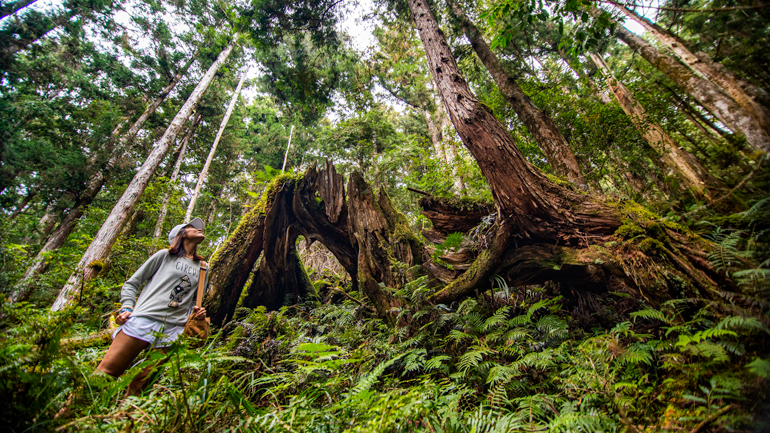 Recently I decided to test out two of the suggested itineraries, because they contain a number of attractions I've not previously experienced – some I'd not even heard of previously. The two highlight destinations are the Alishan National Forest Recreation Area and the Kenting National Forest Recreation Area. Together they provide a wonderful showcase of Taiwan's incredible tourism-experience variation. The first is up above 2,000m in the central mountains, a former logging station surrounded by soaring peaks, in Chiayi County. The second is down by the sea on the southern tip of Taiwan, a former forestry research center, in Pingtung County, in an area best-known for coastside-frolic pursuits such as jet-skiing, banana boating, snorkeling, diving, and beach partying.
Come along with me for a recap. You'll no doubt be soon deciding to head down the same roads yourself.
Alishan National Forest Recreation Area
The Alishan National Forest Recreation Area sits at the heart of a much larger national attraction, the Alishan National Scenic Area. Passage through the forest recreation area's gate, located beside scenic Provincial Highway 18, the well-maintained highway that links the mountain region with Chiayi City far down below, brings you into a busy complex of eateries and retailers primarily selling Alishan-theme goods. There is also a dedicated visitor center here.
From the main area, which is at about 2,200m above sea level, you launch into the latticework of pathways and eco-friendly raised boardwalks further on uphill and downhill. Among the many images of natural beauty that will become part of your album of life memories will be Zhaoping Park's decorative cherry trees (planted throughout Alishan by the Japanese), the laid-to-rest Sacred Tree, estimated at over 3,000 years old and long revered by the area's Tsou tribal people, the Giant Tree Plank Trail, featuring dozens of massive, ancient red cypress trees, the forest-surrounded and interconnected Sisters Ponds, one prettified with two wooden "love pavilions" built on Formosan red cypress bases (said to be named, in one of the various versions of the legend, after two lovely native sisters who long ago drowned themselves to avoid a joint forced marriage to an evil chieftain), and the fantasy-like Three-Generations Tree, which has one tree growing from the dead trunk of another, which originally grew from the dead trunk of a third, that one 1,500 years old.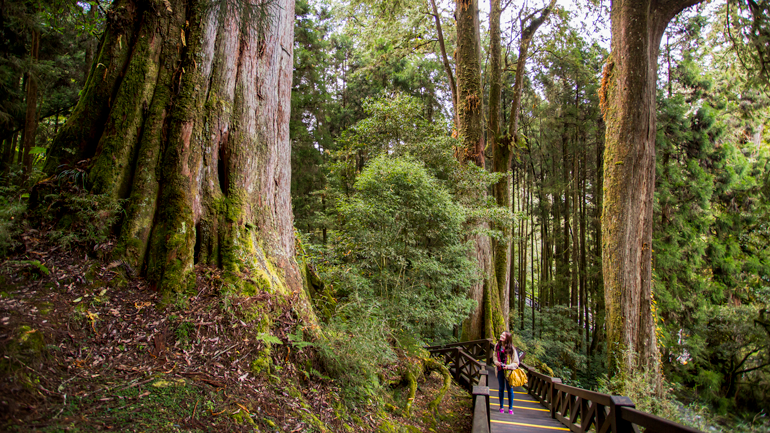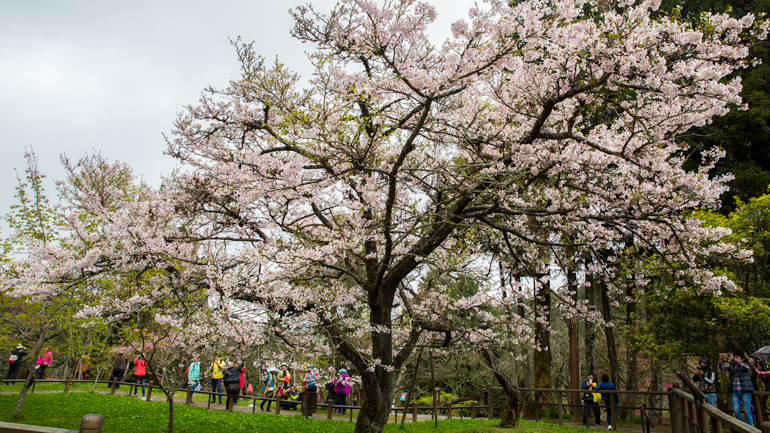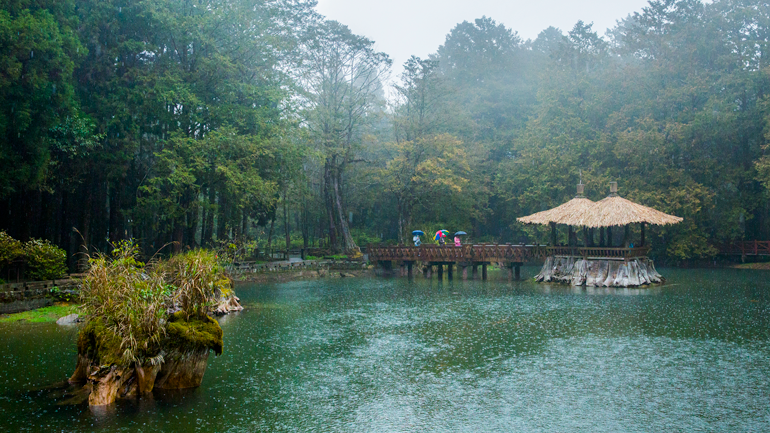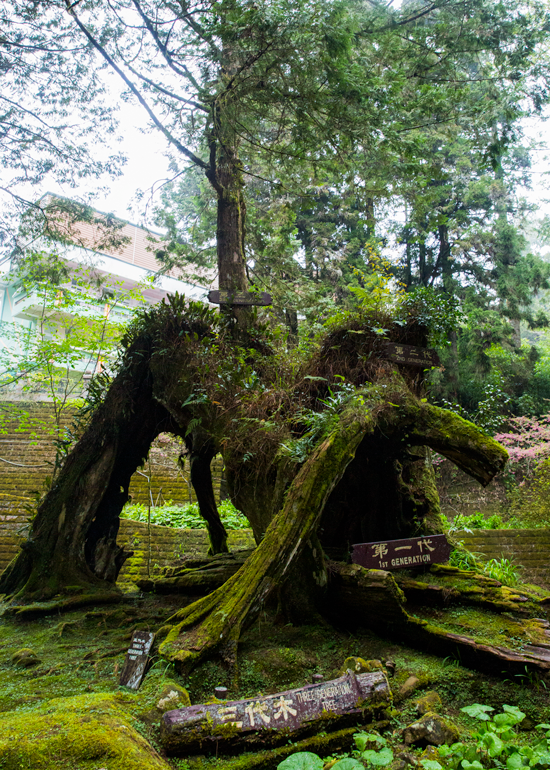 Tip: Be sure to wear sturdy walking shoes with good grips, for the rain and frequent thick mists can leave the trails slick. Bring an umbrella or rain gear as well.
There are short runs on the famous Alishan Forest Railway from Alishan Station, up behind the food and retail complex, to Zhaoping Station and the trail to the Sacred Tree and, in the early morn, up higher on the mountain for Alishan's famous sunrises on what is called the Zhushan Sunrise Train. The best of the lookout points is the Mt. Ogasawara Viewing Lot (also called the Xiaoliyuanshan Lookout), about a 25-minute walk modestly uphill from the station where the train stops. This location gives you an unobstructed view in all directions, from whence you can take peaks along all three of Taiwan's major ranges – Central Mountain Range, Yushan Mountain Range, and Alishan Mountain Range. The sun bursts forth in glory over the 11 peaks of mighty Yushan.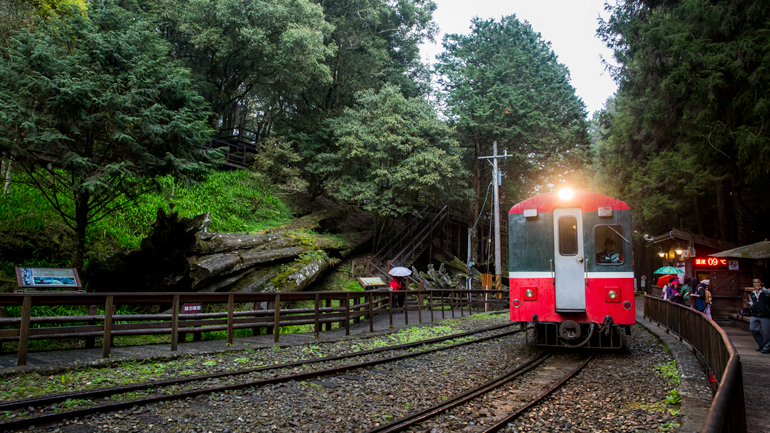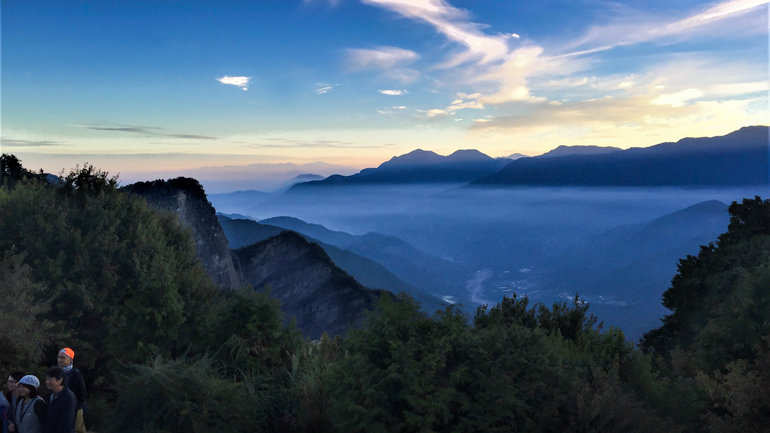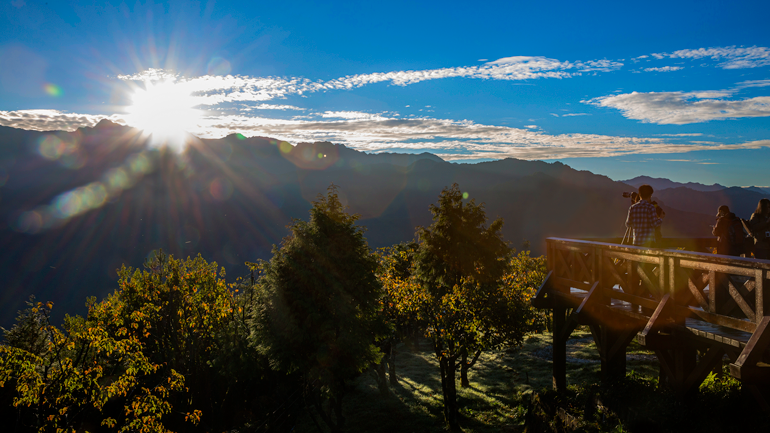 Tip: After the big event and the dispersal of fellow sunrise-revelers, walk the short trail around the summit, where you are almost certain to spot some of the lovely resident Mikado and Swinhoe's pheasants, as I did on this journey. Then drop in at Mountain Ali Tea No. 35, a large two-story chalet-style teahouse back down just below the summit that has a breezy forest-surrounded outdoor dining deck, for a spot of tea and perhaps breakfast. The name is the same as the brand of Alishan Oolong and black teas sold, grown on the owner's farm. The food specialty is Alishan produce hotpot, along with such other fresh-from-the-slopes delectable as steamed bamboo shoots and fried mushrooms.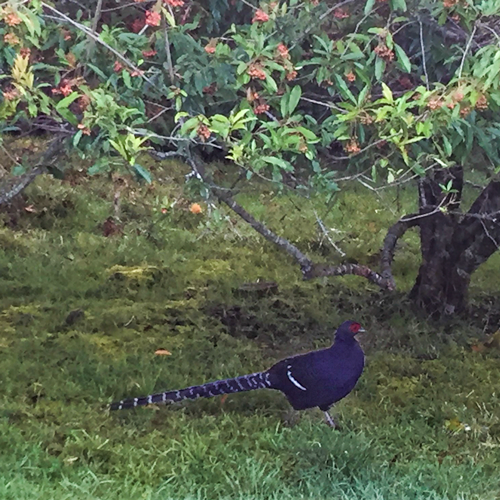 Alishan Forest Railway
Instead of coming up to the Alishan region by highway, many choose the popular Alishan Forest Railway, an iconic tourist attraction. The ride begins at Chiayi Railway Station and currently ends short of the forest recreation area, at Shizilu Station (the remaining section to the recreation area is expected to be reopened in a few years).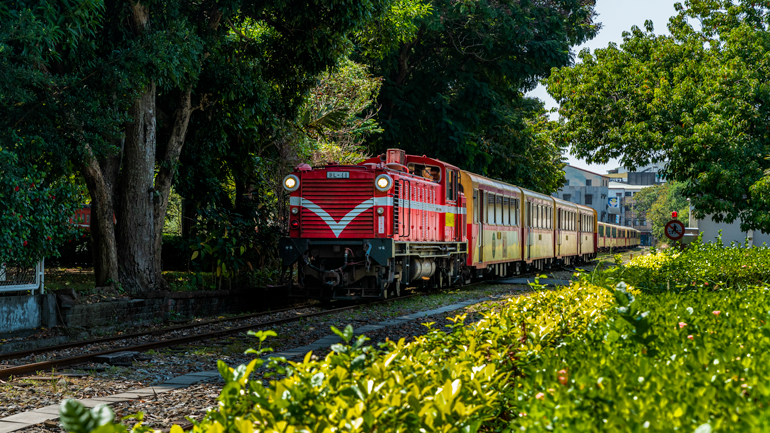 This narrow-gauge line is one of just three steep-gradient alpine railways on the globe. The others are, no surprise, also located in exotic locations off the beaten tracks, in India's Darjeeling and a Chile-Argentina route that traverses the high Andes. The Japanese opened the route in 1912 to bring the precious cypress and cedar down to the plains, and passenger traffic was also handled; beyond native-blazed walking trails, for many decades thereafter there were no other ways up or down. The 71.4-kilometer line, which slices through a total of 49 tunnels and across 77 bridges, runs through subtropical, temperate, and alpine habitats. Period locomotives and carriages are sometimes used to heighten the experience for riders.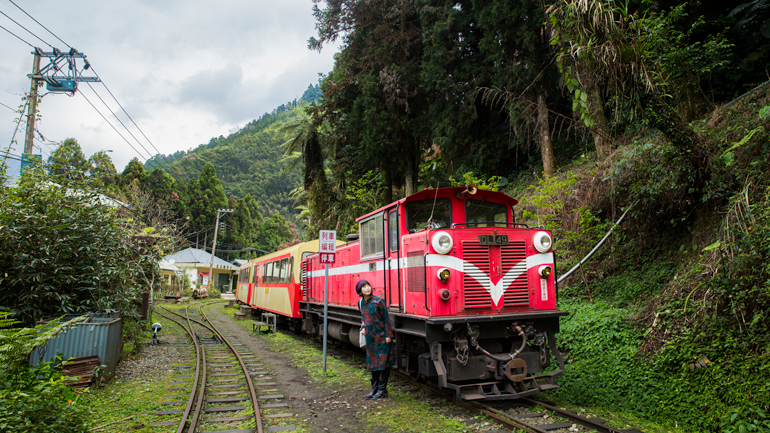 Tip: The forest railway run ends at the hamlet of Shizilu (altitude 1,534m), which sports numerous historical buildings, including former Japanese worker dormitories, along the tracks. "Shizilu" means "crossroads." The hamlet sits on a ridgeline looking down into two deep valleys on either side; the forest recreation area lies ahead, further inland. Two old native trails cross paths here, leading down into the valleys to different Tsou tribe settlements. Today they are popular hiking trails, and invariably you'll see hikers sitting down with a cup of steaming Alishan coffee at the quaint MX Café, by the tracks right where the trails criss-cross. Alishan, long famed for its tea, now also grows high-quality Arabica beans. Café owner Max Wu, a Shizilu native who speaks English, loves to chat with patrons about the area's history and culture.
Chiayi City
Chiayi City, on the western plains, is the usual launch-point for Alishan adventures, via Highway 18 or the forest railway. Not far northeast of Chiayi Railway Station is a triumvirate of intriguing Alishan-related tourist draws, located just steps from each other. The wood-built Japanese-style Beimen Station was the forest railway's original launch-point.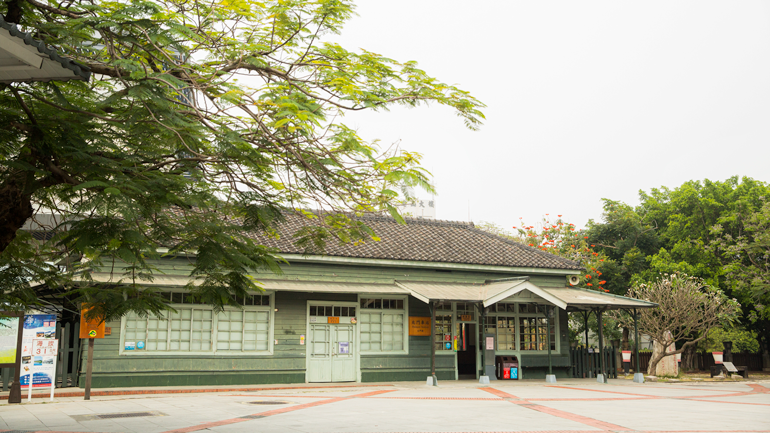 Hinoki Village is a large cluster of renovated Japanese-style dormitories, mainly constructed of Alishan cypress. In days past they housed officials working for the Alishan-region forest authority; today they house chic cultural-creative boutiques and eateries.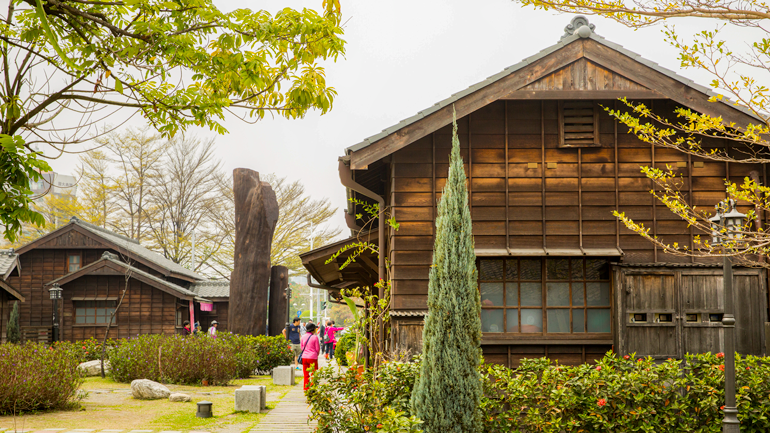 On site is also a lovely clubhouse built for Japanese forestry officials. The Alishan Forest Railway Garage Park contains the former headquarters repair factory, an impressive collection of well-maintained antique U.S., English, German, and Japanese locomotives and other rolling stock.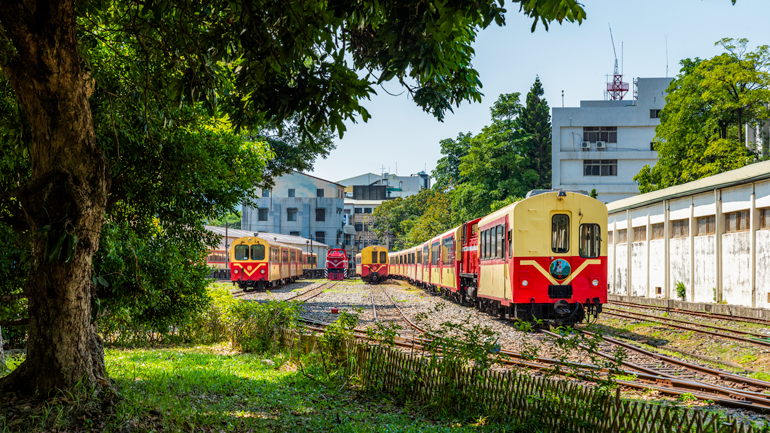 At the nearby Chiayi Lumber Factory you can visit a timber-drying building, turntables, and an archaeological dig in a former timber-processing facility (a Japanese wood-built factory building).
Kenting National Forest Recreation Area
Like its Alishan counterpart, the Kenting National Forest Recreation Area sits at the heart of a much larger national attraction, Kenting National Park. And as with the former, the forest recreation area was established first. Taiwan's central mountains finish their long north-south run at the island's south tip, and the forest recreation area is in the hills just north of coastal Kending (also often spelled "Kenting") town, the area's big party town, around 300m in elevation.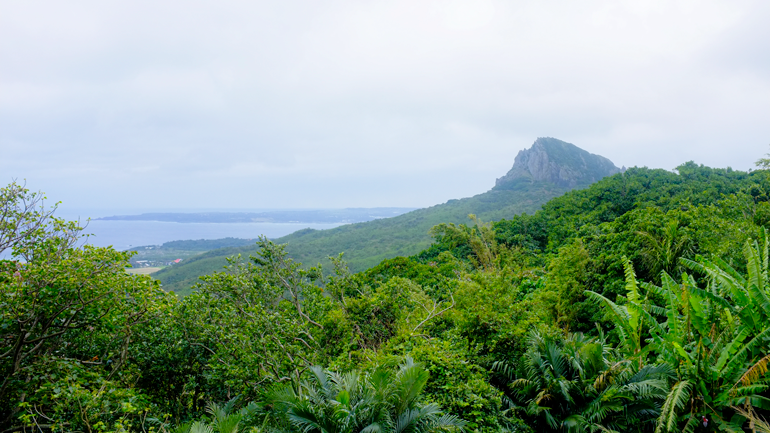 About half a million years back, the area today taken up by the forest recreation area was a kaleidoscopic seabed world of endless coral reefs. Then a colossal upward heave was commenced when two titans, the Eurasian Plate and the Philippine Sea Plate, began a volcanic dispute over territory occupancy that continues today. Over time a thin layer of soil formed over the exposed coral, and eventually a magnificent monsoon rain forest took root, the roots of the giant trees often winding fantastically through the rocky cliffs – notably in the Valley of the Hanging Banyans – joining the stunning plant world of dense mosses, mushrooms, and ferns and the peculiar geo-scape of cliffs, canyons, and limestone caves busy with stalactites, stalagmites, and bats. The most conspicuous animal residents are the many Formosan macaques, and lucky visitors may enjoy cameo appearances by the shy Formosan sika deer, as I did on a recent visit.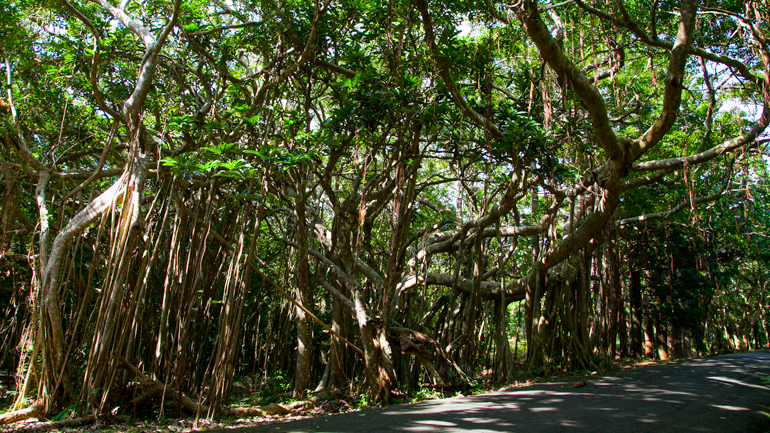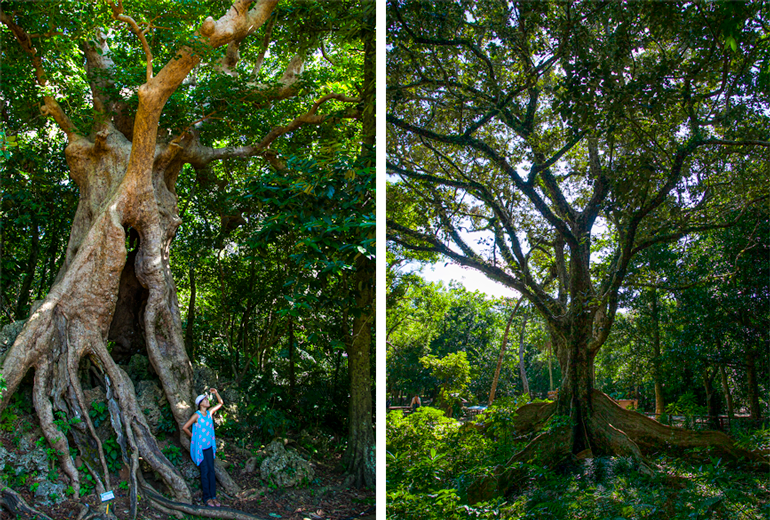 The forest area is divided into two zones. The lower, by the entrance, was originally developed as a forestry research center by the Japanese, who introduced 513 tropical plant species during their tenure. Thus, many of the glorious specimens you'll be looking at are over a century old. The upper area is a rugged original-forest zone teeming with endemic species. It has just a single long, paved path looping through it, and sees fewer visitors. This is the zone that presents you with a stunning cave visit – the 137m-long Fairy Cave.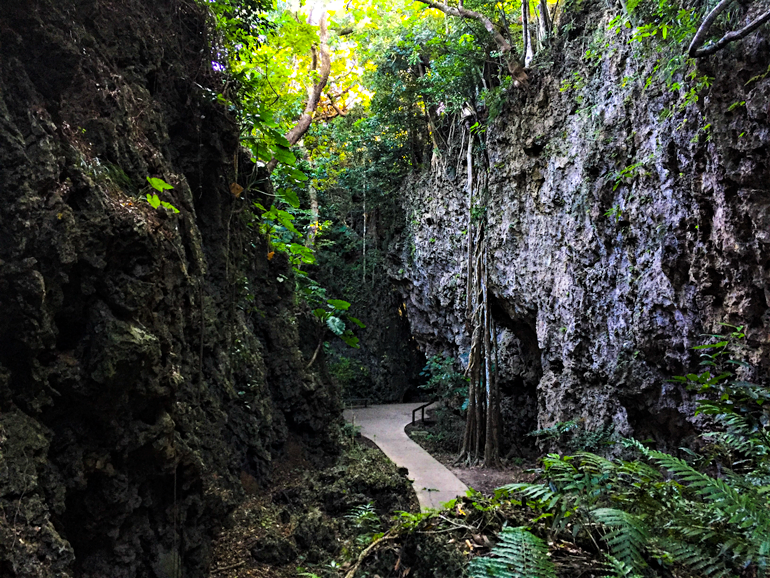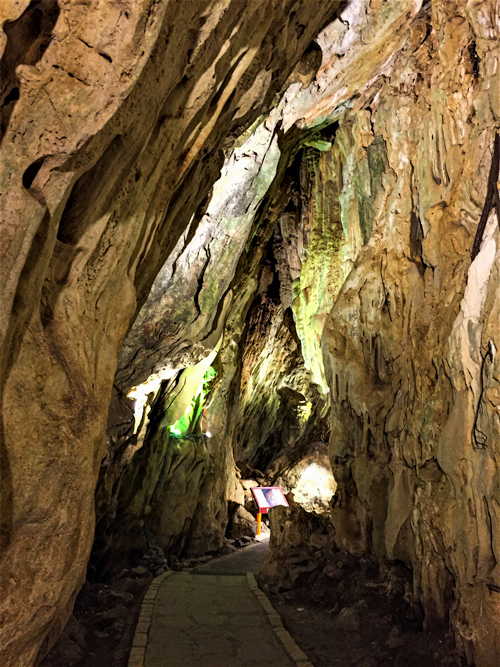 Tip: Sign yourself up for some fun rope tree climbing! This is a newer activity offered in the forest recreation area – you conquer a beautiful century-old autumn maple tree directly behind the visitor center, located in the center of the lower zone. The goal is to facilitate a more intimate experience with tree life, and hopefully birth a lifelong love of these beautiful fellow members of our global bio-community. All equipment is provided, and instructors take you through every step. It's not as strenuous as you might be thinking; the equipment does a lot of the work for you.

Sheding Nature Park
For a stimulating change of pace, view the wild Kenting forest through a wholly different lens with a Sheding Nature Park nighttime guided eco-tour. The park receives fewer visitors than the adjacent forest recreation area, primarily because the latter's paved pathways make for a less rugged experience. Seeking to maintain its pristine state, the only man-made additions in the park's forest are the dirt trails, fitted out with natural materials where necessary and sporting unobtrusive explanatory plaques and boards. As with its neighbor, the park's terrain is raised coral rock.
Years ago the national park administration transferred many certified-guide service responsibilities to the local population, and here the friendly night-tour guides are from the Sheding Community, just outside the park, which promotes ecological conservation. The guides are permitted access to normally off-limits paths, and among other special bonuses, on this trip our group's guides brought us to the remains of a lime kiln. There were many here in imperial times, the exposed coral an excellent source of masonry material. On a past visit my group was also brought to an old charcoal kiln pit.
In Kenting, the night is alive. Other highlights on my recent outing were sleeping late-season golden birdwing butterflies that patiently allowed us to photograph them, as well as the mysterious big headed stick insects, which though being photographed with the use of bright lights were sure their camouflage appearance had prevented their exposure.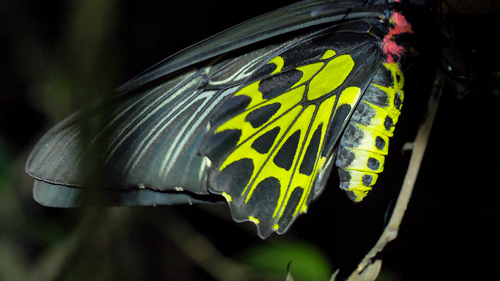 On my past visit I also got to admire a group of about thirty sika deer feeding on a grassy meadow at the park's edge, and I happened to be there while the area's land crabs were making their way in large numbers down to the coast on special missions. A total of thirty species in six families have been recorded in the national park. During that walk a number of pugnacious fellows decided I had hindered their progress along or across the paths, and though not much bigger than the size of my thumb charged my mountain-sized running shoes, clawed arms a'swingin'.
Tip: If you fancy a daytime DIY visit, pick up the invaluable Sheding Nature Park Self-Guidance brochure at the national park visitor center, just outside Kending town along Highway 26.
Houwan Community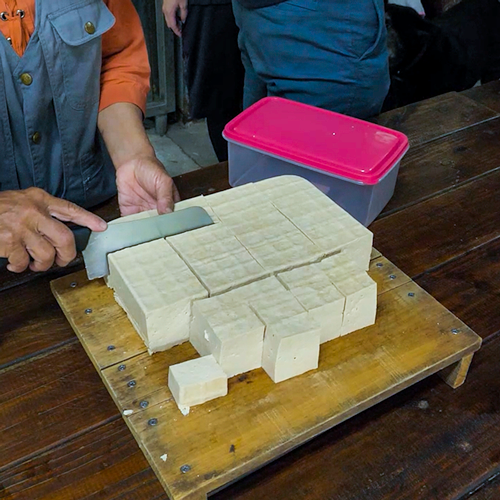 Kenting National Park occupies a good portion of the Hengchun Peninsula. In the peninsula's northwest is the somnolent fishing village of Houwan, spread out along the south side of a lovely half-moon bay. The distinctive National Museum of Marine Biology and Aquarium, a wonderful world-caliber facility that draws raves from international visitors, is located off the north end. Just south of the village, on County Route No. 153, is a rustic old farmstead that is home to the Sister Heimao enterprise, named after the enterprising owner-resident, "Sister Black Cat," who dedicates her days to preserving and promoting the traditions of the Houwan Community. Book your group for an hours-long session learning to make nigari tofu the traditional Houwan way, including employment of a large hand-built brick oven with firewood used. Since imperial times residents have made use of the local coral-reef rock terrain to harvest sea salt and then make bittern to use in the crafting of delicious tofu. Don't eat before your visit – you'll be leaving stuffed after rounds of eating the freshest possible tofu in different variations, including sweet tofu pudding.
Houwan's moon-shaped bay, dotted with upraised coral reefs, is a fine place for kayaking, standup paddle boarding (SUP), and snorkeling, and – lucky you – there is a Houwan Community enterprise, HouwanTour, that handles guided outings for all these awaiting right off the south end of the village's bayside promenade. Look for the large grassy lawn with swing set in the middle and, beside, its cutesy on-site café/eatery, the Me Time "café bus," which is an aquamarine-and-white VW bus with simple chairs and tables alongside. Great sandwiches – featuring Sister Black Cat's tofu!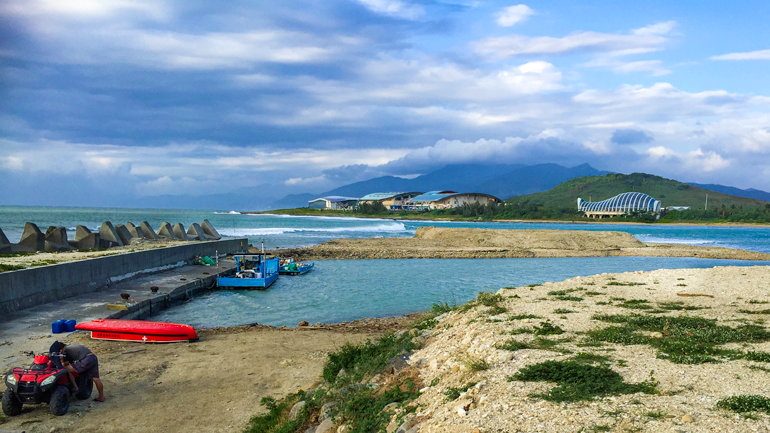 On this trip my group's chosen activity was the kayaking, two people per open-faced kayak. Your instructors help you choose all equipment, provide you with dryland instruction, then head out with you. After an initial foray in calm, shallow waters you are given in-water instruction on what to do if your kayak flips, and on how to kayak-surf the bay's waves, then head out for the big fun of the day, instructors in kayaks once again close at hand. Unfortunately, on this day the winds were quite strong, so we were prevented from experiencing the usual third component, a foray into deeper, open waters. Nevertheless, it was two hours of rip-roaring thrills and, for yours truly a big dump in the drink during the surfing session – the only crew to suffer this humiliating Fail! Oh, the loss of face….
Tip: Over the years, the Hengchun Peninsula's unique tropical terroir has brought minor riches to local folk through the production of onions and tea of distinctive taste, as well as of sisal hemp. These are known as the Three Treasures of Hengchun. Most Taiwan tea is grown at high altitude; the local Gangkou tea (Gangkou is a community on the peninsula's east side) is Taiwan's southernmost tea varietal. Savor the tea and the onions in a variety of dishes (fried onions, fish and other meats with onions, cookies with onions….) at the Blue Sea Restaurant in Hengchun Town, right on Highway 26. This is an international fusion restaurant that specializes in using the onions and the peninsula's seafood catch. Savor the history of the sisal hemp cultivation industry, which thrived in the 20th century before nylon destroyed local fortunes, at the Sisal Industry Historical Exhibition museum beside Longluan Lake.
Getting There & Around
Buses of the Taiwan Tourist Shuttle network travel to Alishan and Kenting from the high-speed rail and regular-railway stations in Chiayi and Zuoying (Kaohsiung), respectively. In Alishan, to get from Shizilu to the forest recreation area, wait for the Alishan route tourist shuttle bus at the bus stop on Highway 18, a short walk downhill from the station. Note that in Kenting many DIY travelers rent scooters to get around, available from quality government-vetted operators in Hengchun and Kending, the two main towns.
For more information, visit these websites:
Hidden Treasure of Asia
Forestry Bureau
Alishan National Scenic Area
Kenting National Park
---
For more stories about these two national forest recreation areas, visit the Hidden Treasure of Asia website. This writer and 9 others went on the same trip and were tasked to write and share their experiences. Apart from this writer also read stories by (links will be provided as soon as the articles are posted online):
Adam Phan The Anh from Vietnam (check out Adam's Youtube channel Thầy Giáo Anh)

Amy Barnes from England (check out Amy's blog Taiwan Trails and Tales)
Flavio Noriega from Peru (follow Flavio on Instagram flavio.noriega)
Francesca Chang from the US (follow Francesca on Instagram attorney_on_a_journey)

Eric Chen and Ian Lee from the US (check out their Youtube channel The Dodo Men)
Raudlah Hawin Ayani from Indonesia (follow Raudlah on Instagram auudaa)
Shiela Mecha Cabahug from the Philippines (follow Shiela on Facebook shilelamc)
Twelli from Germany (check out Twelli on Youtube Taiwaneverything / Twelli in Taiwan)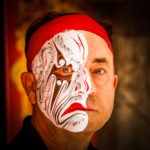 A Canadian, Rick has been resident in Taiwan almost continually since 1988. His book, article, and other writings, on Asian and North American destinations and subjects—encompassing travel, culture, history, business/economics—have been published widely overseas and in Taiwan. He has worked with National Geographic, Michelin, APA Insight Guides, and other Western groups internationally, and with many local publishers and central/city/county government bodies in Taiwan. Rick also handles a wide range of editorial and translation (from Mandarin Chinese) projects.