Three Hill-Country Hakka Neighbors: Zhudong, Beipu, and Nanpu
TEXT / RICK CHARETTE
PHOTOS / CHEN CHENG-KUO, VISION

The hill country of northwest Taiwan is Hakka country. The Hakka are a Han Chinese minority people with a distinctive culture, deep-rooted traditions, and especially close-knit communities. These are often farming communities, and in this article you'll be visiting three old, thriving Hakka settlements in hilly Hsinchu County – two towns and one village – that are close to each other and form a true living museum.
The term "Hakka" means "guest people." Throughout the history of the China mainland and then Taiwan (up to the 20th century), the story of the Hakka has been forced large-scale migration and forced movement from better agricultural lands onto more marginal lands, often in the hills. Before making the leap to Taiwan in large numbers starting in the 1600s, Hakka had settled in concentration in China's southeast Guangdong province and to a lesser degree in adjoining Fujian province, both ruggedly hilly/mountainous.

In this article we're visiting three places located close to each other in Hsinchu County, in the rolling-hill region southeast of fast-expanding Hsinchu City, which sits on the coast. Each developed as a market and supply center for the Hakka farmers pulling wealth from the region's rich farmland, well-supplied with nutritious waters from the mountains in clear view to the east.
Each has its own distinctive charms. As with other Hakka towns and villages around the island, coordinated efforts have been made by locals, in official positions and in a private capacity, to beautify their districts to attract tourists. You'll see by the numbers of tourists meandering the old commercial streets, especially on weekends/holidays, that these endeavors have met with great success.
Zhudong
Far the largest and busiest of our destinations today, Zhudong sits beside the same river that flows past Hsinchu City out to the sea. Just upriver, the broad, fertile valley narrows dramatically and you instantly find yourself in gorge-and-mountain country. "Zhudong" means "east of Hsinchu"; the zhu and chu in the names is the same character, meaning "bamboo," reference to the thick thorny-bamboo walls that once surrounded the city.
This town's heart is Zhudong Market, Taiwan's largest traditional Hakka market, centered on Donglin Road. With a history of over 60 years (during which older, smaller markets were gradually eliminated), it has about 500 sellers and offers a cornucopia of Hakka-specific agri-products and prepared foods. The rest of this article could be filled up naming these, but here are two to specially look for: the unique Hakka preserved vegetables called fucai and a delicious savory dish featuring broad, flat, chewy rice noodles called bantiao.
Incongruously, standing conspicuously among all the colorful vendors and hubbub is a large church, on Donglin Road. You can't miss the Zhudong Catholic Church – on the façade at one end is a large artwork rendering of a dove of peace, on the other a two-story-high depiction of Christ the Savior with arms raised high. The modified Gothic-style facility, built in 1954 by a Spanish Jesuit priest, was the first large church built in the Hsinchu region after the Nationalist government (and many missionaries) evacuated to Taiwan in the 1940s.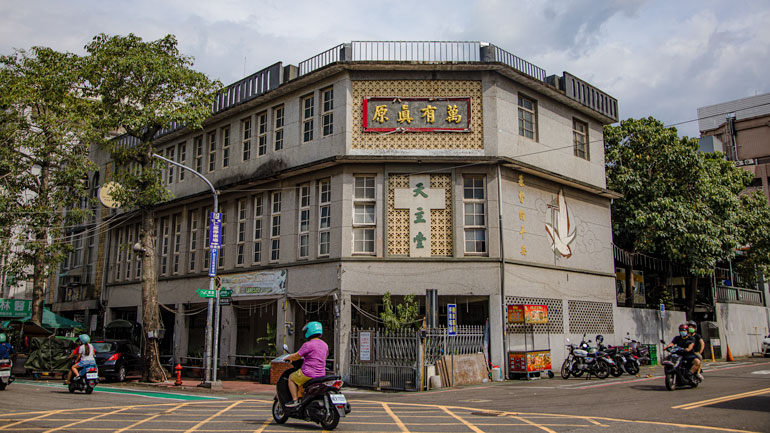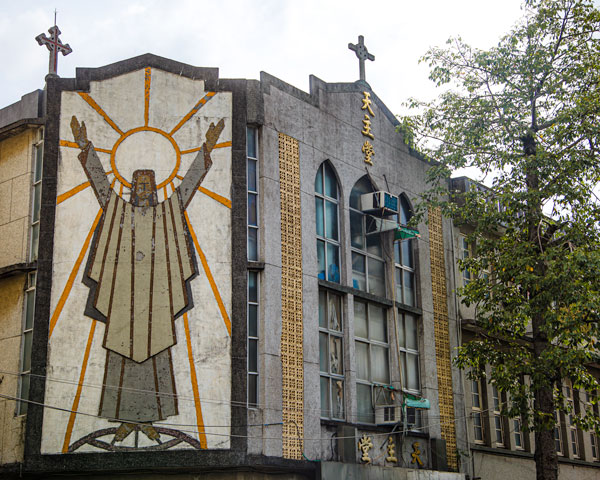 Meilan A-yi
Mitaimu is another Hakka rice-noodle specialty – short noodles, thicker than spaghetti, which have a wonderfully pliant mouthfeel. A few blocks from the market is one of Zhudong's most popular sellers, Meilan A-yi, a cute and cozy eatery with a shopfront adorned with atmospheric farmhouse-style touches such as squat wooden stools, a low wooden bench, and a burlap sack.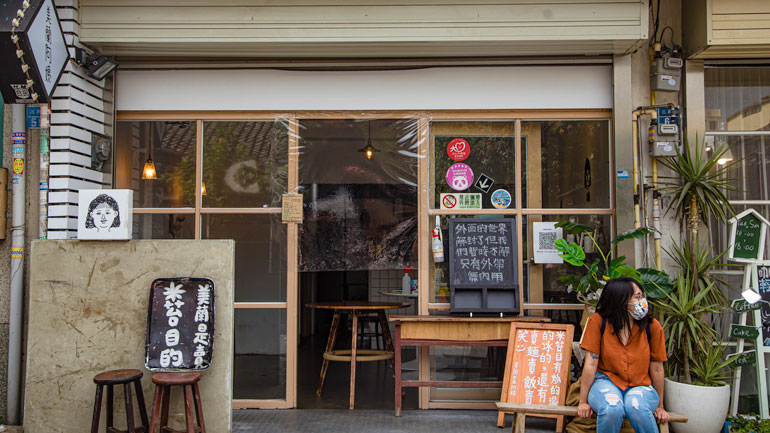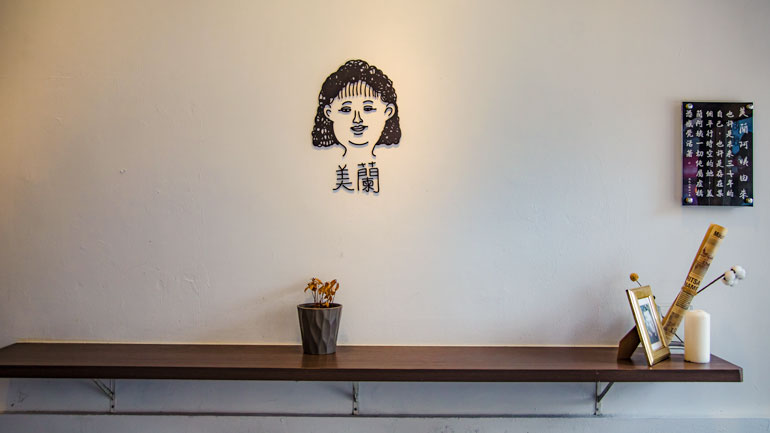 In summer, mitaimu ice is especially popular – a dish of ice, rice noodles, small tapioca balls, mung beans, jelly, and a sweet syrup. A beverage version is also served.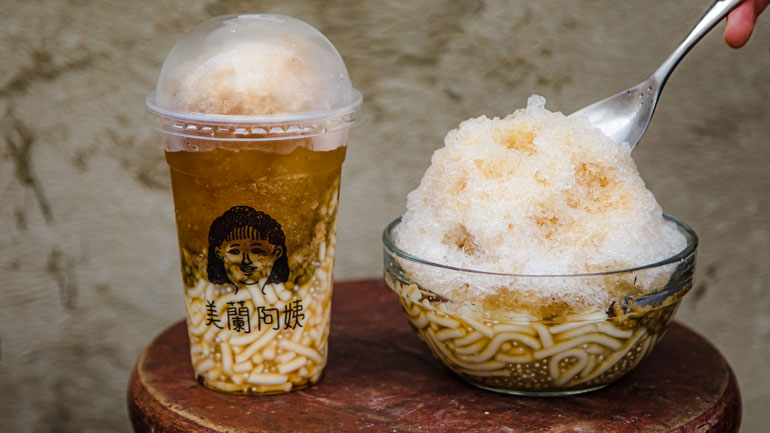 In winter, it's hot stir-fried mitaimu, served with minced pork, chopped spring onion, bean sprout, and a broth that at Meilan A-yi is especially rich, deep, and flavorful, verging on gravy.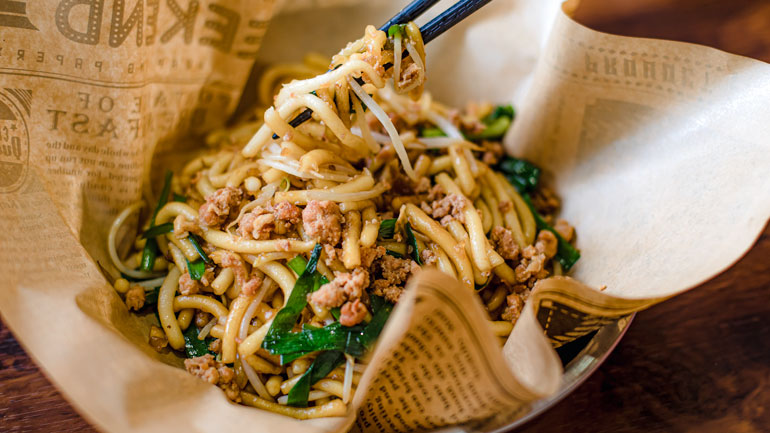 Meilan A-yi
(美蘭阿姨)
Add: No. 59, Sanmin Street, Zhudong Township, Hsinchu County
(新竹縣竹東鎮三民街59號)
Tel: 0936-080-704
Facebook: facebook.com/mmmei595959
Beipu
The town of Beipu is a short drive southwest of Zhudong. Provincial Highway 3 runs through Zhudong, and runs along the west side of Beipu. This old, winding, very scenic route runs primarily through Taiwan's west-side hill country all the way to the deep south.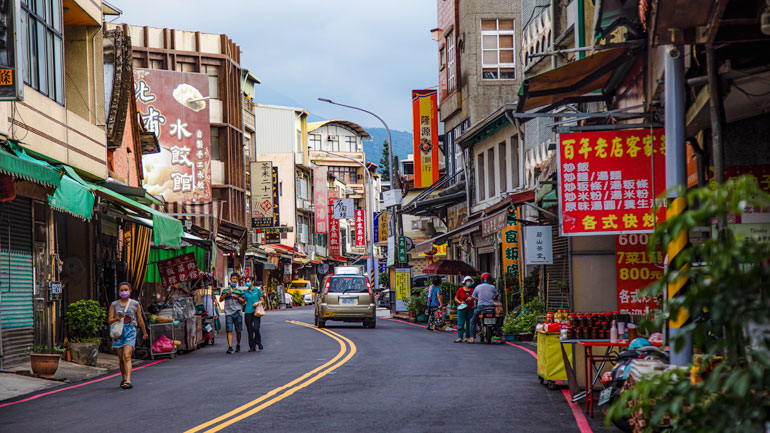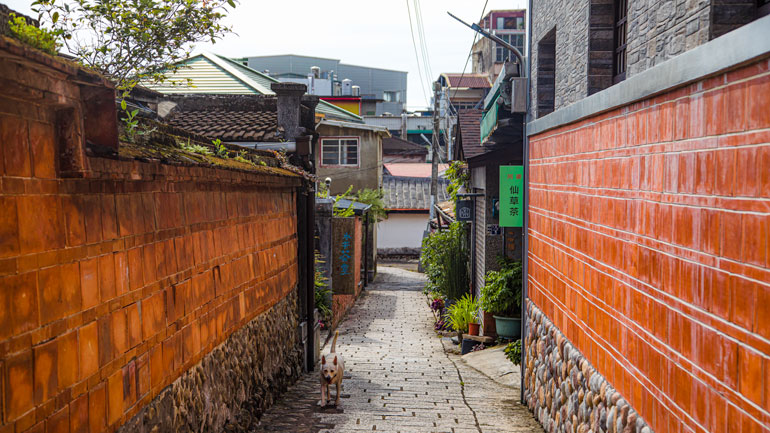 "Beipu" literally means "north flat land." The word pu means "open flat land/plain," usually beside a body of water and developed by settlers. The town sits on a low plateau, with the village of Nanpu or "south flat land" on a low plateau immediately south. Beipu possesses a large number of official national heritage sites and old family-run shops, teahouses, eateries, and other enterprises, especially "on" Beipu Old Street – the term in fact refers to the old commercial district.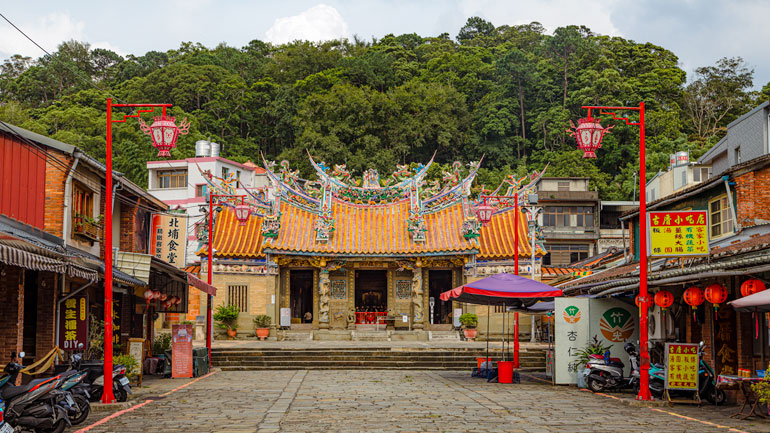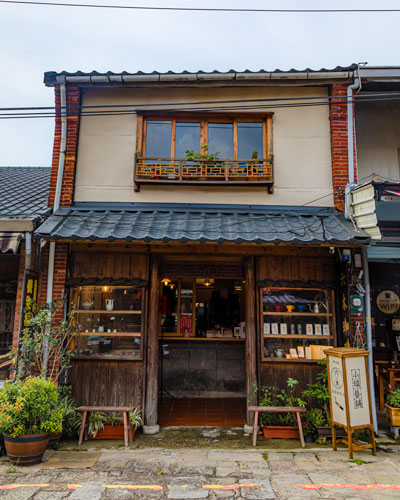 The town and surrounding area are known for a number of agri-products, most notably tea, rice/rice noodles, and dried persimmons. Visit the two-story Guangfu Teahouse, a big and wonderfully rambling old wood-and-red-brick place stuffed with antique and retro treasures that has teas, sweet treats, and hot foods (numerous Hakka-cuisine dishes). The guang and fu in the name refer to the aforementioned ancestral areas of Hakka and Holo Taiwanese pioneers, Guangfu and Fujian provinces.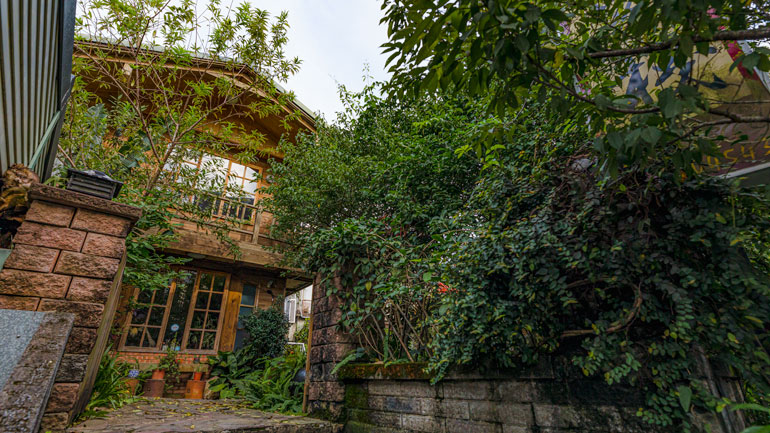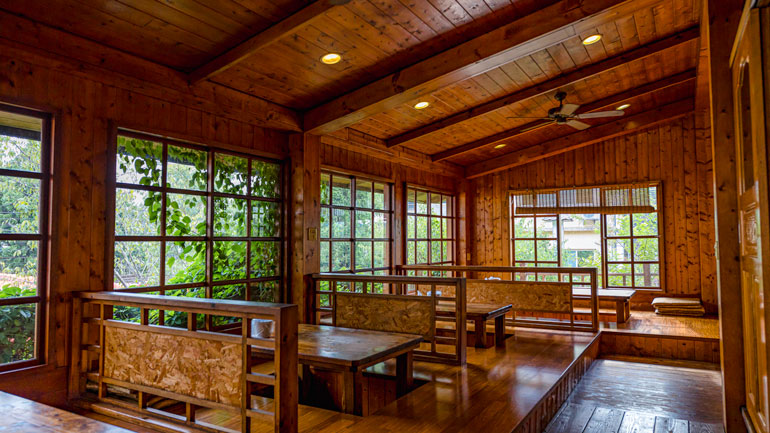 Another special and very popular Guangfu Teahouse offering is a leicha experience, also offered at a number of other Beipu locations, in which you grind your own Hakka leicha or "thunder tea" with a traditional mortar and pestle. The "thunder" refers to the booming sounds the grinding makes. This is not the tea you are used to – de rigeuer ingredients include dried tea leaves and roasted peanuts, sesame seeds, and pumpkin seeds. The end result is very filling, and a great example of the emphasis on hearty nutrition in traditional Hakka fare because of the need for replenishment after heavy manual labor.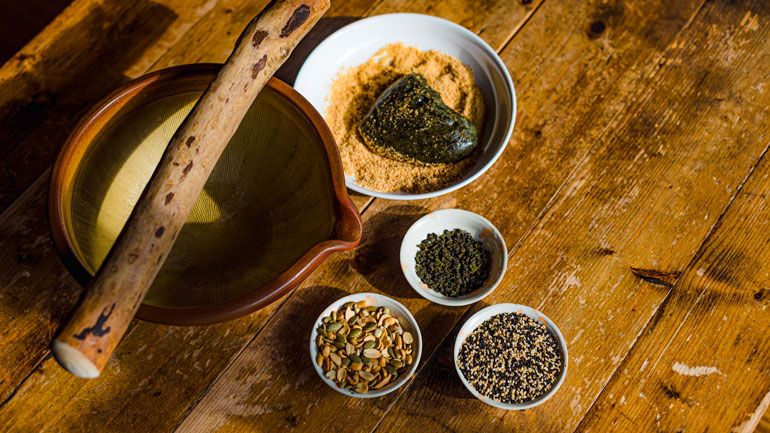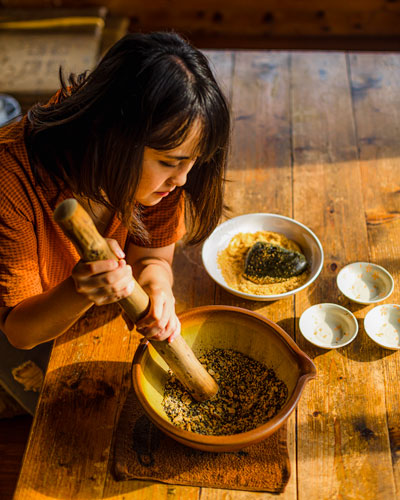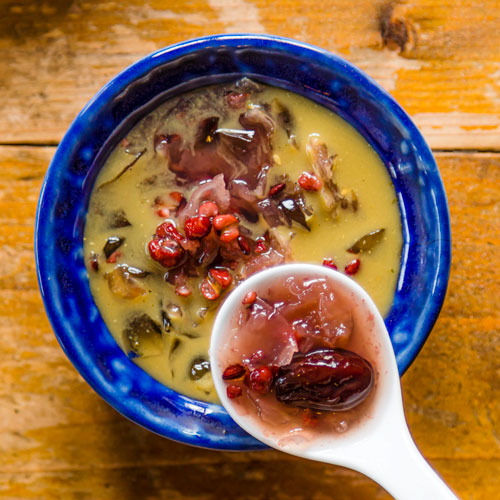 Guangfu Teahouse
(廣福茶坊)
Add: No. 10, Neighborhood 2, Beipu Village, Beipu Township, Hsinchu County
(新竹縣北埔鄉北埔村二鄰10號)
Tel: (03) 580-4543
Lord Jiang's Persimmon Cake
Lord Jiang's Persimmon Cake is one of Beipu's most charming shops. Beipu's winds are perfect for natural drying, and the townsfolk craft sweet, lightly gooey, pleasantly chewy dried persimmons in splendid variety. The shop is enthusiastically liberal in providing samples, and sells attractively packaged gift sets.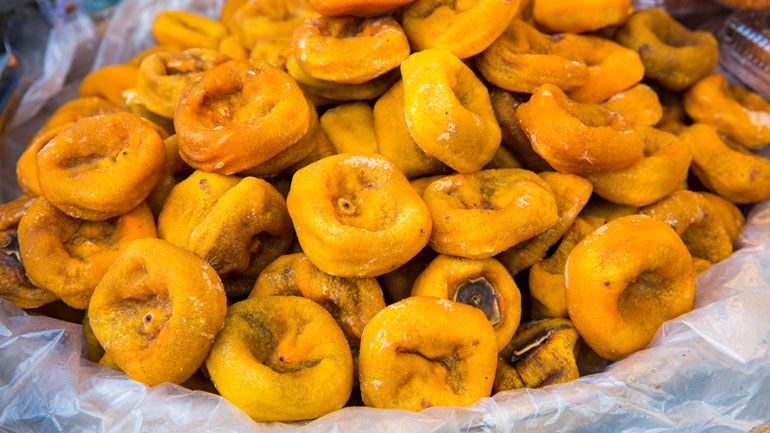 Lord Jiang's Persimmon Cake
(姜太公柿餅)
Add: No. 24 Miaoqian St., Beipu Twp.
(北埔鄉廟前街24號)
Tel: 0954-079-958
facebook.com/lordjiangspersimmoncake.tw
Nanpu
Provincial Highway 3 curves around Nanpu, to its west. Beipu and Nanpu are within close, unobstructed sight of each other, separated by a depression with a stream and irrigation channels running through it. Every inch of this depression has been developed, covered with neatly sculpted rice paddies, fruit orchards, and vegetable plots, providing gorgeous photos with Van Gogh-like colors whenever the varied crops collectively approach harvest time. The effect is heightened by a bright-red steel-girder bridge (Nanpu Bridge) spanning the stream on the narrow road connecting the settlements.
Nanpu is officially a village, but its residences are quite spread out. Locals use the term Nanpu Community. You'll find numerous traditional-architecture residences here, as well as such other country delights as a heritage wooden water wheel (dating to 1845) and wooden clothes-washing pavilions on the irrigation channels.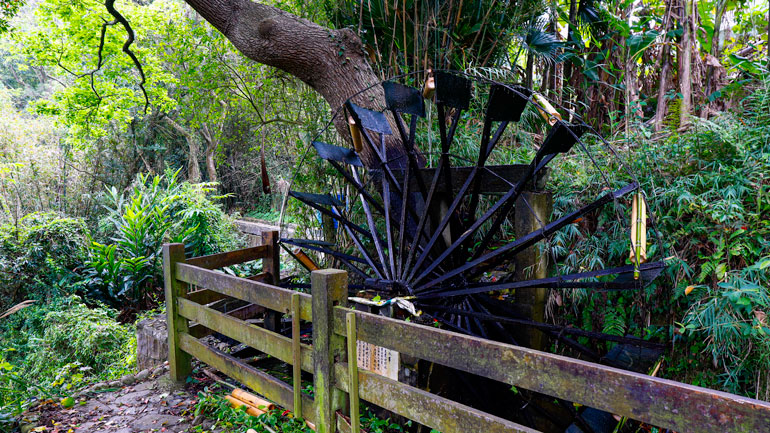 Jinxiu Hall is a century-old Hakka courtyard-style residence that today serves as an exhibition hall filled with homestead and agricultural implements teaching visitors about the traditional way of life in a farming village.
BK Fun Bakery
The BK Fun Bakery is about as rustic as you can get. It's in a well-aged red-brick farmhouse almost hidden away in trees, farm-use paraphernalia all around its entrance area. A large stack of firewood lines the shady entrance path, used inside in the large Roman (also called "black") oven hand-built by the owners. The aromas inside are heavenly. The specialty is eco-friendly dense European-style breads; specially recommended are those featuring Taiwan-theme ingredients, such as longan and pineapple.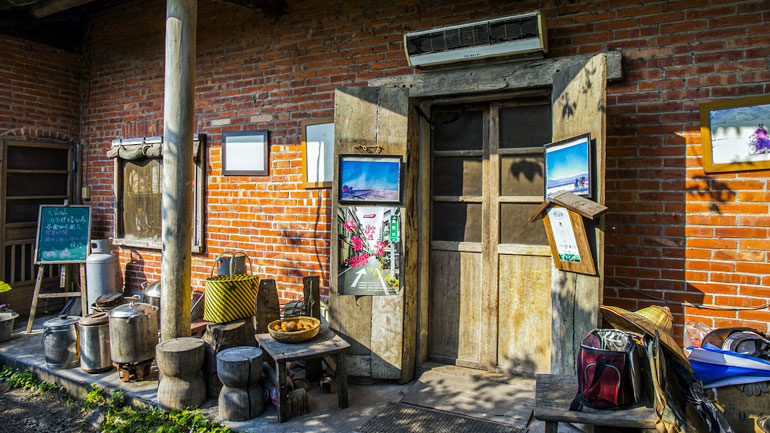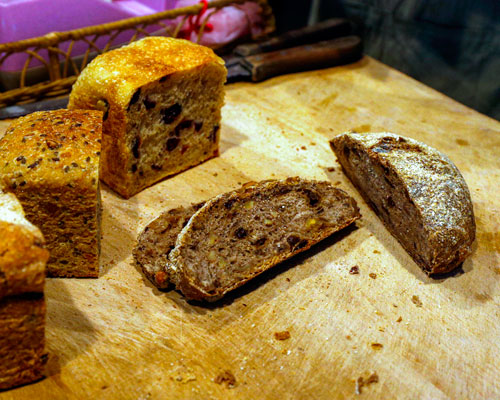 BK Fun Bakery
(BK坊窯烤麵包)
Add: No. 30, Neighborhood 3, Nanpu Village, Beipu Township, Hsinchu County
(新竹縣北埔鄉南埔村3鄰30號)
Tel: 0932-133-564
www.bkfun.com.tw (Chinese)
HuKu PuKu Café
The homey HuKu PuKu café, run by a young local lady, is in a small cabin with a gurgling irrigation channel and wooden water wheel on one side and a landscaped, frog-busy irrigation pond on the other. On the menu are teas, coffees, smoothies, and other beverages, as well as eco-friendly Western-style foods such as homemade brownies, cookies, and cakes. From the café you can enjoy a great view into the aforementioned farm-field-carpeted depression.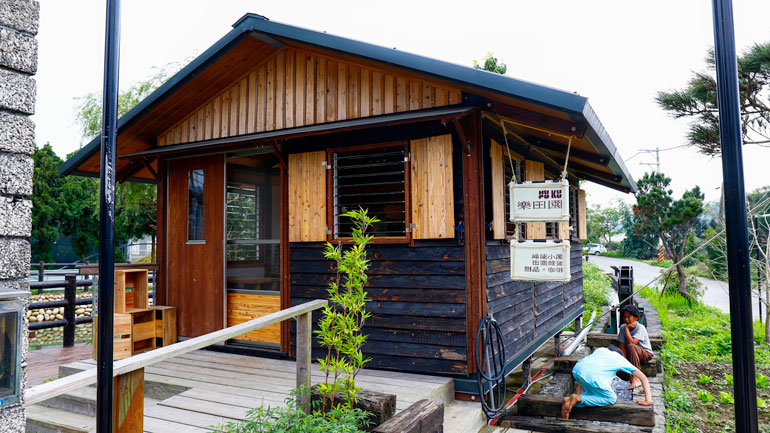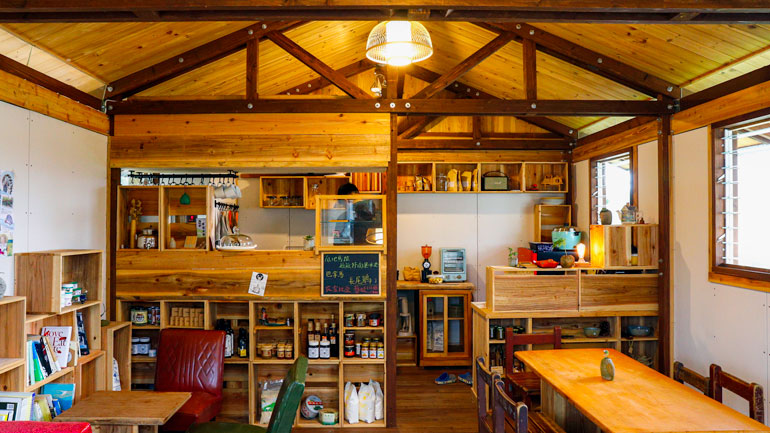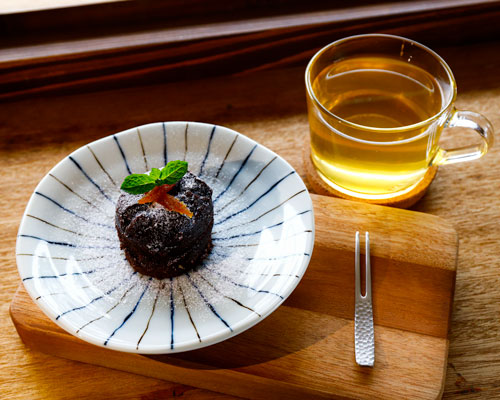 HuKu PuKu
(樂田園)
Add: No. 1-7, Neighborhood 1, Nanpu Village, Beipu Township, Hsinchu County
(新竹縣北埔鄉南埔村1鄰1-7號)
Tel: 0988-986-862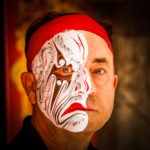 A Canadian, Rick has been resident in Taiwan almost continually since 1988. His book, article, and other writings, on Asian and North American destinations and subjects—encompassing travel, culture, history, business/economics—have been published widely overseas and in Taiwan. He has worked with National Geographic, Michelin, APA Insight Guides, and other Western groups internationally, and with many local publishers and central/city/county government bodies in Taiwan. Rick also handles a wide range of editorial and translation (from Mandarin Chinese) projects.