Fine Tea & Fine Tea Cuisine — Two Healthful Obsessions of the People of Taiwan
Text: Owain Mckimm, Photos: Maggie Song
What is better than a cup of fine tea? A cup of fine tea paired with fine tea-flavored dishes served in an elegantly designed modern teahouse. Good news for tea-loving foodies: There is no shortage of places in Taipei that serve quality tea and delicious tea cuisine!
Fragrant, complex, and flavorful, Taiwanese tea is perhaps the country's most celebrated non-high-tech export. Varieties such as Oriental Beauty Tea, Dongding Oolong Tea, Sun Moon Lake Black Tea, and Dragon Well Tea, to name but a few –all enchant tea drinkers the world over with their rich and varied flavor profiles.
In Taiwan, tea is a national obsession – no street is complete without a tea vendor selling hot and cold tea beverages in take-out plastic cups; no home without a ceremonial tea set, around which visitors are entertained with freshly brewed loose-leaf tea; no restaurant without a complimentary supply of the drink on tap. It's perhaps no surprise, then, that tea, as something so beloved by the Taiwanese, is often combined with another Taiwanese obsession: food.
Whether it's infused into sweets and cakes or used to season some of Taiwan's classic savory dishes, the secret to making good-quality tea cuisine is, naturally, using superior tea. As such, many of the island's finest creators of tea cuisine are also Taiwan's best-known purveyors of tea leaf. With the ability to not only source some of the finest tea in Taiwan but also to control how it's cultivated, it's to these that one should look for a first-rate tea-cuisine experience.
Zenique
Zenique is one such company. A long-standing tea merchant – specializing in premium organic tea – Zenique branched out in 2011 into the café industry, with the aim of taking the art of tea appreciation out of the old-fashioned teahouse and into the modern high-street café. To sample Zenique's unique take on Taiwanese tea desserts, I visit the company's two storefronts in Taipei's renowned foodie district, the Yongkang Street area.
My first stop is the Zenique tea shop on the main Yongkang drag to check out the company's large range of tea leaves, all of which are sourced from a select handful of contract farmers around Nantou County and the city of Taichung in central Taiwan. The store sells both loose-leaf tea and tea bags (made from bio-degradable corn starch), the three main varieties being oolong, black tea, and green tea.
For the uninitiated, green teas are unfermented tea leaves that are simply picked, dried, and packaged; oolong teas are partially fermented, resulting in a yellow or amber brew; while black teas are fully fermented and brew a dark ruby-red. Green teas tend to be light and aromatic; oolong teas have richer flavors; while black teas have the strongest flavors.
To add an extra layer of flavors to their teas, Zenique also blends the aromas of several different flowers with their tea leaves. Osmanthus, jasmine, gardenia, lemongrass – all are added naturally, the buds layered with the tea leaves for thirty hours. As the buds bloom, the scent mingles with that of the tea. The result is a delicate fragrance that, like a fine wine, changes when the tea comes into contact with air. This tea is dynamic, something that you won't find with artificially added flavors, which, while admittedly bolder than Zenique's natural blends, have nothing of their subtlety or complexity.
To sit down and appreciate these teas, however, you have to go to a nearby lane to Zenique's salon de thé, LeSalon, a modern café styled in sleek black and grey with a shock of green ferns punctuating each of its three floors (a far cry from Taipei's more traditional tea shops, with wood-paneled walls often hung with imposing calligraphy, and cluttered with terracotta tea urns).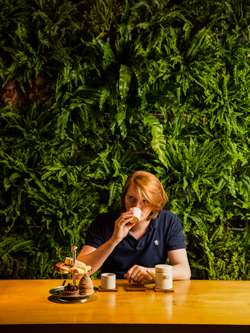 Before diving into the confectionery section, I first sample some of the company's signature teas: the shop's bestseller Gardenia Oolong Tea, cold-brewed, and a hot Traditional Black Tea. In fact, all of Zenique's teas can be cold-brewed (a process which takes 6-8 hours, so that the flavors can infuse), and it's down to the quality of the leaves that this is possible (lower-grade leaves
become bitter over such a long brewing period; Zenique's leaves however, retain their natural freshness throughout the prolonged infusion). The Gardenia Oolong Tea is fresh and light, not astringent like many fermented teas, and a slight hint of jasmine permeates the unfamiliar yet intriguing scent of gardenia. The Traditional Black Tea, on the other hand, packs a bit more of a punch, flavored
with roasted barley and cassia seed, with a lot more body than the Gardenia Oolong – though again, this shouldn't suggest that this tea is in any way overpowering or astringent. The delicacy promised is still present, the flavors still vibrant and crisp.
Finally, I make my way to dessert. I start with some chocolate ice cream infused with black oolong, a simple concoction made solely with powdered yogurt, milk, crushed tea leaves, and chocolate. The clash of the mildly pungent oolong leaves with the bittersweet chocolate is mitigated perfectly by the creaminess of the ice cream; it's a moreish dish, and a flavor combination that I'm intrigued by and eager to try again, perhaps in different form – a desire which brings me to Zenique's line of tea-flavored Swiss rolls. There are eleven flavors altogether, with a new one introduced each season. Today, I try slices flavored with gardenia oolong and another with chocolate and black oolong.
Both the sponge and the cream of these rolls contain crushed tea leaves, imparting the flavors of their respective teas. The sponge in both is very light and loose for a Taiwanese cake (which tends towards the springy and chewy), while the natural bitterness of the tea tones down the cream just enough that you can eat plenty and not feel it's too sickly sweet.
For my next "course" I try a classic French dessert, the Mont Blanc. Tucked inside a mountain of green-tea-flavored cream (decorated on the outside with snaking oolong whip) is a pocket of sweetened chestnuts and a purple oolong pudding, all set atop a dense biscuit base. Packed with so many tea elements, it's no surprise that the dessert has flavors that are much bolder than those of the previous confections sampled. It's also incredibly rich, and would best be paired with a refreshing green tea, its grassy freshness doing a lot to cut through the sweetness of the cream.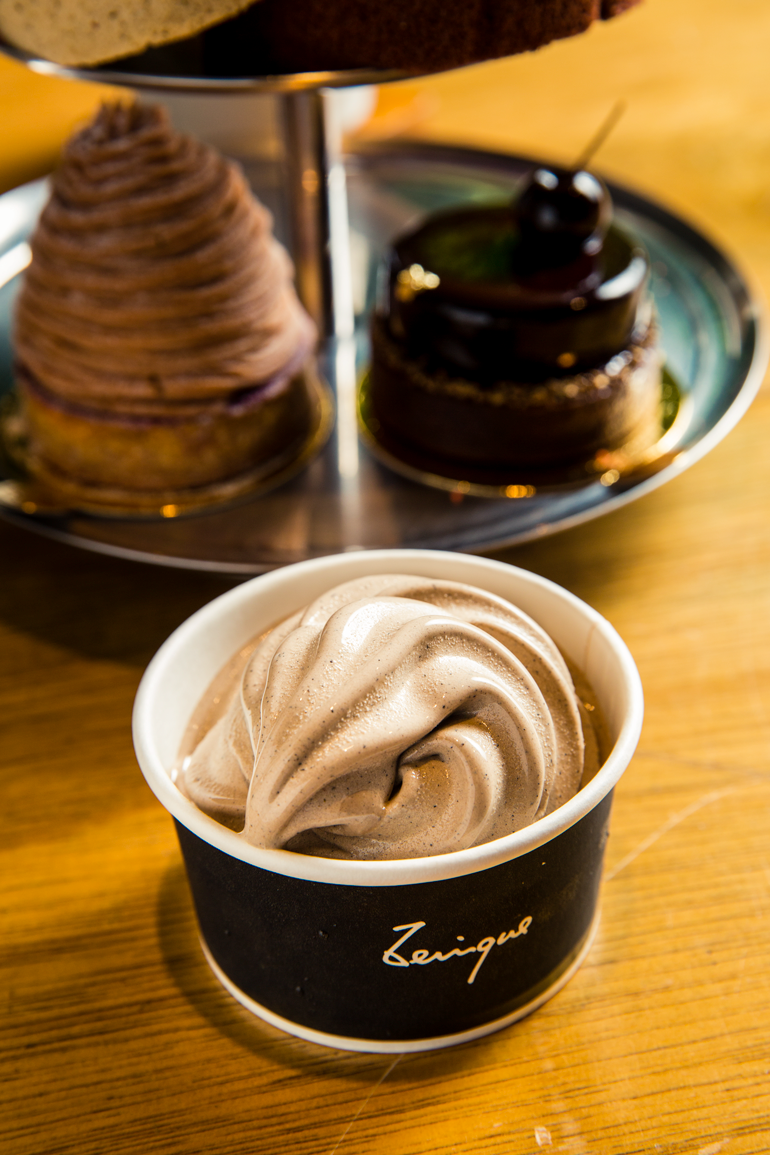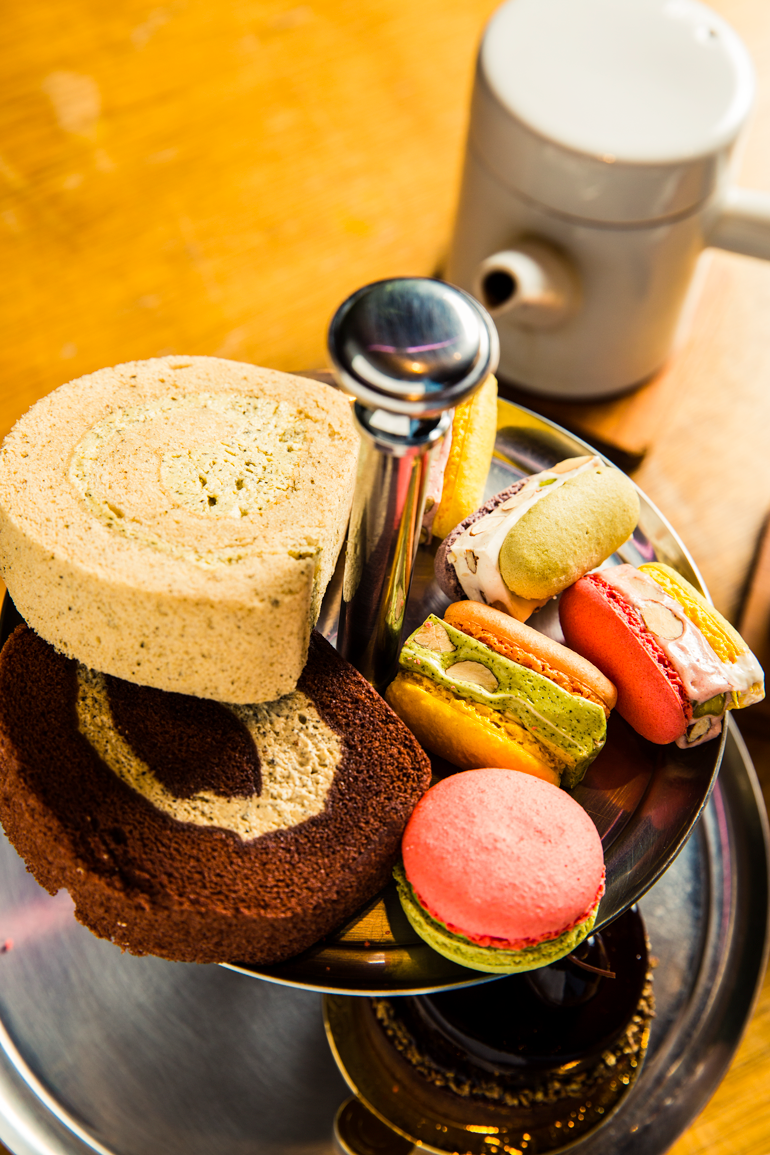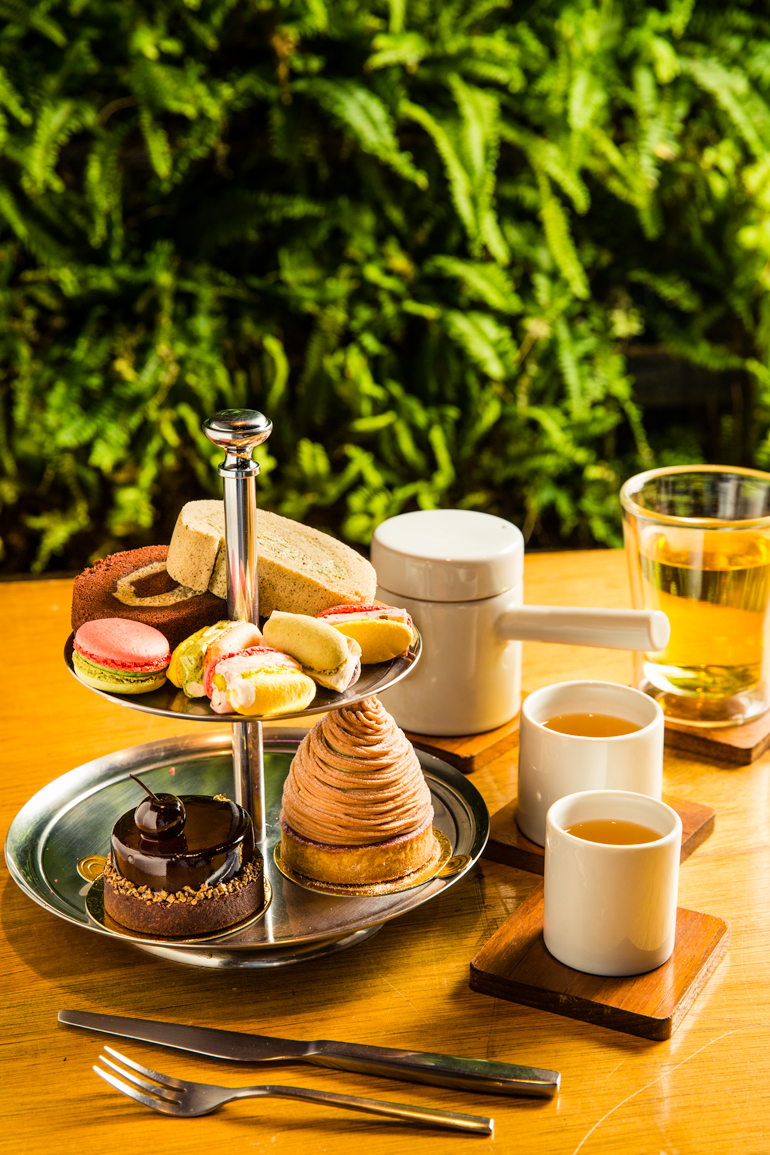 For those looking for something less demanding on the palate, Le Salon also serves biscuits and cookies, again flavored with crushed tea leaves. Tea-infused nougat, sandwiched between two macaroons, makes excellent pickings for idle hands, as do some of the best pineapple cakes I've had in Taiwan (with a black-tea-infused crust, and juicy, fibrous dried-pineapple paste bursting from within – contrasting with the more common mass-produced pineapple cakes, which have textures that to my palate tend to feel a little homogenous and stodgy).
Zenique (小茶栽堂)
Add: No. 7-1, Yongkang St., Da'an District, Taipei City
(台北市大安區永康街7-1號)
Hours: 10am~10pm
Tel: (02) 3393-2198
Website: www.zenique.net
Le Salon (小茶栽堂 Le Salon)
Add: No. 8, Ln. 4,Yongkang St., Da'an District, Taipei City
(台北市大安區永康街4巷8號)
Hours: 11am~10pm
Tel: (02) 2395-1558
TenRen's Tea – cha FOR TEA
Those looking for a more substantial meal, on the other hand, would do well to head to cha FOR TEA, a popular restaurant chain operated by a long-time staple of Taiwanese street-tea culture, TenRen's Tea. Nigh ubiquitous in Taiwan, the company has been serving tea to thirsty Taiwanese pedestrians since the 1950s. In their cha FOR TEA restaurants, however, in addition to their large selection of oolong, black, and green teas, you'll also find Taiwanese classic dishes such as steamed pork dumplings, tempura, and beef rolls, all subtly flavored with their highest-quality tea leaf.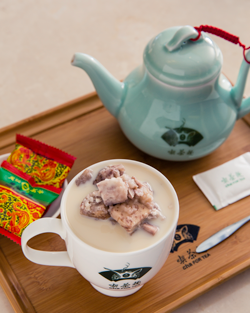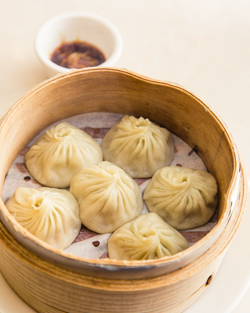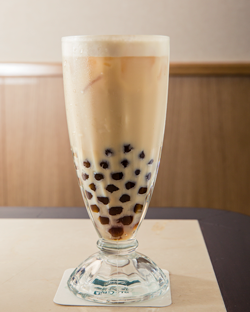 Great care is taken to choose teas that best complement the flavors of any individual dish. The restaurant's steamed pork dumplings, for example, are prepared with one of Taiwan's best-renowned oolongs – Oriental Beauty Tea – which imparts a light mellifluous flavor to the broth inside. Strongly flavored beef dishes, on the other hand, require something a bit more pungent to accentuate the distinctive taste of red meat – in this case a Pu'er Tea, with notes of earth and hay, gives the meat a mouthwatering gravitas.
cha FOR TEA (喫茶趣) (Xinyi Branch)
Add: No. 88, Sec. 4, Xinyi Rd., Da'an Dist., Taipei City
(台北市大安區信義路四段88號)
Tel: (02) 2707-3598
Hours: 11am~10pm
Website: www.chafortea.com.tw
South St. Delight
If you'd like to sample some great tea with lighter food options, a worthy alternative can be found on Dihua Street in Dadaocheng, Taipei's historic tea-merchant district. South St. Delight is a beautifully decorated teahouse that specializes in pairing first-rate teas with delectable finger snacks. The décor is retro-vintage, with some lovely pieces of old furniture, a mezzanine balcony, and an inner room partitioned by a striking Japanese-style screen wall.
The teaware, too, is noticeably artisanal, supplied by the local porcelain masters with Hakka-Blue (you can purchase its wares on the building's ground floor). Each tea order comes with a different selection of snacks (mung-bean pastries, longan jelly, a selection of preserved fruits, for example), all handmade in Dadaocheng's heritage pastry stores and specifically selected to complement and prolong the tea's flavor.
Still something of a well-kept secret, the teahouse is a wonderful place to escape the bustle of Dihua Street and sit enjoying a beverage while taking in the mix of tourists, temple-goers, and those shopping for traditional medicines in one of the street's many apothecaries passing by below.
South St. Delight (南街得意)
Add: No. 67, Sec. 1, Dihua St., Datong Dist., Taipei City
(台北市大同區迪化街1段67號)
Tel: (02) 2552-1367
Hours: 11am~7pm
Also read
OH, SO SWEET! Taipei Cakes
taiwaneverything.cc/2017/05/18/taipei-cakes/
TenRen's Tea — Highest-Quality Tea and Cuisine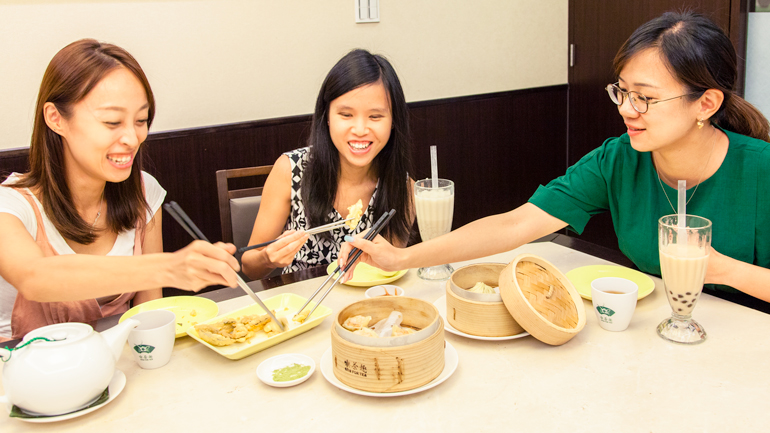 Further reading on other sites
JAYSUN EATS TAIPEI: Milk Tea Shops in Taipei
GOLDTHREAD: All about Chinese teas—from green and black to oolong and beyond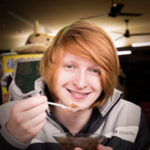 Owain McKimm is a freelance writer who has been living in Taiwan since 2009 and has written about everything from Taiwanese foot massages to flower cuisine.
E-mail: owain [dot] mckimm [at] googlemail [dot] com