Ask locals about the best pig trotters on the island, and chances are that they will reply "Wanluan." If you head to this rural township in southern Taiwan's Pingtung County in search of succulent pig feet, note that the historical villages of Wugou (Wugoushui) and Wanjin are well worth exploring.
Text: Rick Charette; Photos: Maggie Song
Pingtung County is Taiwan's southernmost county. Overall a quiet region – save for tourist-busy Kenting National Park and Dapeng Bay National Scenic Area – this is a tropical region with South Pacific-like charm, a place of graceful palm trees, clement sunny weather, and freedom from light pollution, making for star-filled nights.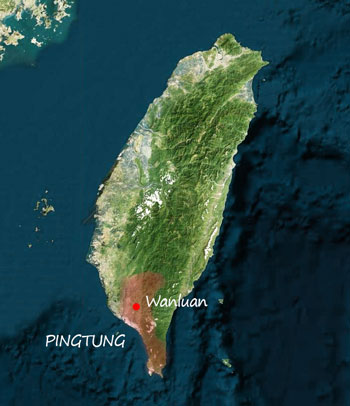 Wanluan Township is a rural enclave of flat farmland tucked up tight against the base of the Central Mountain Range about an hour's drive west of the great, broad-shouldered port city of Kaohsiung on the Taiwan Strait. Always in looming view, the north-south wall of mountains has the look of a massive curtain drawn across a theater stage. Spend a little time with us now on a sauntering exploration of this unhurried, history-proud township's charms.
Wugoushui – Can Time Really Stand Still?
There's perhaps no better way to get to know Wanluan Township than with a guided walking tour of pocket-sized, somnambulant Wugou Village, better known as Wugoushui Community. This village, settled centuries ago during the Qing Dynasty, is bursting with heritage residences and many other structures of historical interest. Today it looks very much like it did at the turn of the 20th century, when China was still ruled by an emperor (and Taiwan was a colony ruled by the Japanese).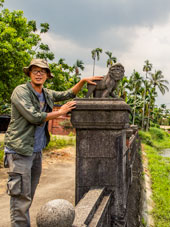 ---
There you'll find the workshop operated by Pretty Woogo ("Wugoushui Guardian Work Station"), a community organization which provides tours in Chinese, on Xisheng Street. On a recent Travel in Taiwan visit Mr. Lin Pin-xuan served as our guide.
---
Directly across the street from the workshop is one of the village's architectural highlights, the Liu Family Ancestral Hall. Wugoushui is a Hakka settlement, with many heritage residences in different styles, notably 3- and 4-side courtyard-style residences and architectural elements distinguishing the homes of imperial scholars from regular folk. The Hakka, a Han Chinese minority group, faced severe discrimination through imperial times, with tenuous land rights, and for group security emphasized education and success in imperial exams, which brought government-official positions.
Something very special about the Wugoushui walking tour is that the old houses are still very much lived-in residences, and Mr. Lin brought us right in (after a polite "heads up") as people went about their business much in the way their ancestors did a century ago. The Liu residence, occupying 2.5ha, is perhaps south Taiwan's best-preserved Hakka complex. Clan members still occupy the wings off the central shrine hall. Proverbs invoking good character and dedicated studies adorn the walls. Showcasing the clan's past power and social status are the beams, columns, door slabs, incense burner, and koji-pottery adornments, all imported from mainland China's Canton area. The graceful swallow-tail roof indicates success in imperial exams and government promotion.
Running from left to right in front of the Liu residence is one of Wugoushui's two waterways. The L-to-R motion is in accordance with fengshui principles, said Lin, drawing good qi and welcoming riches and success. Both waterways were harnessed early on for use as irrigation channels. Most people mistakenly think "Wugoushui" means "Five irrigation channels," according to Lin, but in fact the "5/wu/五" indicates the march of settlers east across the Pingtung Plain – this was the "fifth settlement with irrigation channels set up," and the last in the group. Just west is "Sigoushui," the fourth," and just west of that "Sangoushui," the third.
Until the late 1600s, the Pingtung Plain was indigenous territory. The first Han Chinese settlements were established in 1684, and by 1734 most of the plain was being cultivated. As elsewhere in Taiwan, most Chinese came from south Fujian, across the Taiwan Strait, with some (almost all Hakka) from mountainous northeast Guangdong. And as elsewhere, on the frontline before native territory were mostly Hakka settlements, Wugoushui being one of them.
Interestingly, both of the village's waterways bubble up right from the plain not far east of the village, toward the mountains. Wugoushui was long surrounded by a world of rice paddies, but today it is betelnut and bananas that rule the settlement's economy. Though all the original irrigation infrastructure remains – dikes walls, barriers, valves – by no longer washing clothing and kitchen items at waterside, residents have allowed the natural ecology to return.
In different locations they still practice an old form of food production – Chinese watercress grows freely in the shallow waterways, and villagers will cut away whole areas, which promotes fast new growth, ensuring a steady supply for all. A staple on Taiwan tables, the cooked shoots taste like spinach.
On the village's south edge is a wide irrigation pond, no longer in use with the demise of the rice paddies. However, it still plays an important fengshui role, as a conduit for good qi to flow freely and deeply into the village via the plaza behind – and blocking evil spirits, which cannot traverse the open water. It also draws cooling breezes in.
Close to the protective pond is a colorful Earth God shrine. Worship of the Earth God, as the deity's title suggests, protects the land and promotes its fecundity. Lin reminded us that farming villages would often have such shrines in all directions, but a south-boundary one was obligatory, for the south is the "source of the sun."
On the village's east side is its old theater, not much bigger than a single-family home. Entertainment was enjoyed both inside and on the fronting plaza. Of especial interest is its location – just to the village's east is Wanjin, the last Chinese settlement before the mountains. Established in the mid-1800s by Christian converts, who, according to Lin, the Wugoushui residents alternately considered "tenants, squatters, or bandits." Clashes were common. Once things settled down, Wanjin folk would be invited to share in the east-side theater fun.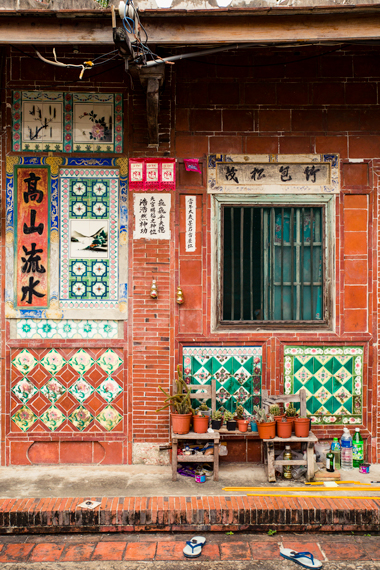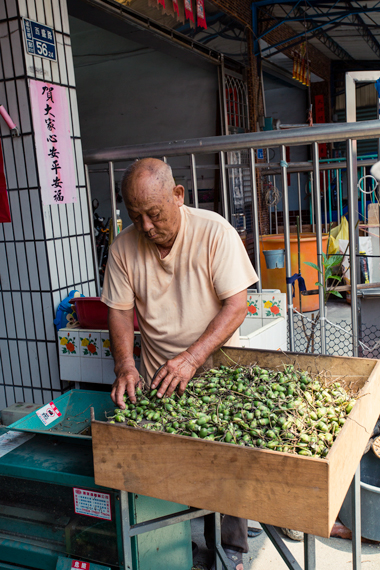 Pretty Woogo (五溝水守護工作站)
Add: No. 70, Xisheng Rd., Wugou Village, Wanluan Township, Pingtung County
(屏東縣萬巒鄉五溝村西盛路70號)
Tel: 0980-235-812
Website: www.facebook.com/prettywoogo/
Tours: In Chinese; 3hrs each; NT$1,600 on weekdays, NT$2,000 on weekends/holidays; phone two weeks ahead.
Wanjin Church
Wanjin is close enough to the mountains that you instinctively crane your neck a bit to look at the peaks. As you approach from Wugoushui, you see the Wanjin Church filling up the visual space at the far end of the settlement's main (eatery-lined) street.
Officially called the Wanjin Basilica of the Immaculate Conception, this is both Taiwan's oldest church and its first basilica. The parish was established by the Dominicans in 1861, converts led here by a Philippine missionary priest. After a mud church was destroyed by an earthquake in 1865, work on the present structure was completed in 1870. Attractive 3D lighting brings many tourists to the site before Christmas each December.
Wanluan Painted Bridge
West of Wugoushui, this suspension bridge stretching 168 meters across the Donggang River – both Wugoushui and Wanjin are on tributary waterways upstream – was built as a facilitator bridge for the local walkway/bikeway system. The brightly painted architectural work, central mountains in full view one way and Kaohsiung skyscrapers seen far to the west, the latter appearing as though fantasy-land miniature models, has been made even more attractive with 3D paintings of a charging rhinoceros, shark attack, whirlpool, and other thrilling scenes festooning its deck – Taiwan's only 3D-artwork suspension bridge.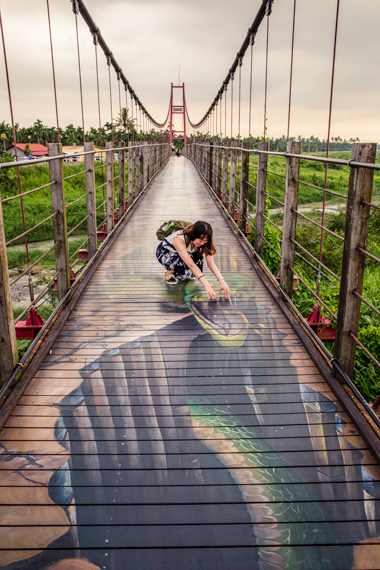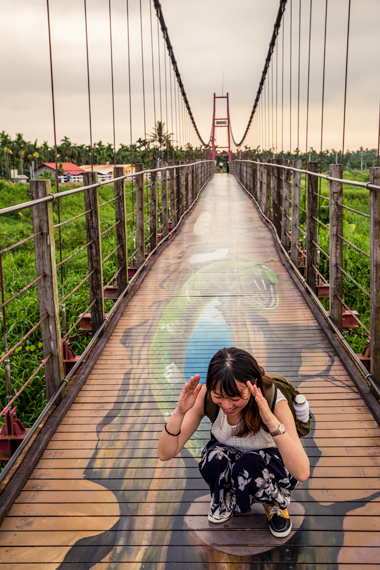 Wanluan Pig Trotters
Bantiao, a type of thick, broad noodle made from pure rice-flour milled into paste served with broth, scallions, marinated meat, and bean sprouts, is a must-order staple at Hakka restaurants in Taiwan. But the signature Hakka culinary staple in Wanluan is the Hakka-style pig trotter.
According to local lore late ROC President Chiang Ching-kuo, while on a local inspection tour, enthused about the Hakka Wanluan-recipe trotters, till then eaten as a bantiao side dish. A new Taiwan tourist must-have was born. As with many other foods given the "stamp of (an) authority," it lead to today's always-busy strip of trotter-specialty eateries on little Wanluan town's Minhe Road.
Lin Family Wanluan Pig Trotters is one of the town's two big names. Its story began with a bantiao shop opened in 1949 by the grandmother of current owner Lin Jia-yi. Images of grandma are prominent on the walls, along with other black-and-white period photos in a supporting role. Wanluan trotters are braised in a savory mix of soy sauce, Chinese herbs, salt, sugar, and water. The secret is in the proportions – each seller harbors a deep family-recipe secret, and Lin thought it humorous when Travel in Taiwan politely "requested" revelation of hers.
Note that each trotter is big, 1.5~2kg, and is chopped into small chunks for Chinese group-style eating. Note also that it is served cold. Finally, note that the Lin restaurant is a good place for gift/souvenir buying as well, offering pork-jerky take-home packages (NT$100~130), strips paper-thin and crispy or thick, fibrous, and tender.
Lin Family Wanluan Pig Trotters (林家萬巒豬腳)
Add: No. 1~4, Minhe Rd., Wanluan Village, Wanluan Township, Pingtung County
(屏東縣萬巒鄉萬巒村民和路1號之4)
Tel: (08) 781-1785
Website: www.wanluan-lins.com.tw (Chinese)
Getting There / Getting Around
Public Transport
Take a train to Chaozhou Railway Station, south of Pingtung City. Transfer to Pingtung Bus Co. bus No. 8212, which stops at Wanluan, Wugoushui, and Wanjin (www.ptbus.com.tw, Chinese). Tickets are NT$28 from Chaozhou to Wugoushui; two buses depart from Chaozhou each day, at 9:30am/5:20pm, and from Wugoushui around 10:15am/6:20pm.
Alternatively, hire a taxi at Chaozhou Railway Station for your tour of the rural villages (however, note that finding a taxi in the villages might be difficult).  
Self-Drive
If you have your own car, take Freeway 3 to the Zhutian System Interchange, and change to Provincial Highway 88 East (an expressway). At the end of the expressway turn left onto County Route 85, then, at the next large intersection, turn right onto Provincial Highway 1. After this, turn left onto Route 187 to first reach Wanluan, and from there take Route 102 to Wugoushui and Wanjin.
If you want to rent a car, you can take a High Speed Rail train to Kaohsiung's Zuoying Station. Rental-agency counters are located inside the station directly before the Taiwan Tourism Bureau's Visitor Information Center; staff can provide English-language assistance if needed.
Also read:
Old Neighborhood in TAINAN: 321 Art Alley Settlement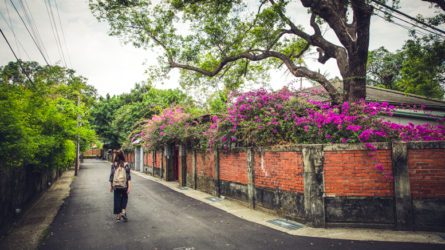 taiwaneverything.cc/2017/07/31/321-art-alley-settlement/
Old Neighborhoods in CHIAYI CITY: Culture and History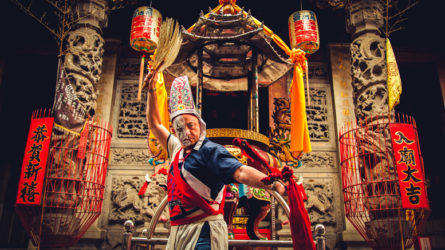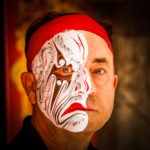 A Canadian, Rick has been resident in Taiwan almost continually since 1988. His book, article, and other writings, on Asian and North American destinations and subjects—encompassing travel, culture, history, business/economics—have been published widely overseas and in Taiwan. He has worked with National Geographic, Michelin, APA Insight Guides, and other Western groups internationally, and with many local publishers and central/city/county government bodies in Taiwan. Rick also handles a wide range of editorial and translation (from Mandarin Chinese) projects.