Lugang —

An Old-Time Place that's One of Taiwan's Top Tourist Towns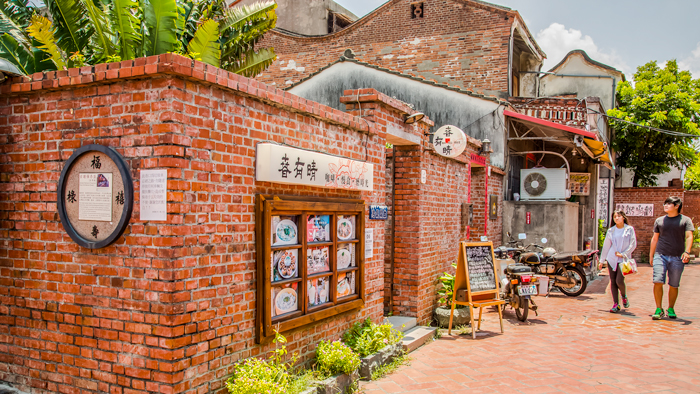 Text: Rick Charette; Photos: Vision
Step into Lugang, treasure-house of old-time architecture, temple life, handicrafts, and snack delicacies, and you step back into a time when emperors still ruled. The town, in Changhua County, is Taiwan's second-oldest urban center and was one of its three great ports through much of the Qing Dynasty. Much of the imperial-era architecture still survives, along with the narrow streets and timeless traditions. A thriving handicraft industry also took root in the early 20th century. Below are five places and things to experience, check out, and enjoy while visiting Lugang.
Heritage Site Walkabout: Longshan Temple & Wenwu Temple
A series of important Taiwan historic sites are all within easy walking distance of each other in the central heritage district. Lugang's Longshan Temple, which dates to 1786, is the most important among the town's numerous classical-style old temples. One of Taiwan's best-preserved and most exquisite imperial-era structures, it is charmingly dubbed "Taiwan's Forbidden City."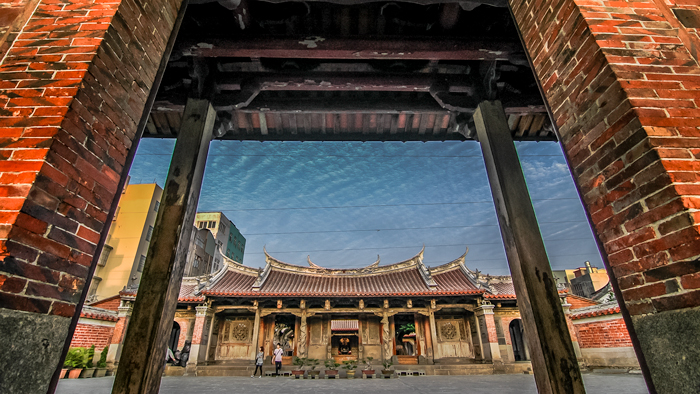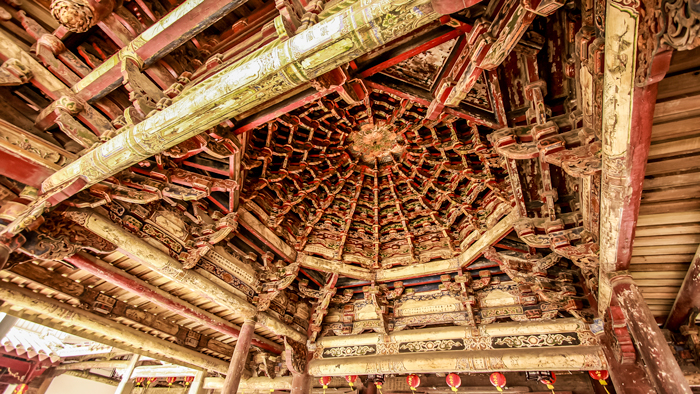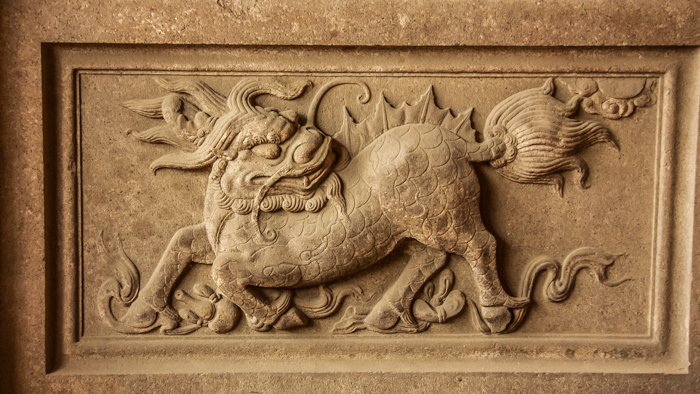 Grandiose Wenwu Temple was established in 1812 as a site for the learning of martial arts by youth pledging loyalty to the imperial government. "Wen" and Wu" mean "civil" and "military," respectively, with halls and gods dedicated to each.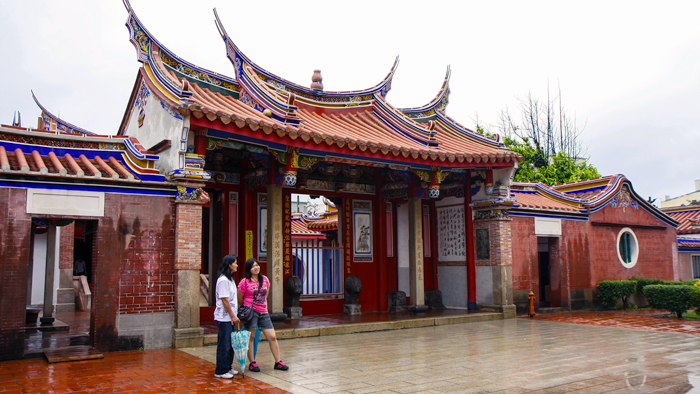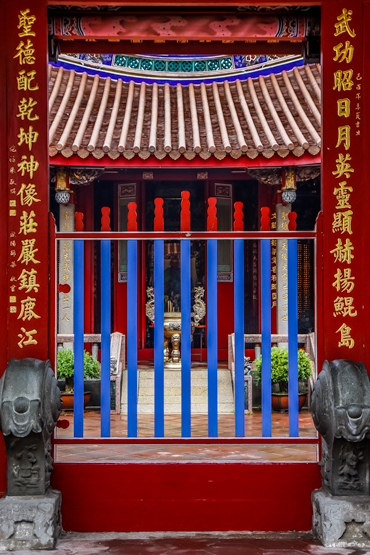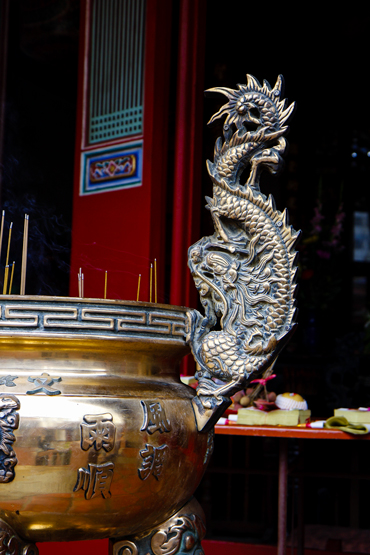 Traditional Specialty Snack Foods
Lugang's long-time role as central Taiwan's economic and transport hub, and the town's broad immigrant mix, led in turn to many signature local snack foods. Tourists eagerly seek out the best-known vendors. Following are three snack food you should definitely try. This region is the birthplace of rouyuan, a large meatball of lean minced pork containing mushroom and other goodies in a translucent flour-made skin, topped with a sweet/savory sauce. The handmade local taro balls are made of thin taro strips compacted into a ball, with minced pork inside, and served steamed to preserve the original taste, fried to crunchiness, or in soup. The pig-blood soup with thin rice-flour noodles is made with handmade noodles, dried pig-blood, pig intestine, red onion, and pickled greens.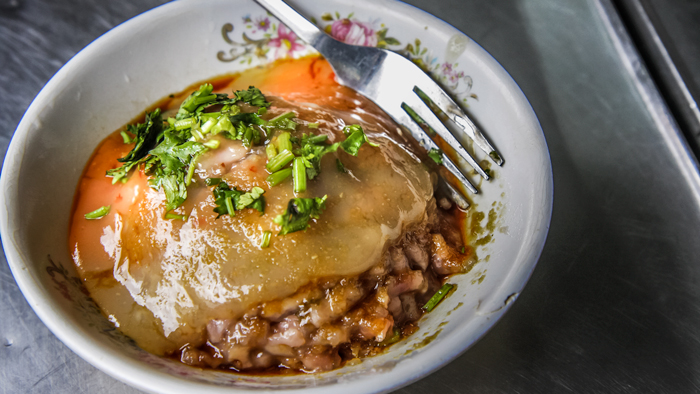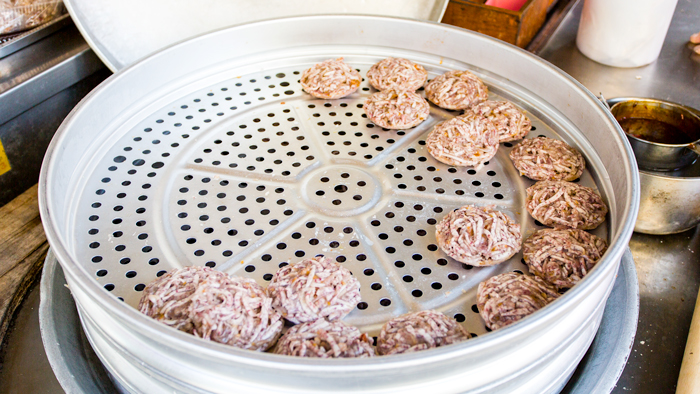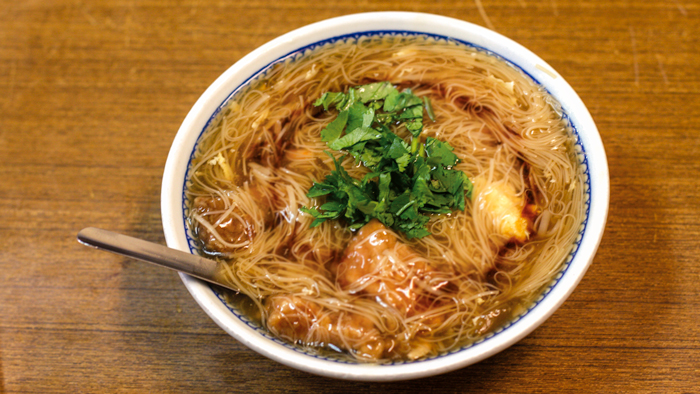 Lugang's Old Streets & Osmanthus Flower Alley Art Village
Take time to meander the narrow, twisting streets, notably the famed Nine-Turns Lane, built this way to slow down pirate/bandit attacks. On Lugang Old Streets, three shophouse-lined cobblestoned pedestrian streets, watch master craftsmen at lantern-painting, tinsmithing, incense-making, and other old-time trades.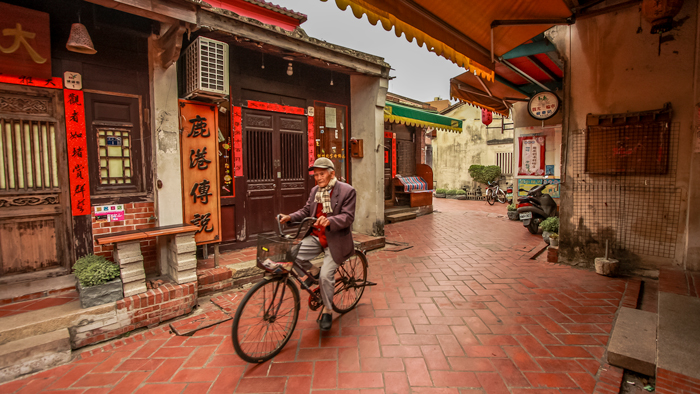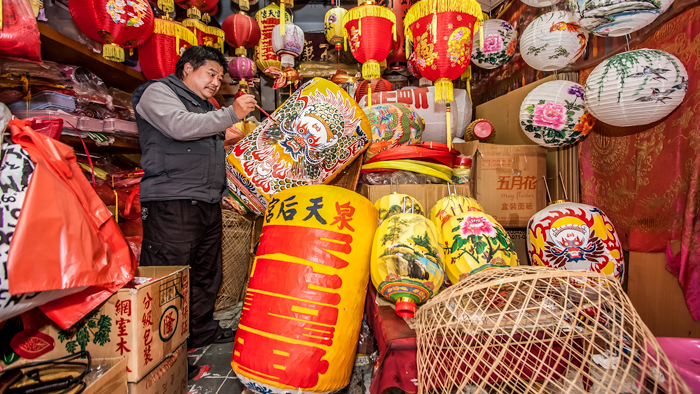 The art-village enclave was, in the past, a place of osmanthus-flower cultivation. Today the renovated Japanese-style Showa-era residential buildings are studios, the artists in residence practicing many different art forms including the crafting of lion heads, calligraphy, and leather sculpture.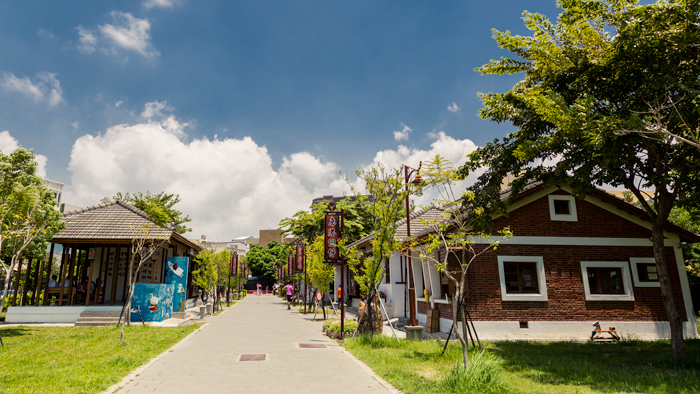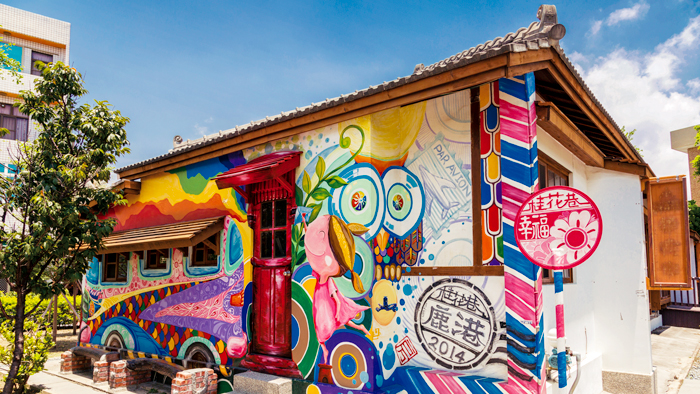 Leisurely Bohemian Hours at Xishi Book and Tea
This quaint, homey, relaxed – and very popular – second-hand bookstore and teahouse (www.facebook.com/xishibookandtea) is in a fixed-up, narrow-front, multi-floor former shophouse built over 80 years ago. The house is located along one of the central area's old, quiet, narrow residential lanes, near Longshan Temple, paved with brick. A lovely spot for afternoon tea, there is an eclectic yet harmonious Japanese, Western, and Chinese architectural mix. Defining the interior is the central building atrium, making all floors visible. The décor is also a three-culture fusion.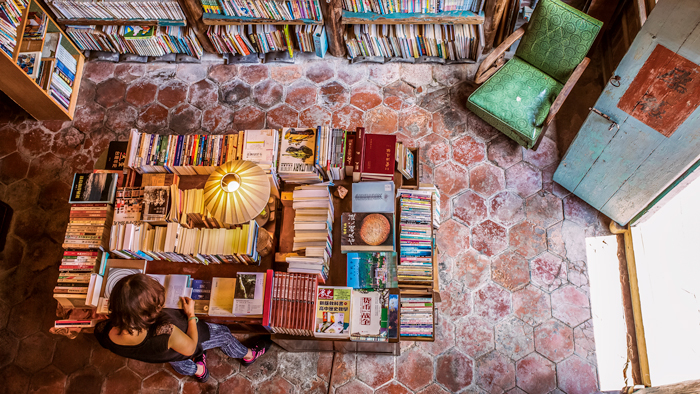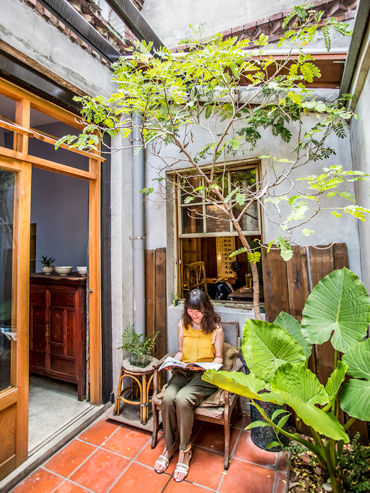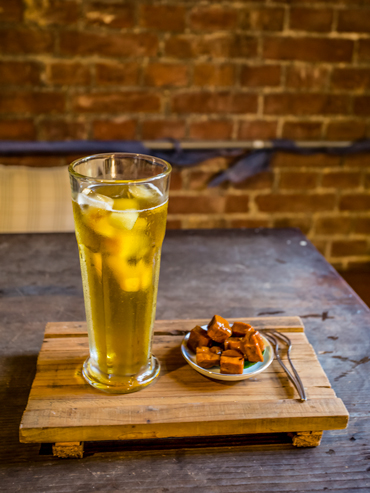 Gifts & Souvenirs: Yu Jen Jai Bakery
Lugang's fabulous fresh-made street foods must, of course, be eaten on the spot. But if you're hankering to take the tastes of Lugang home in gift/souvenir form, there is good answer. The Yu Jen Jai bakery (www.1877.com.tw; Chinese), well known around Taiwan, was opened in 1877. Still in its original location, in an official heritage building, the bakery produces aromatic goodies that are constantly slid out of the ovens. Don't leave without a box of phoenix-eye cakes, Yu Jen Jai's signature treat, along with winter-melon cakes, mung-bean cakes, and kousu cookies, a flaky melt-in-your-mouth-cookie. All are Lugang "famous foods," and all come in attractive gift-box packaging.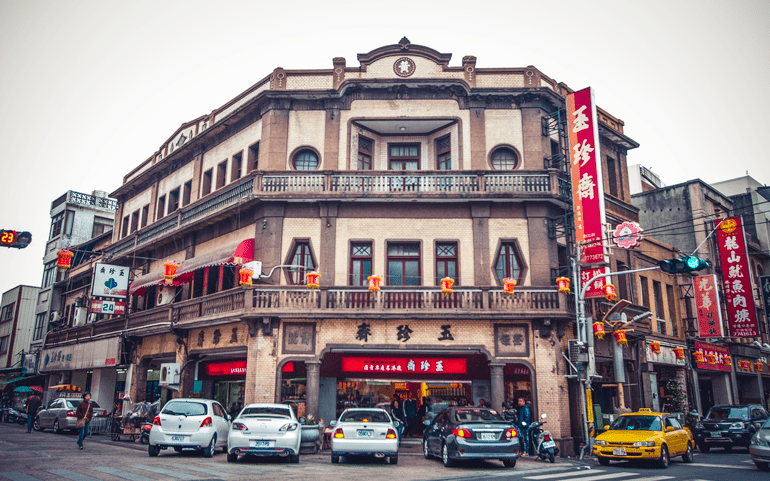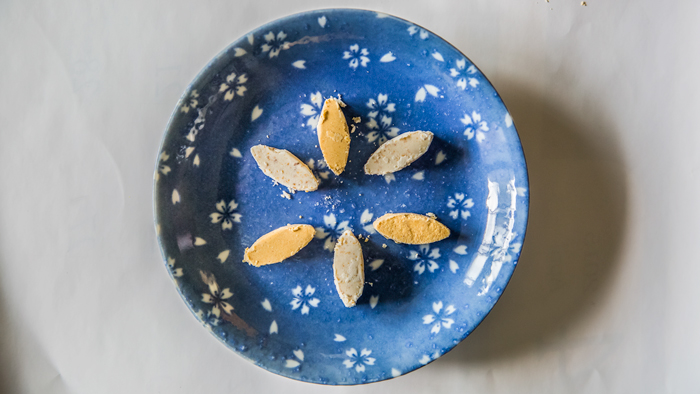 Related articles
RAILWAY Travel: CHANGHUA and YUNLIN
LUGANG, BEIGANG, and XINSHE
Let's Ride the JIJI LINE in Central Taiwan!
Hotels in Changhua (booking.com)
Getting there:
Taiwan High Speed Rail (THSR) service: From THSR Taichung Station, take a Taiwan Tourist Shuttle bus (Lukang Route / Route 6936 / taiwantrip.com.tw).
Regular rail (Taiwan Railways Administration [TRA]) service: From Changhua Railway Station, take a Taiwan Tourist Shuttle bus (Lukang Route / Route 6936).
Also read:
TAICHUNG COAST — Many Interesting Spots!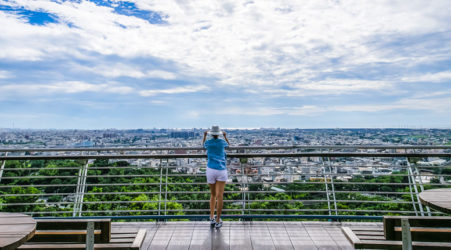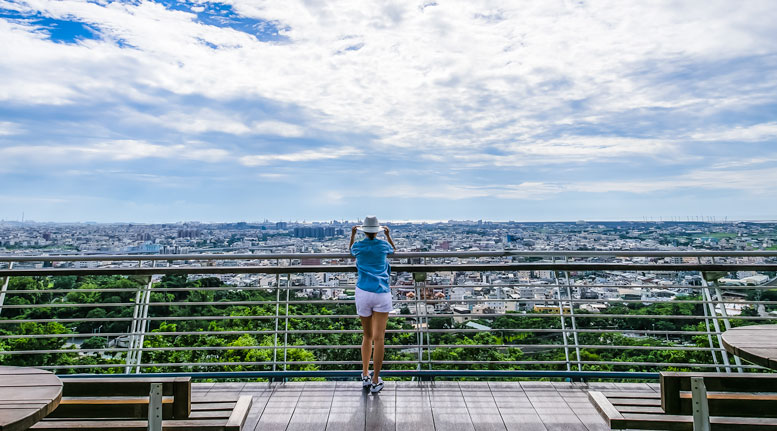 taiwaneverything.cc/2017/08/10/taichung-coast/
Old Neighborhood in TAICHUNG: Wufeng's Guangfu New Village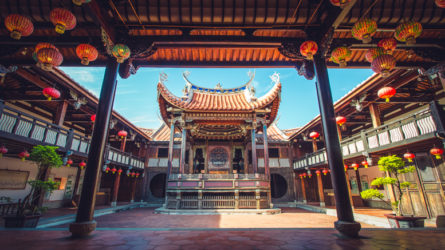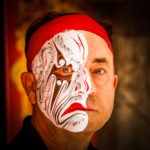 A Canadian, Rick has been resident in Taiwan almost continually since 1988. His book, article, and other writings, on Asian and North American destinations and subjects—encompassing travel, culture, history, business/economics—have been published widely overseas and in Taiwan. He has worked with National Geographic, Michelin, APA Insight Guides, and other Western groups internationally, and with many local publishers and central/city/county government bodies in Taiwan. Rick also handles a wide range of editorial and translation (from Mandarin Chinese) projects.