The Windy City by Slow Train — Places of Interest Between "North Hsinchu" and "South Hsinchu"
 Text: Steven Crook; Photos: Vision
Located on Taiwan's northwest coast, Hsinchu is known as Taiwan's "Windy City" thanks to its salient coastal position and prevalent winds sweeping along the Taiwan Strait. If you want to do more than a whirlwind tour of the city and its surrounding area, take a slow local commuter train and get off at stations from Zhubei, on the city's north, down to Zhunan, on its south.
Greater Hsinchu is one of Taiwan's most prosperous regions, thanks in large part to the Hsinchu Science Park (HSP; originally called the Hsinchu Science-based Industrial Park). Created in 1980, in its first decades the park played a key role in the island's emergence as a hub for high-tech innovation and manufacturing.
The HSP attracts business visitors from all over the world. International tourists, however, tend to bypass Hsinchu City in favor of bigger cities or quaint places in the region like Beipu (a township in Hsinchu County), Daxi (a district of Taoyuan City), and Sanxia (a district of New Taipei City), all three of which are less than an hour by car from central Hsinchu.
Those smaller destinations are much loved because they offer glimpses of the Taiwan of yore. Far fewer people are aware that there are a number of places inside and right outside the city where a considerable amount of greater Hsinchu's heritage has been preserved as well. What's more, because the main north-south railway runs right through the city, a day-trip using commuter trains is easy to organize.
Taiwan's conventional rail network is run by the Taiwan Railways Administration (TRA). The Taiwan High Speed Rail (THSR) system is managed by a separate entity, the THSR Corp. The TRA deserves to be commended for its efforts to make the regular-rail network thoroughly user-friendly, even for those who don't speak or read Chinese. Tourists wanting to take short journeys on TRA trains can buy tickets from vending machines that have bilingual instructions. They can find timetables and other useful information at www.railway.gov.tw.
Between Zhubei (the name means "Hsinchu north," but it's actually a city in its own right, located in Hsinchu County) and Zhunan ("Hsinchu south;" a township in Miaoli County) there are seven TRA stations. Two of them – Hsinchu and Zhunan – are well-served by express trains, including several each day that sprint from Taipei to Hsinchu in less than an hour and 10 minutes.
Alternatively, you can get to the Hsinchu area by bullet train, which is what I did on a recent exploratory foray, and not merely because the THSR offers shorter journey times than the TRA service. THSR Hsinchu Station is in Zhubei, and a 20-minute walk from one of the spots I planned to visit.
Zhubei
New Tile House Hakka Cultural District
The population of Zhubei has doubled since 2001, and now exceeds 180,000. Farmland has been transformed into suburbs, and old buildings have been torn down to make way for high-rises. Fortunately, the authorities have acted to preserve some of the past before it has all disappeared. The New Tile House Hakka Cultural District is neither new, nor a single house, but rather a cluster of single-story buildings made of bricks (some fired, some mud) and tiles.
Not much happens here on weekdays, but visit on a weekend and you might see cultural groups presenting music or dance performances. The café and souvenir shops don't get going until midday, but there's nothing to stop you from wandering around at any time of day taking pictures. And you surely will, because the whole place is very photogenic.
At the back of the site there's a ruin from which you can learn a bit about how ordinary homes were constructed a century or more ago. Rounded river stones and adobe were key materials. Those who could afford tiles used them to keep rain from dissolving their walls.
New Tile House Hakka Cultural District (新瓦屋客家文化保存區)
Add: No. 123, Sec. 1, Wenxing Rd., Zhubei City, Hsinchu County
(新竹縣竹北市文興路一段123號)
Baozhong Temple
Rather than walk back to THSR Hsinchu Station and catch the No. 5 minibus (which runs every half hour) to my second destination, I flagged down a taxi and in no time at all was standing right outside a place of worship 4.5km away in Xinpu Township. The ride costs NT$200.
Officially titled Baozhong Temple, but usually referred to as the Yimin Temple, it honors both popular gods (represented by carved tablets rather than the doll-like effigies you'll see in most Taiwanese temples) and yimin. The latter, the spirits of Hakka volunteers who died defending their communities during major Taiwan rebellions in imperial times, are regarded as protective deities able to protect believers from various misfortunes. The Yimin Festival is celebrated over several days each summer in villages, towns, and cities throughout the region.
In the end, I spent far more time in the sprawling hillside garden behind the shrine than under its roof. Do explore thoroughly: Among the flowerbeds are statues, artfully arranged rocks, and – at the time of my visit – cherry trees in full bloom.
Baozhong Temple (褒忠亭)
Add: No. 360, Sec. 3, Yimin Rd., Xialiao Borough, Xinpu Township, Hsinchu County
(新竹縣新埔鎮下寮里義民路3段360號)
I timed my departure to match that of one of the nine No. 5621 buses each day that connect Xinpu with downtown Hsinchu. The bus took about 20 minutes to get to Zhubei Railway Station, and another 20-odd minutes to the center of Hsinchu. (One-way fare from Xinpu is NT$25 to Zhubei, NT$45 to central Hsinchu.)
I knew from multiple previous visits that there's a lot to see and do in Hsinchu proper, but I stepped into the TRA station without a moment's delay. I knew a commuter train was about to head off south; this commuter-train service has stops at two places which intrigued me.
Qiding
I stepped off the train at Qiding Station in Miaoli County's Zhunan Township. There's no staff at this station, nor vending machines from which you can buy tickets – merely EasyCard readers. If you're not carrying an EasyCard, you should be; these widely-used stored-value cards make the use of Taiwan public transportation even more convenient. If you don't have one, and board a train without a ticket, wait for the ticket inspector to come along, tell him/her your destination, and you'll receive a ticket on the spot.
However you pay, station-hopping like this is very affordable. Central Hsinchu to Qiding cost me NT$21; the journey time was 14 minutes. Zhubei to Zhunan is NT$36 one way and takes around 30 minutes. Each day around 35 commuter trains link the two places, stopping at every station in between.
At Qiding, I made a beeline for the Landscape Platform, a short walk to the northeast of the station, bilingual signs pointing me in the right direction. It takes just a few minutes to get to the platform. Gazing out over the Taiwan Strait, as the wind turbines that dot this stretch of coast slowly rotated and the occasional express train rumbled past, was a soothing experience.
Do take the steps down from the platform to Zimu Tunnel. When this railway line was double-tracked in the early 1970s, it was moved slightly closer to the sea because the tunnels (there are actually two) were too narrow. Exemplars of the solid infrastructure built during the 1895-1945 Japanese colonial period, they're now preserved as part of a walkway/bike trail.
The first tunnel is 67m long, the second nearly double that. No flashlights are needed; there's enough natural light for you to see where you're walking. Just before you enter the second tunnel, look closely at the arched brickwork. During the closing months of World War II, American warplanes strafed the railway at least once, and bullet holes can still be seen.
Just beyond the second tunnel, at a shiny new temple devoted to the local Earth God, I turned around and started walking back. I adore timeworn architecture, and wanted to explore the cluster of traditional single-story courtyard houses that lie just inland of the Landscape Platform. Some of the abodes look as though they've been unoccupied for many years. The dilapidation is mesmerizing. The compound with the address plaques Beihu 23 and 24 has both inner and outer courtyards, and is particularly alluring.
Xiangshan
The next station south of Qiding is Zhunan Railway Station. South of the station the railway splits into the Mountain Line (which runs through central Taichung) and the Coastal Line (which accesses some engaging little towns) close to the coast. But rather than proceed into Zhunan – and its numerous eateries – I backtracked to Xiangshan, the stop north of Qiding.
The lovingly maintained station building in Xiangshan is an attraction in its own right (sleepy Xiangshan is today a district within Hsinchu City). Dating from 1928, it's the only remaining Japanese-era railway stop in Taiwan that was built using cypress from the Alishan area in the central mountains. Pausing in the atmospheric little waiting room, I imagined ladies in kimonos boarding trains, and school-age children thrilled to see steam locomotives.
Xiangshan has a couple of other notable sights. To find them, turn right as you leave the station and walk north along the main road (Zhonghua Road) for about 150m. It's impossible not to notice the imposing Roman Catholic Church on the other side. Cross here and follow the lane that begins on the church's right side (Ln. 648, Sec. 5, Zhonghua Road), first passing the church and then Chaoshan Elementary School.
Within 500m, you'll be at the back of Xiangshan Tianhou Temple. The current building dates from the 1920s, but there's been a shrine on this site since sometime in the late 17th century, when Han Chinese from Fujian (the mainland China province closest to Taiwan) began to settle on the coast here. Like the majority of Taiwan's folk shrines, this temple houses effigies of several deities, but the principal object of veneration is Mazu, the Goddess of the Sea.
It's a typical community temple, and interesting for that reason. I was the only tourist, but not everyone I saw enter was there to burn incense and pray. For older locals, this is obviously a place to drop in, maybe run into someone they know, and sit down for a chat.
Looking across the temple's forecourt toward the strait, I spotted a bigger and much more modern structure. Chaoshan Bridge allows pedestrians and cyclists to get across the West Coast Expressway (Provincial Highway 61) and access Xiangshan Wetland. Even though the tide was high, and most of the wetland was under water, climbing to the highest part of the bridge was well worth it for the view up and down the coast.
Hsinchu
Riding back into central Hsinchu, I resolved to go to places I'd never before visited. I quickly identified a few: a heritage building, a museum, a restaurant, and a temple.
Old Hsinchu Prefectural Hall
I first headed north of Hsinchu Railway Station, passing Yingxi Gate, a well-known city landmark, to have a look at the Old Hsinchu Prefectural Hall. Unlike similar official buildings in Tainan and Taichung, this continues to play a key role in local government, and is where the city's mayor has his office.
Old Hsinchu Prefectural Hall (新竹州廳)
Add: No. 120, Zhongzheng Rd., Hsinchu City
(新竹市中正路120號)
Hsinchu City Fire Museum
Then I dashed to the Hsinchu City Fire Museum, close to the prefectural hall. The museum, inside a functioning fire station, contains bilingual displays that cover both the history of the local firefighting service and how best to survive a conflagration. Outside there's a well from which the firefighters of yesteryear collected water before setting off for neighborhoods that lacked fire hydrants.
Hsinchu City Fire Museum (消防博物館)
Shi Family Fish Balls
Next was the restaurant. Shi Family Fish Balls, located southwest of Hsinchu Railway Station, has been praised by hundreds of netizens. It's an old-school eatery: There's no English sign or menu, and not one dollar has been wasted on fancying up the décor.
Most customers, I noticed, had ordered fishball soup (NT$40 per bowl), so I did the same. Two bites were enough to know why this eatery has been thriving since 1944. The fish balls are a good bit larger than is typical, and offer a captivating range of textures, among them the "Q"-ness (chewiness) loved by Taiwanese gourmands and the crunch of fresh scallions.
Shi Family Fish Balls (石家魚丸)
Add: No. 27, Xingxue St., Hsinchu City
(新竹市興學街27號)
Website: sfishball.com.tw (Chinese)
Zhulian Temple
I arrived at Zhulian Temple, a 10-minute walk from the restaurant, as the sun was going down, a good time as many faithful visit on their way home after work. This hall of worship is at the Buddhist end of the theological spectrum, but you'll also see traditional folk practices. One is the casting of pairs of crescent-shaped wood blocks known to Taiwanese-speakers as poe. These blocks are used to seek answers from the gods. I've never cast poe, but I know for sure what question I would have posed on this day: "How soon until I'm back in Hsinchu?"
Zhulian Temple (竹蓮寺)
Add: No. 100, Zhulian St., Hsinchu City
(新竹市竹蓮街100號)
Also read
MIAOLI COAST Railway Trip — Quiet and Peaceful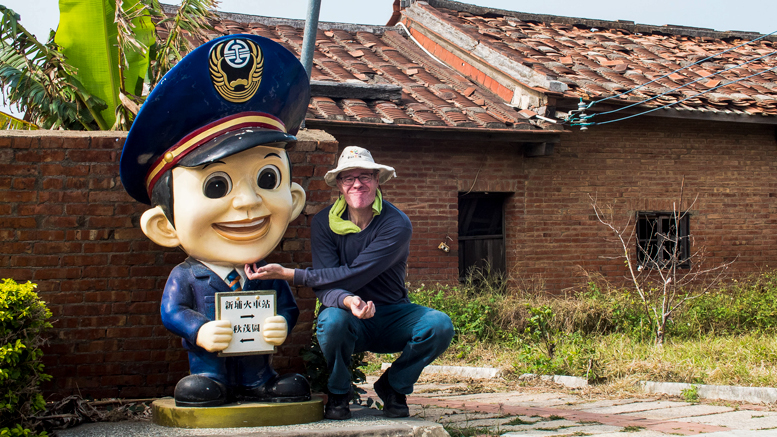 taiwaneverything.cc/2017/07/05/miaoli-coast-railway/
The NEIWAN Branch LINE in Hsinchu County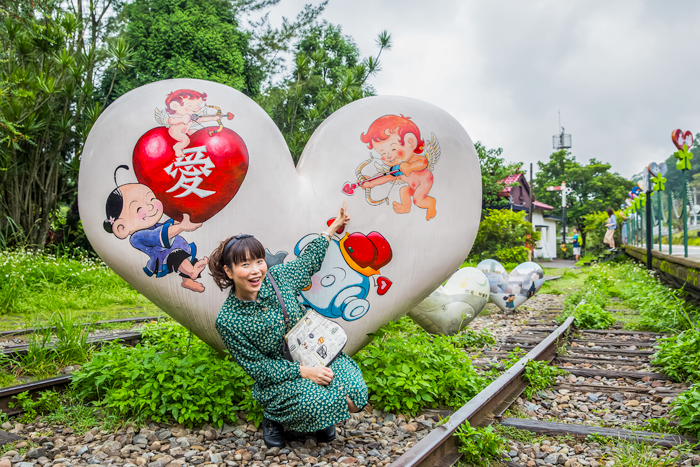 Further reading on other sites
Further reading on other sites:
Commonwealth: Embracing the Green Shores of Hsinchu County
Josh Ellis Photography: Xiangshan Tian Hou Temple (香山天后宮)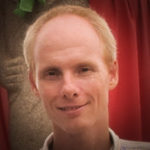 Steven Crook, who grew up in England, first arrived in Taiwan in 1991. Since 1996, he's been writing about Taiwan's natural and cultural attractions for newspapers and magazines, including CNN Traveler Asia-Pacific, Christian Science Monitor, and various inflight magazines. He's the author of four books about the country: Keeping Up With The War God (2001), Dos And Don'ts In Taiwan (2010), Taiwan: The Bradt Travel Guide (2010), and A Culinary History of Taipei: Beyond Pork and Ponlai (2018)
http://crooksteven.blogspot.com
http://bradttaiwan.blogspot.com