Nanzhuang, Miaoli (苗栗南庄)
Nanzhuang is situated in the northeast corner of Miaoli County. It has a predominantly Hakka population and oozes small Hakka town charm. The township flourished for a time due to forestry and coal mining but gradually declined. It has, however, retained rich Hakka culture and heritage sites. The first stop for most visitors to Nanzhuang is the Nanzhuang Old Street with its unsophisticated character and old-time air. Not only does the old street offer historic sights, it also has various eateries serving local foods. To enjoy natural charm, extending the trip to nearby Xiangtian Lake or Lion's Head Mountain is highly recommended.
Getting There: From TRA Zhunan Station take a Taiwan Tourist Shuttle bus (No. 5805, Nanzhuang Route) and get off at Nanzhuang Visitor Center (南庄遊客中心) bus stop.
Nanzhuang Old Street
(南庄老街)
Zhongzheng Road, known as "Nanzhuang Old Street," is a must-see place for visitors. Red-brick buildings with an old-time feel can be seen at every turn and nostalgia fills the air. As sweet osmanthus is the local representative flower, the Old Street is also nicknamed "Osmanthus Lane." As well as browsing through the small stores in the lanes and alleys, there are some historic attractions well worth seeing here.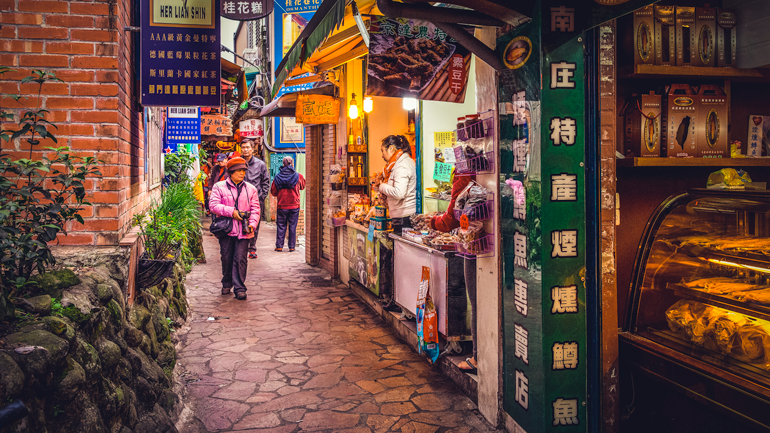 Nanzhuang Old Post Office was originally built in 1900 and then rebuilt in 1935 after it was damaged in an earthquake. The simple and unadorned building is regarded as important cultural heritage. It is now an exhibition space for learning about local culture and history.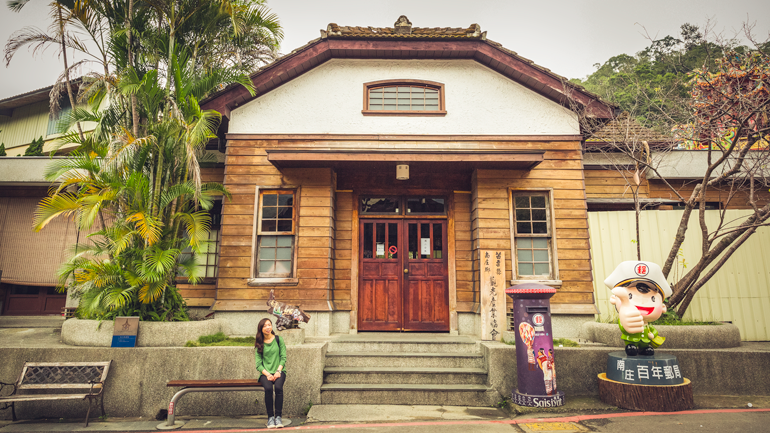 Nanzhuang Theater is also an iconic local building. Opened in 1946, it's now a restaurant with an old-time theme and large hand-painted movie posters hung outside.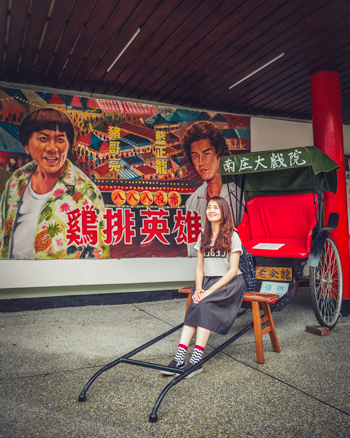 Located at the entrance to Osmanthus Lane, Laundry Ditch is a washing spot that was created by placing stone slabs above an irrigation channel; it was once used by local residents for washing clothes and vegetables.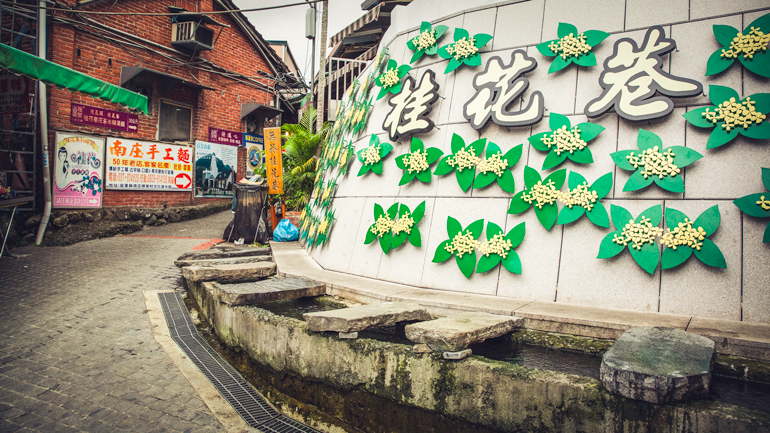 Yongchang Temple is a three-story temple built in 1905. It was also destroyed by earthquake and has been rebuilt twice. The temple is the belief center of local residents today.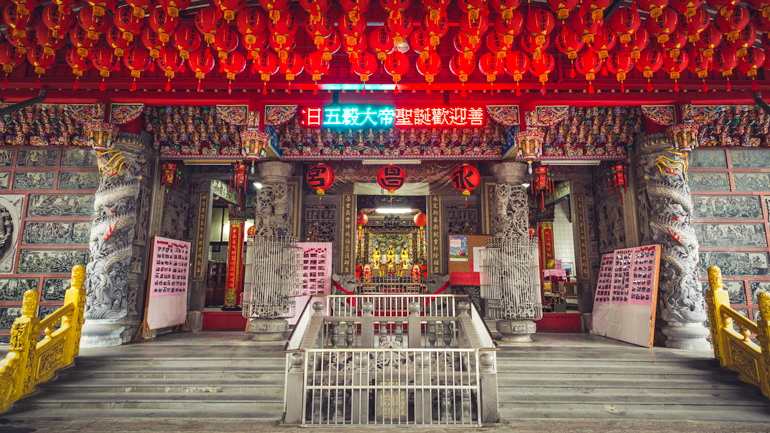 Nearby Places of Interest
Xiangtian Lake (向天湖)
It takes less than half an hour by bus from Nanzhuang Old Street to Xiangtian Lake. This is a Saisiyat tribe indigenous village and is where the biennial small-scale and decennial large-scale Pasta'ay sacrificial ceremony is held. This is the most completely preserved of the Saisiyat traditional sacrificial ceremonies. The Saisiyat Folklore Museum, located at the lake, has exhibits on tribal history culture and daily use utensils are on display. As well as taking a stroll around the lake, visitors can also atop at Beautiful Coffee Villa and enjoy a good cup of coffee while taking in the lovely scenery.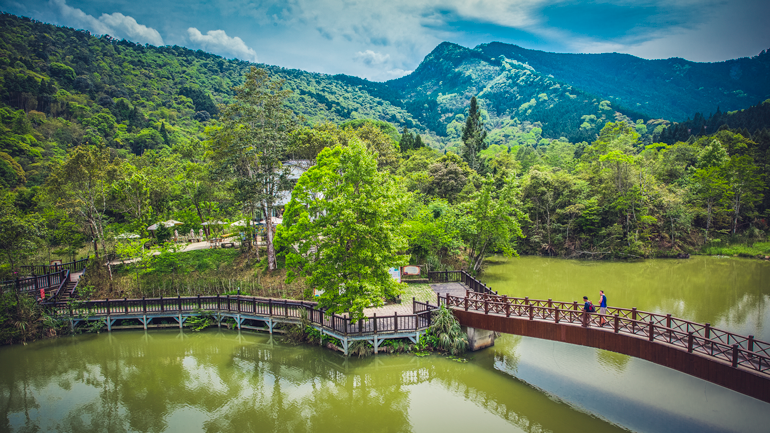 Getting There: From Nanzhuang take Miaoli Bus No. 5824 and get off at Xiangtian Lake (向天湖) bus stop.
Lion's Head Mountain (獅頭山)
Standing 491 meters high, Lion's Head Mountain is located on the border between Sanwan and Nanzhuang townships. It is the most important Buddhist and Daoist sacred mountain in northern Taiwan. In 1895, a Buddhist monk established a temple in a natural cave, after which Quanhua Hall and other temples were successively built. At present, 11 temples are scattered across the front and rear mountains. The front and rear mountains are linked by the Shishan Historical Trail. Approximately five kilometers long, this is a good route to go for Buddhist worship, to admire the scenery, and do some hiking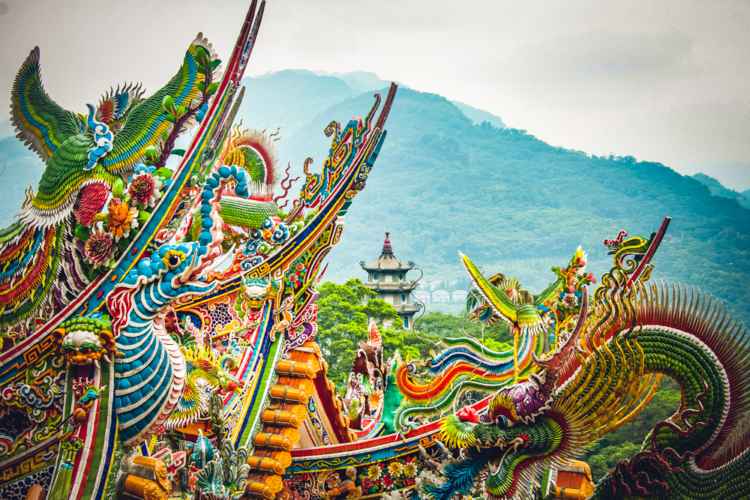 Getting There: Take a Taiwan Tourist Shuttle bus (No. 5805, Nanzhuang Route) and get off at Lion's Head Mountain Historic Trail Entrance (獅頭山古道口) or Quanhua Temple (勸化堂) bus stops.
Local Food
Nanzhuang produces a large amount of sweet osmanthus flowers. Jelly made using sweet osmanthus flowers, honey, and rock sugar has become a special local product. Osmanthus flower jelly with tangyuan sweet dumplings is a famous Old Street dessert, each store having its own distinctive flavor. As well as desserts, Nanzhuang Old Street also has eateries offering a variety of Hakka and indigenous dishes. There also quite a few garden cafés where visitors can dine or enjoy good tea and coffee in exquisite surroundings.
Nanzhuang Market (南庄市場)
Nanzhuang Market is a traditional retail market where locals buy their daily food ingredients. There are several renowned eateries in the market; as well as the long-established Ying Jie Diner, the Songhe Snack Food Shop has gained popularity in recent years. Its most popular dish is gougou noodles made with thick broth. This is a delicious local-flavor dish, especially when accompanied by freshly chopped soy-sauce braised foods.
Add: Inside public market on Minsheng St., Nanzhuang Township, Miaoli County
(苗栗縣南庄鄉民生街公有市場內)
Places to Stay in Nanzhuang (booking.com)
Traveling Further – Shitan (獅潭)
Shitan is located in Miaoli County's geographical center. The township is known for its forests and historic trails, rural scenery, old streets, and fine local food. Xindian Old Street, not far from Nanzhuang Village, was once an important traffic artery and an important distribution center for goods. Flourishing in the past, today it has become a historic street where the focus is on culture, art, and tourism. When visiting the Old Street, make sure to take a look at old houses, enter old shops, and sample authentic local Hakka fare while enjoying the strong old-time atmosphere.
Sanyi, Miaoli (苗栗三義)
Sanyi is a mountain Hakka town well known for its Old Mountain Railway Line. Its long-established wood carving industry is an important tourism resource. The Sanyi Wood Sculpture Museum and Wood Sculpture Street are two must-visit attractions. Recently, the old railway line was turned into a Rail Bike line. Sanyi has also been included in Cittalow International's list of slow towns, attracting even more visitors. After experiencing Rail Bike fun on the Old Mountain Line, a visit to the Wood Sculpture Street not far from Sanyi Railway Station to buy a souvenir or to the Sanyi Wood Sculpture Museum to view amazing wood sculptures is highly recommended. Visitors can also try DIY and make their own personal souvenirs.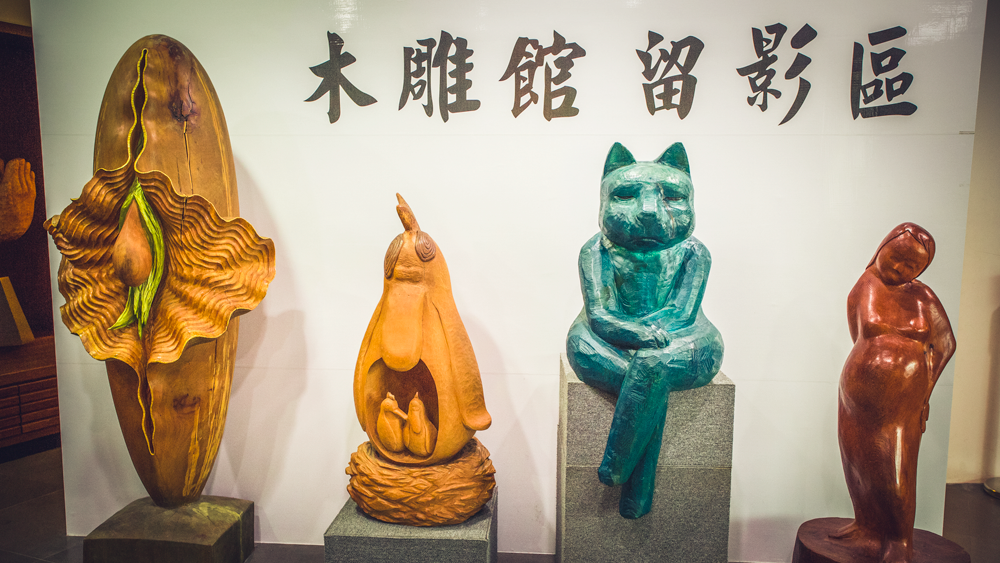 Getting There: Take a train to Sanyi Railway Station; from there take a taxi or bus to places of interest in the area.
Sanyi Wood Sculpture Museum & Dajia Mazu
Old Mountain Line Rail Bike
(舊山線-鐵道自行車)
The Old Mountain Line, on which operation ceased in 1998, is a railway line with a 100-year history. The stations along the line are not just well-known nostalgic attractions, the mountain scenery is also enchanting. In light of this, the local government came up with the idea of using the rail bike method to allow visitors to enjoy the scenery along the line. The route starts at Shengxing Railway Station and passes through No. 2 Tunnel and passes by the remains of Longteng Bridge. After reaching the north entrance of No. 6 Tunnel travelers make their way back to Shengxing Station. The route is around 12 kilometers long and the ride takes about 1.5 hours. Each "train" can carry four passengers and is equipped with a voice guide system. Although called "rail bike" the vehicles are driven by their electric power system, making the journey quite relaxed.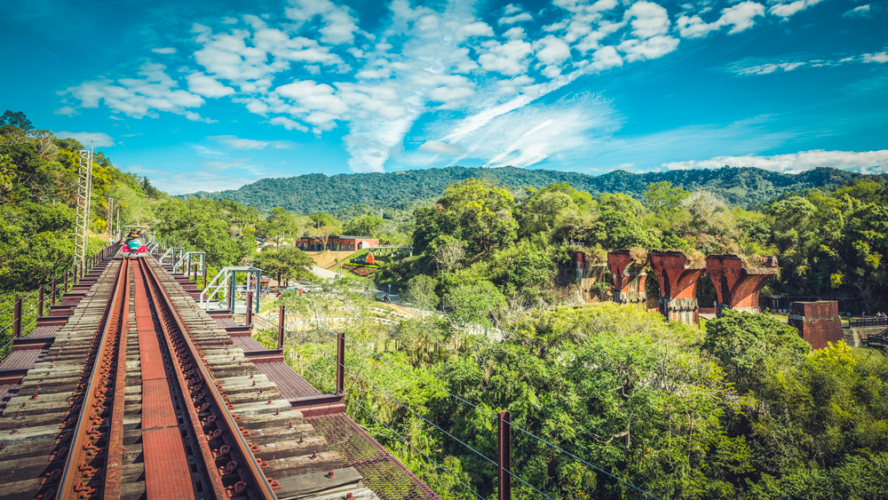 Add: No. 88, Shengxing, Neighborhood 14, Shengxing Village, Sanyi Township, Miaoli County (苗栗縣三義鄉勝興村14鄰勝興88號)
Tel: (037) 878-599
Website: www.oml-railbike.com
Getting There: Take a taxi from Sanyi Railway Station
Also read:
Driving and Rail-Biking Through MIAOLI/HSINCHU
Shengxing Railway Station (勝興車站)
This station marks the highest point on the Old Mountain Line. It was built in 1916, constructed wholly from wood. It exudes a strong Japanese colonial era feel.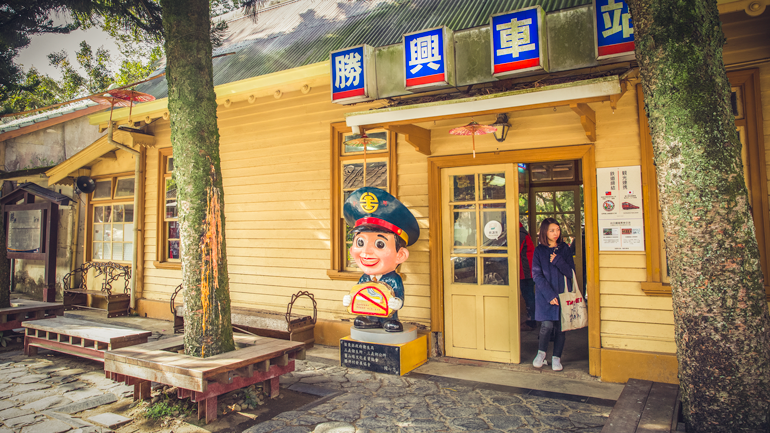 Ruins of Longteng Bridge (龍騰斷橋)
Built in 1905, Longteng Bridge is also called Yutengping Bridge. It's most distinctive feature is that the bridge supports were built using a traditional engineering technique. The bridge was destroyed in a big earthquake in 1935, leaving just the bridge supports for visitors to view.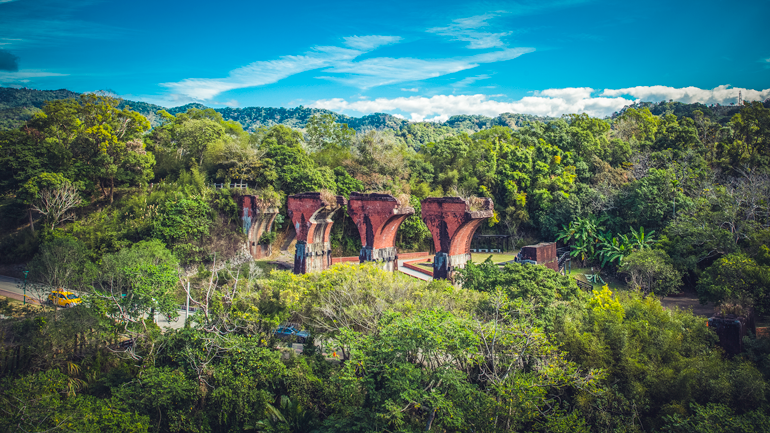 Sanyi Woodcarving
Sanyi has a highly developed wood carving industry. In its heyday, almost half of its residents were engaged in related work. Shuimei Street is also known as Wood Sculpture Street. In just a few hundred meters, there are more than one hundred wood carving stores. As well as traditional deity statues and folk artworks, in recent years wood sculptures with diverse subjects have appeared in succession, often surprising people. Sanyi also has Taiwan's only wood sculpture museum, packed with various kinds of wood sculptures. As well as buying or admiring sculptures, in Sanyi there are also tourist factories where visitors can hand paint wood sculptures and create their own personal works of art. One of these is Sanyi Duck Factory, which, as the name suggests, has a wooden duck DIY theme. While entry is free of charge, visitors can select the style of wood sculpture they like and then paint it with their own hands to create personal works of art.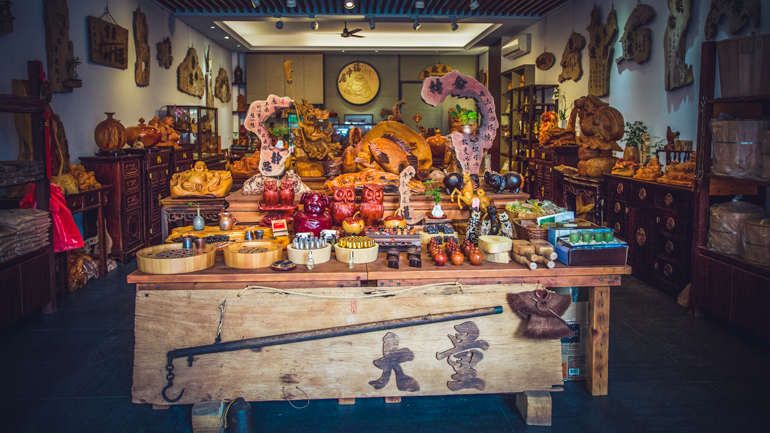 Sanyi Wood Sculpture Museum (三義木雕博物館)
Add: No. 88, Guangsheng New Village, Guansheng Village, Sanyi Township, Miaoli County
(苗栗縣三義鄉廣盛村廣聲新城88號)
Tel: (037) 876-009
Hours: 9:00-17:00
Website: wood.mlc.gov.tw
Sanyi Duck Factory (ㄚ箱寶)
Add: No. 176, Chonghe Rd., Sanyi Township, Miaoli County
(苗栗縣三義鄉重河路176號)
Tel: (037) 872-076
Website: www.dp-duckdiy.com.tw
Local Food
As 90% of the residents of Sanyi are Hakka, not surprisingly it's a place where visitors can enjoy authentic Hakka cuisine. Three Generation Hall and Jiu Ding Xuan on Wood Sculpture Street are eateries renowned for their Hakka dishes that have developed a series of well-received gifts including Hakka rice-based food, pickles and desserts. Shengxing Hakka Inn next to Shengxing Railway Station is one of the oldest restaurants at Shengxing Old Street. Its dishes are tasty and the Hakka rice-based food "train rice cake" for sale in the restaurant makes a perfect gift. Those who want to try lei tea DIY can head to 16 Distilleries Teahouse on Shengxing Old Street to enjoy the nostalgic good taste of lei tea and Hakka-style glutinous rice cake.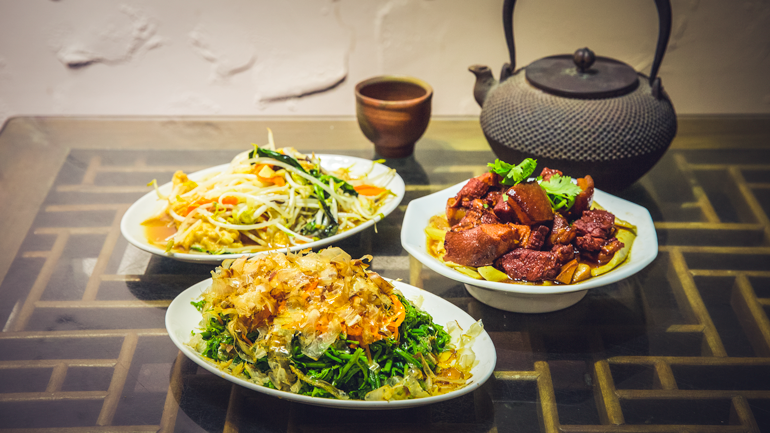 Three Generation Hall (參代堂)
Add: No. 283-1, Shuimei St., Sanyi Township, Miaoli County
(苗栗縣三義鄉水美街283-1號)
Tel: (037) 875-070
Hours: Mon. ~ Fri. 9:00-20:30, Sat. & Sun. 9:00-21:00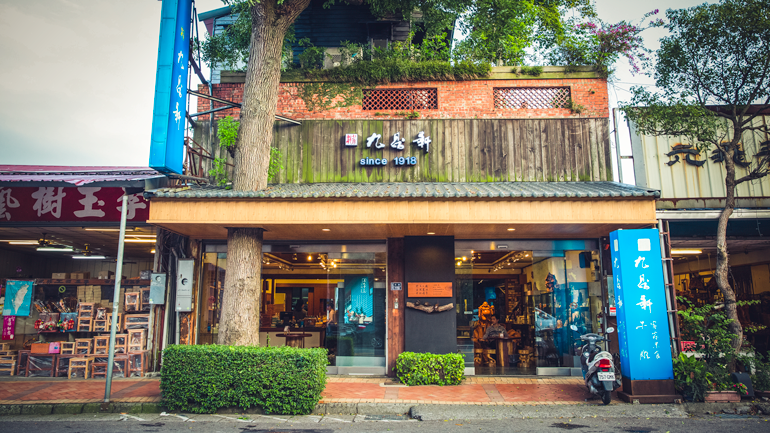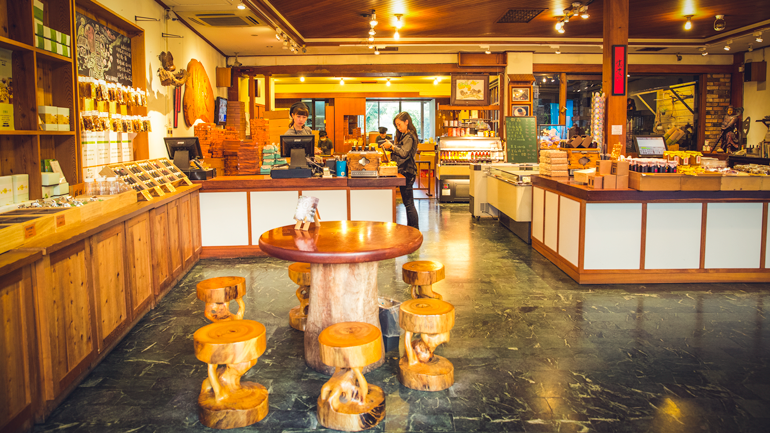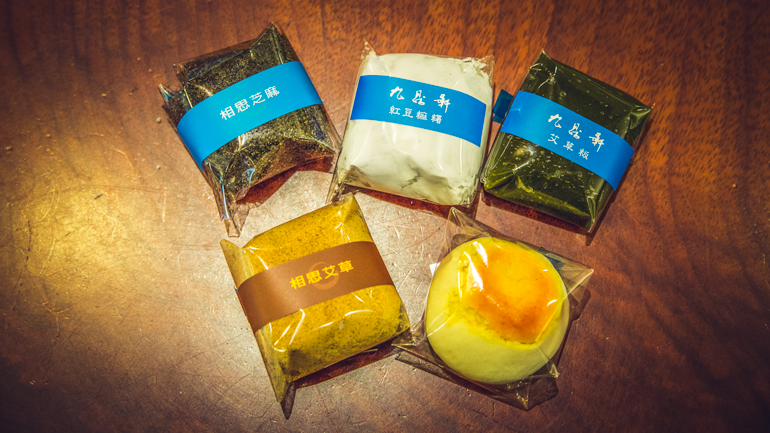 Jiu Ding Xuan (九鼎軒)
Add: No. 118, Shuimei St., Sanyi Township, Miaoli County
(苗栗縣三義鄉水美街118號)
Tel: (037) 875-366
Hours: 8:00-19:00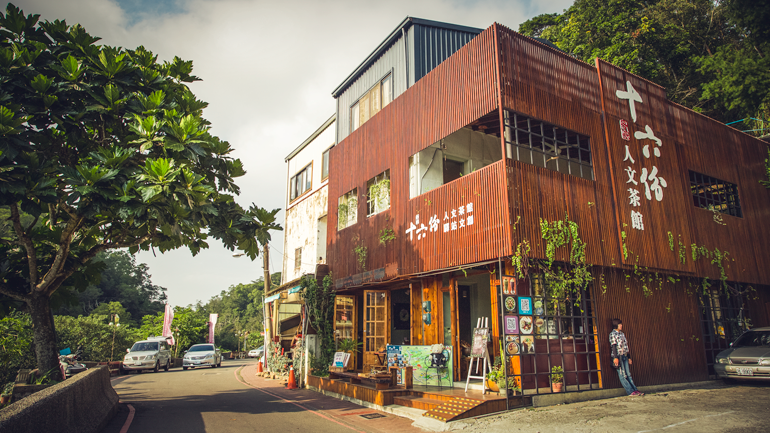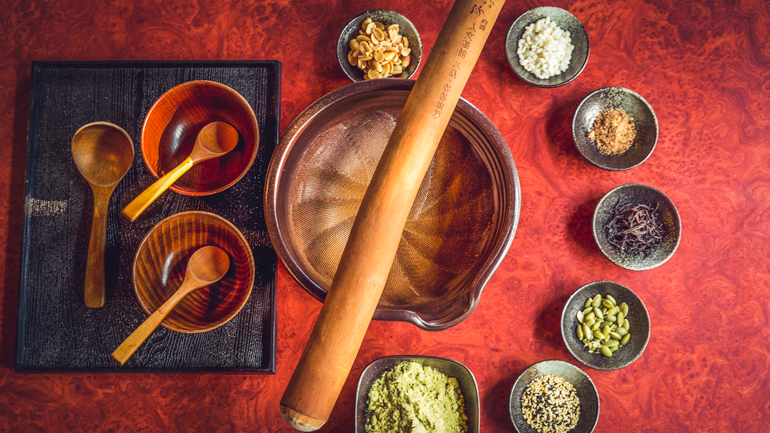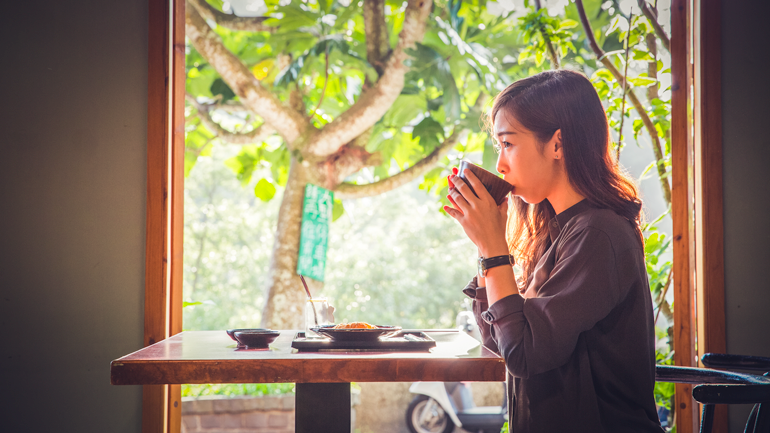 16 Distilleries Teahouse (十六份人文茶館)
Add: No. 53, Shengxing, Shengxing Village, Sanyi Township, Miaoli County
(苗栗縣三義鄉勝興村勝興53號)
Hours: 10:00-18:00, Sat. & Sun. 9:30~18:00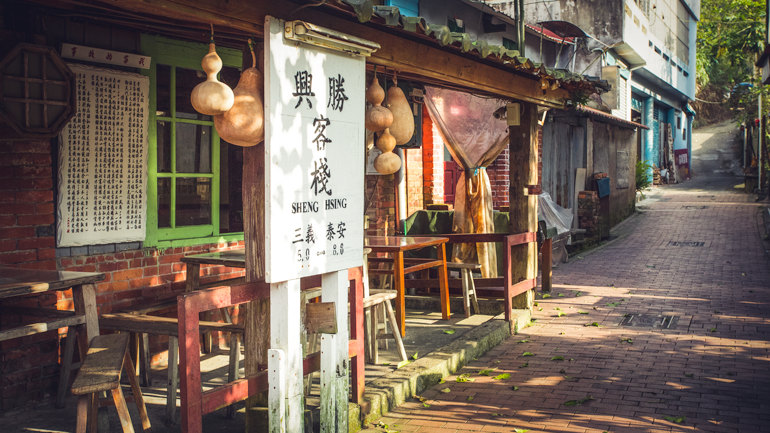 Shengxing Hakka Inn (勝興客棧)
Add: No. 72, Shengxing, Sanyi Township, Miaoli County
(苗栗縣三義鄉勝興72號)
Tel: (037) 873-883
Hours: 9:00-20:30
Zheng Peng Pai Hakka Traditional Restaurant (蒸烹派客家美食料理)
Add: No. 5-5, Shuanghu, Shuanghu Village, Sanyi Township, Miaoli County
Tel: (037) 876-482
Hours: 11:00-14:00, 17:00-20:00
Zhuo Ye Indigo Dyeing Handicraft Experience in Tainan and Miaoli
Tongluo, Miaoli (苗栗銅鑼)
Tongluo, located to the north of Sanyi, is well-known for its blooming tung trees. During blooming season in May every year, crowds of flower lovers flock to the Skywalk on Jiuhua Mountain to enjoy the beautiful sight of the whole mountain covered in a sea of tung blossoms. The Hakka are the main ethnic group in Tongluo. The Taiwan Hakka Museum is located here and is, together with nearby Tongluo Tea Factory and Jiuhua Mountain one of three tourist attractions in the township. Going to the Taiwan Hakka Museum first is suggested; it has various interactive installations and is suitable for the whole family. At the Tongluo Tea Factory you can enjoy some fine tea and at Jiuhua Mountain walk on one of the numerous trails and admire the splendid scenery.
Getting there: Places of interest in Tongluo are not well connected by public transport; it's best to rent a car at TRA Miaoli Station or HSR Miaoli Station or hire a cab.
Taiwan Hakka Museum (台灣客家文化館)
Located in Miaoli's Tongluo Science Park, the Taiwan Hakka Museum combines outdoor space, a main exhibition hall, and ancillary facilities. The main structure is a green building designed in accordance with the local hilly terrain. The Hakka imagery landscaping features, a pedestrian bridge made of glass, and other attractions outside the park are popular spots to check in. The permanent exhibition on the second floor of the main exhibition hall tells the story of the Hakka through various displays. There are also an interactive area, a craft experience workshop, and a multi-media theater. Not only can visitors learn more about the richness and meaning of Hakka culture, the various interactive games also make it a good place for family fun. The museum is a must-visit popular attraction in Tongluo. The park also has two restaurants, one that serves snacks and afternoon tea and another that serves authentic Hakka food.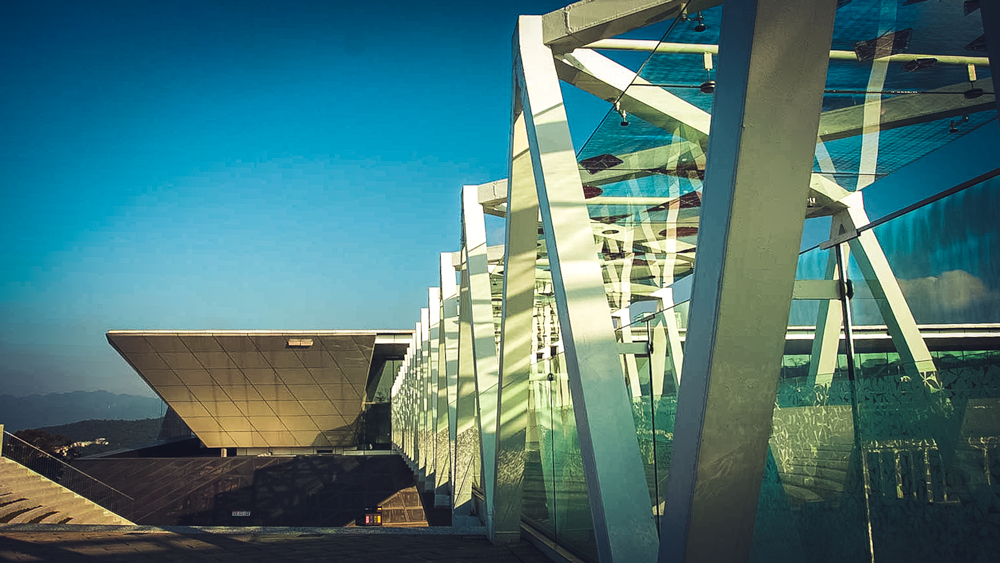 Add: No. 6, Tongke S. Rd., Jiuhu Village, Tongluo Township, Miaoli County
(苗栗縣銅鑼鄉九湖村銅科南路6號) (inside Tongluo Science Park)
Tel: (037) 985-558
Hours: 08:30-17:00 (closed on Tuesday)
Getting There: Take a free shuttle bus from Miaoli High Speed Rail Station, Tongluo Railway Station, Miaoli Railway Station or Sanyi Railway Station.
Website: thcdc.hakka.gov.tw
Tongluo Tea Factory (銅鑼茶廠)
Tongluo Tea Factory is an integrated tea factory that, as well as making tea, also offers visitors a chance to experience tea picking on a tea plantation. It uses natural, organic farming techniques and promotes environmental sustainability through ecological education. The interior design is simple but stylish and spatial use is excellent. All around, old tea making implements are on display, merging the modern architectural style of the factory and the historical feel of the vintage objects perfectly. Visitors can dine in the ground floor seating area and also enjoy different fine teas produced under different environmental conditions such as climate, soil and humidity together with some delicate pastries.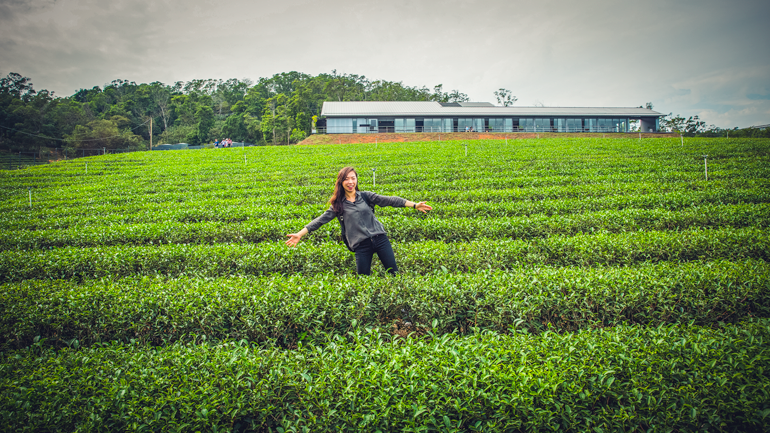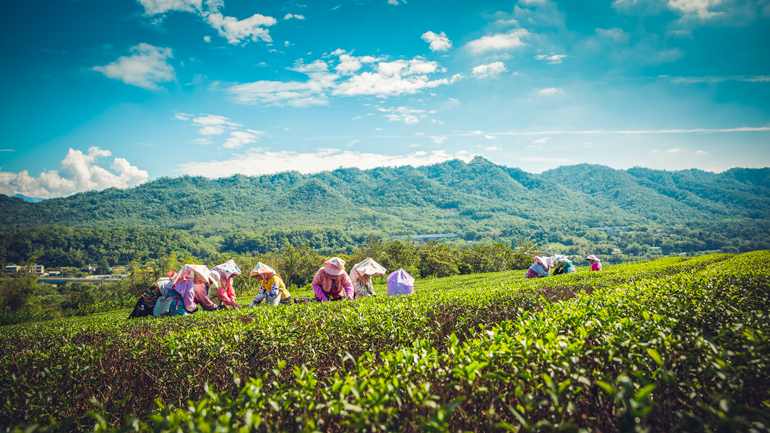 Tea picking can be experienced from March until early November annually. Visitors can follow the guide through the tea fields, identifying tea varieties, picking tea leaves and rubbing the tea leaves with their own hands. After enjoying a traditional tea picker's lunchbox and fine tea, self-made baked tea snacks can be taken away.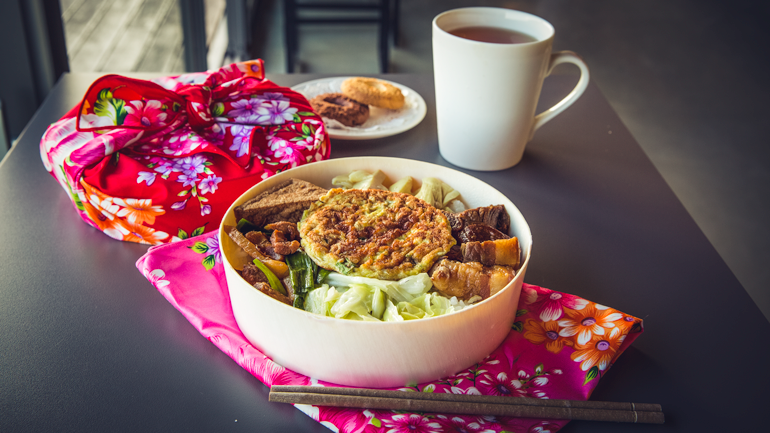 Add: No. 132-16, Jiuhu Village, Tongluo Township, Miaoli County
(苗栗縣銅鑼鄉九湖村132-16號)
Hours: Mon. ~ Fri. 10:00-17:00, Sat. & Sun. 10:00-17:30
Tel: (037) 987-358
Also read:
A Slow Tour of Southern MIAOLI COUNTY
Tongluo Bikeway (銅鑼自行車道)
Skywalk (天空步道)
Tongluo Bikeway is built along the ridge on Jiuhua Mountain. Around eight kilometers long, it passes tea plantations, suspension bridges, and scenic trails. The Sky Bridge and Skywalk are popular spots for viewing the scenery along the bikeway. The Skywalk is elevated, runs parallel to the tree canopy, and offers views of tea plantations and the plain below. During tung blossom season, it offers a chance to admire the tung blossoms close up. The Sky Bridge is a cable suspension bridge that spans a mountain valley. During tung blossom season, the pleasing sight of a sea of snow-white blossoms can be viewed from the bridge.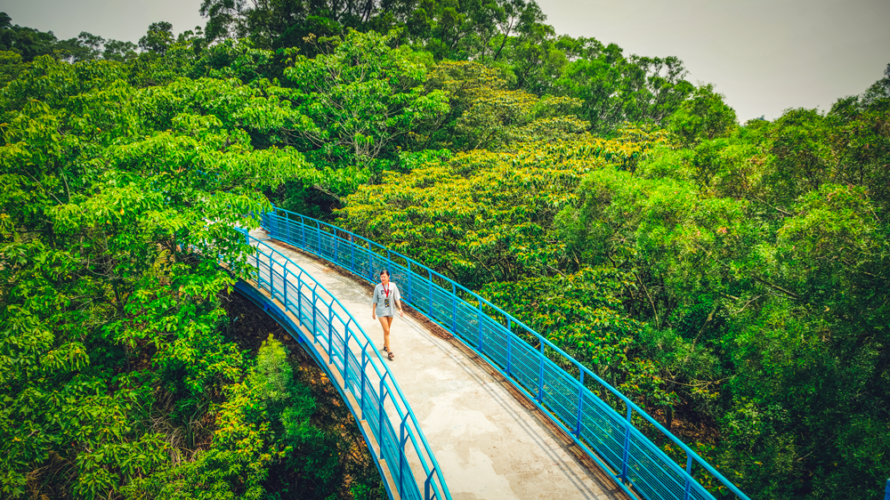 Tongluo Chrysanthemum (銅鑼杭菊)
"Snow" falls twice every year in Tongluo Township; the first time is the tung tree bloom in spring, the second is when the florist's daisies bloom in late autumn. The coquettish and cute florist's daisies add a touch of romance to the uncomplicated Hakka settlement; scarecrows, and other agricultural village features can be seen in the fields and can be photographed by visitors. Adding to the appeal is the fact that a railway runs by the flower fields, drawing in keen photographers, many making a special trip to take photos.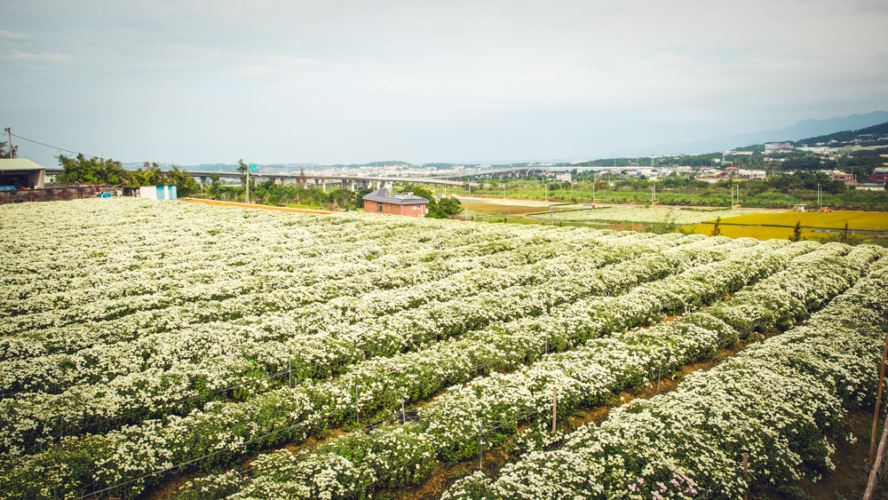 Jiuhu Leisure Farm (九湖休閒農場)
Add: No. 92-3, Jiuhu Village, Tongluo Township, Miaoli County
(苗栗縣銅鑼鄉九湖村92-3號)
Dahu, Miaoli (苗栗大湖)
Miaoli has a slow-paced rural atmosphere and countryside scenery, attributes that have allowed leisure agriculture to become highly developed. Accounting for 80% of all strawberries grown in Taiwan, Dahu is known as "Taiwan's strawberry kingdom." During strawberry season every year, visitors flock to Dahu to pick their own fruit. Visitors to Dahu are advised to first go to the Dahu Strawberry Cultural Center to learn about strawberry ecology and local industry and buy gifts, and then go to a nearby strawberry farm to pick strawberries. With Dahu as base you have you have two choices for further traveling. Head north to visit Wenshui Old Street in Shitan Township; head south to visit Liyutan Reservoir in Zhuolan Township.
Dahu Wineland Resort: From TRA Miaoli Station, take Hsinchu Bus No. 5656 and get off at Dahu Wineland Resort (大湖酒莊).
Wenshui Old Street: From TRA Miaoli Station, take Hsinchu Bus No. 5656 and get off at Wenshui (汶水).
Liyutan Reservoir: From TRA Miaoli Station, take Hsinchu Bus No. 5655 and get off at Shuiyuan Entrance (水源入口).
Fruit Picking Experience
December to April is strawberry season in Dahu. There are dozens of local strawberry farms where visitors can pick their own fruit. To make picking easier for visitors, quite a few farms considerately grow their strawberries raised off the ground, avoiding the need to have to squat down and pick. The Dahu Strawberry Cultural Center (Dahu Wineland Resort) is a must-visit attraction. The center has a gift area selling various strawberry-themed souvenirs and agricultural products. There is a strawberry farm right behind the center, where visitors relying on public transport can conveniently pick their own fruit.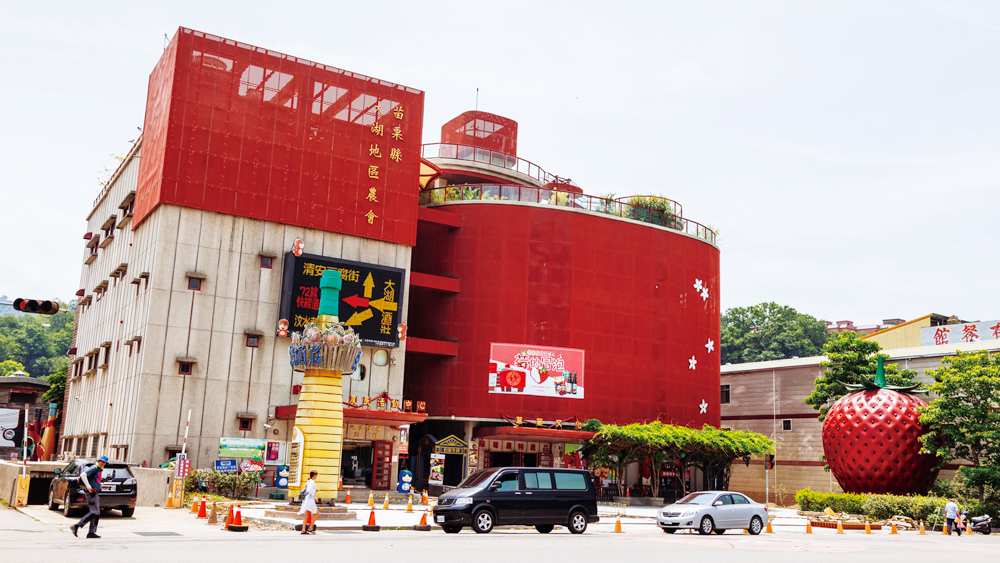 Dahu Strawberry Cultural Center (大湖草莓文化館)/
Dahu Wineland Resort (大湖酒莊)
Add: No. 2-4, Baliaowan, Fuxing Village, Dahu Township, Miaoli County
(苗栗縣大湖鄉富興村八寮灣2-4號)
Tel: (037) 994-986
Hours: 9:00-17:30, weekends 9:00-18:00
Traveling Further – Shitan & Zhuolan (獅潭&卓蘭)
Shitan, Wenshui Old Street
(獅潭 汶水老街)
Wenshui Old Street in Miaoli is located on Provincial Highway 6, the main route to Dahu. The street is lined with numerous historic buildings with old shop signs. Since the street is close to Dahu, many shops sell strawberry-related products. On weekends, many locals will set up stall in front of their houses, selling flat noodles (bantiao), vegetable bun soup and other Hakka specialties.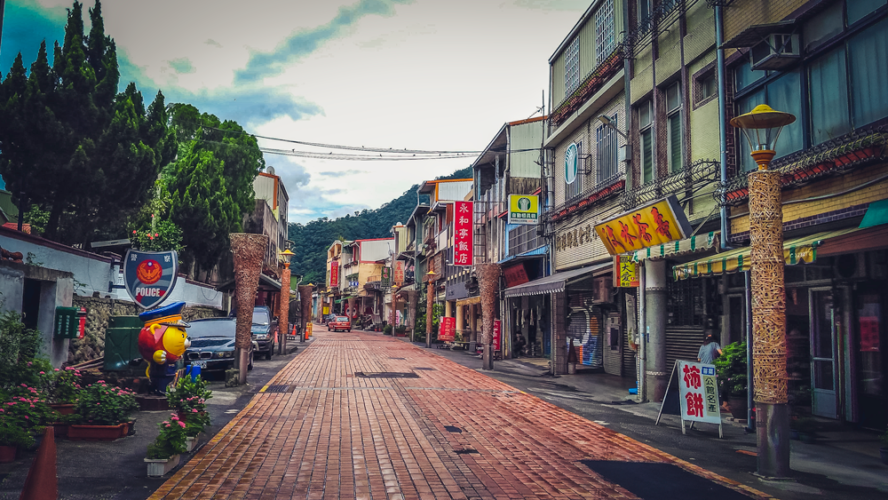 Zhuolan Recreational Farms
Close to Liyutan Reservoir are quite a few recreational farms, including Flower Home, which is renowned for its wide variety of herbs, flowers, and other plants and for using natural farming methods. The farm also has Taiwan's first essential-oil museum. Visitors have the chance to try their hand at making essential oil DIY style and can enjoy dishes made using flowers and herbs as ingredients.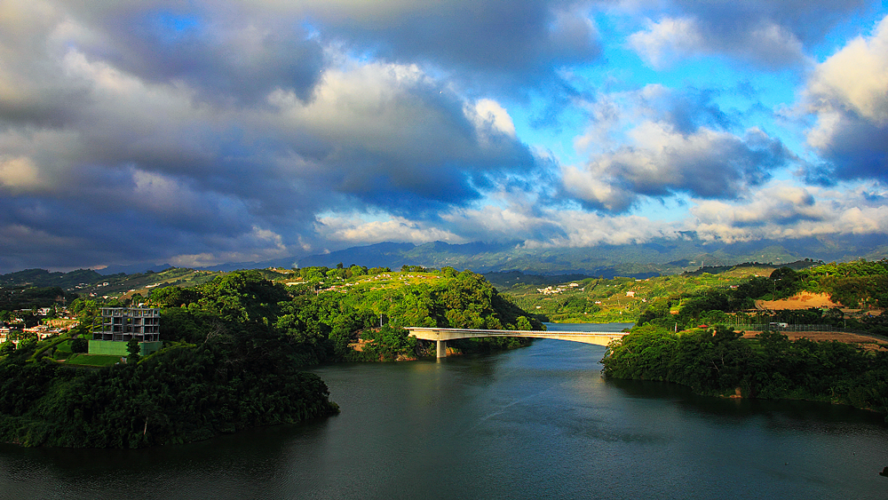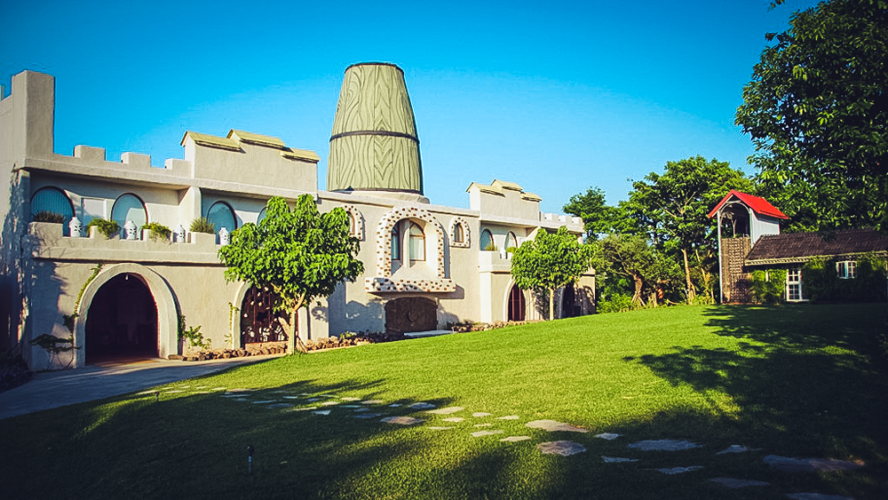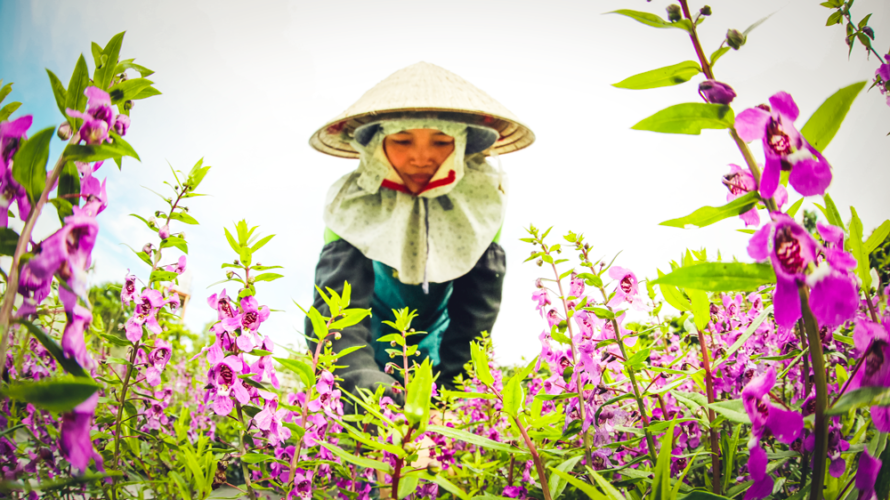 Flower Home ( 花露休閒農場 )
No. 43-3, Xiping, Xiping Borough, Zhuolan Township, Miaoli County
(苗栗縣卓蘭鎮西坪里西坪43-3號)
Website: www.flowerhome.com.tw