Tradition and History… But also Lots of Fun for Children!
Rarely introduced in great detail in English guidebooks, Yunlin County is the center of one of Taiwan's most popular forms of traditional performance art: puppet theater. Culture and history buffs, travelers with kids, or anyone simply looking to get off the beaten track can head to Huwei Township to experience Taiwan's distinctive puppetry culture.
TEXT: NICK KEMBEL
PHOTOS: MAGGIE SONG
While I haven't brought my kids yet, I know they truly would enjoy the Yunlin Hand Puppet Museum. We've passed by outdoor puppet stages decorated in a riot of neon colors in our New Taipei City neighborhood numerous times. I have never been able to explain this complex and multifaceted art form to them, though my wife fondly recalls the excitement and awe of taking in puppet shows as a child growing up in Chiayi County, south of Yunlin.
While Yunlin is anything but flashy today, it was once the birth place of a thriving puppet theater scene. It was here that the founding father of Taiwanese hand puppetry, Huang Hai-dai, skirted the ban on Taiwanese culture in the Japanese colonial era (1895~1945) by incorporating Japanese lines into his famed performances.
In the 1950s Huang's sons ushered in the JinGuang (Golden Ray) era of puppet theater in Taiwan, during which children and adults island-wide frequently rushed to take in performances after school and work. The new style added larger puppets, special effects, and other creative elements to the traditional budaixi foundation. With the advent of television in Taiwan in the 1960s his sons also produced television adaptations that proved so popular they were banned for a period of six years by the Legislative Yuan for disrupting the daily routines of farmers and workers.
At the THSR (Taiwan High Speed Rail) Yunlin Station, I catch a taxi and head off on a 10-minute ride, traversing a landscape that hovers indecisively between urban and rural. Both the THSR station and the Yunlin Hand Puppet Museum are located in Huwei, a relatively undeveloped township on land once home to a powerful indigenous tribe, which was driven further inland by Han Chinese settlers from mainland China.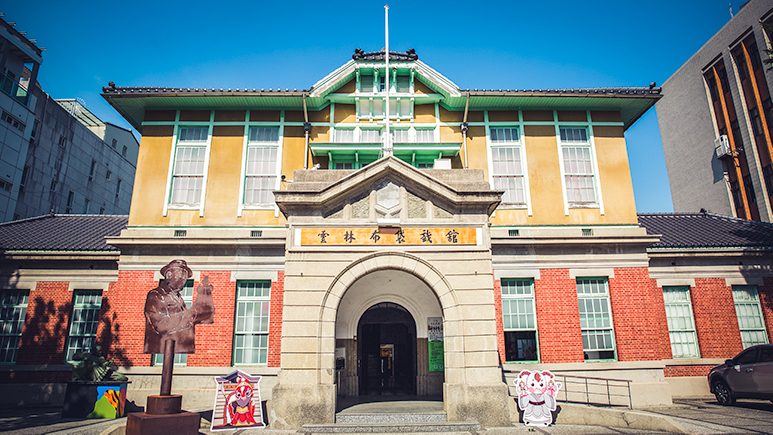 The museum sits among a cluster of restored public buildings dating to the early 1920s, when Yunlin was a part of Tainan Prefecture, a Japanese-era administrative division. The handsome wood-and-red-brick building is constructed in the Victorian style, one of the styles favored by Japanese architects at the time. It originally housed the Huwei District Office, and was converted for use as a police station in 1945. The building is said to have 2.5 floors, due to a covered walkway that starts at the building's rear, at a level midway between the first and second floors, and cuts across the rear courtyard. The first and second floors are also not contiguous; instead, apertures in the building façade lead to narrow spaces in between, an ingenious Japanese design element that provides natural air circulation.
Abandoned from 1989, Yunlin leaders later decided to preserve the structure, and in 1999 they successfully obtained a subsidy to fully restore the building. In 2009 it was finally reopened as a dedicated puppet theater museum, created to pay homage to Huwei's significance in Taiwanese puppetry. The museum is open 10am to 6pm (closed Monday and Tuesday), and entry is free.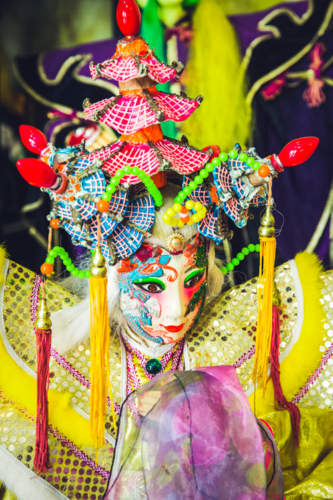 In the main-floor exhibit, I delve into the history of puppet theater in Taiwan. During the early days, puppeteers adhered to Chinese styles and adopted story lines based on classical martial-arts literature. The puppets from this period, samples of which are presented in the first display I see, were only 30 centimeters in height.

The puppeteer's index finger fit into the puppet's wooden head, the thumb worked the left arm, and the three other fingers worked the right. Since the puppets were so small, the puppeteer could control one puppet with each of his hands. He was positioned behind a stage that was often little more than a stand folded out from a piece of luggage.
In the 1920s and '30s, puppeteers in Yunlin began pushing the boundaries, writing their own scripts, making the performances more entertaining and action-packed, and creating larger puppets. In the Golden Rayera the puppets were made much taller, about 45 centimeters, with disproportionally larger heads, making them easier to see for members of the growing audiences seated further back from the larger stages now being used.

Public performances had already been driven indoors during the years of sociopolitical disturbance that followed the infamous 2-28 Incident of 1947,and in the early 1960s another game-changer arrived on the scene: television. The rise of television was a new threat to puppet theater, but when adaptations were created for the new medium the new style of presentation instantly became a nationwide hit. If you had a TV in your living room or set up in your courtyard at that time, you could expect half the neighborhood to show up, bringing their own chairs.
The puppets changed again in this period. Rising in size to 80 centimeters, they became so large that a puppeteer could only hold one on his right arm, using his left arm to control the movements of the puppet's left arm with a stick. The heads became smaller again, and more life-like. The puppets took on a look that was decidedly sleek, attractive, and contemporary, the style moving away from the comparatively garish array of bright colors on traditional puppets.
A prime example is the most famous character in Taiwanese puppetry,the scholarly swordsman Shi Yan Wen, developed by Huang Jun-xiong, second son of Huang Hai-dai. Adapted from his father's most famous character, Shi is usually portrayed with a soft, white, effeminate face and flowing white garments.
On the other side of the main floor I take in a display on Long Xing Ge, a troupe of puppeteers that developed in neighboring townships alongside Huang Hai-dai's troupe, but which incorporated local Hakka language and themes in its story lines. Featured prominently in the display is the character Wu Zhua Jin Ying, who often has his eyes blindfolded because, so the tale is told, he became so angry after his girlfriend was kidnapped that everything he sees will die.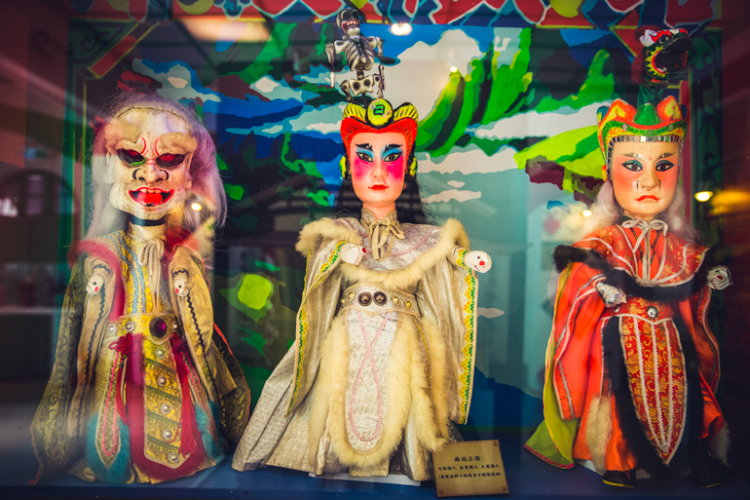 Heading out behind the building, I explore a calm courtyard dominated by a 100-year-old banyan tree. There is a small puppet stage here,and on weekends children can borrow puppets to play with. There is also a small café and a souvenir shop specializing in local products including coffee, soy sauce, noodles, and sweet potato-flavored dishes and beverages.
The second floor of the museum, once the district leader's office, now features displays on the various parts of the puppets, such as headdresses, hats, clothing, and wooden heads. One display features "modern" puppets, including a cowboy and a zombie. Quirkier designs like this are more common in the south of Taiwan, where performers have a penchant for bending the rules of classical performance.
Before leaving the museum, I pop into the former police station's jail room, which has three cells with smooth black bars made of Taiwanese cypress.There are also two padded rooms that were used for suicidal inmates, as well as a squat toilet with a low door so guards could keep an eye on the inmates while the latter took care of business.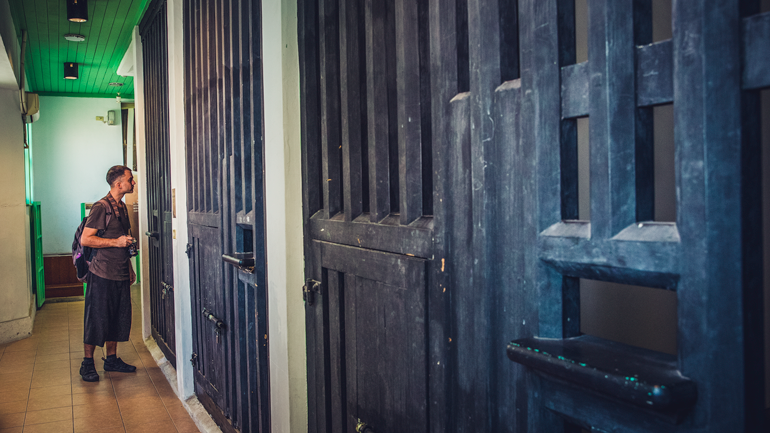 Last but not least, there is a DIY room in the police station section where kids can make a puppet key chain (NT$120) or paint their own Taiwanese-style puppet (NT$500). Complete puppets are also for sale(NT$450-700). In the adjacent room, kids can enjoy seeing the Taiwanese-puppet versions of Gandalf and Harry Potter.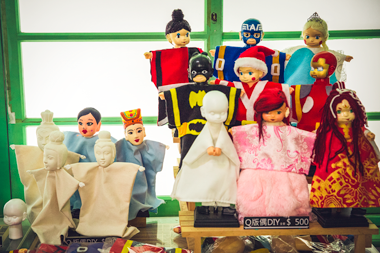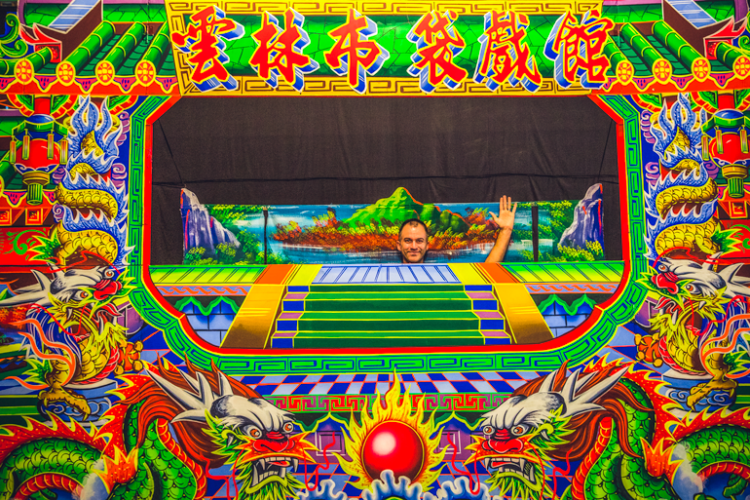 Yunlin Hand Puppet Museum (雲林布袋戲館)
Add: No. 498, Sec. 1, Linsen Rd., Huwei Township, Yunlin County
(雲林縣虎尾鎮林森路一段498號)
Tel: (05) 631-3080
After visiting the museum, I take a peek at the Yunlin Story House next door, a beautifully restored Japanese-style residence that was once the home of the Huwei County Magistrate. Among the items on display are a number of cart bicycles that Japanese peddlers once rode around to sell candies and tell stories to kids using large moveable illustrated papers, a form of storytelling street theater known as kamishibai, or "paper theater."
Across the street from the Yunlin Story House, I lunch at Yunlin Memory Cool, an eatery housed in a one-time land registration office dating to the same period as the puppet museum. I peer inside a room of empty shelves that were once filled with registration documents. The menu features Japanese curry with two kinds of locally grown rice, sesame cold noodles, matcha shaved-ice desserts, and other treats.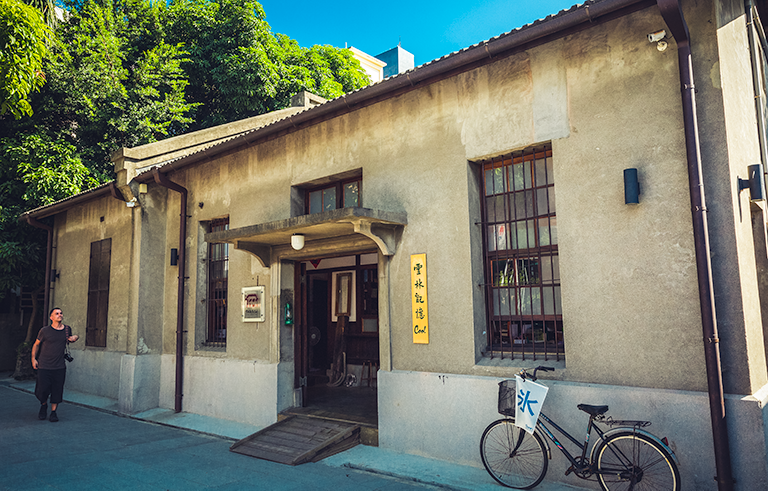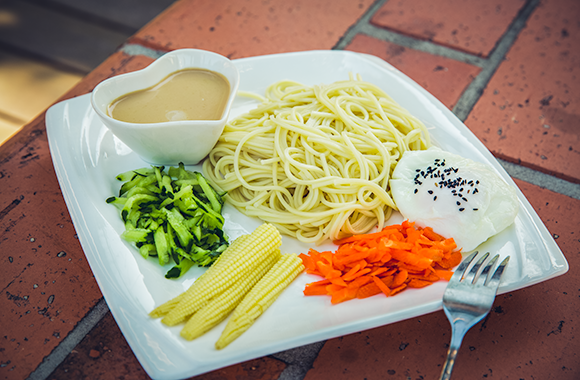 Last, I check out the old fire station across from the puppet museum, which now houses a Starbucks and an Eslite Bookstore. I can say with reasonable confidence that this is the only Starbucks in Taiwan that has a firefighter's pole connecting the first and second floors, though (unfortunately) you can't slide down it.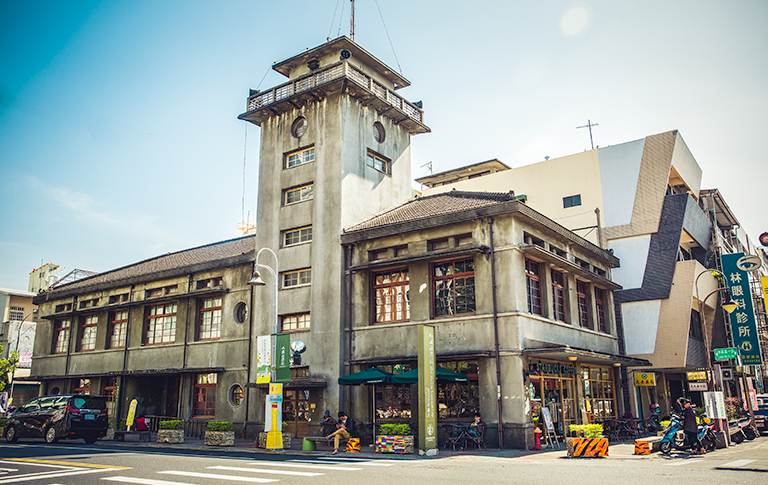 If you plan to visit the area, why not make a night of it and stay in a puppet-theater-themed hotel? The Yunlin Puppet Design Hotel is a 10-minute walk from the museum. Huang Hai-dai's son Huang Jun-xiong built the hotel in 1981, and the flamboyant hanging lights in the lobby are a reminder that there was once a popular disco here.
The hotel was closed in 1996, then bought for refurbishment in 2014 and finally reopened in early 2018. Paying homage to the original owner's immense influence in Taiwanese puppetry, the hotel is tastefully decorated with a puppetry theme, including a puppet stage in the lobby and two original Huang Jun-xiong puppets on display. Each room is associated with one of the six main puppet theater characters. The Dan (female character) room is the pick of the bunch, while the tiny Za (half-horse half-man character) single room is worth a look.
Yunlin Puppet Design Hotel (雲林布袋戲館)
Add: No. 69, Xinyi Rd., Huwei Township, Yunlin County
(雲林縣虎尾鎮信義路69號)
Tel: (05) 636-0618
Website: www.huweihotel.com.tw (Chinese)
Yunlin International Puppet Theater Festival
One of the best times to visit Huwei is during this annual festival,which features exhibitions and performances not only by local hand-puppet troupes but by puppeteers from abroad as well. International cultural exchange is one of the main objectives of the event organizers. The festival is staged in October.
Website: 2018puppet.yunlin.gov.tw (Chinese; last year's website)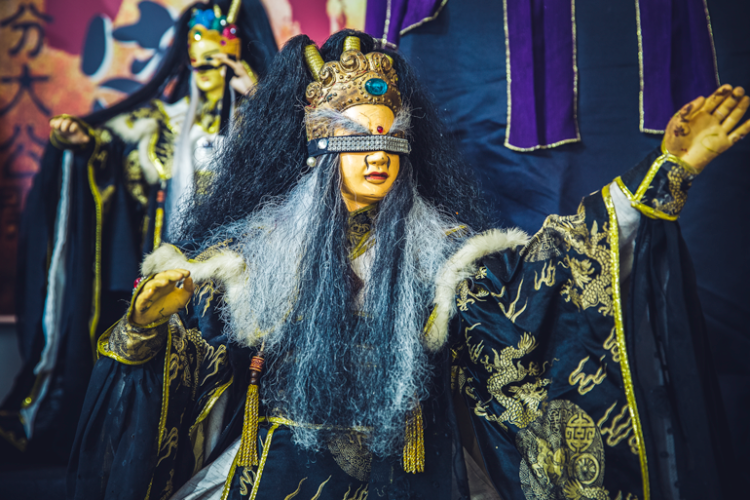 Getting There
To reach the places mentioned in this article, a taxi from Yunlin's high-speed rail station will take about 10 minutes and cost NT$150. You can also take bus 7701 or 7702 and get off at the Huwei stop.
English and Chinese
budaixi 布袋戲
Huang Hai-dai 黃海岱
Huang Jun-xiong 黃俊雄
Huwei Township 虎尾鎮
Jin Guang 金光
Long Xing Ge 隆興閣
Shi Yan Wen史艷文
Wu Zhua Jin Ying 五爪金鷹
Yunlin International Puppet Theater Festival 雲林國際偶戲節
Yunlin Memory Cool 雲林記憶Cool
Yunlin Puppet Design Hotel 虎尾春秋文創設計旅店
Yunlin Story House 雲林故事館

Also in Yunlin
– RAILWAY Travel: CHANGHUA and YUNLIN
– JANFUSUN FANCY WORLD in Yunlin County
– 5 Things to Do in XINGANG

Further Reading on Other Sites

The Beautiful Island/Polish Girl in Taiwan
Huwei Puppet Museum and Story House
Cotton Fields in Huwei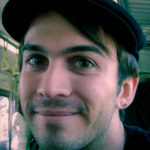 Kembel is passionate about tea, spending time with his kids, and all things travel. He has been to nearly 50 countries but called Taiwan home for the last decade. In 2011 he authored Taiwan in the Eyes of a Foreigner.