[This post will be updated if new information about places around the station comes available. 🙂 ]
North Gate (Beimen) (北門)
Originally called "Cheng'en Gate," in earlier times this was the key portal for travel between the old walled City and Dadaocheng. Outer walls covered with red brick, this is a rare surviving example of a south Fujian-style blockhouse city gate. With the Zhongxiao Bridge approach road now dismantled, unobstructed views of the gate can be enjoyed.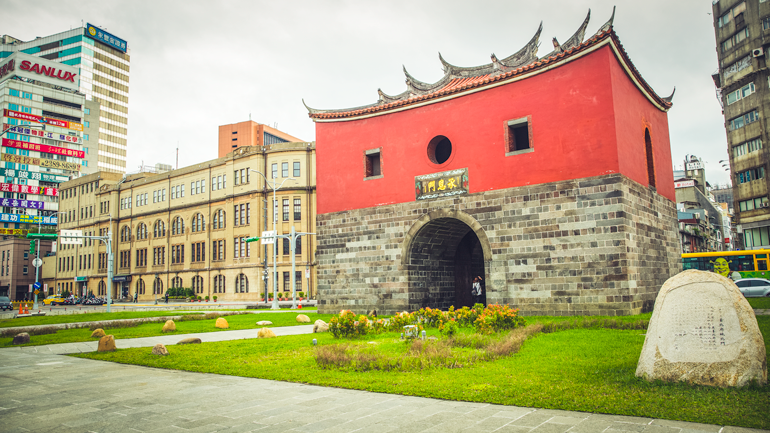 Location: Zhongxiao W. Rd., Yanping S. Rd., and Bo'ai Rd., Taipei City
(忠孝西路/延平南路/博愛路)
Dihua Street
Beimen is the closest MRT station to the southern end of well-known Dihua Street in Dadaocheng District.The focus for this vibrant, heritage-rich neighborhood in Taipei City is Taipei history. Dadaocheng is known for its dense cluster of traditional Chinese shophouse retail and wholesale outlets, selling regional specialty items from around Taiwan and further afield, notably Chinese medicines, traditional fabrics, and food treats. The community, founded as a Tamsui River riverport in the 1850s, is today home to what is the best-preserved and most complete "lived-in" architectural museum in Taiwan.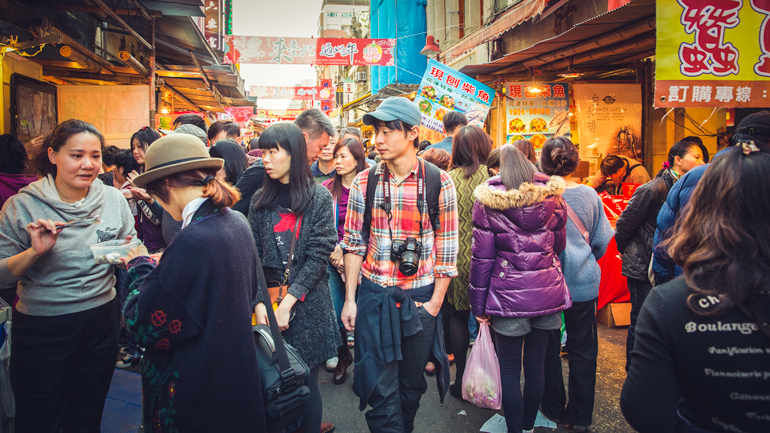 Dihua Street is the community's heart and main tourist destination. It was long the most important traditional-goods wholesale market on the island, and is still thriving after well over 100 years. The street becomes joyfully, uproariously busy in the run-up to the Lunar New Year (also known as Chinese New Year and Spring Festival) period as locals stock up on New Year celebration necessities.
Xiahai City God Temple
(台北霞海城隍廟)
The community's religious heart is the small ornate Xiahai City God Temple, built in 1859, home to a breathtaking number of godly icons, with the main deity the City God and the Old Man Under the Moon, the Chinese Cupid, as an extremely popular secondary deity. In the Chinese world each settled urban area in China has a City God, who registers and, upon death, judges the behavior of mortals in his district.
Yongle Fabric Market (永樂布業商場)
In days past, Dadaocheng was northern Taiwan's key wholesale and retail market for fabrics. Today, Yongle Fabric Market is still home to 100-plus fabric shops on its second and third floors, Taipei's largest cluster of such sellers. Here you can find traditional Taiwan floral fabrics, fashionable simple-line woven fabric, and also flannel and even tarpaulin and myriad other fabric types. There is a wide variety and prices are very reasonable. Experienced shoppers will buy fabrics on the second floor and have them made into custom-tailored qipao, curtains, carpets, and other items by master tailors on the third.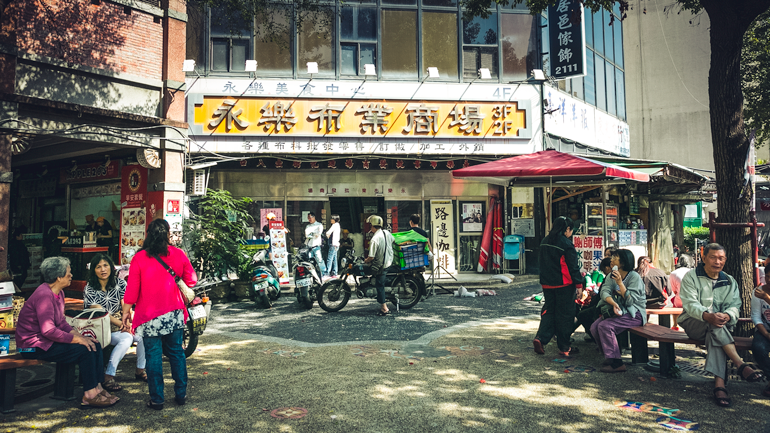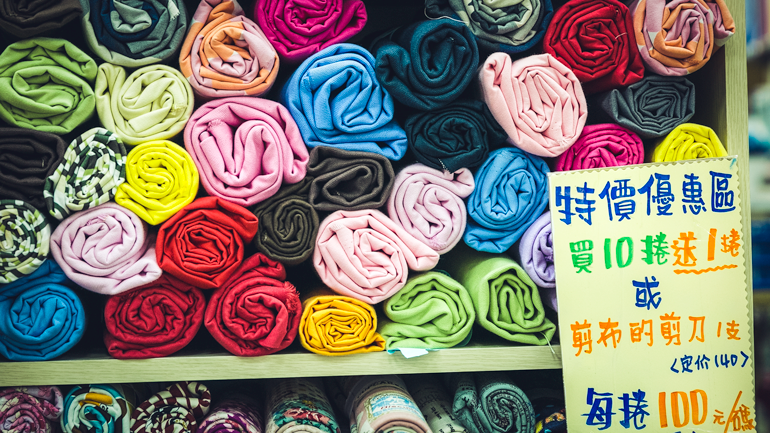 Add: 2 & 3F, No. 21, Sec. 1, Dihua St., Taipei City
(台北市迪化街1段21號2、3樓)
inBlooom (印花樂)
InBlooom mainly sells everyday lifestyle items, specializing in printed fabrics featuring quintessential local Taiwan elements, creating such practical-use items as T-shirts, bags, placemats, book covers, and much more.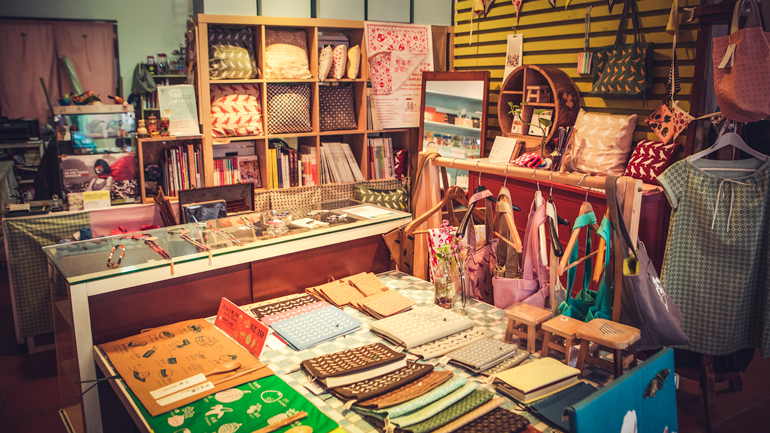 Add: No. 28, Minle St., Taipei City
(台北市民樂街28號)
Tel: (02) 2555-1026
Taiyuan Asian Puppet Theatre Museum
(台原亞洲偶戲博物館)
Formerly the Lin Liu-Hsin Puppet Theatre Museum, on the first floor is the Puppet Workshop. On the second, third, and fourth floors are display spaces dedicated to Chinese shadow puppets, marionettes, traditional glove puppets, Golden Ray puppets, etc., plus the Nadou Theatre. There's also an irregular schedule of puppet exhibitions and puppet-operation classes. Visit the website to learn more, and arrange a special puppetry-experience tour.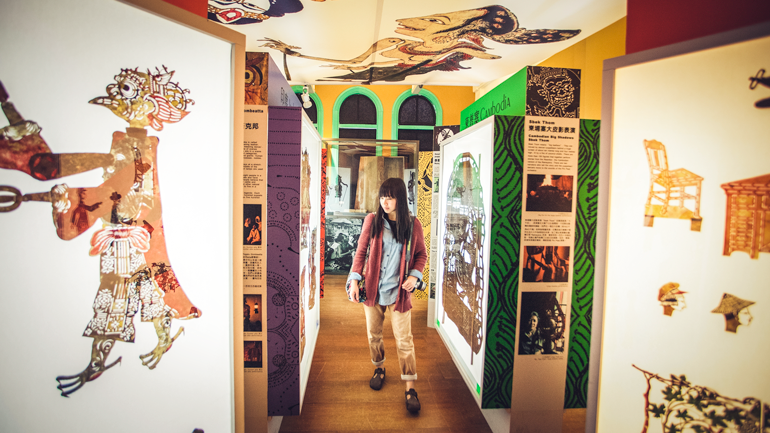 Add: No. 79-1, Xining N. Rd., Taipei City
台北市西寧北路79-1號
Tel: (02) 2556-8909 (closed on Mondays and public holidays)
Website: www.taipeipuppet.com
Astoria (明星咖啡)
In days gone by a favorite gathering spot for government officials, literati, and celebrities, the décor at this heritage café has a classic European look, with nostalgic leather chairs, wood window frames, and colored lighting. Former President Chiang Ching-kuo's Russian wife, Chiang Fang-liang, had a passion for the fresh, distinctive taste of Astoria's Russian-style jellied fish. Other classic specialties include the rich, savory Russian borscht, made with beetroot, vegetables, and tender beef, and Russian soft candy.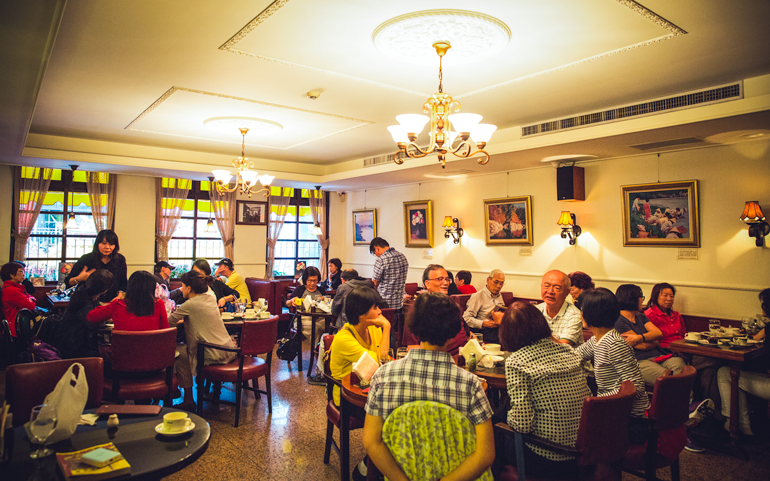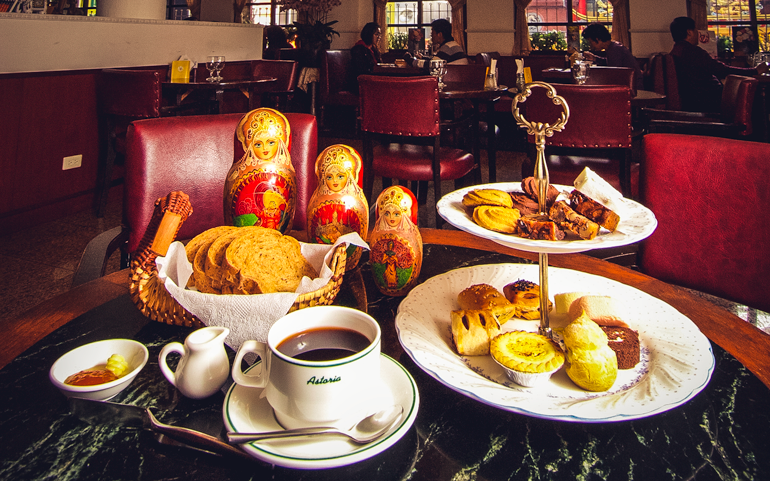 Add: 2F, 7, Sec. 1, Wuchang St., Taipei City
(台北市武昌街一段七號二樓)
Tel: (02) 2381-5589
Futai Street Mansion (撫臺街洋樓)
This heritage building is one of the few commercial buildings in Taipei left from the Japanese colonial era. The steeply slanted roof, dormer windows, stone arcade pillars, diamondback mosaic created in wood on the portico ceiling, and other intricate façade elements are a showcase of the era's commercial-store architectural aesthetics. After renovation in 2009 the edifice became a repository and display space for Taipei old-city history, providing tourists with a deep look into the city's past.
Add: No. 26, Yanping S. Rd., Taipei City
(台北市 中正區延平南路26號)
Tel: (02) 2314-8080 (closed on Sundays)
Beimen Camera Commercial District 
Located in the Bo'ai Road area from near the North Gate to the Hankou Street intersection, this district has Taiwan's densest concentration of photography-equipment outlets. Many of the shops have been in business for decades. Everything's here – traditional to digital cameras, lenses, peripheral gear … you name it, you got it in this photography buff treasure-hunting paradise.
Location: Intersection of Bo'ai Rd. and Hankou St.
(博愛路/漢口街)