From Rugged Mountains Down to Rolling Foothills Onto Coastal Flatlands
TEXT / RICK CHARETTE
PHOTOS / RAY CHANG, VISION

Miaoli County, in Taiwan's northwest, is a region of very little flat land. It has a narrow strip of flat, fertile land along the coast, high mountains toward the island's center, and a region of high hills and narrow valleys with ribbons of arable land in between.
With only one city to speak of, and a small one at that, these are the elements that make this region most distinctive: thriving small towns, indigenous and Hakka ethnic-group culture, recreational fruit farms, wood-sculpture studios, ceramics production, tung-blossom season, hot-spring resorts – and of course the picturesque tapestry of flatlands, rolling foothills, and rugged mountains.
Let's head out on a multi-day road trip, proceeding "counter terrain-wise," i.e. from high mountains down to the coastal plains, through Miaoli's southern region.
Tai'an Township
Tai'an Hot Springs
Provincial Highway 3 runs along Taiwan's west side from the island's far north to its far south. Also known as the Inner-Mountain Highway, for much of its length it runs just inland of the island's central-mountains base, and in sections along the base itself, making for sterling scenery.
In Miaoli County, the highway meets with County Highway 62 at a T-intersection, just north of Dahu town. Here you'll find the headquarters and largest visitor center for Shei-Pa National Park, which Travel in Taiwan last visited in our Nov. 2017 issue. Continuing up the county highway past the complex will bring you to a triumvirate of tourist attractions, specifically: Xishuikeng Tofu Street, the Tai'an Hot Springs area and, eventually, the national park's Xuejian Recreation Area (a 2-hour drive from the complex).
Wenshui Visitor Center
The Wenshui Visitor Center is located far from the high-mountain national park itself, placed at this location to serve as an easy-access lowlands promotion facility for the park and for the importance of preserving natural environments. Outdoor features include a large lawn area, a natural-stream restoration zone, an eco-pond, and an indigenous-plant nursery. Inside are good display halls (with English translations), on a variety of park-theme subjects. The pleasingly sun-drenched rear-area café on the second floor looks down on the eco-pond and up toward the central-mountain peaks.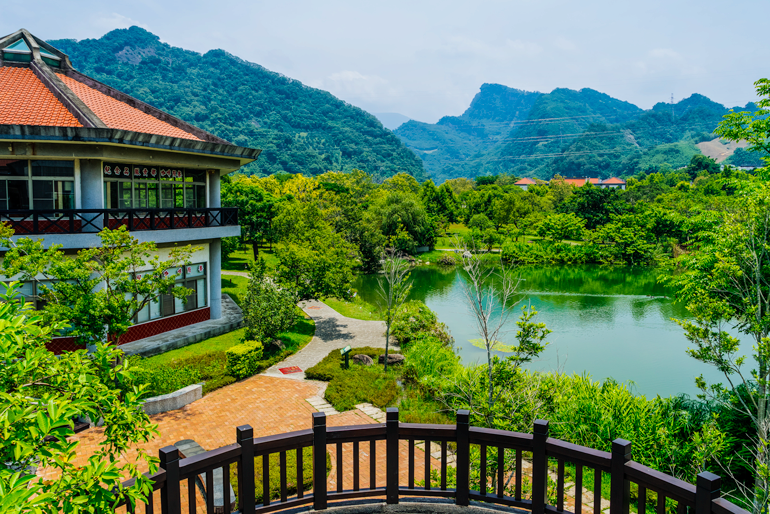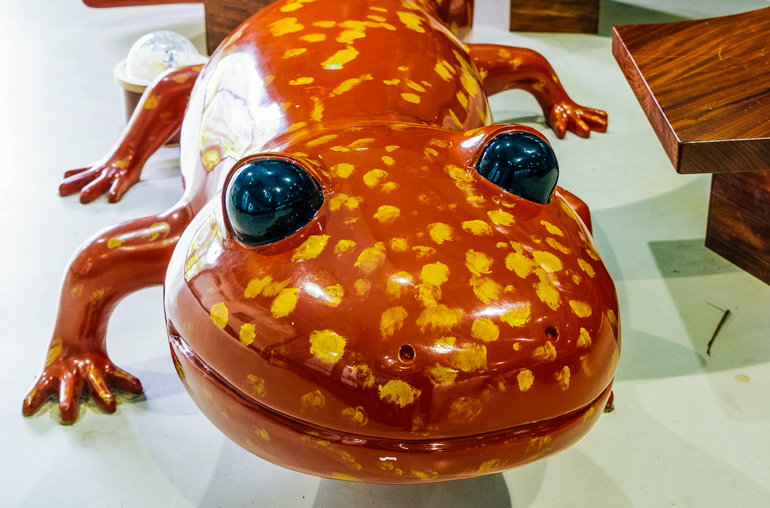 Lofty Shei-Pa National Park, one of Taiwan's eight national parks, is home to 51 mountain peaks soaring above 3,000m. The Xuejian Recreation Area is one of its three easily accessible recreational areas. These areas offer a beguiling range of activities, from educational forays to visitor centers and small museums, to hikes on trails of varying difficulty, to ascents up some of Taiwan's highest peaks if desired.
Note: The Xuejian area can be reached by first following County Highway 61, which starts in Dahu town, and then taking the Simaxian Forest Road, which starts at the indigenous village of Taixing.
Xishuikeng Tofu Street
You've heard of "one-horse towns." Well, Qing'an is a veritable one-street village (OK, yes, there's also a short side street) with a "one-horse" tourist trade – tofu. The narrow main street is popularly known as Xishuikeng Tofu Street (also Qing'an Tofu Street). This quaint, old, creaky village, propped beside Highway 62 high above the Wenshui River, specializes in handmade tofu, and both tofu-dish eateries and tofu-snack vendors abound. (Warning! Thou shalt not ever escape the wonderful/horrible aroma of stinky tofu during one's visit.) This is a place of extra-pure waters, where a tributary flows steeply down to the Wenshui River, said to make the beancurd unusually silky and flavorful.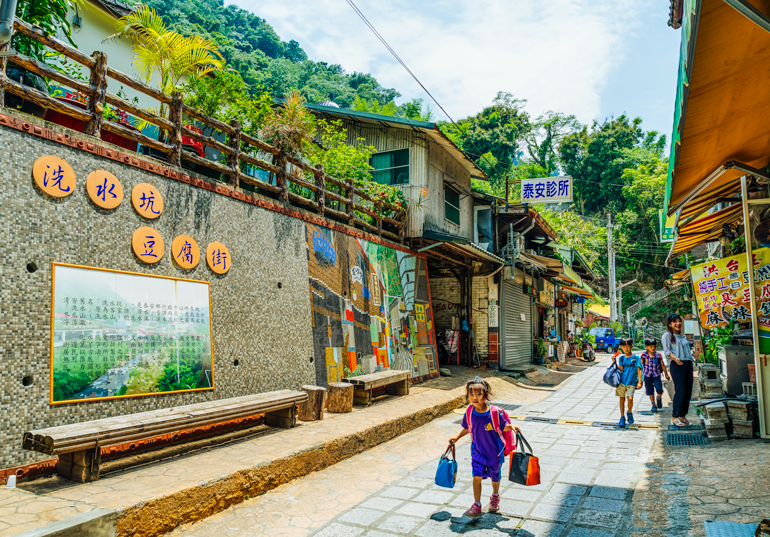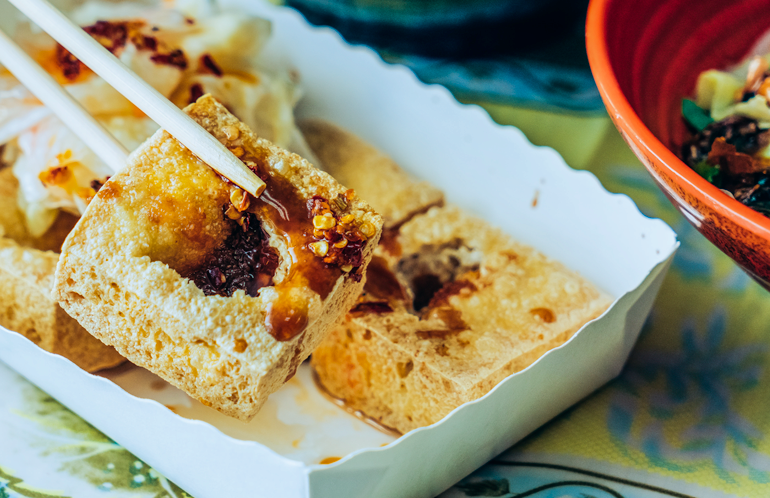 Tai'an Hot Springs
Just a bit further inland, you enter the Tai'an Hot Springs. The highway moves through the jagged river valley along the mountain base, the riverbed almost constantly in view. It is strewn with boulder behemoths carried along from higher in the mountains during typhoons, the powerful waters tossing them about like trinkets. The area's tourist hot-spring operations, from resort hotels to smaller operations, are spread out over a long distance along and just off Highway 62. The queen of the colony is the Onsen Papawaqa hotel, which was the Travel in Taiwan team's soothing, much-enjoyed home away from home on the research trip for this article.
Read about the Onsen Papawaqa hot-spring hotel here:
Onsen Papawaqa Public Hot Spring Bath in Miaoli
Atayal Cultural Museum
The original residents of the Wenshui River region were the Atayal, and a number of tribal villages are located along, or just off, Highway 62. Qing'an village is half Atayal/half Hakka. The best local place to learn about Atayal culture is the Atayal Cultural Museum, a large two-story facility close to the Onsen Papawaqa. Displays cover the tribe's history, its traditional customs, totems, weaving, attire, weapons, implements and utensils, and much else. The highlight is a winding, darkened corridor with dioramas depicting various Atayal-life environments, including a nighttime setting with a swirling world of fireflies.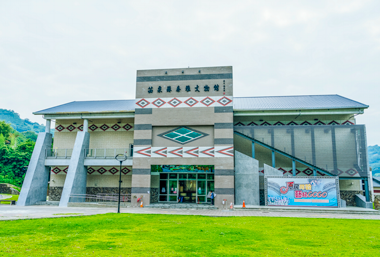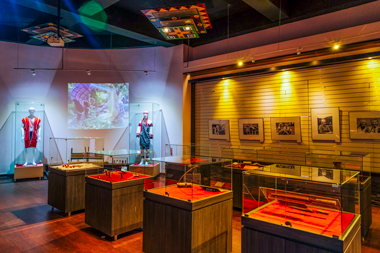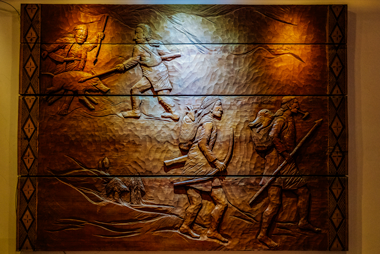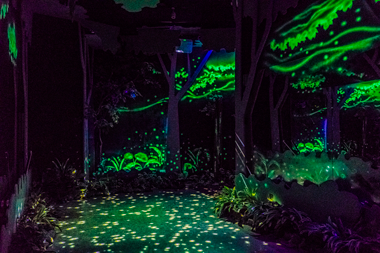 Atayal Cultural Museum (泰雅文物館)
Add: No. 46-3, Neighborhood 6, Jinshui Village, Tai'an Township, Miaoli County
(苗栗縣泰安鄉錦水村圓墩6鄰46-3號)
Tip: In the mood for a pleasant, and very scenic, little hike? Head upriver to Highway 62's end, also the hot-spring area's end, where the deep mountain valley becomes a deep gorge. Continue upriver along a short tree-shaded gravel path to the Shuiyun Suspension Bridge, which jumps the river. Thirty minutes on, after a mid-grade uphill walk through forest, is the comely Shuiyun Waterfall. When the Travel in Taiwan crew visited, barking deer and Formosan macaques made their presence loud and clear.
Dahu Township
In the area around Dahu town, the strawberry fields stretch … well, not forever, but there is indeed a heck of a lot of them. Dahu Township is known as Taiwan's "Land of Strawberries," with more than 500ha of the red treasures under cultivation, producing about 80% of Taiwan's total output. Harvest season extends from December through April. Day-trippers come all the way from Taipei and from an equal distance south to experience the joy of plucking their own fruit in one of the many tourist-friendly operations. Prices fluctuate, but expect to pay about NT$250 per jin (600g).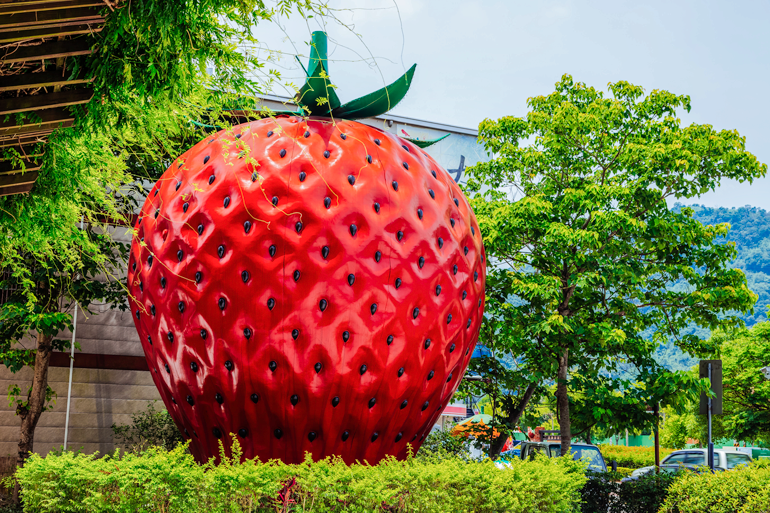 Dahu Wineland Resort
Most everyone who arrives in the township with visions of strawberries dancing in their head also drops in at the other main local enticement, the town's Dahu Wineland Resort. Despite the "resort," this is very much a retail operation – and a very entertaining one. An unmissable 10m-high strawberry stands at the entrance. Inside, such delectable culinary gems as strawberry cakes, ice cream, omelets, and even fried fish await (for the last, the strawberry is in the sauce). The multi-option strawberry wines are particularly recommended. The resort is also home to a Strawberry Culture Museum, and a rooftop terrace with impressive views of the surrounding pastoral beauty and mountain backdrop.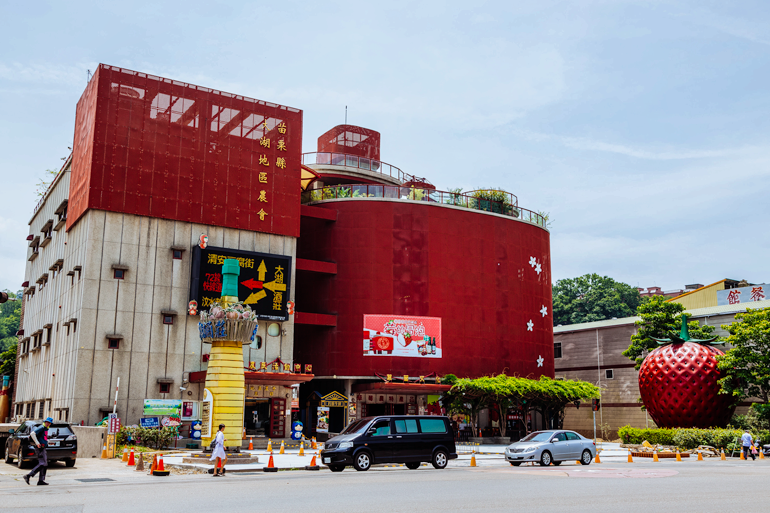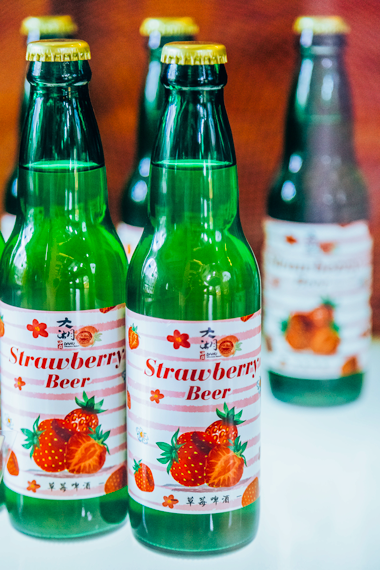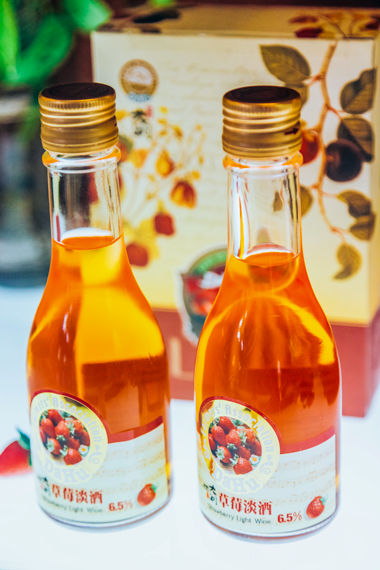 Dahu Wineland Resort (大湖酒莊)
Add: No. 2-4, Baliaowan, Fuxing Village, Dahu Township, Miaoli County
(苗栗縣大湖鄉富興村八寮灣2-4號)
Tel: (03) 799-4986
Sanyi Township
Sanyi Wood Sculpture Museum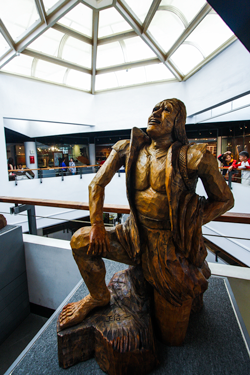 The town of Sanyi, resting in rolling foothills, is one of Taiwan's top tourist-town destinations. The town and its surrounding township are a hub for old-time crafts, Hakka culture, and railway-building pride.
The town's two major draws are its wood-sculpture studios and a museum dedicated to this craft. The modern-architecture Sanyi Wood Sculpture Museum explains the history of woodcarving in Taiwan, and Sanyi specifically. Many award-winning creations by Taiwan talent are on display, from traditional religiously-themed works to ingenious abstract flights of fancy. Live demonstrations and kid-oriented DIY sessions are offered on weekends/holidays. An English audio guide and brochure are available.
Sanyi Wood Sculpture Museum (三義木雕博物館)
Add: No. 88, Guansheng New Village, Guansheng Village,
Sanyi Township, Miaoli County
(苗栗縣三義鄉廣盛村廣聲新城88號)
Tel: (037) 876-009
Website: wood.mlc.gov.tw
Sanyi Wood Sculpture Museum & Dajia Mazu
Sanyi is often called the "Taiwan Kingdom of Woodcarving." The township's hills long teemed with camphor trees, many over a millennium old. Extensive logging was conducted during the 1895-1945 Japanese colonial era, the timber sent to Japan. Tea farms afterwards sprouted on the exposed land, and residents of Sanyi took to using the dug-up camphor-tree trunks and roots as decorative ornaments, preferring those resembling humans, animals, and plants. A thriving commercial industry slowly grew from these roots, with locals systematically seeking more sophisticated skills from the outside. In addition, in recent decades many artists have also moved here.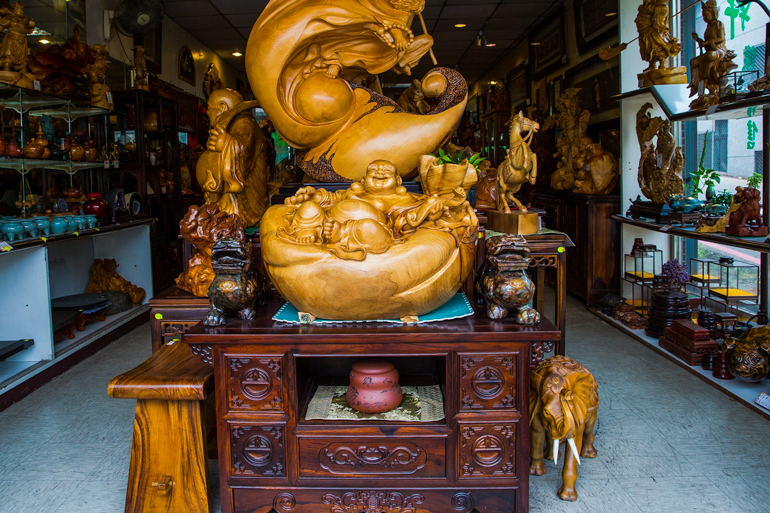 The town is home to about 200 woodcarving shops. The heady aromas of the woods being worked – camphor, sandalwood, yew, and cypress – often permeate the air. The magnificent range of works includes art pieces, furnishings, and daily necessities, from very small to very large. Most enticing for foreign tourists are the Chinese-themed religious statuary. Dazzle people back home with a Laughing Buddha, God of Wealth, or God of War brought back from Taiwan.
Shengxing Railway Station
Southwest of Sanyi town are two other popular attractions, Shengxing Railway Station and the remains of Longteng Bridge. Tiny Shengxing village is in a narrow, shallow valley traversed by a Japanese-era mountain railway that was used to haul mountain-region resources. Long busy, it's now retired. The cottage-style Shengxing Railway Station is the prime draw. It was built by the Japanese in the early 20th century using pine. At an elevation of 402m, this was once Taiwan's highest main-line station.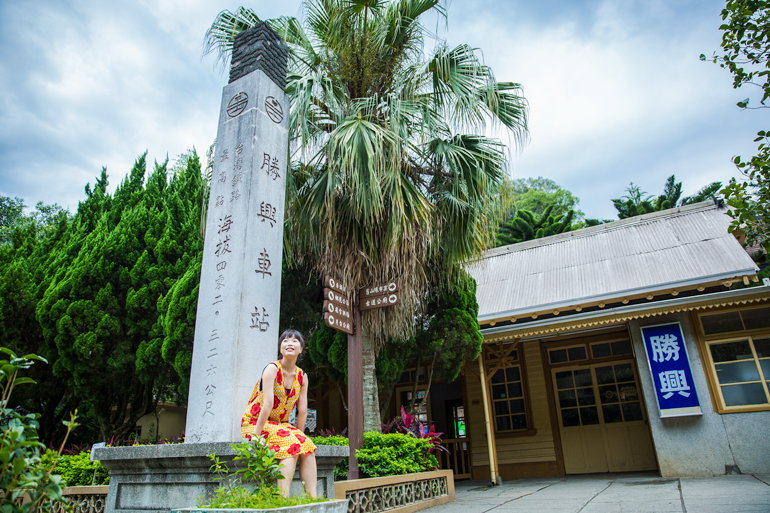 Like Sanyi town, Shengxing is a Hakka settlement. The hills of Miaoli County, and of Hsinchu County to its north, have a large population of Hakka – a Han Chinese ethnic minority long persecuted in the past, either denied access to or driven from prime flatland areas in mainland China and Taiwan. The group came to excel at mountain farming, resource-extraction industries, and, in modern times, rugged mountain-railway work. Today, most of this former railway-village's quaint buildings have been prettied up for tourism, and are home to teahouses as well as eateries/shops offering Hakka food, snacks, and souvenirs.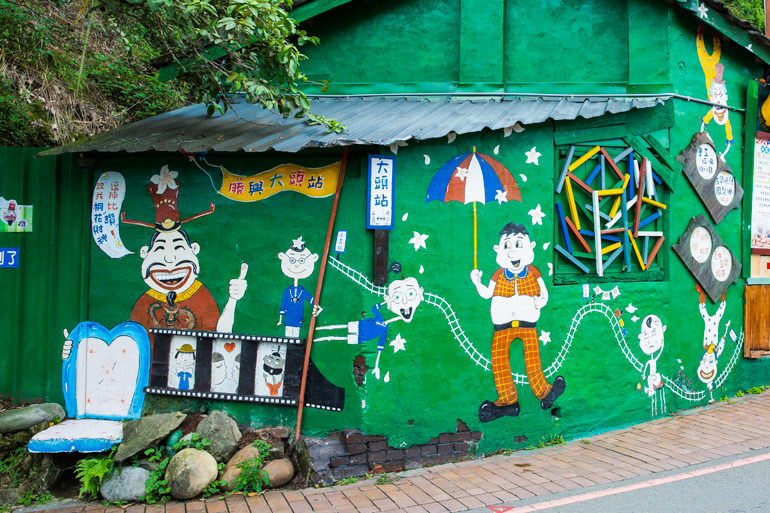 Longteng Bridge
The soaring remains of Longteng Bridge, which vault across a small valley, are hidden from view by the surrounding hills until you are almost upon them. Like Shengxing's train station, the bridge was an early 20th-century Japanese architectural work built for service on the same line. It was destroyed in 1935 in a colossal earthquake, leaving behind today's 60m-long red-brick viaduct. The bridge's eventual demise was well-nigh inevitable considering Taiwan's earthquake-prone character, for a traditional type of mortar made with glutinous rice was used in its creation – no concrete, no reinforcing bars. Standing at the base, this "scale-model" colossus evokes the ancient Roman ruins found in visually thrilling locations across Europe.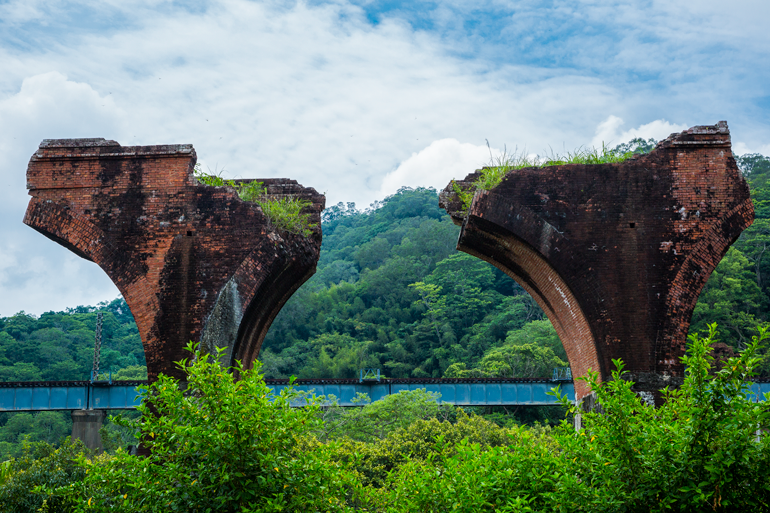 For more on Sanyi Township, read:
SANYI: History and Hakka Culture in Miaoli
Tongluo Township
Taiwan Hakka Museum
The Taiwan Hakka Museum is in a mammoth dedicated facility atop a wide plateau. It sits above a long, shallow valley that is a channel for National Freeway 1. The architecture is futuristic, and the complex has the look of a giant spaceship. The museum explores the historical impact of the Hakka in their place of origin – China – and throughout Taiwan and Southeast Asia. A highlight is a wealth of interactive experiences for both youngsters and adults; there is also good posted English information. The museum's spacious, airy high-ceilinged café/restaurant has good Hakka food and terrific views over the Miaoli countryside through its solid wall of floor-to-ceiling windows.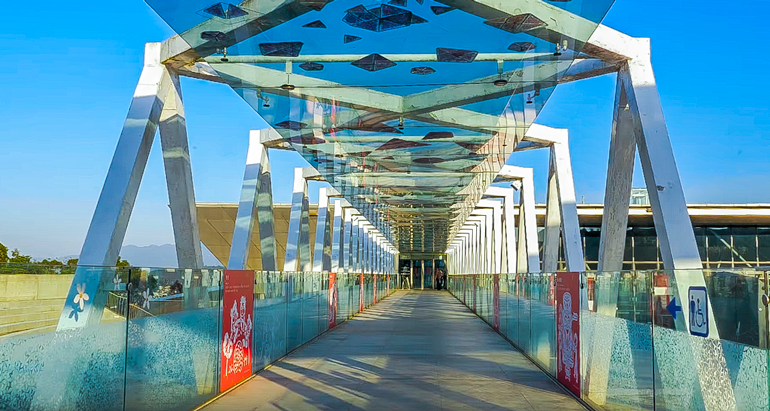 Taiwan Hakka Museum (臺灣客家文化館)
Add: No. 6, Tongke S. Rd., Jiuhu Village, Tai'an Township, Miaoli County
(苗栗縣銅鑼鄉九湖村銅科南路6號)
Tel: (037) 985-558
Website: thcc.hakka.gov.tw
Tip: In the mood for a long, pleasant, very scenic walk? The Taiwan Hakka Museum sits on low, flat-topped Jiuhua Mountain, on the plateau's east-side edge. The wide, long Tongluo Skywalk, a gravel walking/cycling trail, runs along the west-side lip. The west-facing slopes are much steeper than those on the east, and the views across the coastal flatlands out into the ship-dotted Taiwan Strait are poetic, notably those from the pathway's stylish gully-hurtling pedestrian bridges and lookout tower. A rich tung-flower bloom begets an air of romance each spring.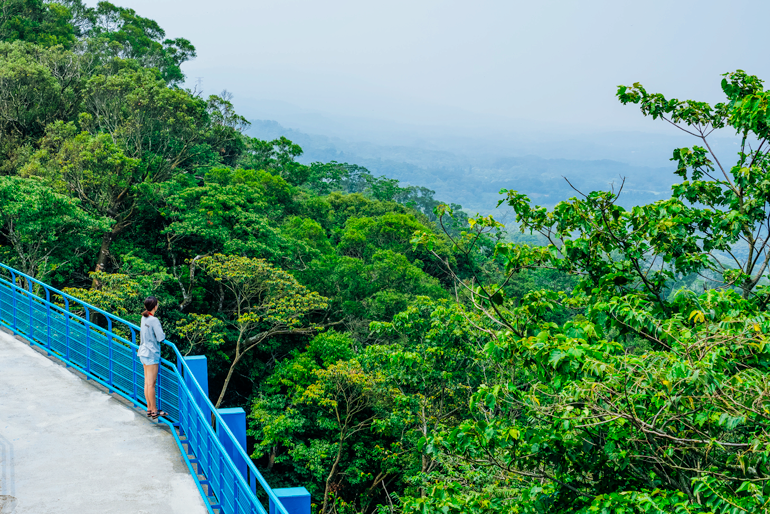 Tung blossoms are closely associated with the region's Hakka community. Early last century the Japanese planted tung trees for commercial tung-oil production. The Hakka provided most of the labor for this effort, and today the trees are widespread.
Tongluo Tea Factory
Gazing east from the Taiwan Hakka Museum, you can look down into the valley below and out over the hills toward the central mountains beyond. Just to the south, you'll see row upon row of neatly spaced tea bushes. This is part of the 30ha tourist-oriented Tongluo Tea Factory operation. It's centered on a factory/retail building of eye-catching modern design that offers a picture-perfect panorama of the valley through its east-side glass wall. Trains regularly run through the valley, through what looks like a model-train set. Patrons are helped in their train-spotting via a large signboard with run-through times and train types.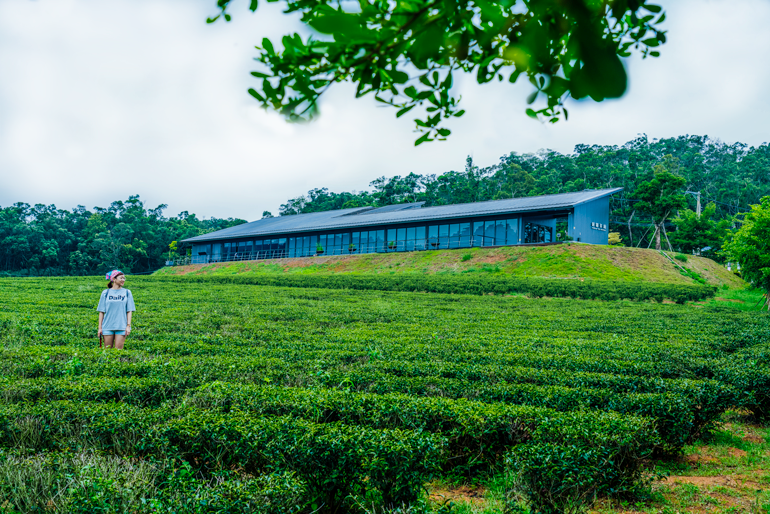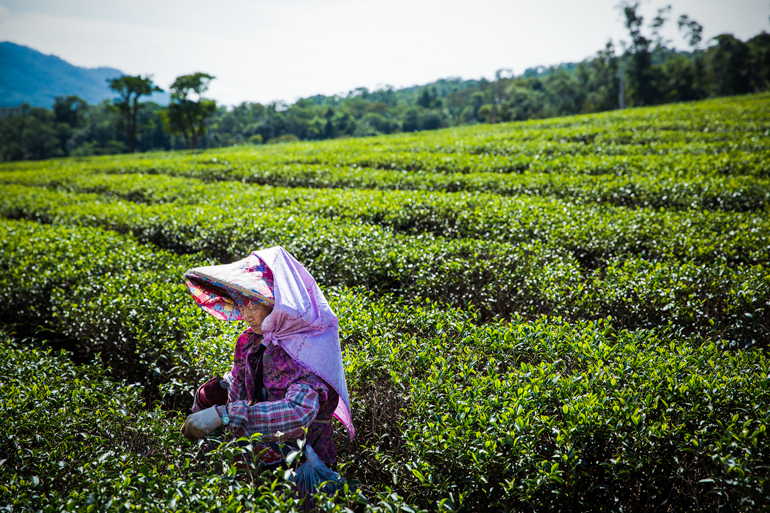 The main type of tea grown here is Dongfang Meiren (Oriental Beauty), which is primarily grown in Hakka areas in the hills of the northwest at lower altitudes (300~800m). Visitors can enjoy tea-tasting sessions, tours of the processing facilities and fields (in one interesting section, each row is dedicated to a single type of Taiwan-grown tea, with English signage), DIY picking for tour groups, and a meal. The latter consists of a traditional type of biandang (boxed lunch) eaten by Hakka tea-pickers and railroad workers. This comes wrapped in a gratis traditional bright-color Hakka-style head kerchief worn by female tea-pickers (separate payment for each option).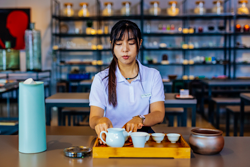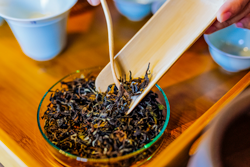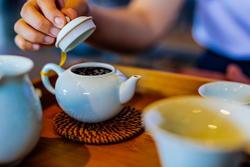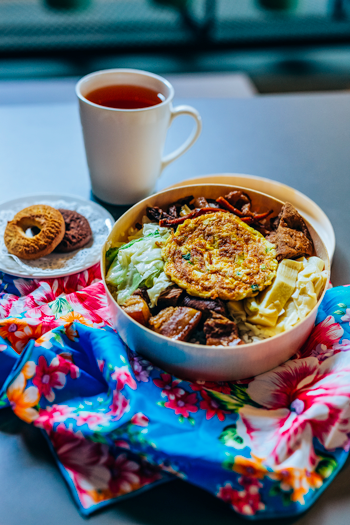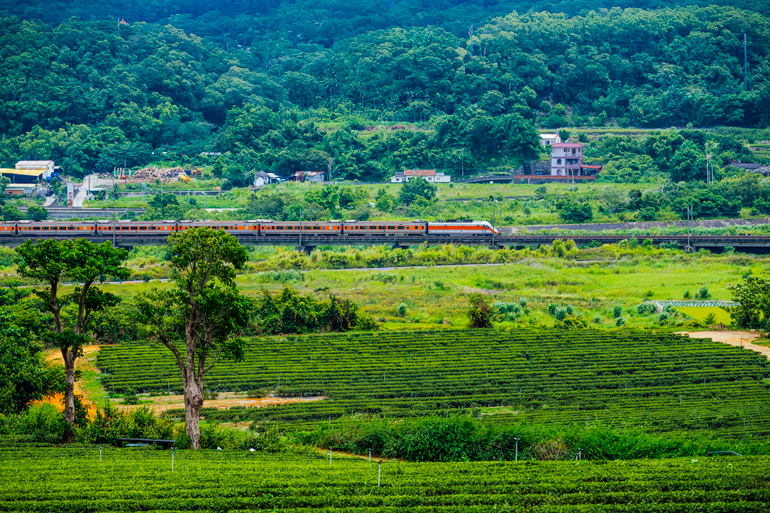 Tongluo Tea Factory (銅鑼茶廠)
Add: No. 132-16, Jiuhu, Jiuhu Village, Tongluo Township, Miaoli County
(苗栗縣銅鑼鄉九湖村九湖132-16號)
Tel: (037) 987-358
Website: www.tongluotea.com (Chinese)
Yuanli Township
Jin Liang Shing (JLS) Brick Factory
Yuanli Township was once one of Taiwan's prime brick/tile-making areas. Today concrete is king, and most of the island's brick operations have been closed. Founded in 1973, Jin Liang Shing (JLS) Brick Factory remains very much a going concern, and took on double-duty as a tourism factory in 2004. During the tour (in Chinese) a video (with English subtitles) introduces JLS and the region's brick/tile production. The clay of the local hills is grey gold for makers. You'll also view two well-preserved kilns (one for drying and a 162m-long monster used for firing) go up on catwalks for great overviews of the full manufacturing process, be given looks into red-hot furnace interiors where bricks are being fired, and visit a small museum with myriad types of brick and tile. Afterwards, you'll be able to expertly identify these in buildings throughout Taiwan. There's also DIY brick-art sculpting and attractive works of brick art throughout the grounds.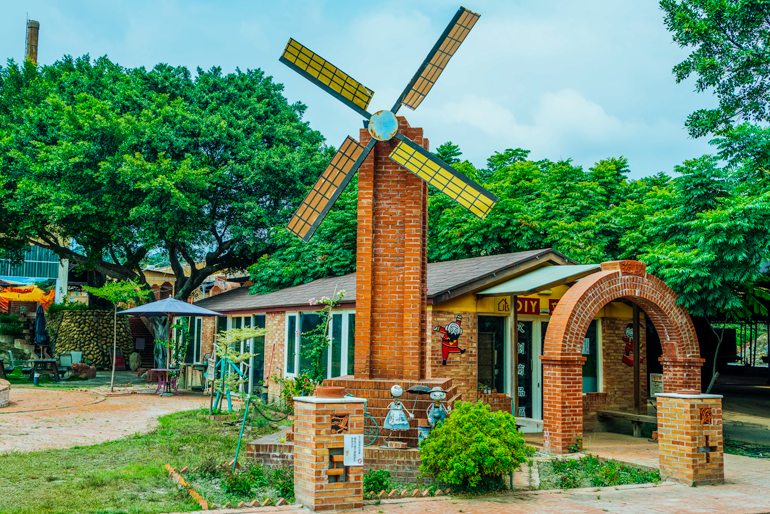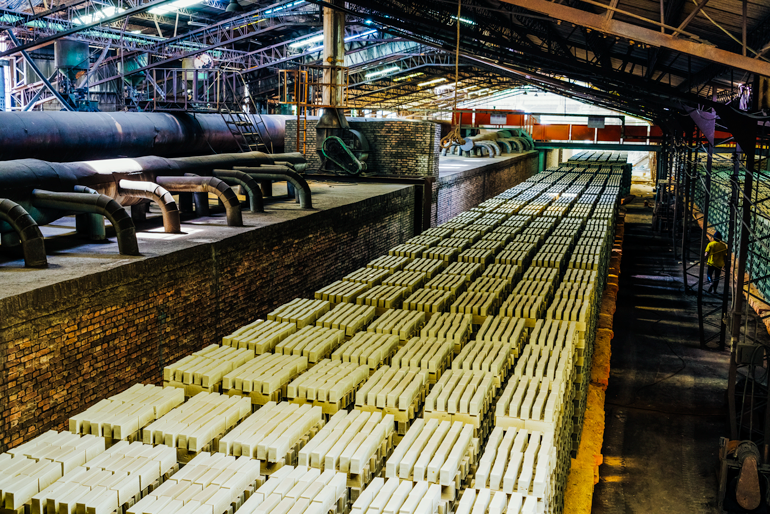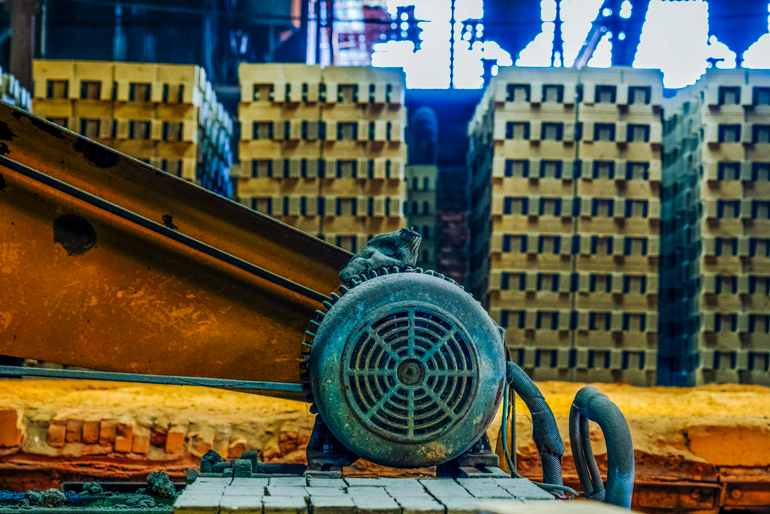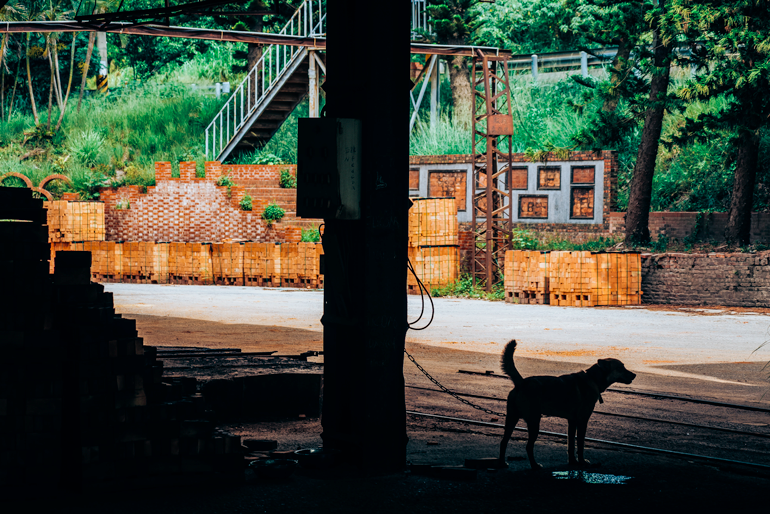 Jin Liang Shing (JLS) Brick Factory (金良興觀光磚廠)
Add: No. 71-17, Jinshan, Shanjiao Borough, Yuanli Township, Miaoli County
(苗栗縣苑裡鎮山腳里錦山71-17號)
Tel: (037) 746-368
Website: www.jls-brick.com (Chinese)
Yuanli Triangle Rush Exhibition Hall
At the Yuanli Triangle Rush Exhibition Hall the displays show how township residents have been weaving practical-use items from triangle rushes for nearly two centuries. Early residents learned from local indigenous women that triangle-rush mats stayed cool to the touch in summer, and later began making bags, hats, and other craftworks, many for export to mainland China. The export trade boomed under Japanese colonial rule. In the 1920s/1930s, rush products comprised Taiwan's third-largest export category after sugar and rice. Many attractively designed creations are sold on-site. Also, be sure to check out the surrounding triangle-rush fields and climb the nearby lookout tower for an on-high look at a farmer's field made into a classical Chinese "painting" by strategically growing paddy rice of different colors.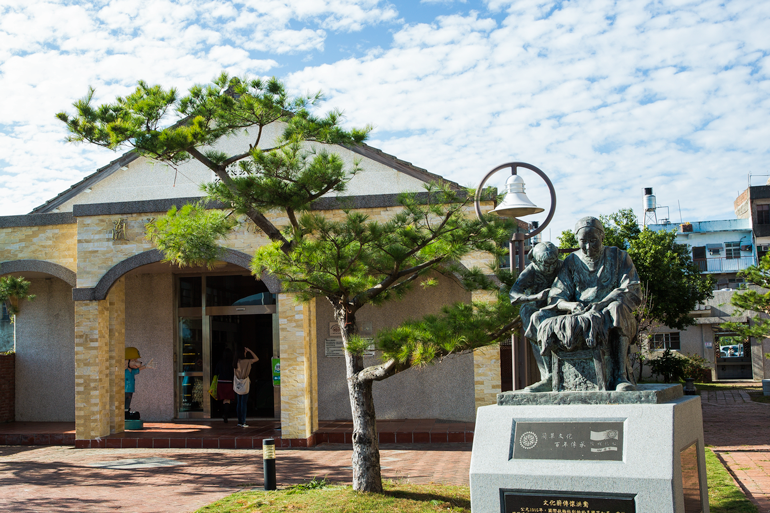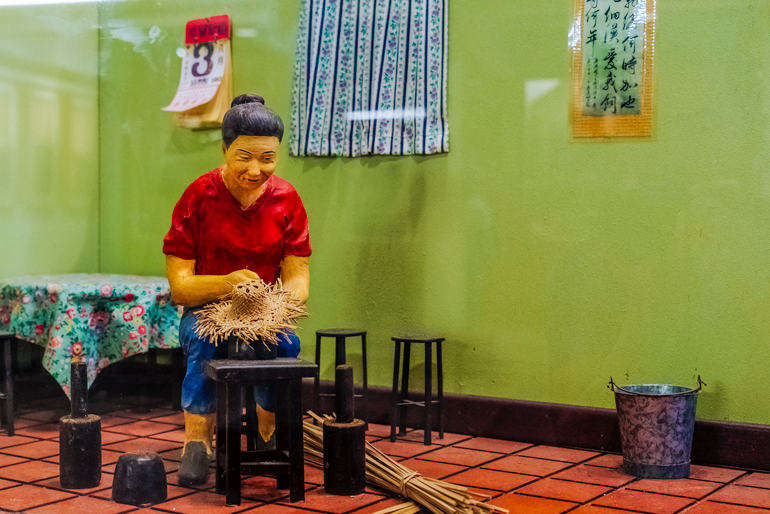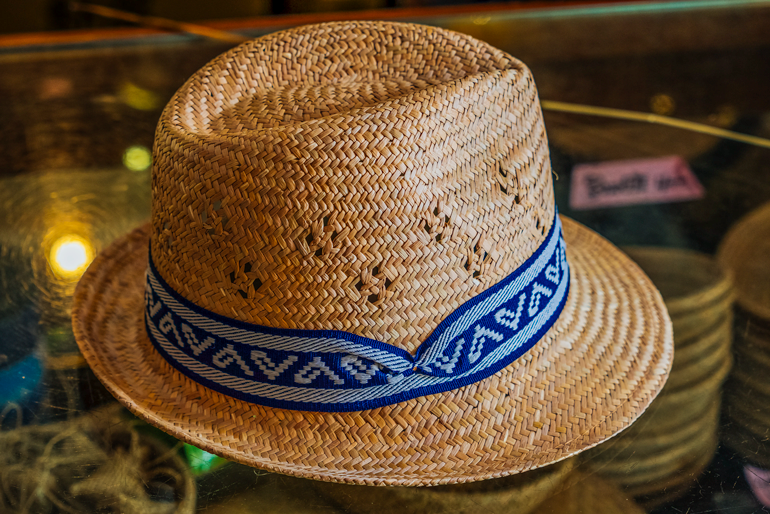 Yuanli Triangle Rush Exhibition Hall (藺草文化館)
Add: No. 65, Weigong Rd., Yuanli Township, Miaoli County
(苗栗縣苑裡鎮為公路65號)
Tel: (037) 862-141
Website: www.yuanli.org.tw (Chinese)
Dongli Jiafeng Old Residence
Dongli Jiafeng is one of Taiwan's best-preserved sanheyuan (three-sided courtyard residence) complexes, and is often used for TV shoots. Notice the three-section design of the building walls, indicating that this is a Hakka-clan compound. The white-painted upper section represents the older generation's white hair, the mid-section red tiles the hard-working middle generation's blood (sweat and tears), the bottom section's rounded stones the hope for many children. The various traditional snack treats baked fresh on-site are highly recommended (samples profusely provided).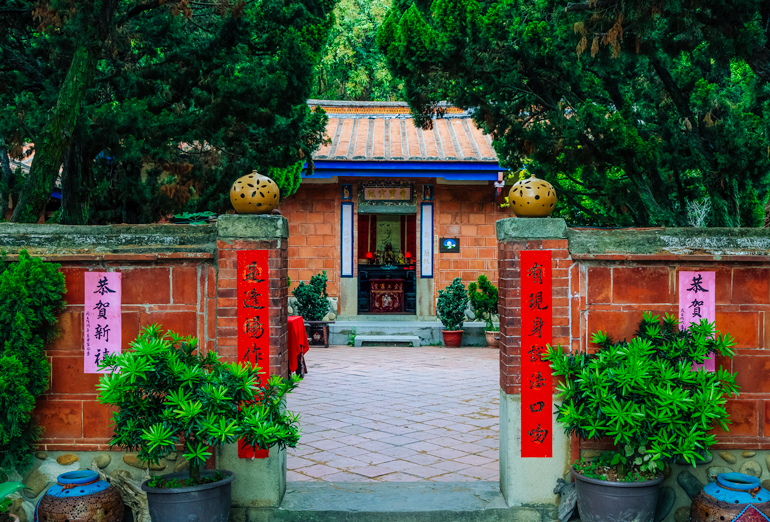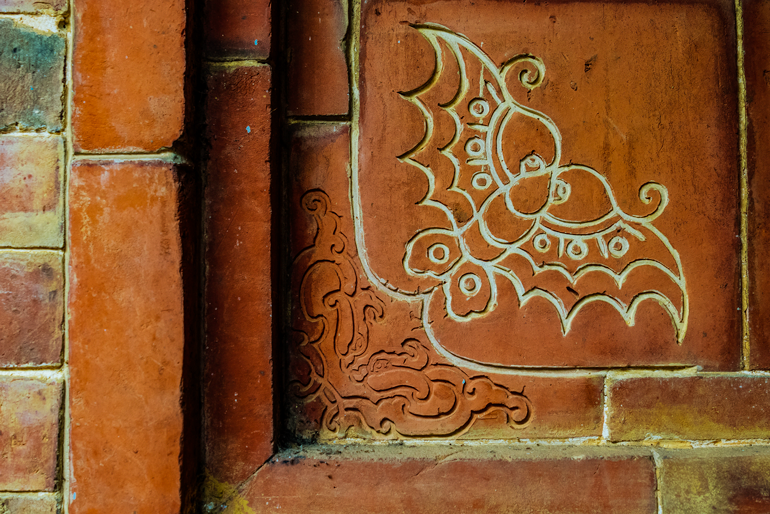 Dongli Jiafeng (東里家風古宅)
Add: No. 8, Neighborhood 2, Yuankeng Borough, Yuanli Township, Miaoli County
(苗栗縣苑裡鎮苑坑裡2鄰8號)
Tel: (037) 853-158
Website: www.dljf.com.tw (Chinese)
Getting There and Around
There is regular train service on the Taiwan High Speed Rail (THSR) network to THSR Miaoli Station, and extensive service on the regular-rail network (TRA) to Miaoli City and other local points. Within the region, self-drive is the best option; car rentals are available at the high-speed rail station, while motor scooter rentals are available close to TRA stations (Sanyi, Tongluo).
Also read
MIAOLI COAST Railway Trip — Quiet and Peaceful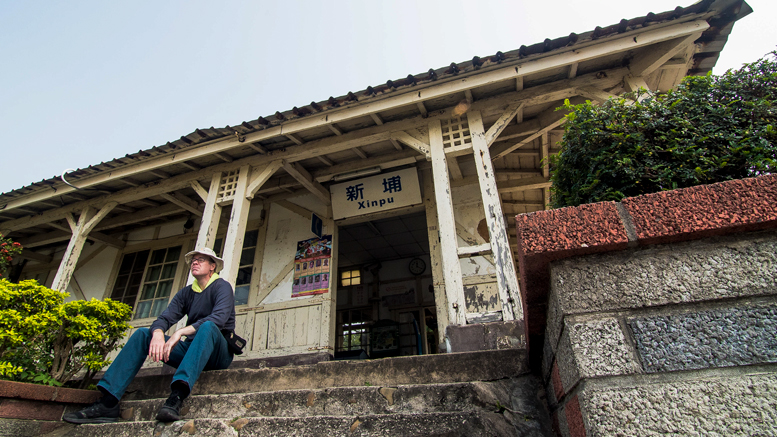 taiwaneverything.cc/2017/07/05/miaoli-coast-railway/
Taking It Easy in NANZHUANG, Miaoli County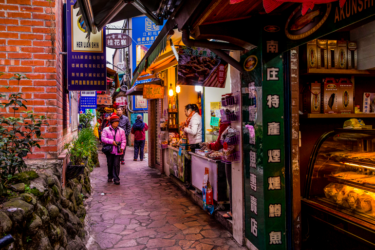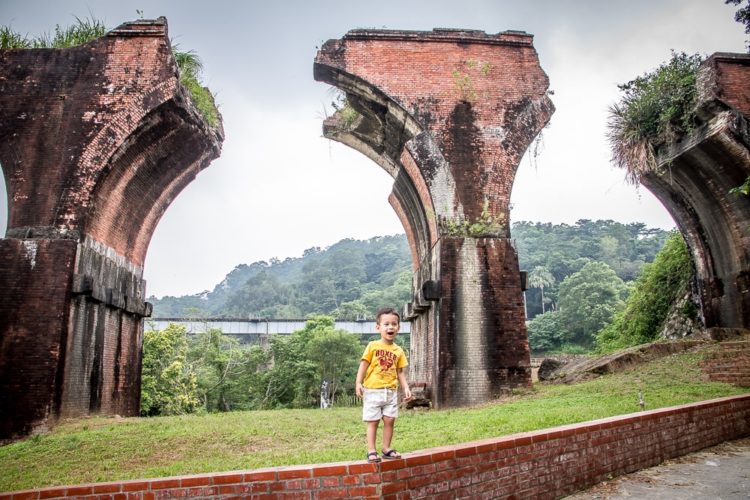 Also read:
Lao Ren Cha: The Hipster Cafes of Miaoli (and other things to do)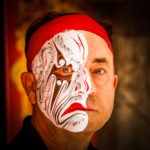 A Canadian, Rick has been resident in Taiwan almost continually since 1988. His book, article, and other writings, on Asian and North American destinations and subjects—encompassing travel, culture, history, business/economics—have been published widely overseas and in Taiwan. He has worked with National Geographic, Michelin, APA Insight Guides, and other Western groups internationally, and with many local publishers and central/city/county government bodies in Taiwan. Rick also handles a wide range of editorial and translation (from Mandarin Chinese) projects.