The Taiwan Hakka Heartland
TEXT / STEVEN CROOK
PHOTOS / MAGGIE SONG


Between the highly developed Keelung–Taipei–Hsinchu corridor, and the rapidly growing metropolis of Taichung – now Taiwan's second most populous municipality – lies Miaoli County. The population density of Miaoli is just one quarter that of Taichung. Whether you approach from north or south, your first impression is likely to be of rustic splendor. In this area, the official statistic that 58 percent of Taiwan is covered by trees or bamboo seems an underestimate.
Because it lacks sizable cities, some regard Miaoli as a backwater, yet the county is both quick and easy to reach from the aforementioned urban areas. Self-driving tourists can use either of Taiwan's north-south freeways, Provincial Highway 61 (West Coast Expressway) along the coast being a somewhat slower alternative. Provincial Highway 13 is useful for accessing the Miaoli township of Sanyi, but those on two wheels may prefer the more scenic Provincial Highway 3. Since Miaoli is a hilly region on a mountainous island, however, ambitious cyclists should know that the latter roadway is seldom straight or flat.
If you plan to get around by train, a suggested starting point for information is my article in the March/April 2017 issue of Travel in Taiwan. This time around, my research journey also began with a Taiwan High Speed Rail (THSR) ride to Miaoli. At the THSR station I met up with my travel companions, and together we drove south to Shengxing Railway Station in Sanyi, a township renowned for its talented woodcarvers and the Sanyi Wood Sculpture Museum.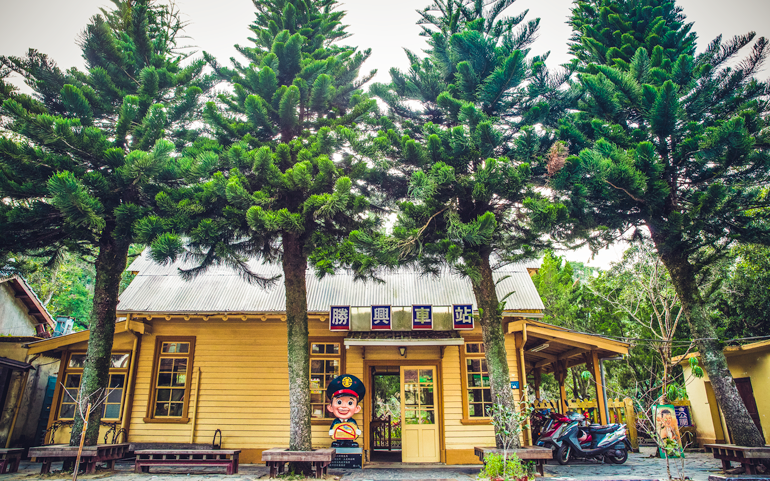 The picturesque village of Shengxing has one of Taiwan's best-known train stations, which is surprising considering regular passenger services on the railroad that passes through here ceased more than 20 years ago. Between 1903 and 1998, what's called the Old Mountain Line carried local, express, and freight trains across the Da'an River into the greater Taichung area. At an altitude of 402.36m, Shengxing Railway Station was the highest station above sea level on Taiwan's conventional railway network. The station, a quaint wooden cottage-style building built in 1930, is a highly photogenic structure.
After the completion of a shorter, straighter alternative to the Old Mountain Line, 15.9km of track, along with eight tunnels and three bridges, were decommissioned. The Shengxing station was closed, but never forgotten – and since last year tourists have had a new reason to come here.
Sanyi Rail Bike Fun
The Old Mountain Line Rail Bike attraction offers an unusual 90-minute experience, a railway journey amid gorgeous scenery at the speed of a bicycle, but with no pedaling required. Booking ahead through www.oml-railbike.com is necessary, because participants set off in groups four times a day. What's more, you need to arrive at least 45 minutes before departure to collect your tickets (NT$280 per person), and then report at the platform 20 minutes prior to boarding. When you're taking pictures of the station and its surroundings, however, time goes quickly.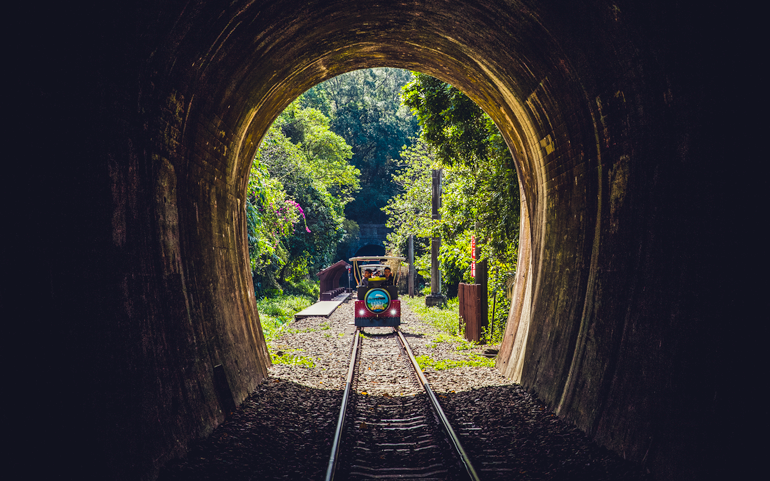 "Rail bike" is something of a misnomer. Each vehicle is about the size of a golf cart, has four train-type wheels, and runs on unmodified rail tracks. A canopy protects the passengers (there are four seats) from sunshine and rain.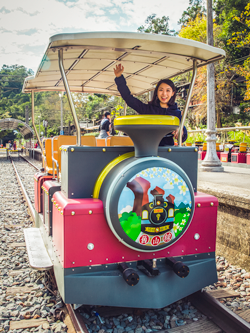 I was impressed by the number of staff on duty, and their diligence. Safety belts must be fastened, and before starting the 6km-long ride from the train station to Tunnel No. 6, each "driver" – I was the one on our "locomotive" – is shown how to start the electric motor, release the hand brake, and accelerate. If you've ridden one of the scooters that are ubiquitous in Taiwan, you can do this. If anything, it's far easier: There's no need to steer, and the vehicle has been rigged to never exceed 12 km/h.



We were instructed to pull away from the station at intervals. Having a good bit of space between each rail bike is a good idea, as drivers often get distracted by the scenery and slow right down. Almost immediately, we were heading through the 725m-long tunnel south of the station, disturbing the bats that roost within. It's far from pitch black inside, because images of station-area buildings and other notable sights associated with the Old Mountain Line are projected on the tunnel's walls.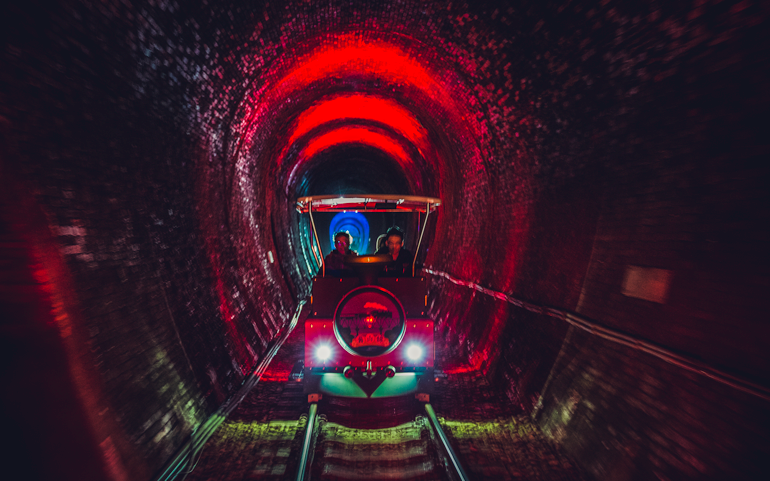 Back out into the winter sunshine, we passed betel-nut plantations, a strawberry farm, and groves of tung trees. The tung tree has become a symbol of the Hakka people who inhabit this part of Taiwan. Its wood is favored by the woodcarvers of Sanyi town, and the oil made from its seeds has multiple uses. The Hakka Tung Blossom Festival, held each spring, is a major event in the northwest and other parts of the island where tung trees grow.
Much of the route is single-track, and soon we were traversing a narrow bridge far above a mountain creek. Looking left, we enjoyed excellent views of one of Miaoli's most-adored sights: the Longteng Bridge, a.k.a. Yutengping Bridge.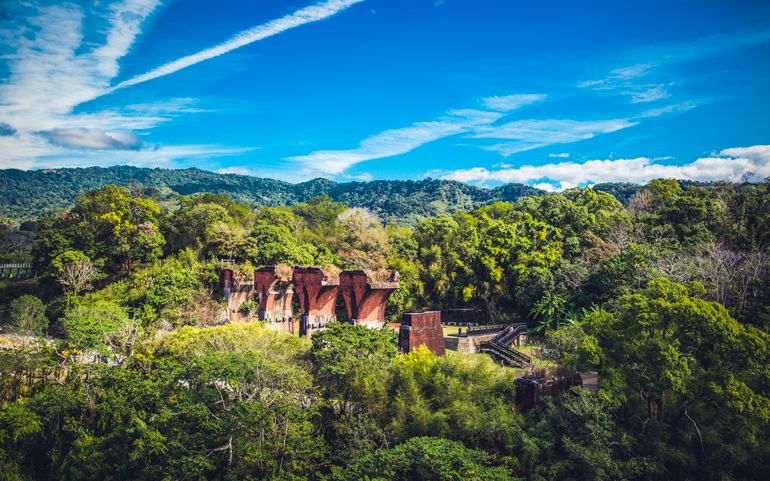 When the deadliest tectonic disaster in Taiwan's history struck on April 21, 1935, killing 3,422 people, every one of the bridge's masonry arches collapsed, as did the central made-of-steel truss. Rather than clear the ruins and rebuild from scratch, the authorities decided to shift the railroad a short distance to the west. The columnar ruins of the wrecked bridge that remain standing serve as an impressive monument to the power of nature.
We were instructed to park our rail bikes at the point on the track where riders look down onto Liyu Elementary School. Glancing toward the west, we could see rugged Mt. Huoyan, located by the Taiwan Strait coast. Its bare, sandy ridges are highly unusual in lush, tropical Taiwan.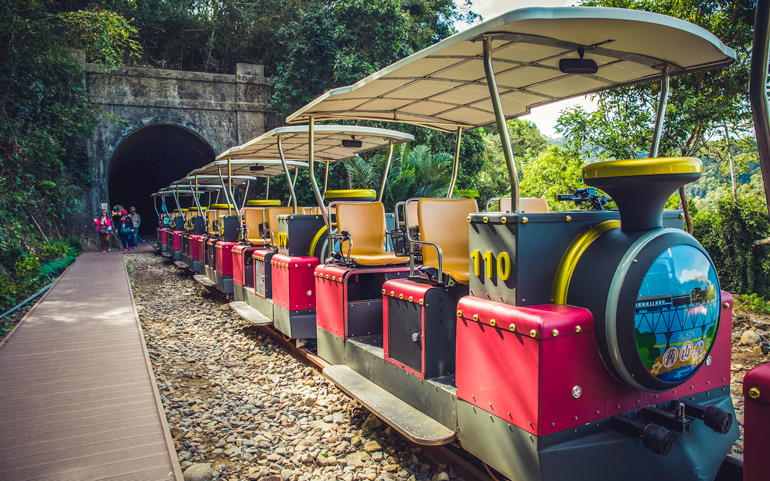 Everyone then proceeded on foot through Tunnel No. 6 to the Neishechuan Iron Bridge. The bridge itself is off-limits, but from its north end it's possible to enjoy views up and down the waterway that drains the Liyutan Reservoir. After learning about this spot and the history of the railway line, we rode back to Shengxing.
If you'd like to take a look at this part of the Old Mountain Line without signing up for the rail bike experience, you can reach the iron bridge via Township Road 52. Steps connect the road with the southern end of the tunnel. There's nothing to stop you walking north through the tunnel, but a flashlight is advised.
Read more about Sanyi Township here:
SANYI: History and Hakka Culture in Miaoli
Things to do in Miaoli (klook)
Onsen Papawaqa Public Hot Spring Bath in Miaoli
Sanyi Wood Sculpture Museum & Dajia Mazu
Places to stay in Sanyi (booking.com)
Between Shengxing and Beipu
Shengxing is perhaps the quintessential Hakka hill village, and Beipu in neighboring Hsinchu County is the quintessential Hakka town. It takes at least an hour and a half to drive from one to the other, but it's a journey through beguiling landscapes that can be broken at places such as the town of Dahu and the Mingde Reservoir.
To get to Dahu from Sanyi Township, take the scenic and winding County Road 130, which connects to Provincial Highway 3. Ask a Taiwanese person what Dahu is famous for, and he/she will almost certainly answer "strawberries." There are pick-your-own operations along and close to the highway, and town shops sell jams, wines, and other products made using the township's signature fruit.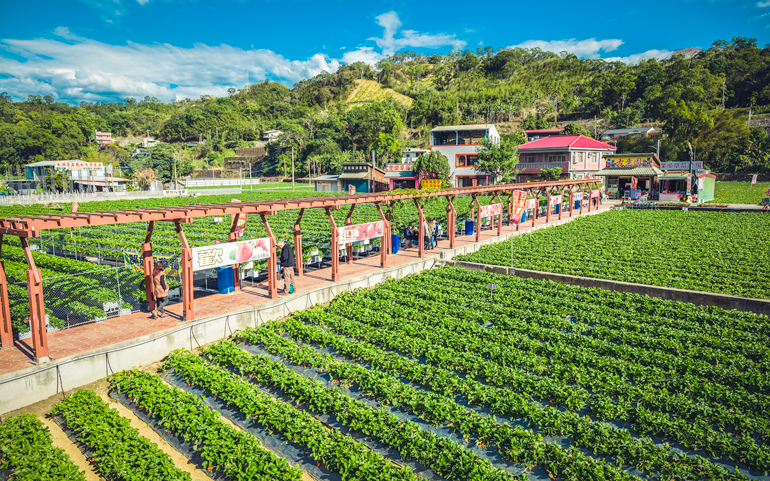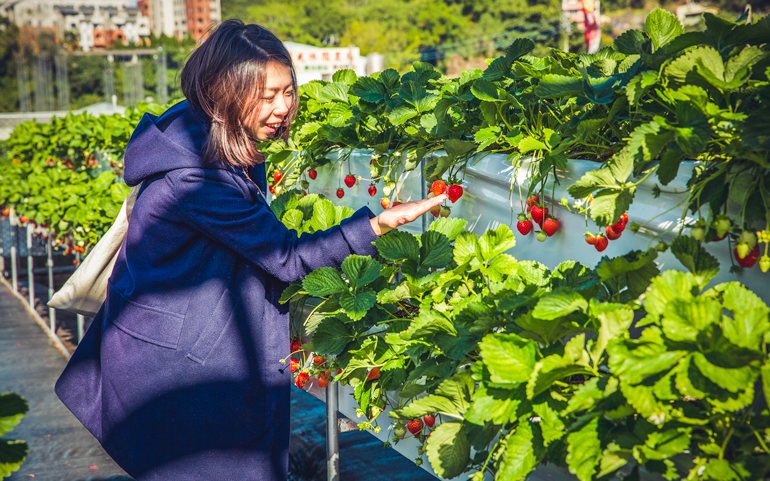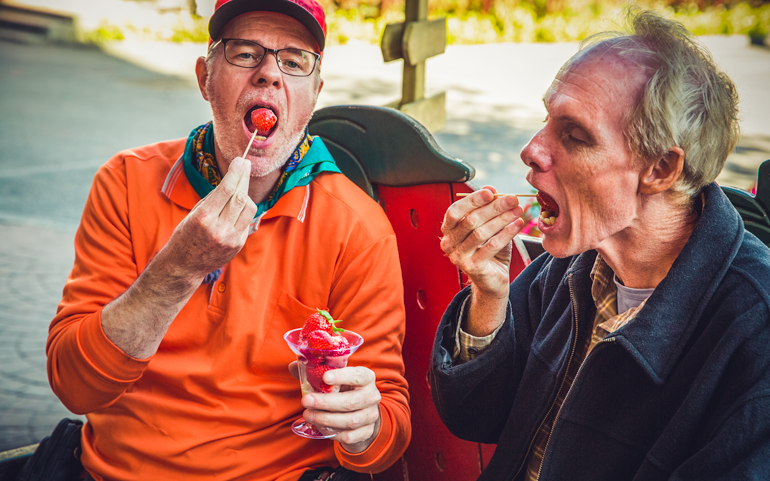 Places to stay in Dahu (booking.com)
The Mingde Reservoir in Touwu Township, about 28km north of Dahu, is a scenic manmade lake covering 170 hectares. It's possible to drive all the way around the reservoir (take County Road 126 to get to the reservoir from Highway 3). As you'd expect, there are coffee shops and lookout spots from which you can enjoy the view before resuming your journey further north.
If bodies of water really float your boat, leave Highway 3 about 11km before Beipu and head for the Dapu Reservoir in Hsinchu County's Emei Township. The immense buildings on a peninsula here belong to Nature Loving Wonderland, a Buddhist complex that boasts the world's tallest bronze statue of the Maitreya Buddha. Visiting rules are convoluted, so check online ahead of time if you hope to look inside.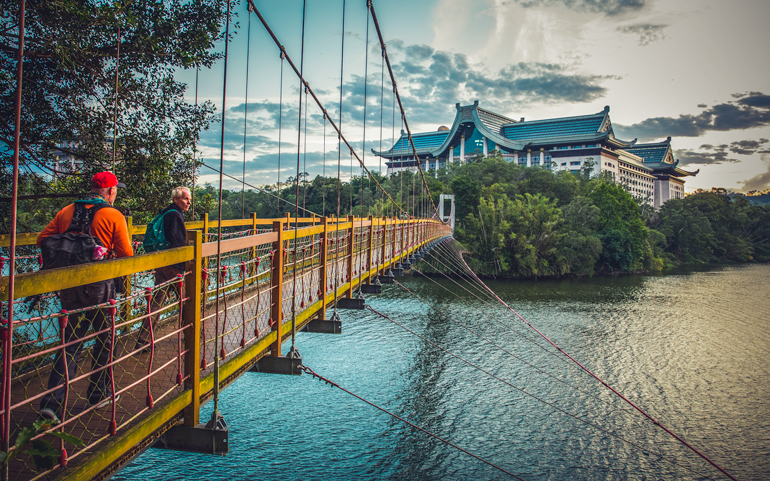 For a lengthier detour, take Highway 3 to the tiny town of Shitan, hub of Shitan Township, then turn onto County Road 124. The latter will take you through hilly terrain inhabited by Hakka, Hoklo, and indigenous people, past ecological attractions including the Penglai Creek Nature Park, and into the village of Nanzhuang. For the type of tourist who's keen to avoid the hassle of driving, Nanzhuang's appeal is twofold.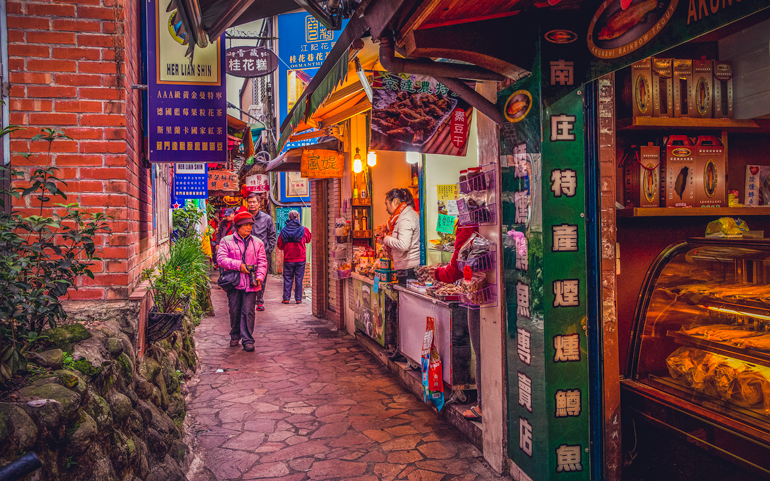 One is that it is recognized by Cittaslow International, the Italy-based alliance of "slow towns/cities," as a place that is, "respectful of citizens' health, the authenticity of products and good food, (and) fascinating craft traditions."
The other is that it has good bus connections. Hsinchu City-Nanzhuang services take a little over an hour, and a one-day pass (NT$150) for the area's Taiwan Tourist Shuttle services provides access to such points of interest as the indigenous village at Xiangtian Lake and the religious sites of Lion's Head Mountain.
Read more about Nanzhuang here:
+ Taking It Easy in NANZHUANG, Miaoli County
+ SWALLOW CERAMICS in Nanzhuang
The Old Hakka Town of Beipu
On this outing, we didn't have much time to linger at any of the places between Dahu and Beipu. If you want to explore the area at a slower pace, set aside two or more days to do what we did in one. But we did make it to Beipu, one of my favorite places in Taiwan. A former frontier settlement full of 19th-century character, the town is a charming place that rewards those willing to wander at random down narrow alleyways.
It's possible to park just off Highway 3 a stone's throw away from Beipu Old Street. Walking southward into the historic quarter, we stopped to admire the graceful exterior of the exquisite Tianshuitang, a single-story mansion done in classical style that, unfortunately, isn't open to the public.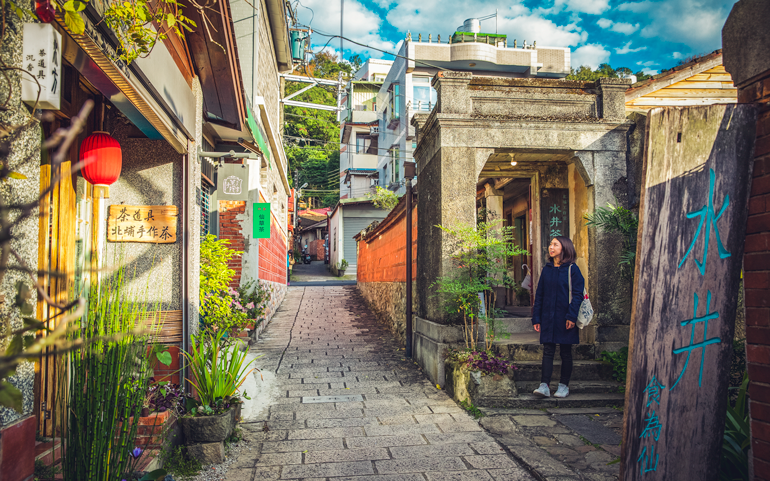 Our objective was down the lane to the left of Tianshuitang. So named because the property has its own water-hole – a not uncommon feature in the Taiwan of yore – The Well Teahouse is a building dating to the 1930s where visitors can enjoy teas, coffees, and snacks. Like many tourists, we were there to try our hand at making leicha ("pounded tea," NT$100 per person), a Hakka culinary treat.
The owner brought us a large bowl filled with tea leaves, seeds, nuts, and other dried ingredients, plus a pestle with which to grind it all up. Once we'd reduced everything to a fine paste, the blend was divided among smaller bowls containing puffed rice and mung beans. With the addition of piping-hot water, it became a concoction that looked more like soup than tea. Because it has a mild and pleasant cereal taste, I'd classify leicha as a comfort drink rather than a stimulant.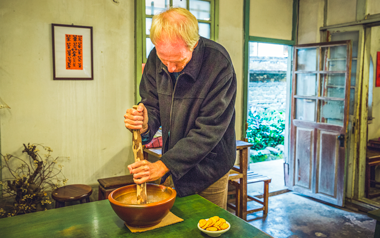 Beipu Old Street has several stores and other vendors of interest. If you pass through the town during persimmon season, you can expect to see – and be invited to sample – the fruit in both its fresh and dried forms. Another local product you're sure to see is meigan cai, the pickled mustard greens that appear in several signature Hakka dishes. The greenish version is made using salt only, whereas darker meigan cai gets its color from soy sauce.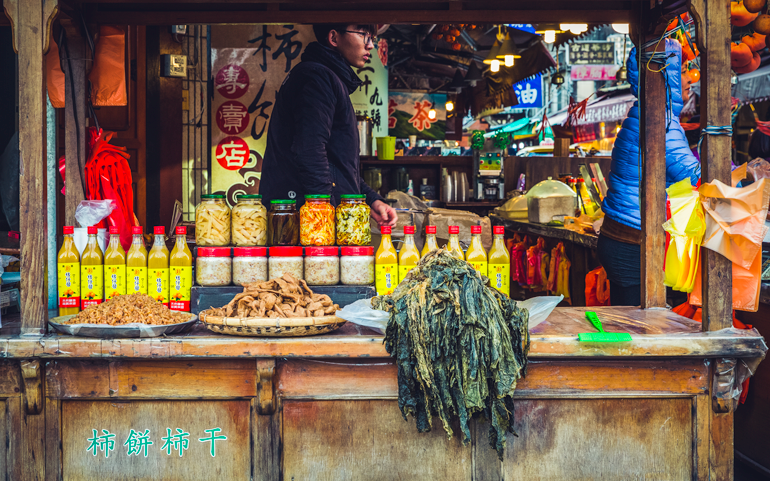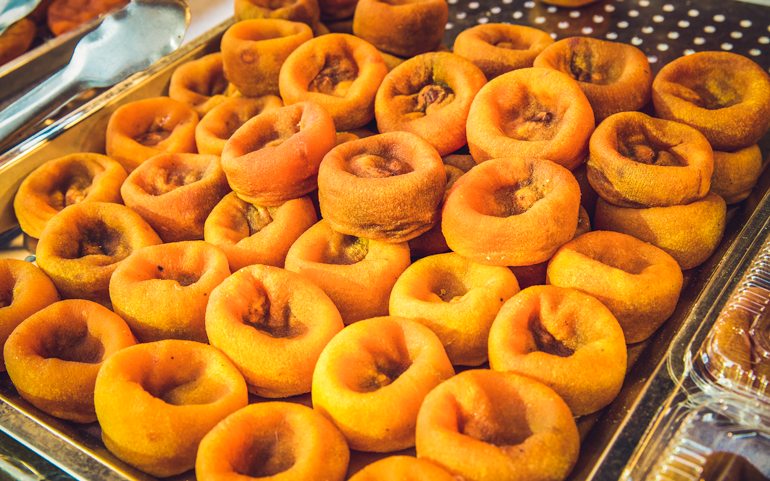 Camphor oil, a popular insect repellent and a key commodity in Taiwan in the 18th and 19th centuries, is sold at one shop on the old street as well. Even if you've no interest in buying some oil, do take a look at the shop's electric-powered camphor-oil still.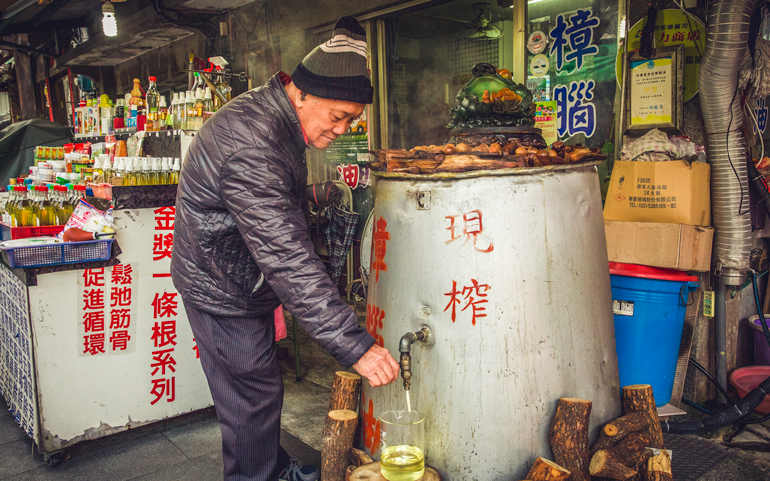 Our final stop was Lung Yuan Pastry Store, a sleek-design bakery filled with tasty goodies, several of which are labeled in English as well as Chinese. The shop sells cakes flavored with taro and sweet potato, candied citrus, and various types of nian gao – a treat made of glutinous rice pounded into a paste – but I opted for Lung Yuan's version of a top tourist favorite.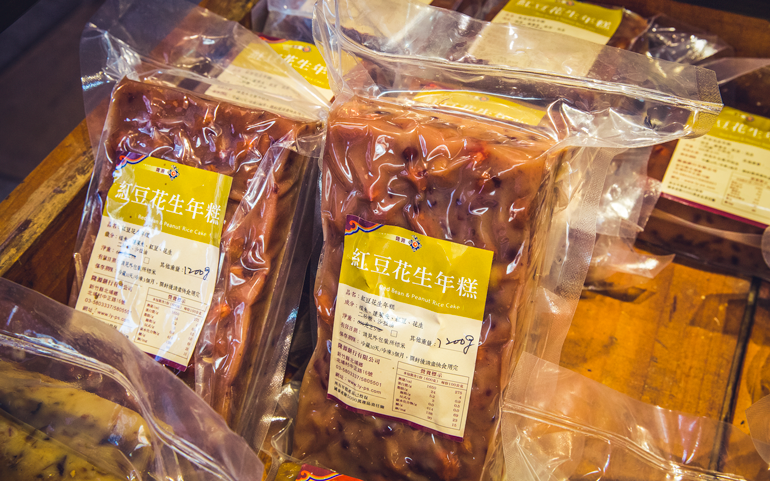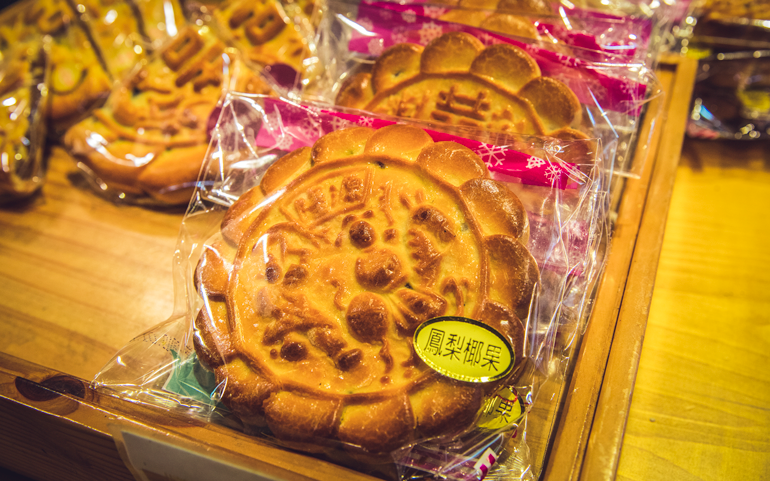 After hearing another customer receive confirmation that the pineapple cakes here have a 100%-pineapple filling (some recipes use wax gourd in varying percentages), I purchased a thick, disk-shaped fengli su. (The shop also sells pineapple cakes in the form of small bite-sized rectangles, which is the most common purchase nowadays.) It was delicious, and lasted less than half an hour after I got home.
Writing this now, I can say that memories of time spent exploring Miaoli are just as delectable, yet far more durable!
Read more about Miaoli here:
+ A Slow Tour of Southern MIAOLI COUNTY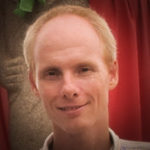 Steven Crook, who grew up in England, first arrived in Taiwan in 1991. Since 1996, he's been writing about Taiwan's natural and cultural attractions for newspapers and magazines, including CNN Traveler Asia-Pacific, Christian Science Monitor, and various inflight magazines. He's the author of four books about the country: Keeping Up With The War God (2001), Dos And Don'ts In Taiwan (2010), Taiwan: The Bradt Travel Guide (2010), and A Culinary History of Taipei: Beyond Pork and Ponlai (2018)
http://crooksteven.blogspot.com
http://bradttaiwan.blogspot.com