The Contemporary Art, Architecture, and Public Spaces of Taichung City

Spend a spell in a city sprouting architecture both genteel and eclectic, and a love of art in public spaces and public spaces as art.
Seizing the title long held by the city of Kaohsiung in Taiwan's deep south, Taichung is now Taiwan's "Second City" behind Taipei, in recent years surpassing it in population. This is a city with big ambitions.
Long an urban agglomeration with an unusual hybrid blue-collar/academia character, serving the light-industry factories that helped power the iconic Taiwan Economic Miracle of the 20th century's latter half and also home to numerous universities, Taichung is fast reinventing itself as a city of dynamic cultural sophistication.
Everywhere you look, it seems, you see cranes and crews sculpting new buildings, fixing up and prettifying old ones, and creating new park space. The onus, as you'll find on an exploratory visit, is on genteel architecture and on contemporary art both inside and outside public spaces, both often gleefully eclectic. This is a city designed for exploration of your five senses – and as you'll see below, perhaps quite a few more too.
Over the past two decades the city administration has stressed cultural innovation and the incubation of a "cultural economy," seeking transformation into an international city of cultural and economic significance. Systematic effort has been given to birthing top-quality cultural and recreational venues and activities designed both to heighten appreciation of arts and culture among the general public and, notably, direct participation. The lofty goal, as expressed in promotional materials, is metamorphosis into an "Oriental Vienna."
The private sector has joined the movement with enthusiasm, big firms launching sleek and often highly iconoclastic skyscrapers and high-rises and, on a more down-to-earth scale, owners of small boutique hotels, cafés, and restaurants giving their locations personalities so unique you're sure not to find anything similar on your travels elsewhere through Taiwan – and the big wide world, for that matter.
In this article we'll dive into the city investigating some of the most attractive and popular large-scale attractions.
Asia University
It's not common that the campus of a school is a tourist attraction, but Taichung has two such landscaped oases of learning. We start with the younger of the two, Asia University, located south of the city center in semi-rural Wufeng District. Founded in 2001, in international surveys it has been declared one of the best young universities around the globe. The garden-style campus was designed as an expression of love for art and aesthetic living. The hope is that students, whatever their curriculum and career choices, will acquire this same love and take it out into the wider world after graduation as they emerge in larger society as influence makers.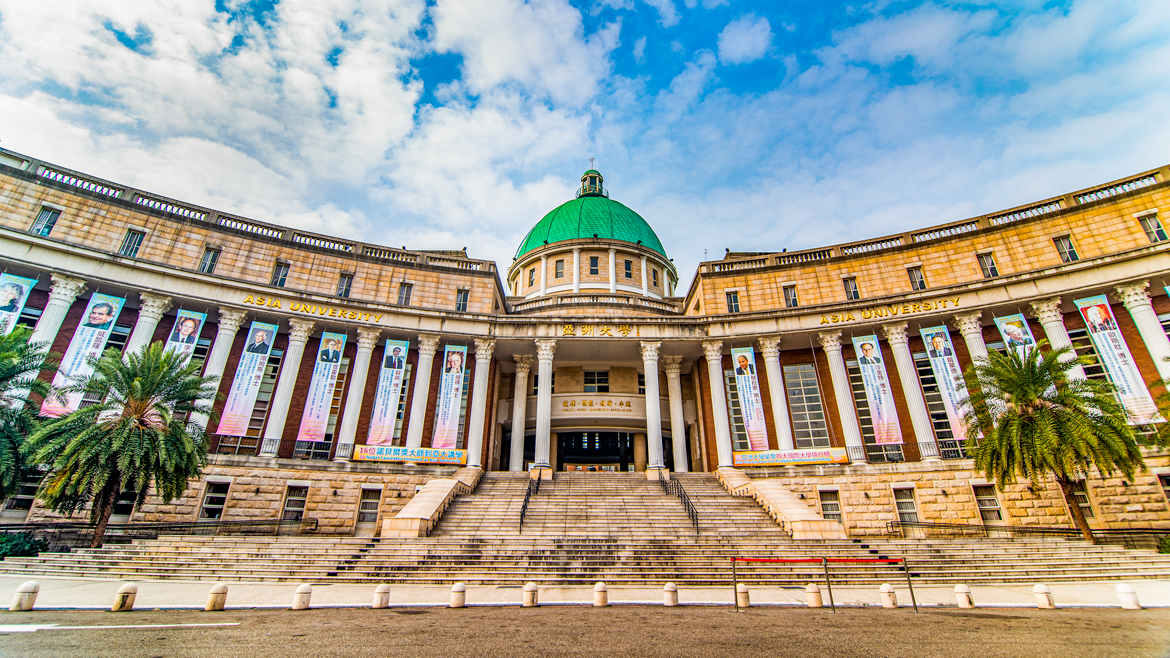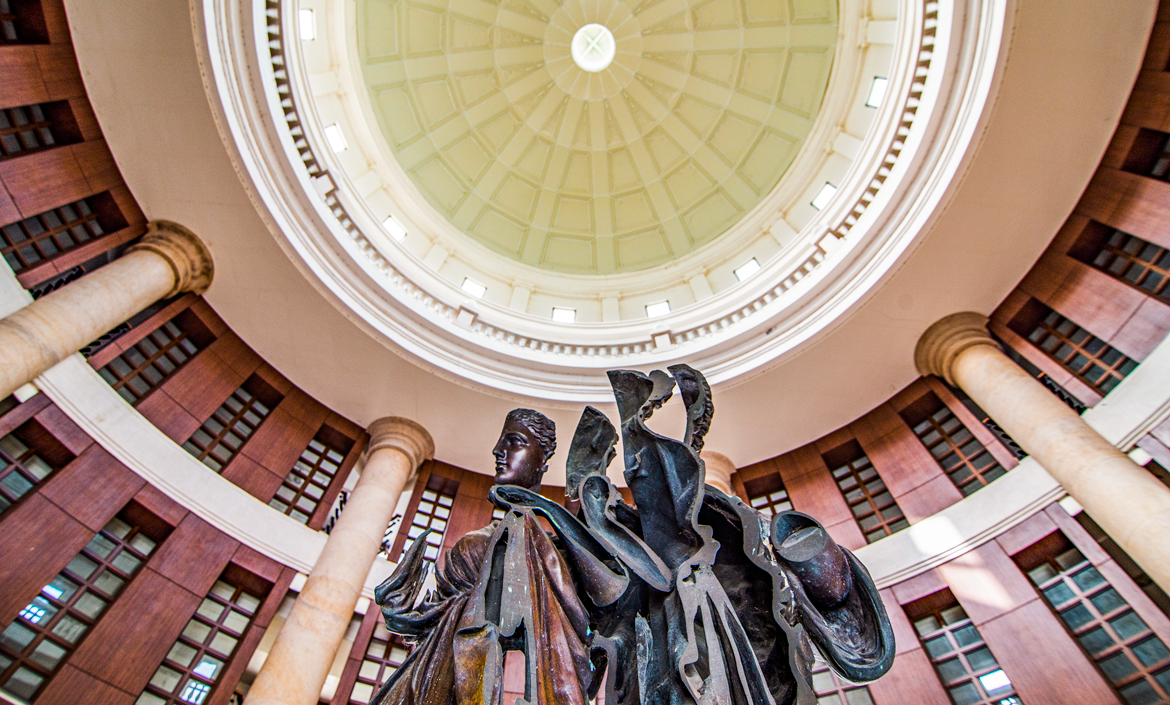 Architecturally, classical Greek-Roman elements dominate. The main building, which can be seen from miles around, is the monolithic Administration Building. Built in grand European-palace style, rotunda topped with a huge, solemn green dome and fronted by a grand staircase and Corinthian colonnade, it evokes the august visage of key portal buildings at some of the world's oldest, greatest universities. Of the other classical-style creations, perhaps most striking is the Gymnasium, which sports a faux façade in the style of the Colosseum in Rome.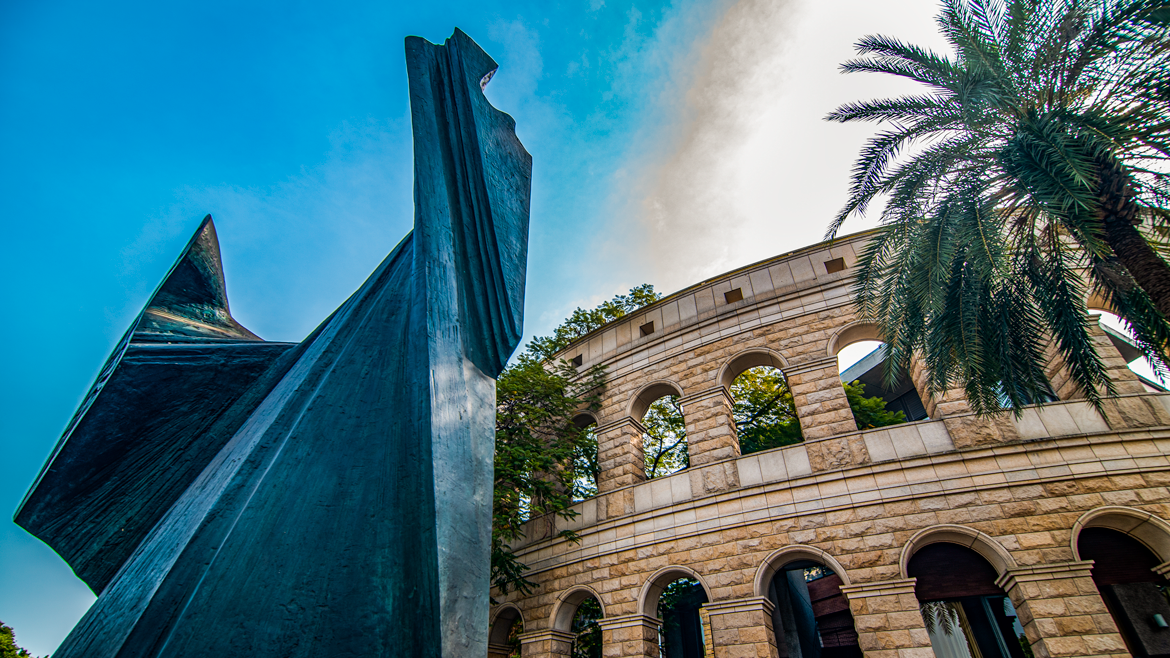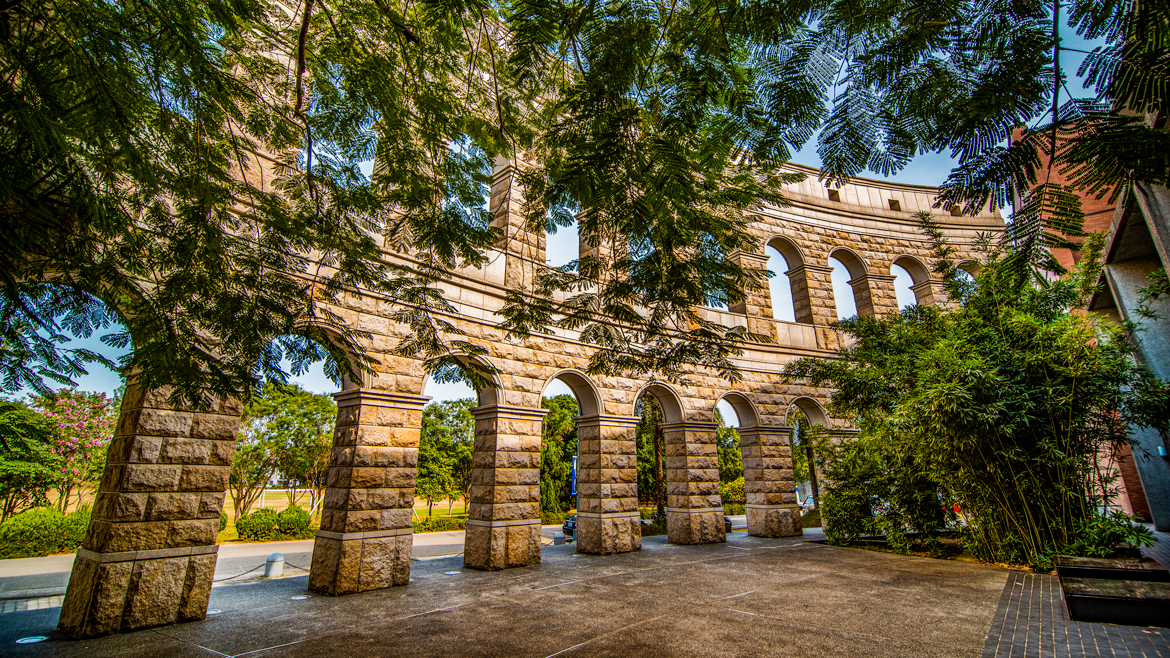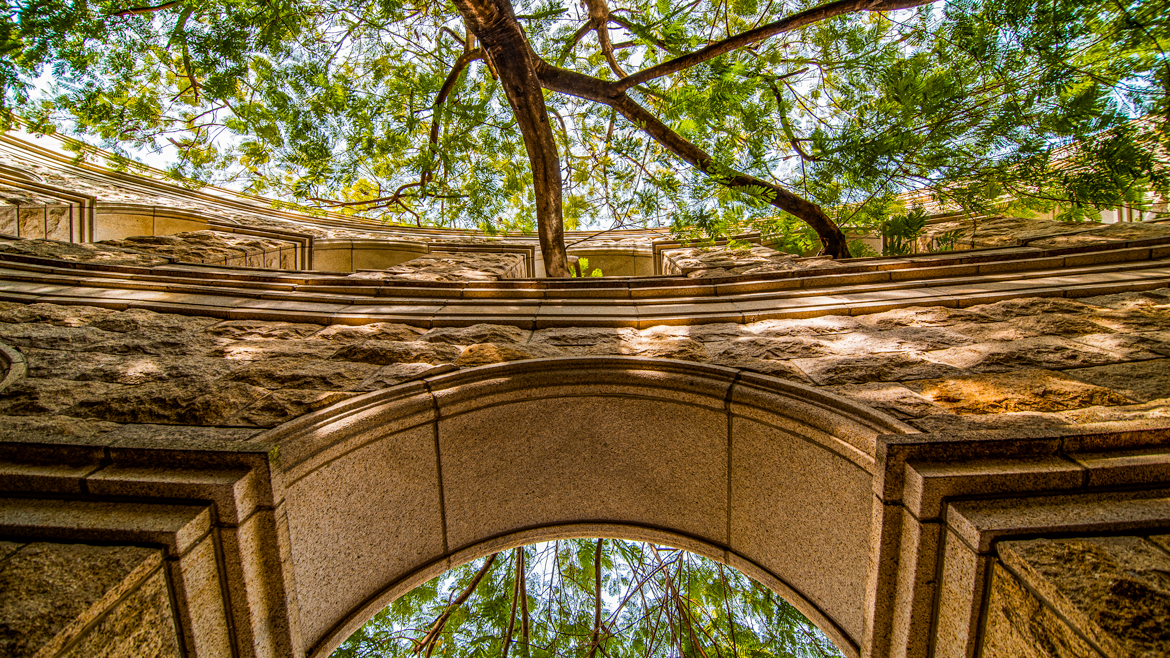 A striking design contrast is seen in the Asia University Museum of Modern Art, which faces the Administration Building. Designed by renowned Japanese architect Tadao Ando, this is a futuristic concrete-and-steel structure of massive triangular shapes that looks like a Star Wars spaceship about to launch.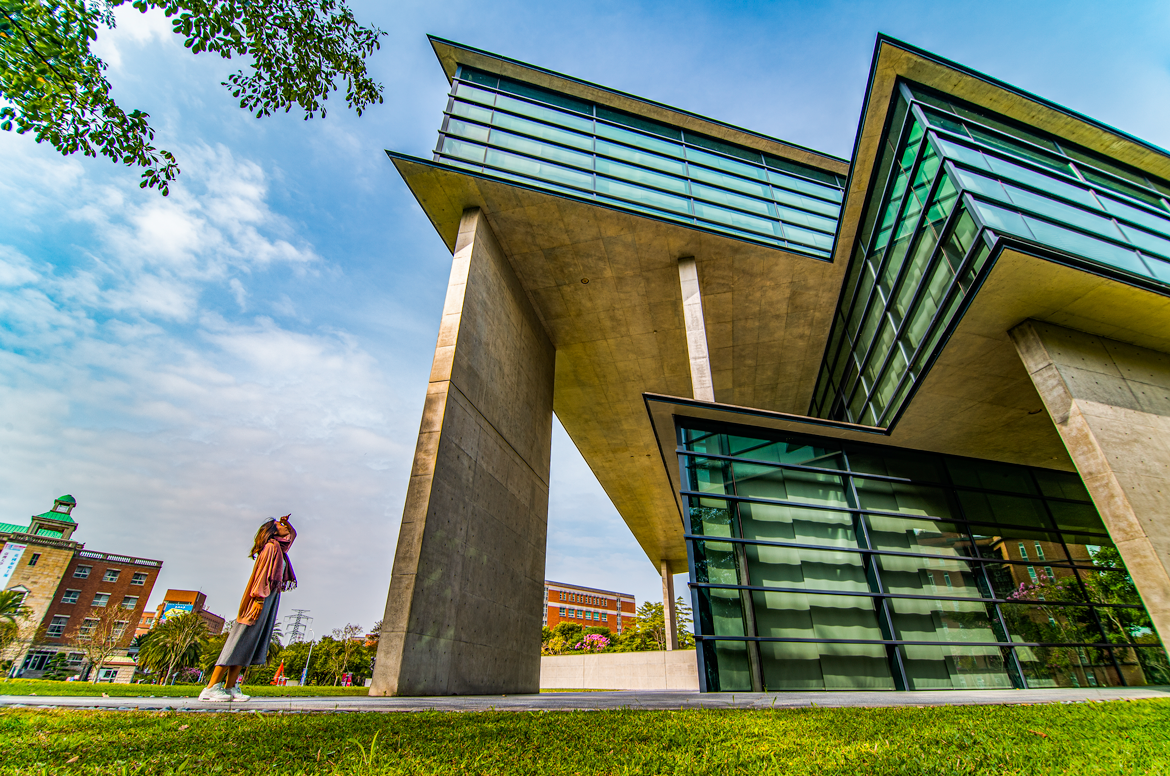 Asia University (亞洲大學)
Add: No. 500, Liufeng Rd., Wufeng District, Taichung City
(台中市霧峰區柳豐路500號)
Tel: (04) 2332-3456
Website: www.asia.edu.tw
Wufeng Lin Family Mansion and Garden
Two other nearby attractions are must-visits should you ever find yourself in Wufeng District. Wufeng Lin Family Mansion and Garden is a sprawling complex of traditional courtyard-style residential buildings – Taiwan's largest, most complete, and most elaborate, dating back to the mid-1800s.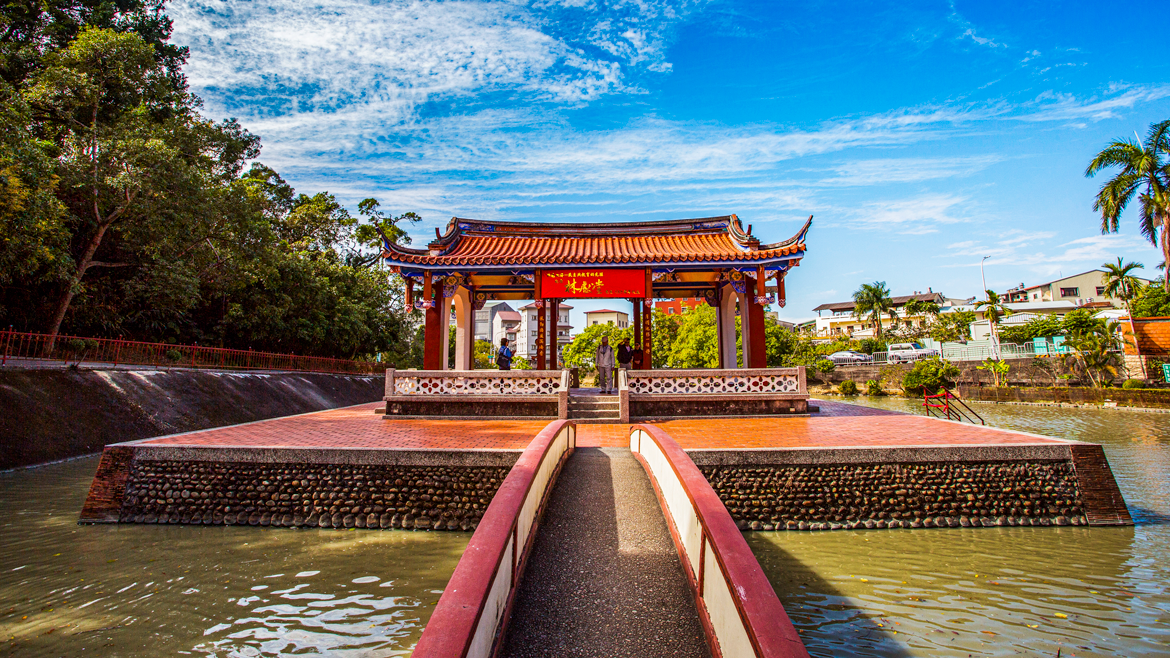 Wufeng Lin Family Mansion and Garden (霧峰林家宅園)
Add: No. 26, Minsheng Rd., Wufeng District, Taichung City
(台中市霧峰區民生路26號)
Tel: (04) 2331-7985
Website: wufenglins.com.tw (Chinese)
921 Earthquake Museum of Taiwan
Severely damaged in 1999's massive 921 Earthquake, faithful reconstruction has restored much of its glory. The centerpiece of the 921 Earthquake Museum of Taiwan is Guangfu Junior High School, ripped apart in the quake attack, an ugly 2m-high displacement in view on the school track. Inside a newly-built dedicated museum facility with an exterior of sleek, slicing minimalist lines is the Quake Experience Theater, which simulates what Wufeng residents experienced.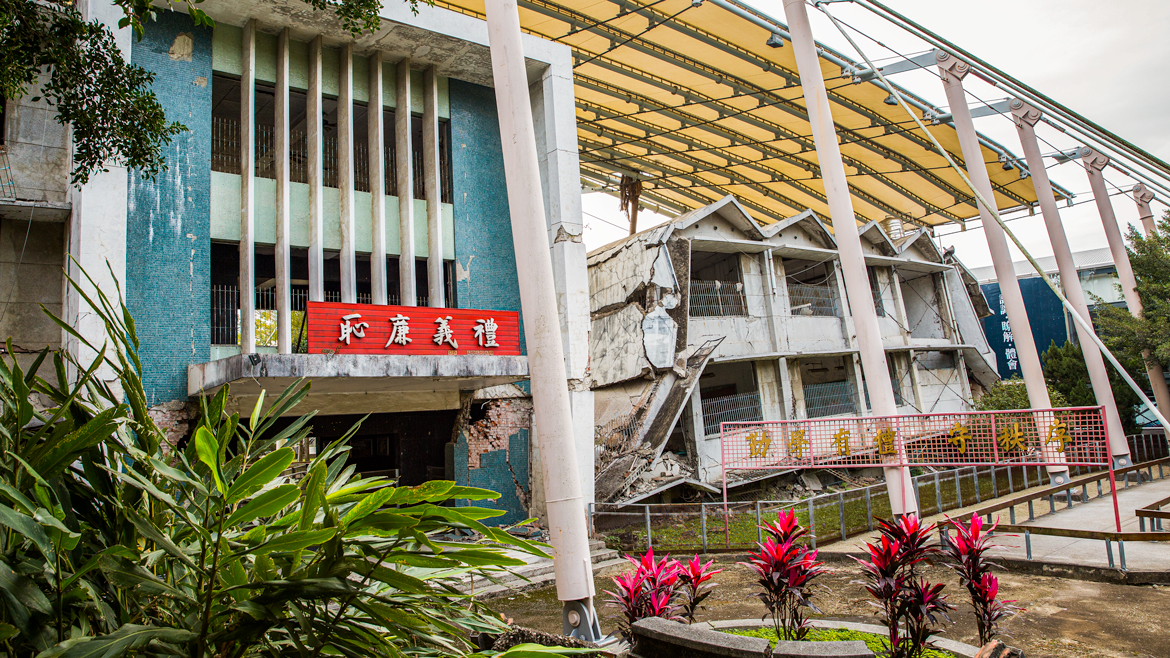 921 Earthquake Museum of Taiwan (九二一地震教育園區)
Add: No. 192, Xinsheng Rd., Wufeng District, Taichung City
(台中市霧峰區新生路192號)
Tel: (04) 2339 0906
Website: www.facebook.com/921emtFANS
Tunghai University
Tunghai University was founded by Methodist missionaries in the mid-1950s. Its campus, spread out on the gentle east slope of the Dadu Plateau in Xitun District, faces east toward the city core. When founded it sat out in open countryside, but busy Taichung has grown past and enveloped it within a much-expanded urban core. Nevertheless, within the perimeter walls you'll find a sprawling, tree-shaded oasis of calm.
A great many buildings in the heavily wooded 139ha grounds are in the style of the Tang Dynasty, China's golden age of arts and culture – square, squat, and colonnaded. The style is markedly subdued and elegant in comparison to the ebullient and, some might say, sometimes garish styling of the Ming and Qing periods. The most poetic of the Tang-style settings is found on Wenli Boulevard, a sloping pedestrian-only walkway lined each side with Tang-style halls. The intersecting branches of the large banyan tress that run along the walkway's edges create a pleasing tunnel effect and hushed ambience.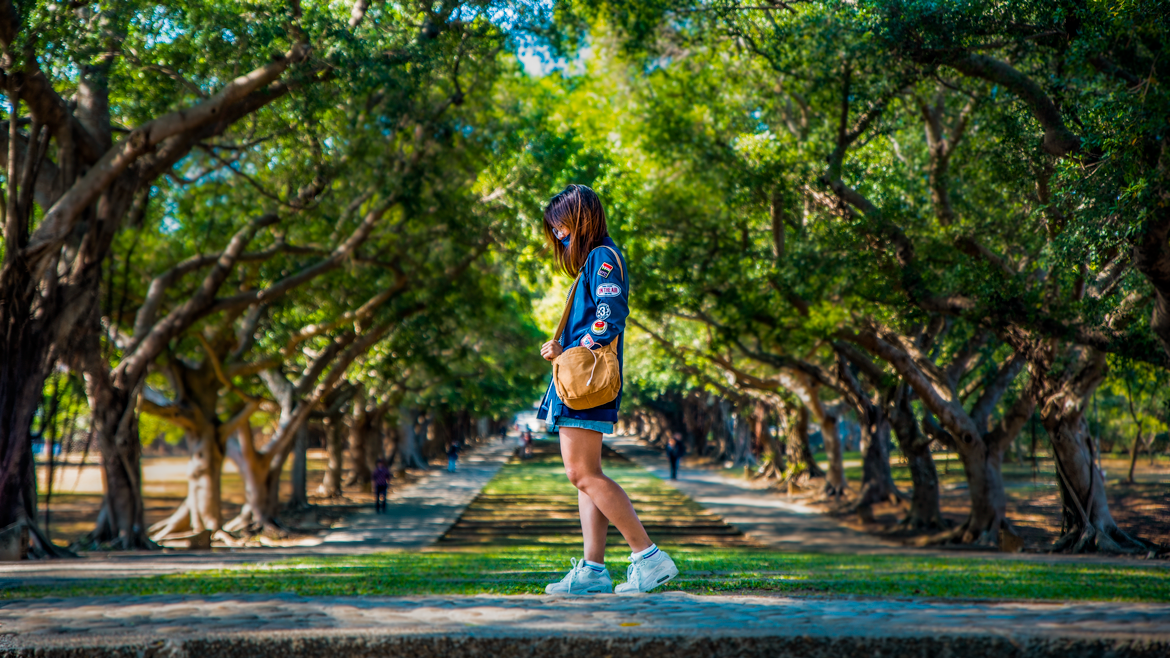 A modernist contrast is provided nearby by the abstract Luce Memorial Chapel, built in 1963, co-designed by renowned Sino-American architect I.M. Pei to look like a pair of upraised hands touching in prayer. (Pei was also one of the original campus-design architects.) The chapel was named after an American missionary who was the father of TIME magazine founder Henry Luce. The sanctuary and large lawn it sits on, which lay at the physical heart of the campus, form its hub and focal point.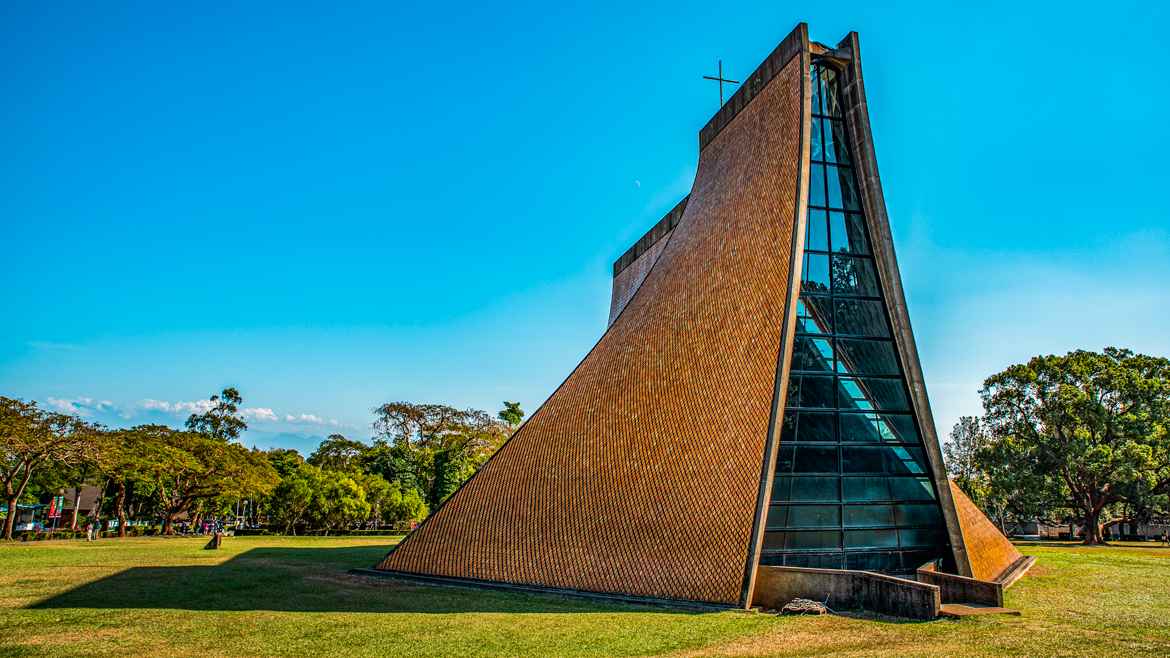 Be sure to visit the Tunghai Dairy – the university runs an experimental farm, and its dairy products are known island-wide. The bright and airy shop, which has a cutesy dairy-cow decorative theme, is housed in a handsome dedicated concrete/steel/glass modernistic building. The delicious treats on sale include silky-creamy milk, yogurt, ice cream, pudding, cream puffs, and cheese. A personal thank-you can be given to some of the black-and-white academia-land bovines that have contributed so generously to your palate's pleasure with a walk to nearby pens, located along another of the university's tree-tunnel thoroughfares.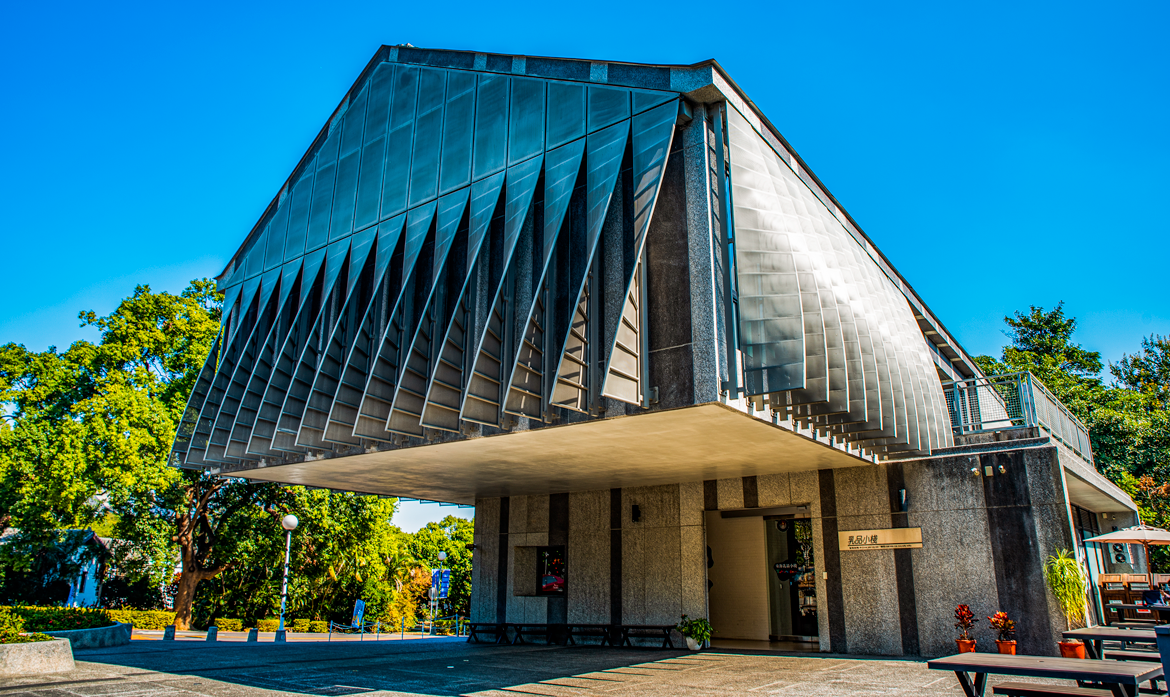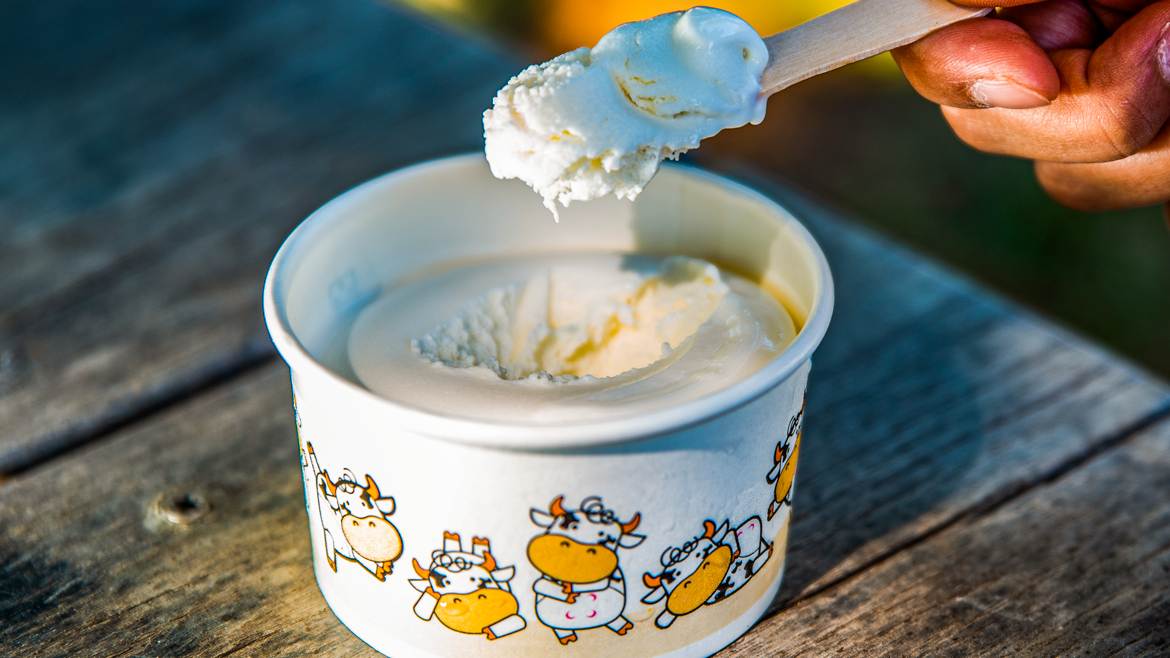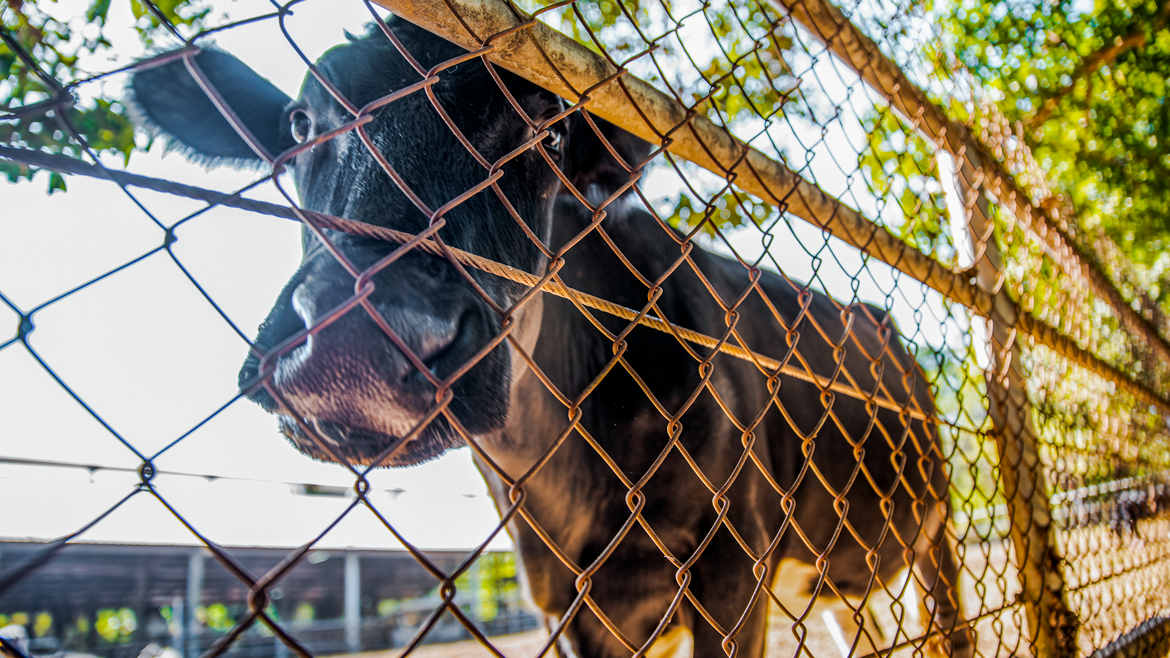 Tunghai University (東海大學)
Add: No. 1727, Sec. 4, Formosa Blvd., Xitun District, Taichung City
(台中市西屯區台灣大道四段1727號)
Tel: (04) 2359-0121
Website: www.thu.edu.tw
National Taichung Theater
This transcendent architectural work, also in Xitun District, has been described as "central Taiwan's growth garden for world-class stage arts." Opened in 2016, the ostentatious complex is a bold design statement that visually dominates its surrounding environment while simultaneously seamlessly blending with it. The NTT's designated societal role is just as bold – to serve as central Taiwan's international-class showcase stage for the stage arts.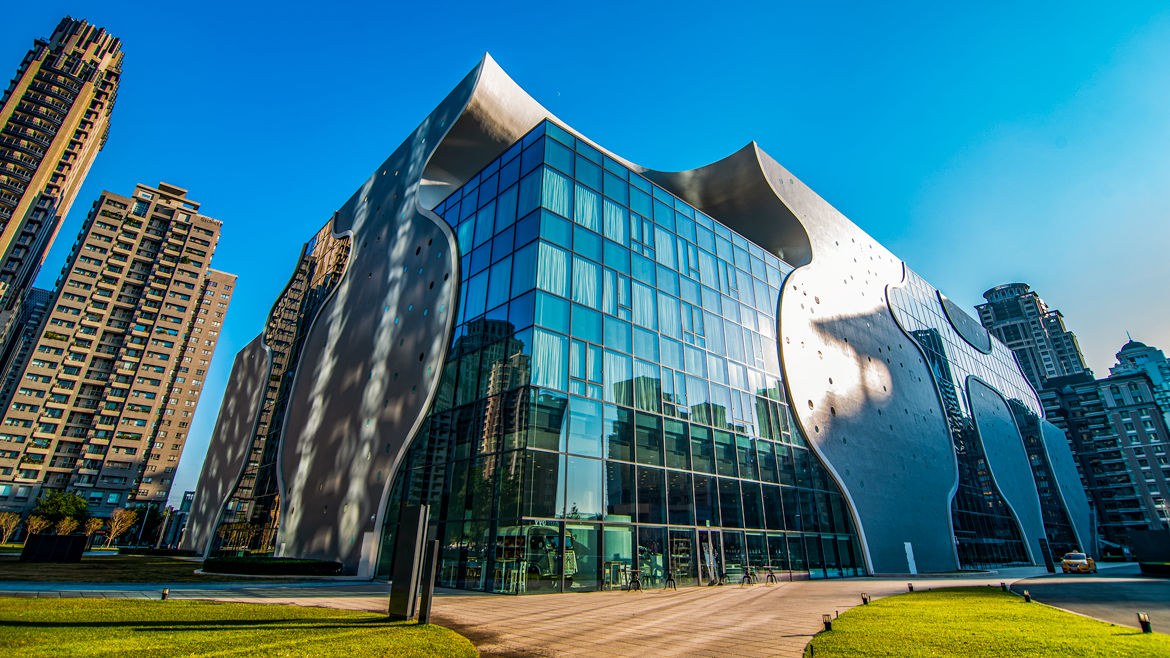 The architect was Toyo Ito, Pritzker Architecture Prize winner. The main structure challenges traditional theater design, redefining the role of public space. Most theaters separate interior and acoustic design from the main exterior architectural design, but the renowned architect perceived the complex as something alive – a breathing organism alive with free-flowing thought and artistic spirit – and decided on seamlessly intertwining all elements.
In the same way that acoustic waves flow freely, Ito emphasized curving lines outside and inside, like water flowing along a river. He also envisioned the complex as a whirlpool amidst a river – i.e., a whirlpool of ideas. A linear park located before the complex flows figuratively like a river right past its front plaza and fountain "into" the building. Emulating the fountain, the façade's curvilinear shapes form stylized whirlpool-style jets of water shooting into the air.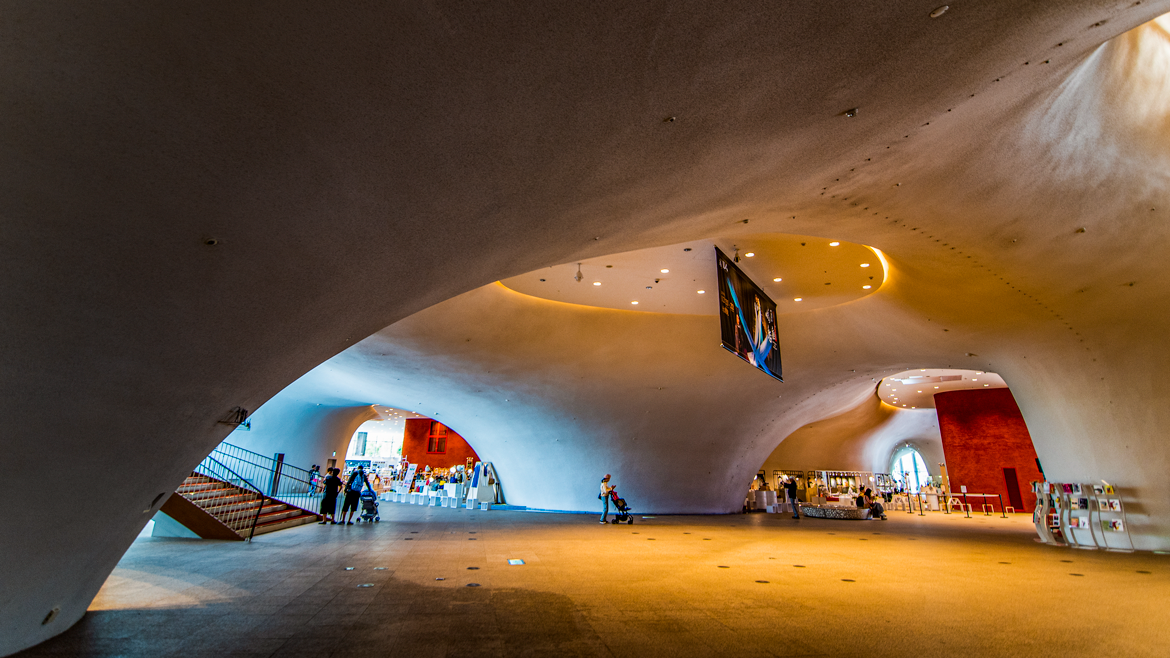 Any sense of "outside/inside" separation has been eliminated. Glass is liberally used in the façade, allowing the greenway "river" to stream right inside. The same stone tiling is used in the outdoor plaza and lobby, with no visual separation, a small stream flows right into (using visual trickery) and through the lobby area, and the internal walls/ceilings are seamlessly curved in tube-like fashion for a natural-lit cave-like effect, enhancing the outside/inside natural-environment continuum. This subconsciously invites members of the local community to stream in, uninhibited by any "high arts" aura.
The curved, flowing interior walls also act both as sound insulators and acoustic reflectors. Symbolically, they evoke the streaming of the flow of creative ideas, and the pathways within the arteries of a living organism. The NTT has multiple performance spaces, including three first-class theaters, a multifunctional corner salon, and a triumvirate of outdoor spaces specially designed to host live-art and other cultural events: the Plaza, Outdoor Theater, and rooftop Sky Garden.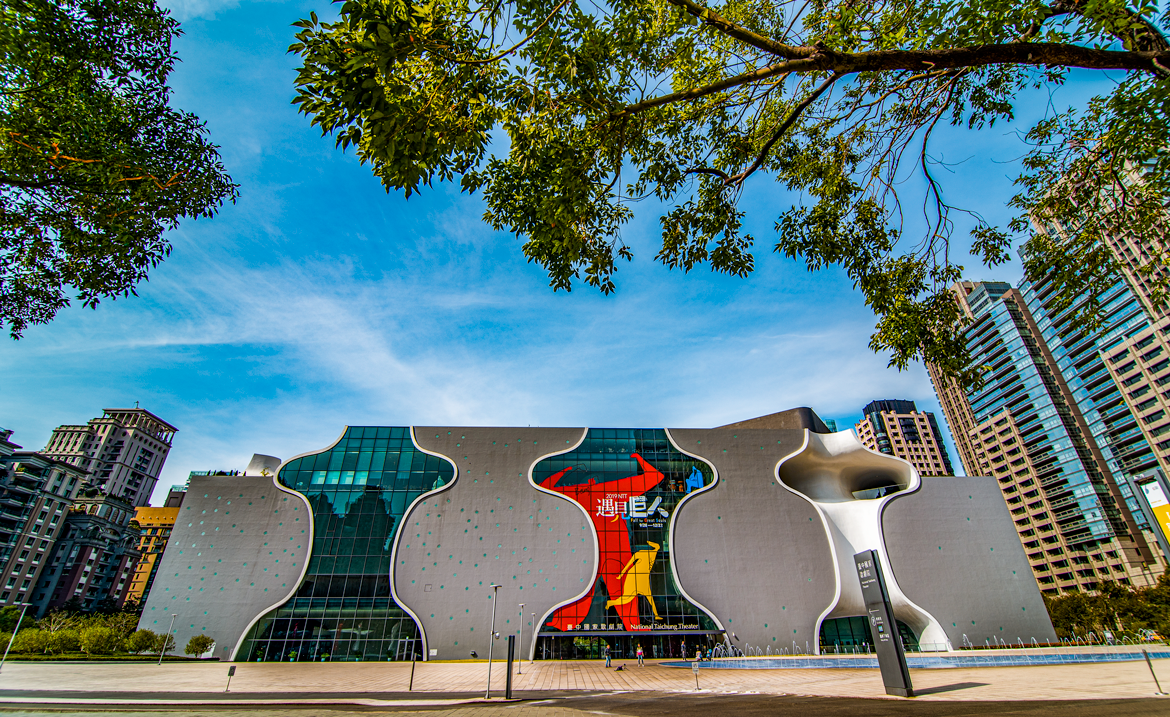 National Taichung Theater (臺中國家歌劇院)
Add: No. 101, Sec. 2, Huilai Rd., Xitun District, Taichung City
(台中市西屯區惠來路二段101號)
Tel: (04) 2251-1777
Website: www.npac-ntt.org
Wenxin Forest Park
The architectural siren in Wenxin Forest Park, in Xitun District, is the Fulfillment Amphitheater, which sports a soaring, gleaming-white roof and is designed to resemble an ancient European colosseum in highly stylized form. The facility covers almost 820sqm, and has a roof 11.5m high, a stage width of 51m, tiered seating for thousands, and room for thousands more on the surrounding higher grassy areas. Uses at the much-in-demand venue have ranged from a free mini-concert by Lady Gaga to community concerts with hundreds of city residents performing in small groups – singing, street dancing, Chinese erhu music, live bands, and even string quartets – before large and appreciative crowds of fellow residents.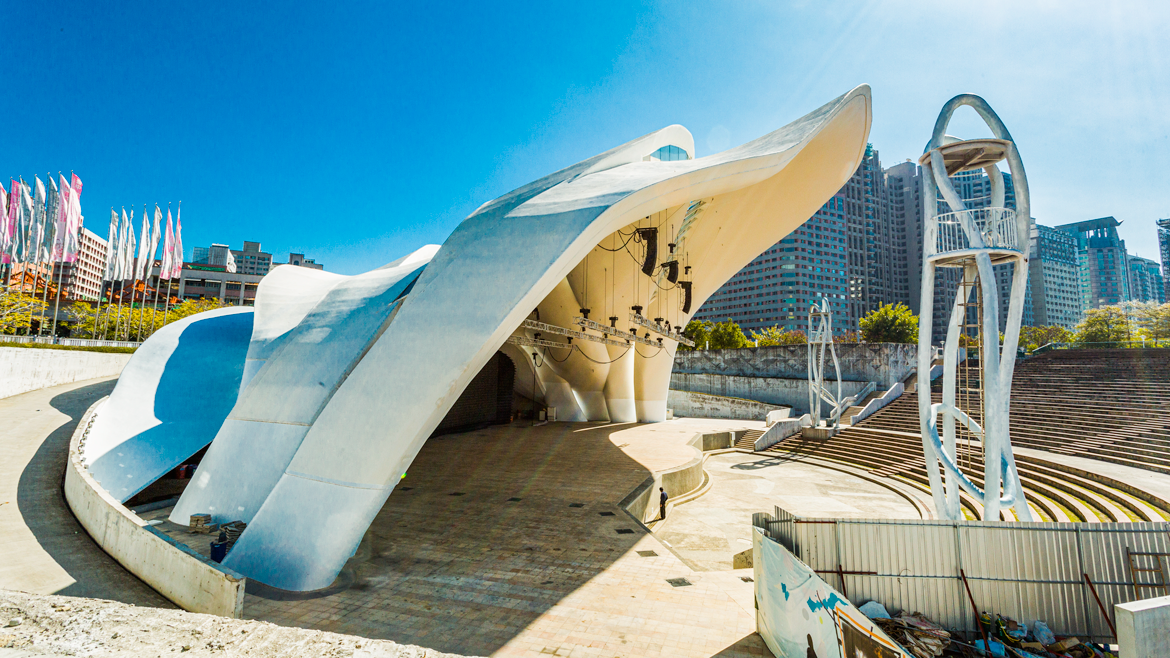 National Museum of Natural Science
The sprawling National Museum of Natural Science was Taiwan's first science museum. This world-class facility has halls with space, science, life sciences, human cultures, and global environment as theme. The museum's adjoining Botanical Garden is a mini-forest of endemic Taiwan plants interlaced with cool, shady walkways.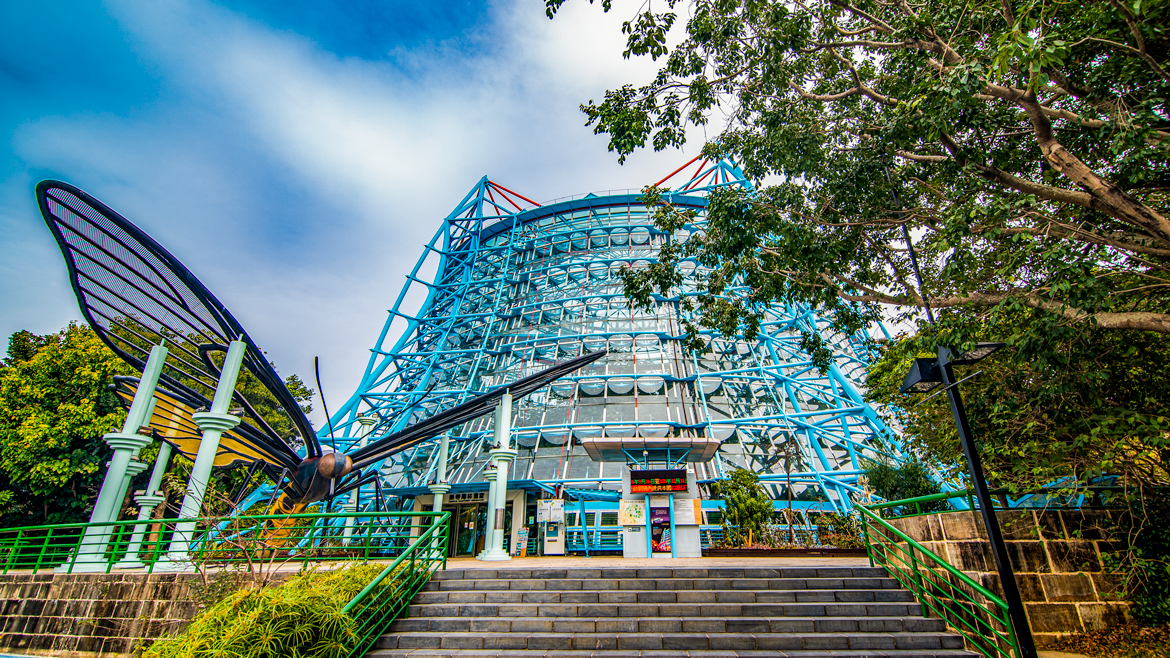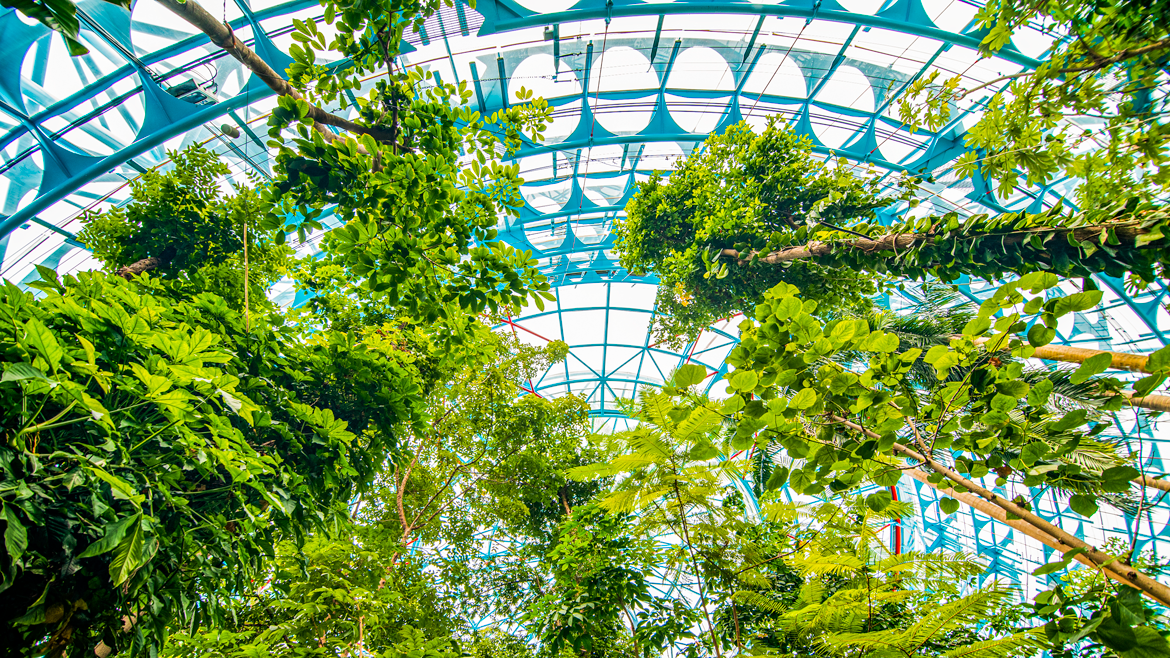 A transparent glass structure with exposed steel-pipe framing that resembles a giant vat soars above the treetops in the forest's center – the Tropical Rainforest Conservatory. Here, step into a lush simulated tropical rainforest complete with lofty waterfall, orchid wall, and intermittent "rain" (i.e., a moisture-spray system). Over 300 species of flowering plants are on display. Two startling curiosities are the 14m-long aquarium filled with giant Amazon fish species, most unnervingly the incredible, massive arapaima. Another, smaller aquarium is home to a nasty-looking piranha squadron, separated from their smaller, colorful tropical neighbors by an unseen glass pane.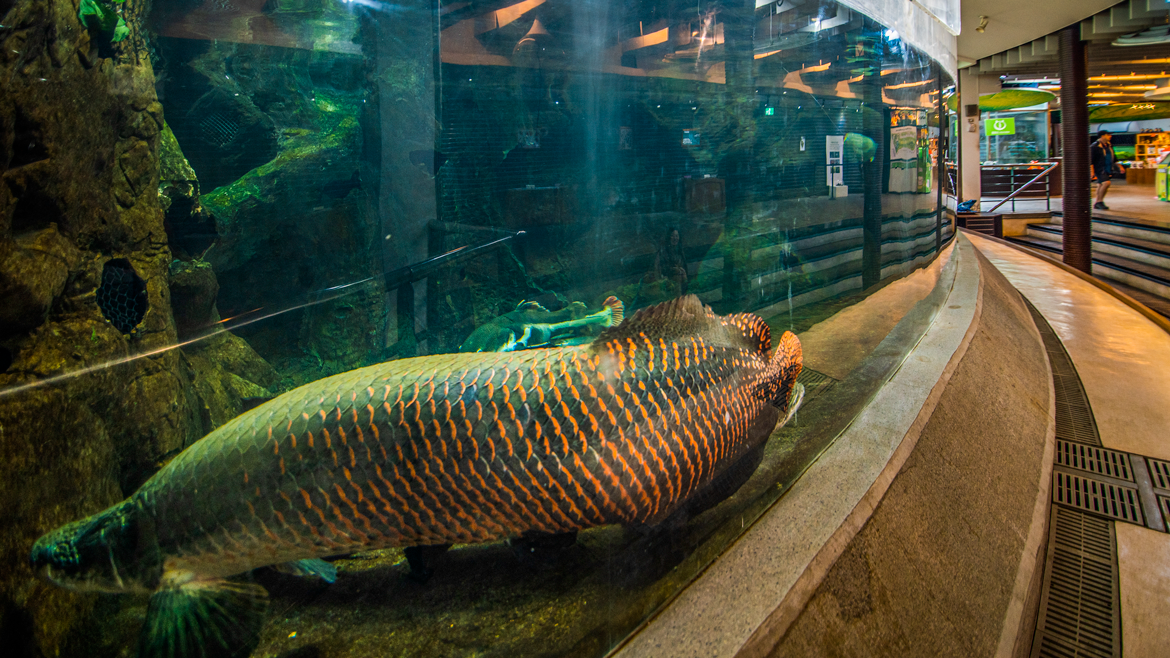 National Museum of Natural Science
Add: No. 1, Guanqian Rd., North District, Taichung City
(台中市北區館前路一號)
Tel: (04) 2322-6940
Website: www.nmns.edu.tw
Calligraphy Greenway
The public artwork-gilded Calligraphy Greenway is a thin greenbelt that stretches south 3.6km from the science museum. What is called the CMP Block is beside the greenway just north of large, lawn-bedecked Civic Square, one of the venues for the beloved annual international Taichung Jazz Festival. A broad-shouldered building complex is going up on the block, and CMP has reserved a corner for the ingenious-design Kong-Ke Museum. Its glass-wall home is in the first two levels of exposed steel-frame girders of what will eventually become a high-rise. The museum celebrates the "culture of the construction crew," with an exhibit at time of writing on the colorful road-safety dummies that workers love to dress up in the same expressive way farmers around the world deck out their scarecrows. Also on the first level is an open-concept kitchen/cafeteria serving lunchbox meals to on-site work-crew members, who enter through a rear door.
Shuinan Central Park
Shuinan Central Park is at the heart of Xitun District's Shuinan Economic and Trade Park (a.k.a. Taichung Gateway Park). The gateway park is on the site of the former Shuinan Airport, constructed by the Japanese for military and civilian use during their 1895-1945 period of colonial rule. In the post-war years it long served as the key facility for Taiwan's aerospace industry. Work on the gateway park began in 2010, on Central Park mid-decade, the latter now nearing completion.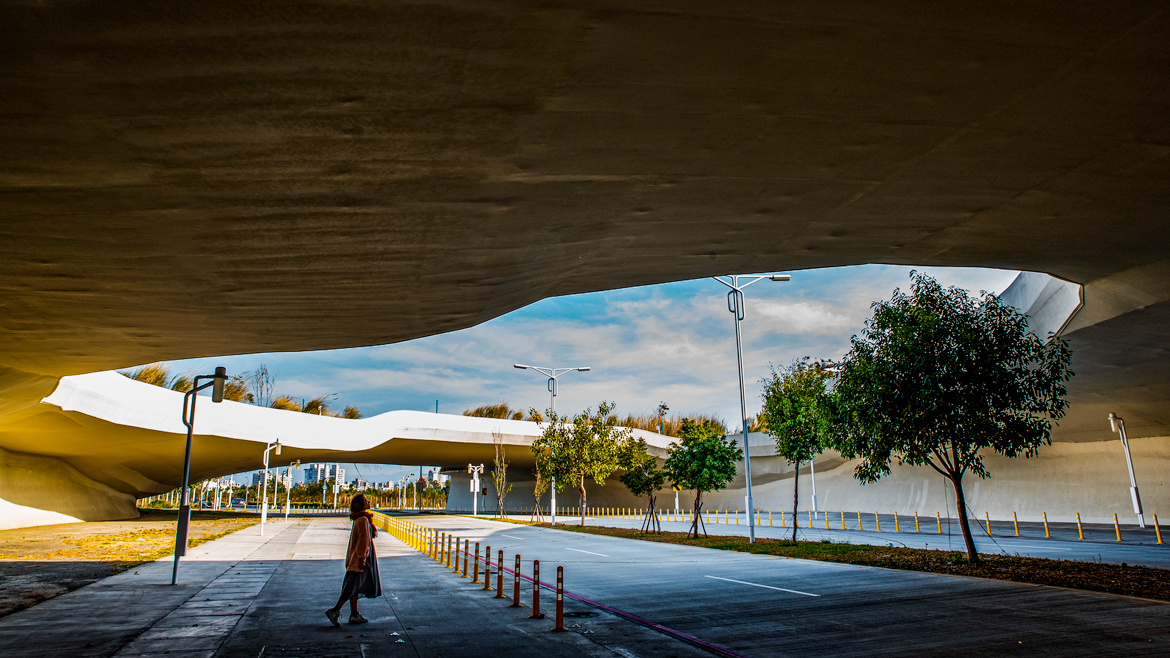 The Central Park was designed by celebrated French landscape architect Catherine Mosbach and Swiss architect Philippe Rahm. The 67ha greenspace is a long, twisting north-south greenway interlaced with walkways and bike paths. A total of over 12,000 trees have been planted in this urban eco-model zone, a little over 80% from indigenous species. About 1,600 big shade trees that for the most part date back to the Japanese era have also been saved. As the new trees mature, the arboreal densification will transform the park into the "green lungs of Taichung," says the city government.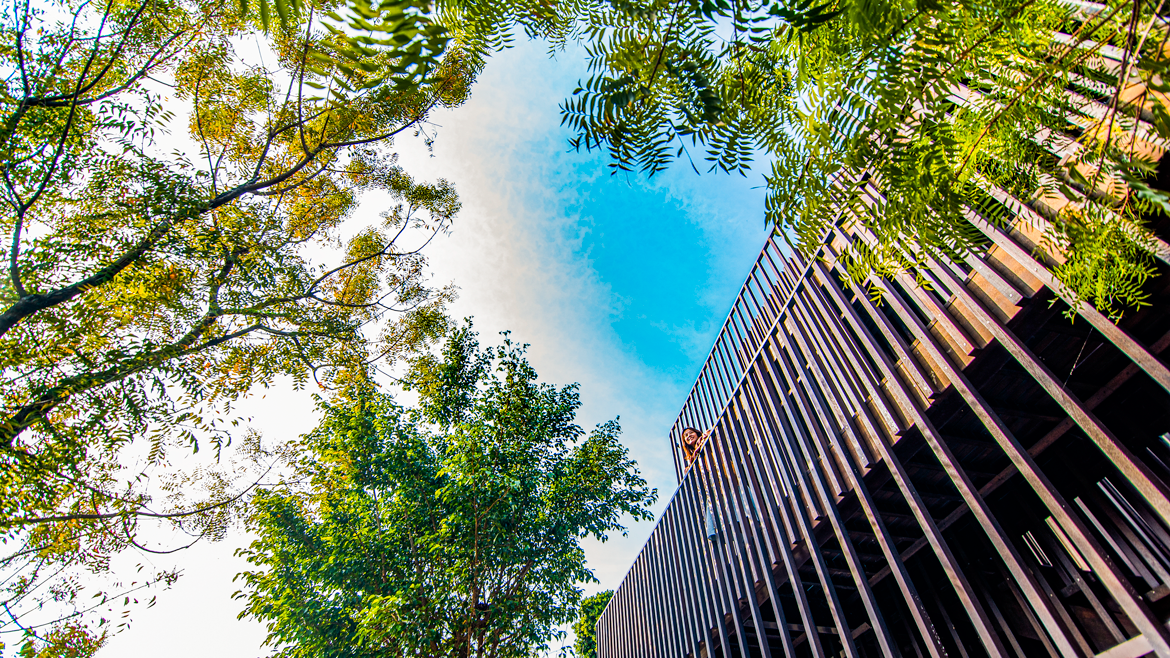 The park is also a smart, innovative low-carbon zone with such features as 10,000sqm of solar panels, smart street lighting, and a central monitoring system. Five water-regeneration eco-ponds have been created to collect rainwater for reuse in nurturing the park's plant life. Colored lights differentiate the main pathways through the linear park at night.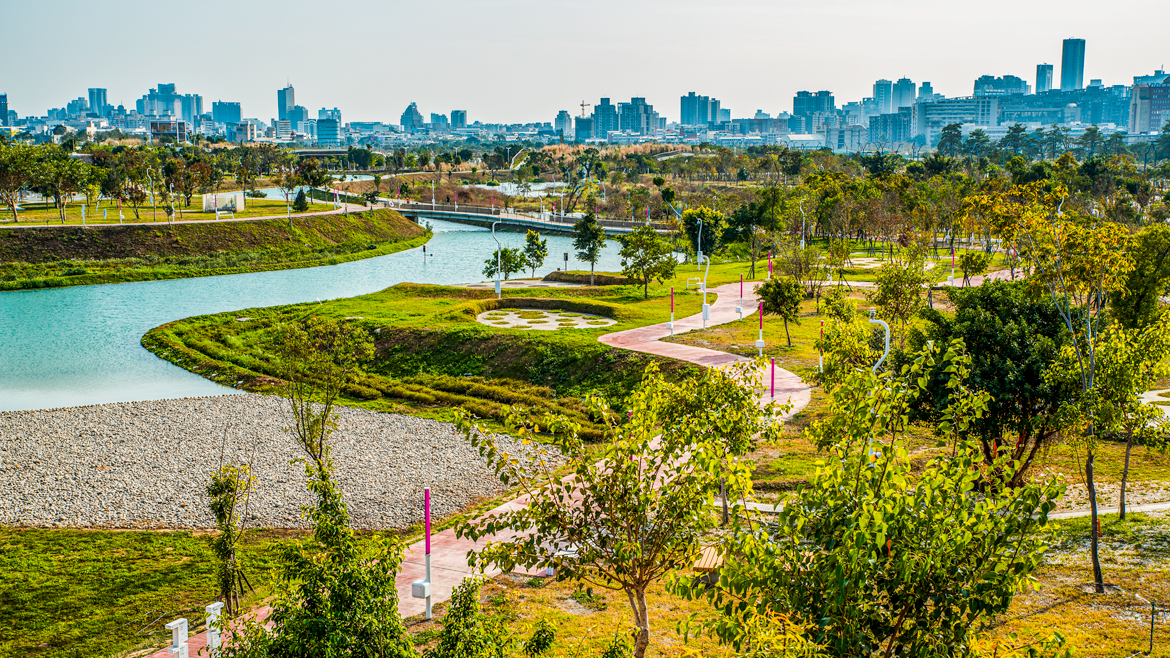 Festooned with clever, compelling public artworks, the park has different areas for sports, relaxation, and family activities. Twelve attractive-architecture pavilions are strung out like a north-south string of pearls, each a sensory-experience window into one of the "12 senses" that are part of Waldorf Education's philosophical concept. These relate to perception of the body (touch, life, movement, balance), external world (smell, taste, sight, temperature), and immaterial, spiritual world (hearing, speech, thought, ego).
By way of example, the "Self-exploration" pavilion is a labyrinthine multi-tier see-through structure constructed of vertical wood slats. The "Listening-exploration" pavilion teases the mind with three-note wind chimes. And the "Balance-exploration" stop seems to actually "flow in the air."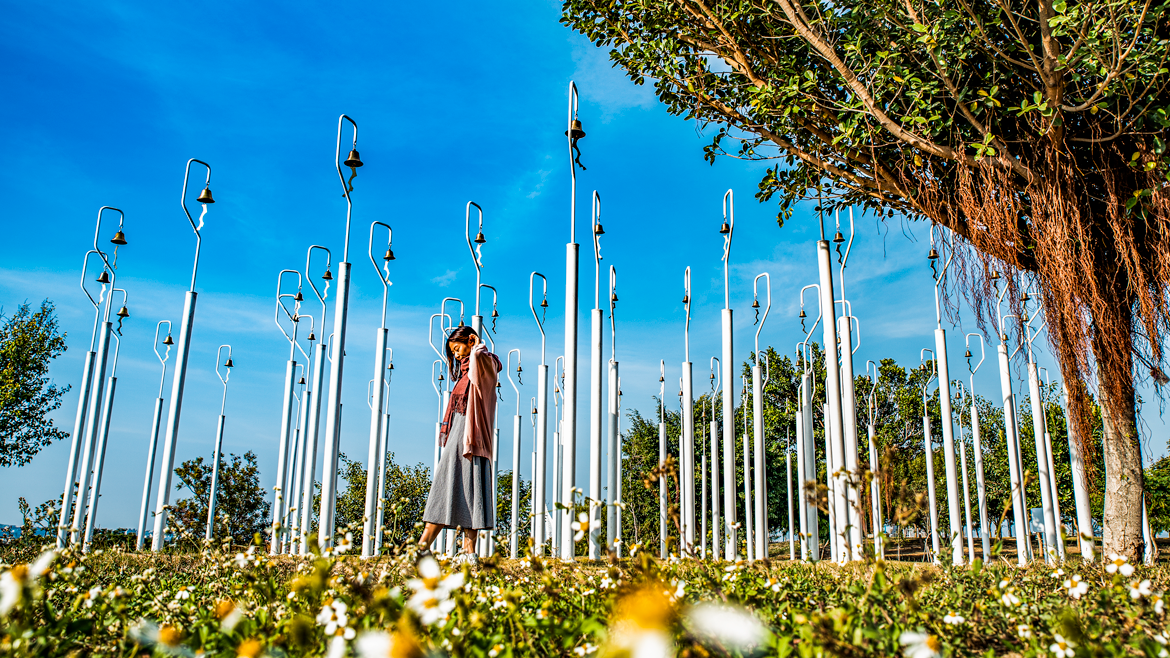 Practical Info
There is regular high-speed rail, regular-rail, and intercity bus service into the urban core of Taichung from other major points in Taiwan. Booths for reputable car-rental enterprises are found in the high-speed rail station, and rental outlets for cars, scooters, and bicycles outside Taichung Railway Station. The English-speaking staff at the stations' visitor information centers can provide local-transport guidance. These two websites are recommended for more information: taiwan.net.tw (Taiwan Tourism Bureau) and travel.taichung.gov.tw (Taichung Travel Net).
Also read:
Jukuiju 聚奎居 (an abandoned mansion in Wūrì 烏日, Taichung 台中)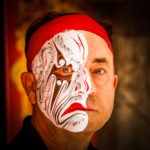 A Canadian, Rick has been resident in Taiwan almost continually since 1988. His book, article, and other writings, on Asian and North American destinations and subjects—encompassing travel, culture, history, business/economics—have been published widely overseas and in Taiwan. He has worked with National Geographic, Michelin, APA Insight Guides, and other Western groups internationally, and with many local publishers and central/city/county government bodies in Taiwan. Rick also handles a wide range of editorial and translation (from Mandarin Chinese) projects.