A Trio of Taipei's Best Hostels
TEXT / RICK CHARETTE
PHOTOS / VISION
TEXT / RICK CHARETTE

The tourism industry in Taipei (and Taiwan) has flourished over the past two decades, putting the city firmly on the international backpacking map of choicest destinations, especially in East Asia. Ever more budget-accommodation enterprises have opened up, and the intense competition has seen operators impressively and continuously up their game, to your benefit.
Packpacking forges deep bonds and lifelong friendships with likeminded adventurous souls who thrill at broadening their world by traveling the globe. Two of my four best friends were met in Taipei hostels way back in ancient Taipei history – i.e., before the Taipei Metro, YouBike public bike-rental, and Taiwan High Speed Rail services existed.
Taipei's hostel community has traveled a long way since then. Today there are scores of budget accommodations to choose from, sparkling clean, solid quality, government-vetted, ranging from budget-austere to budget-luxury. Many are attractive "concept" operations, centered around themes – green sustainability, capsule accommodation, rejuvenated heritage architecture, bike-friendly, poshtel ….
Taipei does not have a "hostel epicenter" neighborhood, in the vein of Bangkok's wonderful and wonder-filled Khao San Road area, catering to the necessities and non-necessity whims of globe-trekking budget travelers. However, Taipei Main Station-area accommodations predominate. The station-and-environs-facilities form Taipei's main transport hub, and the city's west, its older less-expensive side, has seen a tremendous rejuvenation in the past decade-plus.
And now, as promised, we present to you three of Taipei's very vetted best.
Star Hostel – Taipei Main Station
Let's start off with a statement that says, "Nuff Said!: Star Hostel Taipei Main Station won Hostelworld's HOSCAR award as the world's Best Large Hostel two consecutive years, in 2018 and 2019." City-hopping travelers, note that there are now five stars in the expanding Star Hostel galaxy, distributed in Taipei and central Taiwan's Taichung City. All work as green-sustainability model operations.
Neighborhood: This hostel, Taipei's largest, occupies the upper floor of an older four-story mixed commercial/residential building complex in the Taipei Rear Station Commercial District, the area immediately behind (north of) Taipei Main Station. Old-timey shops, including many inexpensive eateries, line the arcaded sidewalks in this neighborhood. In days gone by, because of its convenient location, this area became a gathering place for wholesalers and enterprises with self-created brands. Today it's a wholesale distribution center for creative materials, from decorative accessories, leather goods, toys, and gift items to packaging materials and even hardware. Individual retail sales are also standard. The Chinese New Year lead-up shopping season is crazy-happy in this district.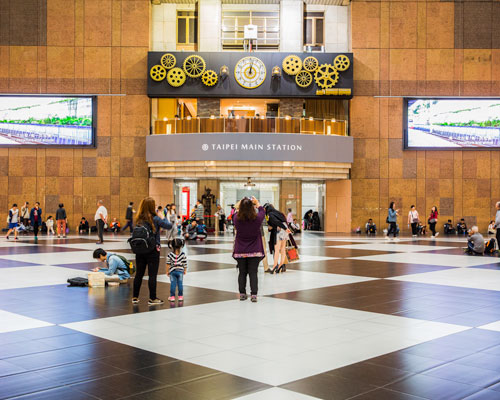 Layout and Personality: Though a "hostel," there are both shared and private rooms. Private rooms sleep one to four guests, while shared rooms sleep four to 8. Private rooms feature a desk and ensuite bathroom. There's a Basic Female Dorm, Standard Dorm, and Deluxe Dorm.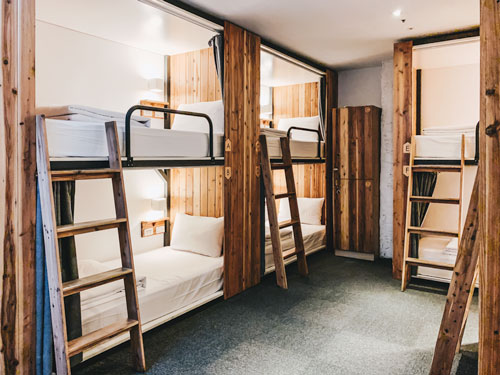 Guests make use of a common kitchen, and there is an inviting commons area designed with Zen character, featuring much use of green foliage and light woods, that has a heart-comforting multi-level treehouse and a greenhouse corner, both with seating. Outside one high glass-panel wall of the calming commons is a rooftop garden.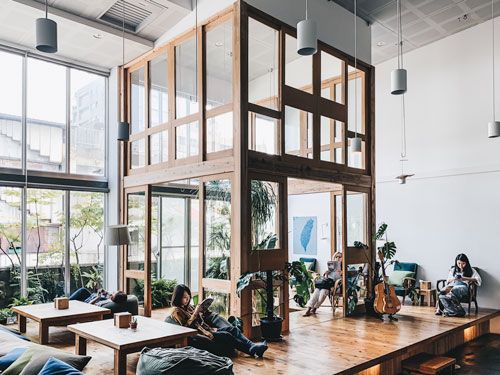 Each day features different social activities, such as video-game nights and movie nights. Each night the kitchen corner becomes a bar, with local craft beers served. One English online-review site has declared this the "Best Party Hostel in Taipei".
Star Hostel – Taipei Main Station (信星青年旅館)
Add: 4F, No. 50, Huayin St., Datong District, Taipei City
(台北市大同區華陰街50號4樓)
Tel: (02) 2556-2015
Website
Taiwan Youth Hostel & Capsule Hotel
In the same online English-language review link mentioned for Star Hostel, the reviewer lauds this facility as "among the best backpacker hotels in Taipei."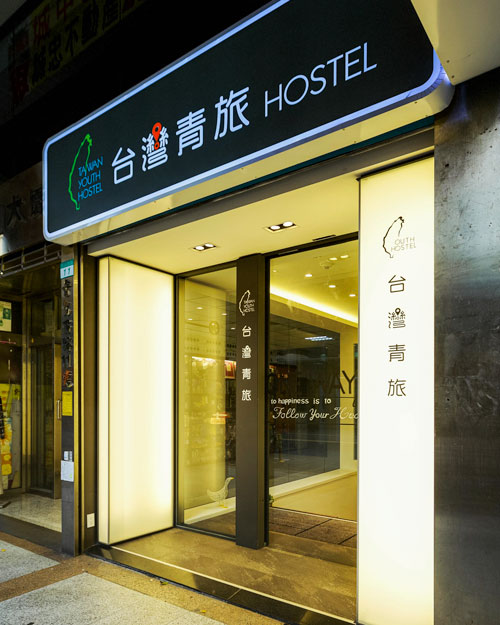 Neighborhood: This hostel is in the area immediately in front (south of) Taipei Main Station, which is home to many government and office buildings. It's also, famously, home to Taipei's oldest and largest buxiban (cram school) cluster, taking up floors in the neighborhood's older commercial buildings. At street level around the cluster are many inexpensive eateries, catering to the office crowd weekdays and student crowd weekday nights/weekends. Immediately south of the hotel is the heritage-architecture National Taiwan University Hospital complex and the large 228 Peace Park, with the heritage-architecture National Taiwan Museum just inside its main gate. Hospital, park, and museum were all established during the Japanese colonial period (1895~1945).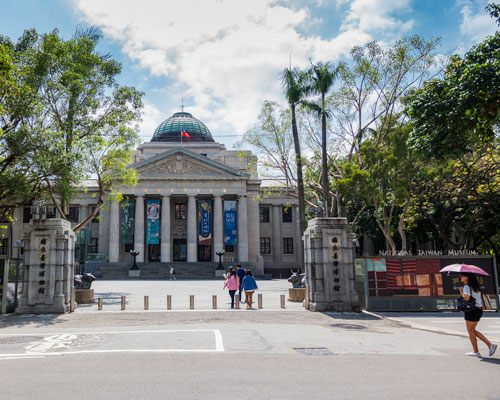 Layout and Personality: Located on the B1 level of a younger commercial building on a street that gets very quiet in the evening, this hostel stresses safety. There is a separate female dorm area, a mixed dorm area, and private rooms, public spaces have CCTV security, and personal lockers are provided in rooms. All areas are well and brightly lit, creating a sense of space and eliminating any underground claustrophobic inclinations.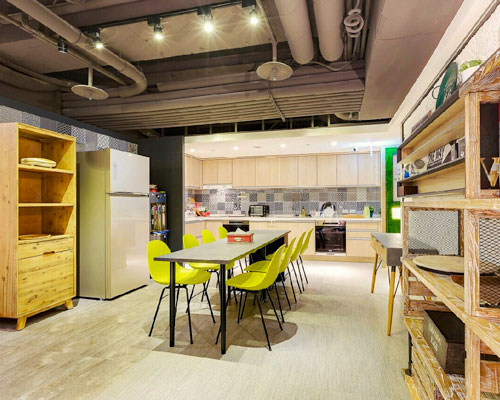 There's a wide range of accommodation choices: private bunkbed rooms with double beds and shared bathroom, double bed in mixed-dorm room, single bed in mixed-dorm room, double bed in female dorm room, and single bed in female dorm (shared room). Each sleeping space has a simple table-cum-desk, and there are electrical outlets aplenty. Your personal locker, behind/beside your bed, fits a carry-on backpack.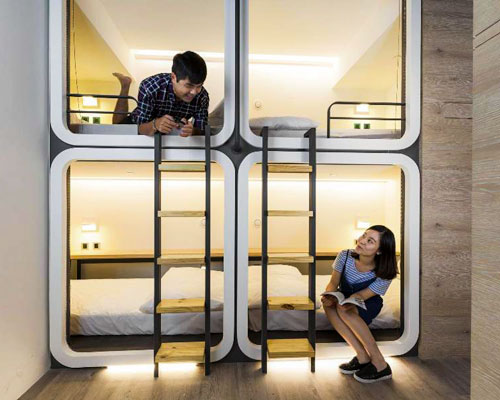 Perks include a gratis snack bar, blu-ray movies, and PS4 gaming. There's also a regular schedule of art, music, and cultural activities staged in the inviting, spacious commons area. There are "Nights of the Arts," cooking classes, dance classes, talent shows (open to in-residence and general Taipei talent), music nights, and much more.
Taiwan Youth Hostel & Capsule Hotel (台灣青旅膠囊旅店)
Add: B1, No. 11, Qingdao W. Rd., Zhongzheng District, Taipei City
(台北市中正區青島西路11號B1)
Tel: (02) 2361-3000
Website
OwlStay FlipFlopHostel
One online reviewer praises this hostel (and its nearby Flip Flop sister) as among "7 of the Hippest Hostels in Taipei". "The … décor … adds a real summer vibe to your stay …. From live music to food challenges, (staff) know how to liven up the place and get everyone involved."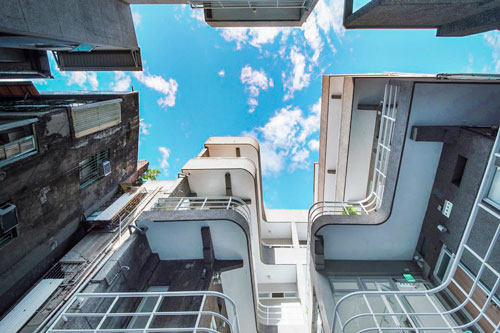 By the way, Star Hostel also made this list.
Neighborhood: This hostel is also in the Taipei Rear Station Commercial District, and is also just a short walk to the adjacent district on the east, Tiaotong Commercial District, an enclave of completely different character. It's laid out in the side lanes and alleys off Linsen Road, north and south of Nanjing Road. Often called either "Japantown" or "Little Tokyo," it percolates with a fun-times-with-friends aura, bubbling with izakayas, karaoke bars, ramen shops, and other Japan-focused entertainment and retail ventures. During the Japanese colonial era this was a high-end residential area for expatriate Japanese officials, afterwards morphing into a Japanese-culture nostalgia center. "Tiaotong" is from a Japanese term meaning "small lane/alley."
Layout and Personality: This hostel occupies a small, comprehensively remodeled four-story heritage commercial building that dates to the 1940s/1950s. It's diagonally across from a key Taiwan arts-scene destination, MOCA Taipei, also in a heritage building.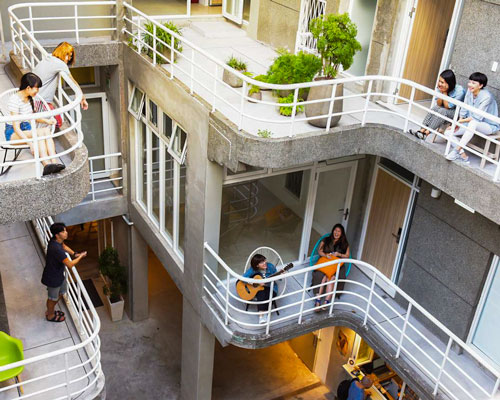 Adding to the spirit of sunny cheeriness is the wealth of light streaming into a quiet central courtyard through a large roof skylight, along with a roomy-yet-cozy sunray-rich common room and common kitchen. Many guestrooms look directly into the skylight/courtyard zone, through floor-to-ceiling glass panes, and have balcony space. Gleaming-white is much the dominant color throughout, in both rooms and common areas, adding to the relaxed, upbeat ambience. However, much appealing original terrazzo work has been left exposed on courtyard-facing walls.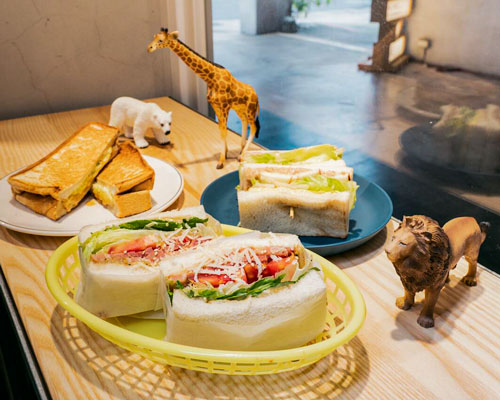 There's an unusually wide array of accommodation choices, far too detailed to list here, ranging from an economy single room to shared women's dorm (4 beds) to shared mix dorm (6 beds), all with shared bathroom, to a triple room (3 twin beds) with private bathroom.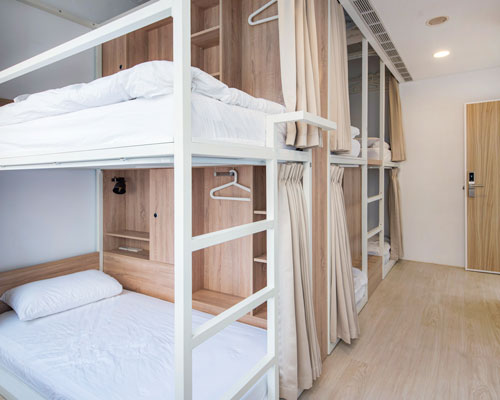 (One note of caution – there is no elevator, making healthy stair-use requisite.)
OwlStay FlipFlopHostel (故事所夾腳拖的家)
Add: No. 122, Chang'an W. Rd., Datong District, Taipei City
(台北市大同區長安西路122號)
Tel: (02) 2258-5050
Website
Practical Info
Details on almost 600 places of accommodation vetted by the Taiwan Tourism Bureau, including many hostels and budget hotels, can be explored at taiwanstay.net.tw.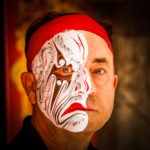 A Canadian, Rick has been resident in Taiwan almost continually since 1988. His book, article, and other writings, on Asian and North American destinations and subjects—encompassing travel, culture, history, business/economics—have been published widely overseas and in Taiwan. He has worked with National Geographic, Michelin, APA Insight Guides, and other Western groups internationally, and with many local publishers and central/city/county government bodies in Taiwan. Rick also handles a wide range of editorial and translation (from Mandarin Chinese) projects.