Innovative Cafés, Shops, and Creative Hubs in Taoyuan City
TEXT / RICK CHARETTE
PHOTOS / VISION
"Tourist days in Taoyuan City …. WHY?"
My dear readers, let me explain! Not so long ago, this would be something readily expressed both by local and in-the-know foreign travelers. No more. The "Taoyuan City" brand is becoming a tourism marketer's dream. In a moment you'll be hankering for days-to-be-spent in this flourishing city just west/southwest of the Taipei metropolis – read on!
First – Taoyuan City ate up its surrounding countryside, i.e., Taoyuan County, in 2014. This means city tourism marketers now get to claim many longstanding county favorites as their own, such as the scenery and seafood restaurants of Zhuwei Fishing Harbor on the coast, the heritage Old Street Baroque-style shophouses of Daxi town in the hills, and the giant sacred trees, magnificent views, and honey-peach orchards of the mountain region's Lalashan.
Second – Tremendous creative energies, both large-scale government-driven and small-scale individual, have been unleashed in the urban core over the past decade-plus, with both homegrown and incoming talent transforming what at best could be called a "nondescript" heavily industrialized landscape into an ever more visually and culturally compelling one, bringing an ever-increasing tourist flow. At the large-scale end are Smart City projects such as the Taoyuan Metro's Taoyuan Airport MRT line (connecting with Taipei) and the massively ambitious Taoyuan Aerotropolis urban-planning project.
Despite the rapid growth, however, the urban core and immediate surrounding area still offer many oases of culture and calm. Such places of tourist interest are the focus of this article – particularly, unique small-scale cultural-creative projects such as cafés, shops, and creative hubs. Enjoy!
Taoyuan District
The city's urban agglomeration sits on a roughly fan-shaped plain that is open to the Taiwan Strait its full width. Its fulcrum can be said to be old Provincial Highway 1, the island's main north-south road link before National Freeway 1 was born in the 1970s. This agglomeration's nucleus is the original Taoyuan City area, now called Taoyuan District.
Taoyuan 77 art zone is in the shopping district before Taoyuan Railway Station, a short walk northwest. This moderately-sized cultural park is home to a complex of immaculately renovated wood-built dormitories and other buildings for Japanese police personnel dating to the 1895-1945 period of Japanese rule. Today, a former police office houses the visitor center, a prayer pavilion is a rest pavilion, and dorm facilities house a cultural-creative merchandise shop, handicraft-experience workshop, exhibit/performance venue, café, etc. There's also a regular weekend market selling cultural-creative handmade goods, art, and eco-friendly food products.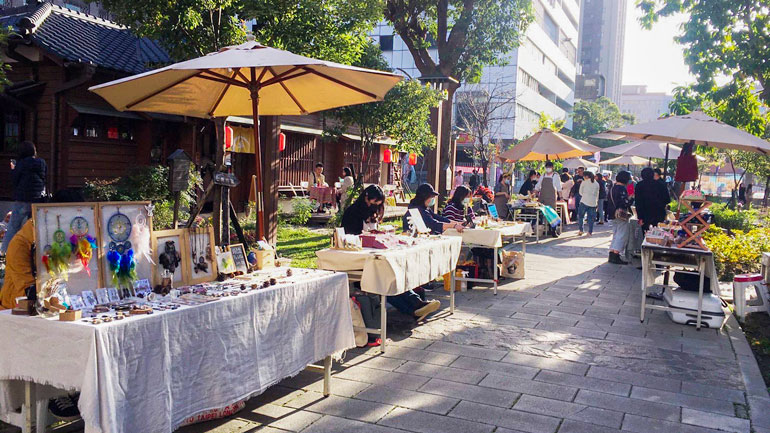 The stained-wood exterior of the "Little 売Cultural-Creative Shop" is prettily decorated in the festive manner of old-style Japanese shops, with hanging decorative lanterns and banners carrying prominent calligraphy. "売" is an ancient Chinese character and still-used kanji character meaning "sale/selling/retail," both pronounced "mai." The interior is also decked out in retro-rustic Japanese style. This enterprise specializes in handcrafted cultural-creative items and souvenir items from well-known Taoyuan brands.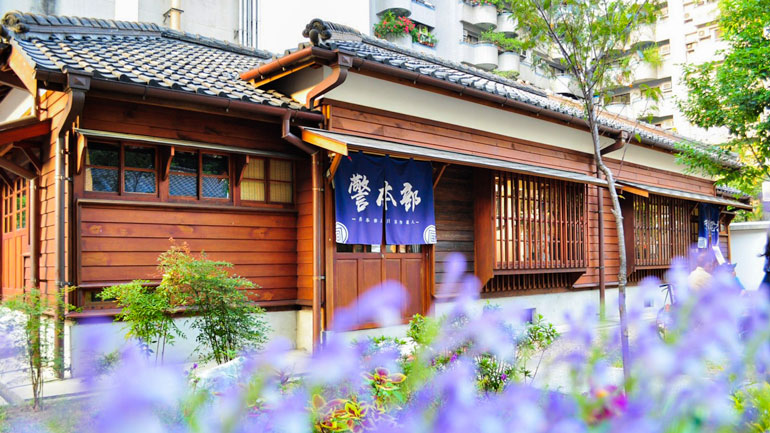 Entry is free to the Six Arts Gallery exhibit and performance space, where original Japanese-dorm elements such as the woodwork, sliding wall/door panels, and window frames have also been maintained. The permanent exhibit explains the police-dorm cluster's history and architecture. Activities include artistic performances, concerts, and special-theme exhibits.
Come True Coffee is part of a local high-end chain, with 14 outlets island-wide. Here, the interior's original woodwork has all been left intact, complemented by Taiwan-theme flourishes such as countertops made with Hualien marble and seating made with Taiwan high-mountain cedar. The menu, which has English, includes over 20 coffee selections, sweet and savory "souffle pancakes," and Japanese-theme pizzas and rice-based dishes.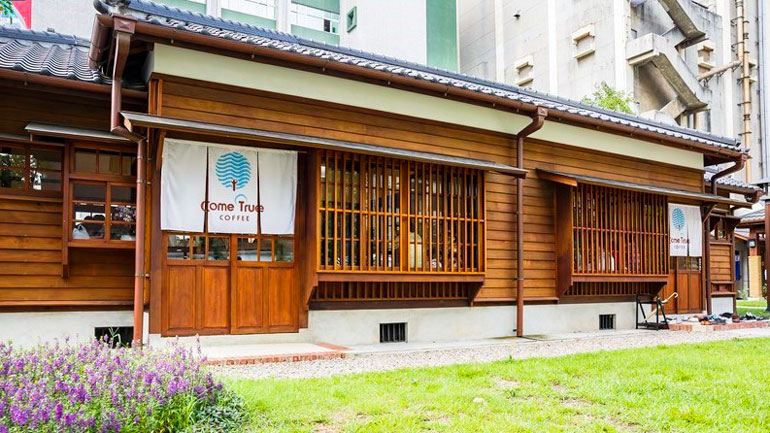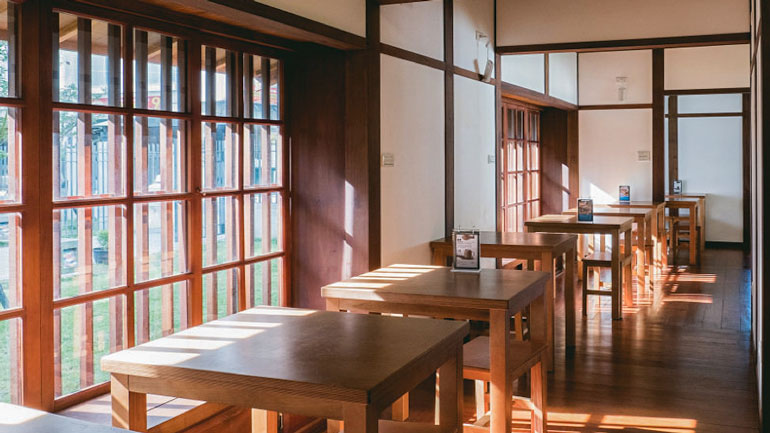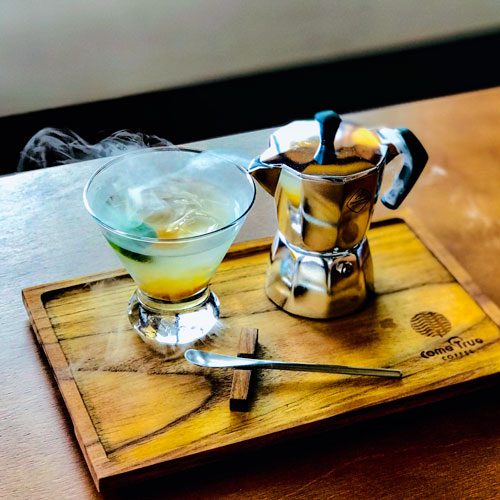 Taoyuan 77 art zone (桃園77藝文町)
Add: No. 5, Lane 77, Zhongzheng Rd., Taoyuan District, Taoyuan City
(桃園市桃園區中正路77巷5號)
Tel: (03) 332-1969
Website (Chinese)
Longtan District
The town of Longtan is the urban heart of primarily rural Longtan District, which is located at the higher, south end of the Taoyuan plain where flat land transitions to hills. It is an exurb of Taoyuan's main urban region. This district has a strong Hakka population (the Hakka are a Han Chinese minority that, for historical reasons, has long lived in hilly/mountain areas) and possesses an attractive old/new cultural mix, with old-time tea plantations and tea factories now turned into tourist destinations existing alongside young high-tech hubs. There are now also many other types of modern-style tourist-factory experiences available, such as for traditional Chinese cakes and pastries and beancurd products.
The place name "Longtan" means "dragon pool," referring to Longtan Lake, measuring over 18ha, at the town's center. It is today a major tourist attraction (more on this momentarily). Originally created for irrigation use by Han Chinese immigrants in imperial times, old legend had it that an auspicious yellow dragon dwelled at its bottom, its presence always ensuring ample water supply.
Lingtan Street Creative Hub, a street-market-style attraction, is one of Longtan's great "old place, new life, new purpose" success stories. It's a walk of just a few hundred meters from Longtan Lake. The short roof-covered street here was once home to the long-thriving Longtan First Market, opened in 1937, hit by fire in 1973, and almost dead thereafter until young cultural-creative entrepreneurs rejuvenated the street in 2017, fixing everything up with the help of appreciative locals.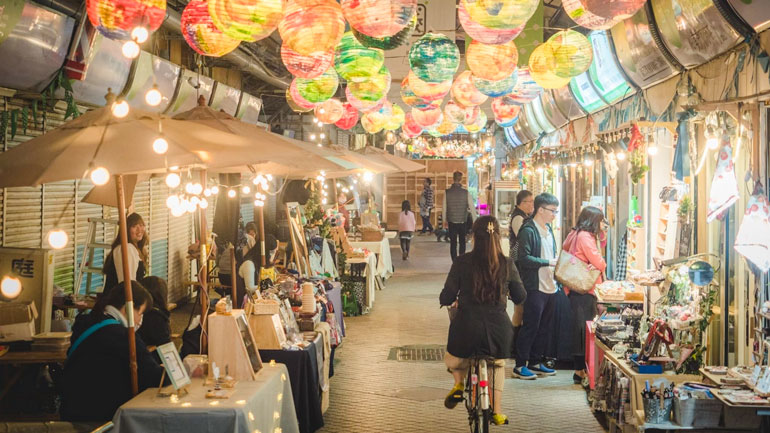 Today this once dark, dirty, and avoided artery is bursting with bright beckoning colors, the approximately 50 booths festively painted and the overhead space festooned with hand-painted decorative lanterns carrying quintessential Longtan images. The creative hub does duty as a cultural-creative market and community classroom, with the stress among the former's entrepreneurs on local original brands. There are small artist studios, local-produce vendors, a confectionery, a café serving sweet treats and light meals, a dried-flower vendor, a picture-book shop, and ventures of many other types.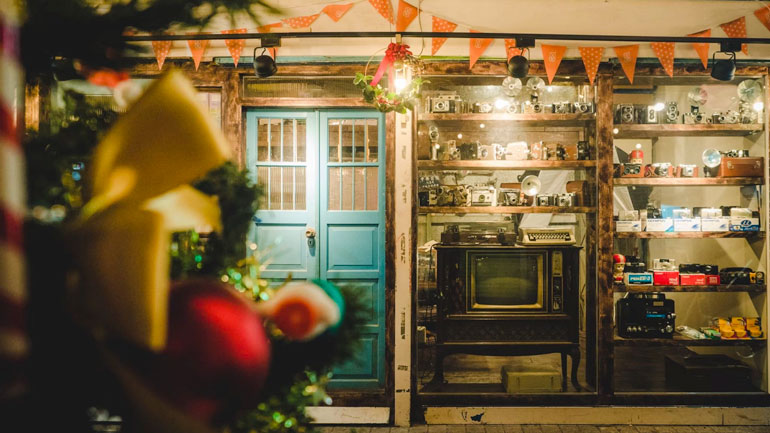 Foodies take note that because Longtan is very much a Hakka town, the culinary adventures here, where cultural-creativity and new-meets-classic expressivity is emphasized, have a strong (though hardly exclusive) Hakka focus. Perhaps most delicious among the many innovative comestibles is a newfangled marriage of old-time guabao with salmon and fried apple. Classic guabao, oft called the "Taiwanese hamburger," is Taiwan-style braised pork belly in a chewy steamed white bun with pickled mustard greens, cilantro, and peanut powder. Another specialty worth trying is traditional Taiwanese egg cake (sweet) with salted fish (very not sweet).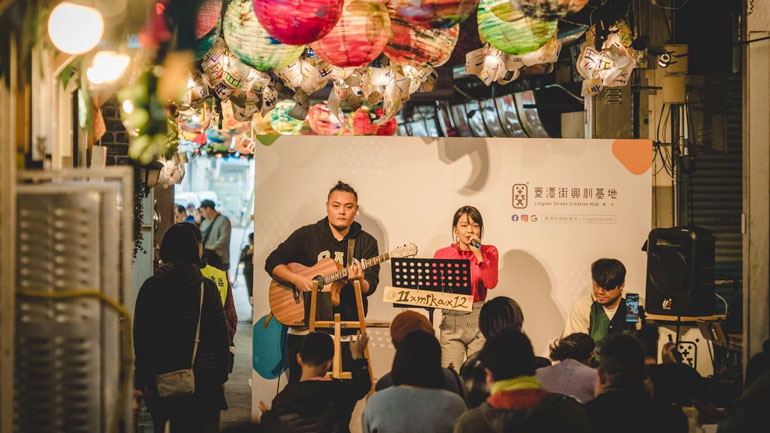 On the community classroom front, among your varied possible Longtan DIY experiences are handicraft activities, a cooking class on traditional Hakka food, and a fun erhu teaching session (an erhu is a classical Chinese two-string bowed instrument).
Lingtan Street Creative Hub (菱潭街興創基地)
Add: No. 45-31, Longyuan Rd., Longtan District, Taoyuan City
(桃園市龍潭區龍元路45之31號)
Facebook
If you visit the creative hub you must visit pathway-surrounded Longtan Lake, and if you haven't visited Longtan Lake you haven't visited Longtan town. The Taoyuan tourism authorities have also dubbed this the Longtan Large Tourist Pond. An elegant old temple stands on a small island in its middle, which can be reached by two scenic footbridges. The older bridge zigzags at sharp angles – beyond the navigation mobility of ghosts and demons, according to traditional belief. This lake is the stage for Longtan's annual dragon-boat races.
Guishan District
Guishan District is in Taoyuan's northeast, adjacent to Taoyuan District. It's outside the Taoyuan plain; the hills area off the plain is largely rural, and its easternmost section is on the Linkou Plateau, a defining geo-feature between the Taoyuan plain and Taipei Basin. The rapid development here is an extension of the expanding Taipei metro area. Collectively, Guishan is an area of tourism tea gardens, leisure farms, two golf courses, and numerous post-secondary educational institute campuses.
A specially recommended Guishan cultural-creative enterprise is RULU Hardware Fittings & Café. It's on the Linkou Plateau, a short walk from Linkou Station on the Taoyuan Airport MRT line, across a quiet residential wide-sidewalk street from a pleasant neighborhood park.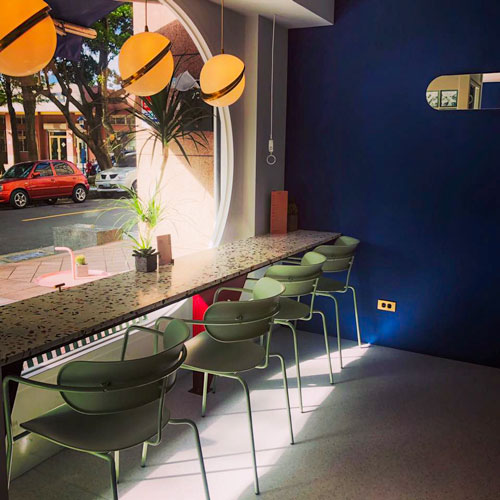 Who'd have ever dreamed that shopping for hardware fittings could be so fun? This is a combination fittings store and café showcasing designer fittings so artsy-beautiful in handsome displays that it feels more like a 1960s Mod-revival art gallery. Even if not intent on buying anything other than food and beverages, java-savoring lingerers can spend hours admiring the endless inspired imaginings-made-reality. Among this little universe of treasures are such brainchildren as brass/cast-iron door hinges shaped like strolling bears, closet/cabinet knobs that echo Taiwan's treasured traditional majolica-tile craftsmanship, and nifty stainless-steel briefcases embossed with "TOOLBOX" containing a wine opener, mini coffee grinder and such things or mini Black & Decker drill, hammer, tape measure and such things.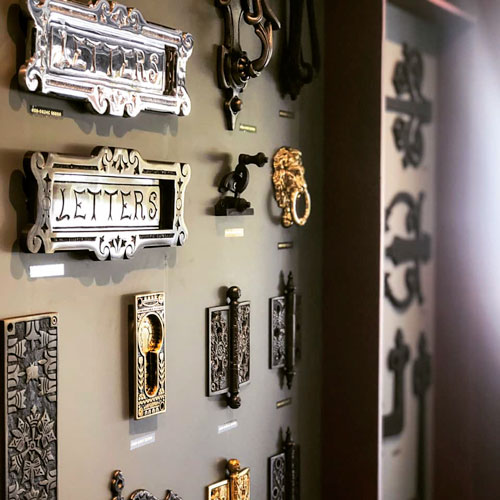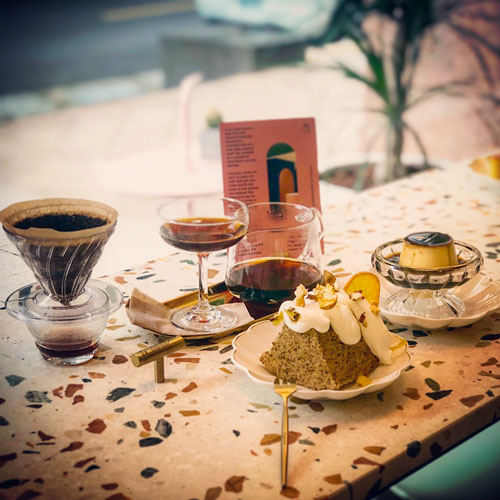 Oh! And yes, the coffees, teas, Taiwan fruit-starring sodas, and cakes and desserts are just as sensory-stimulating!
RULU Hardware Fittings & Café (鹿麓復古五金專門店)
Add: No. 22, Lane 638, Sec. 2, Zhongyi Rd., Guishan District, Taoyuan City
(桃園市龜山區忠義路二段638巷22號)
Tel: (03) 397-5357
Facebook
Luzhu District
This district is also in Taoyuan's northeast. Its south end borders both the Taoyuan and Guishan districts. Its neighbor on the other side of its north-end boundary is the Taiwan Strait. On its east side it runs up the hills off the plain to the Linkou Plateau ridgeline; this area is predominantly rural, and among its various attractions are four uplands golf courses.
Over the past two decades the south end's Nankan area has become a high-density high-rise suburb for Taipei and Taoyuan District white-collar workers. Taimall is its bosom – Taiwan's first large-scale combo shopping and leisure center, opened in 1999 – a weekend destination for day-trippers from as far away as Taipei and Hsinchu.
Our specially recommended cultural-creative Luzhu port of call is Friend in Café, found deep up a long, shallow side valley in Luzhu's east area, backed by healthy deep-green forest and standing amidst rice-paddy farmland. This is an outdoor café masquerading as a campground. Guests choose one of many tents arranged around the ground, and your drinks and meals are brought from a small pyramid-shaped glass-wall kitchen kiosk centrally located. Food selections include cakes, set meals centered around quiche, chicken with rice, etc., and beef cuts you can BBQ yourself, with house sauces provided.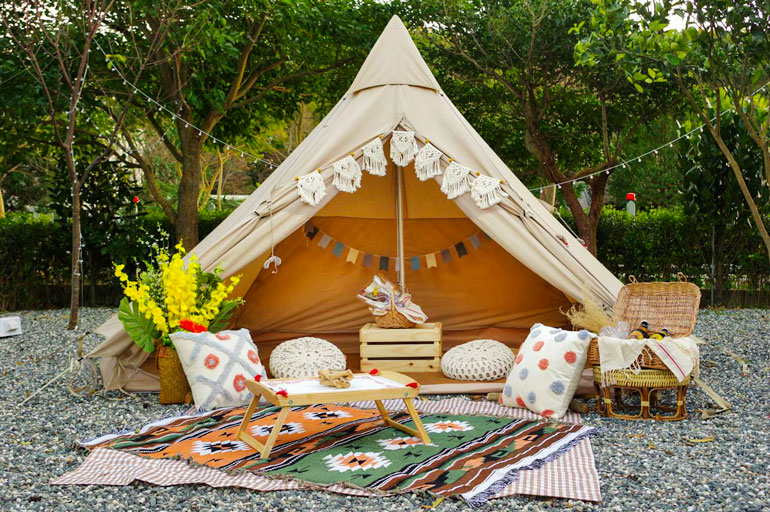 Each open-faced tent is decorated differently, like a comely mini safari tent, with small tables and lawnchair-style seating and patterned outdoor rugs for those who want to sit on the ground. Among the genteel non-necessity decorative accouterment touches are items like wicker picnic baskets, wine racks – and ukuleles. At night hanging strings of white lights bathe the ground in a warm glow.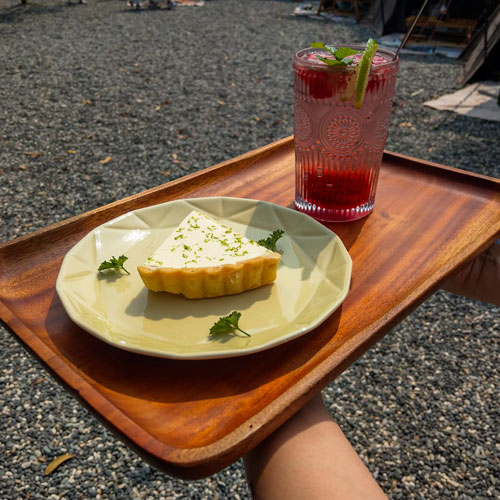 Just to confirm, no, there is no overnight camping.
Friend in Café (露營咖啡館)
Add: No. 50-1, Alley 51, Lane 377, Sec. 3, Shanlin Rd., Luzhu District, Taoyuan City
(蘆竹區山林路三段377巷51弄50-1號)
Facebook
Practical Info
For all the practical info you need about traveling in Taoyuan, visit travel.tycg.gov.tw.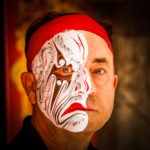 A Canadian, Rick has been resident in Taiwan almost continually since 1988. His book, article, and other writings, on Asian and North American destinations and subjects—encompassing travel, culture, history, business/economics—have been published widely overseas and in Taiwan. He has worked with National Geographic, Michelin, APA Insight Guides, and other Western groups internationally, and with many local publishers and central/city/county government bodies in Taiwan. Rick also handles a wide range of editorial and translation (from Mandarin Chinese) projects.