Nature Encounters by the Sea, on the Flatlands, in the Foothills, in the Urban Core
TEXT / RICK CHARETTE
PHOTOS / RAY CHANG, VISION
Old Tainan County, which surrounded coastal Tainan City on three sides, was merged with the city in 2010, bringing a great swathe of watery coastal lands, farmed flatlands, foothills, and mountains within the city's borders. In this article we rollick about the coastal, flatlands, foothills, and urban-core regions for quick-dips at some of the best tourist-friendly natural treasures.
Tainan City's tourism brand was long centered on its almost bottomless well of historical sites, manifestations of age-old Taiwan cultural practices, national-treasure kitchen of night-market and street-stall delicacies and, emerging in the second half of last century, cafés.
In this Travel in Taiwan edition we're concentrating on the city's new faces while of course paying our due respects to its tourist-esteemed oldies. In secondary articles accompanying this main feature we acquaint you with renovated large-scale historical sites that now double-serve as heritage learning centers and art hubs, small private projects where entrepreneurs have brought new missions and aesthetics to old architecture, and upscale new-built B&Bs on a long-popular saltwater island getaway.
This article's undertaking is to deliver you to a suite of destinations where you'll need your camera always at the ready to capture Tainan's wild side. Among other wildlife locals, we now present to you the Black-faced Spoonbill, Pheasant-tailed Jacana, Mandarin Duck, mudskipper, and fiddler crab. Gidday!
Guantian District
Pheasant-tailed Jacana Eco-Educational Nature Park
The pretty and endangered Pheasant-tailed Jacana inhabits wetlands where floating plants grow. The Pheasant-tailed Jacana Eco-Educational Nature Park is in a large area of square low-earthen-dike water caltrop fields and rice paddies. Most of Taiwan's water caltrops (water chestnuts) are grown in Guantian District, which is also home to the majority of Taiwan's Jacanas. The bird readily adapts to such manmade environments when wetlands are insufficient.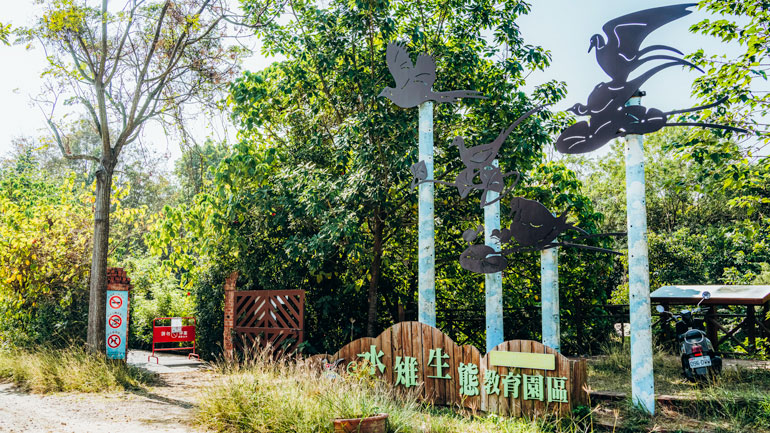 The food-fest provided by this habitat long brought in the Jacanas (and other waterbirds) in great number, but the use of toxins in farming along with other negative impacts such as human-created noise had a deleterious effect. Thus the creation of the conservation zone in 2000, primarily constituted of low-dike plots that are allowed to return to a tree-surrounded wetland state. The Wild Bird Society of Tainan took over management in 2011. Area farmers have also been cooperative, those closest either going organic or minimizing use of toxins. The park's jacana numbers have been rising, from a low of just 9 counted in 2000 to 168 in 2020, with highs of 379 and 360 in 2013 and 2014, respectively.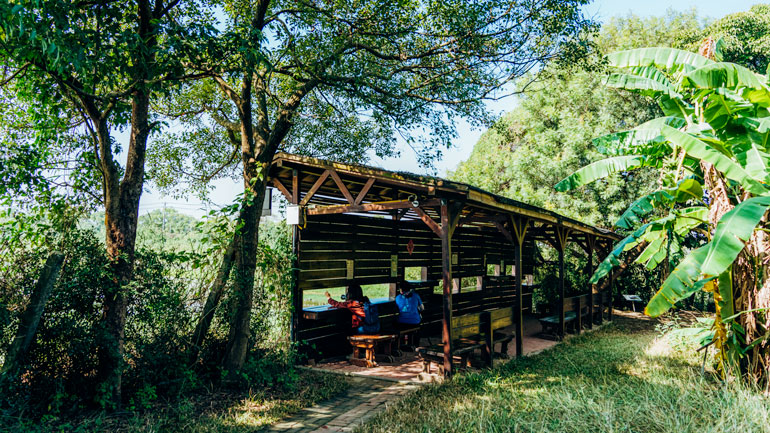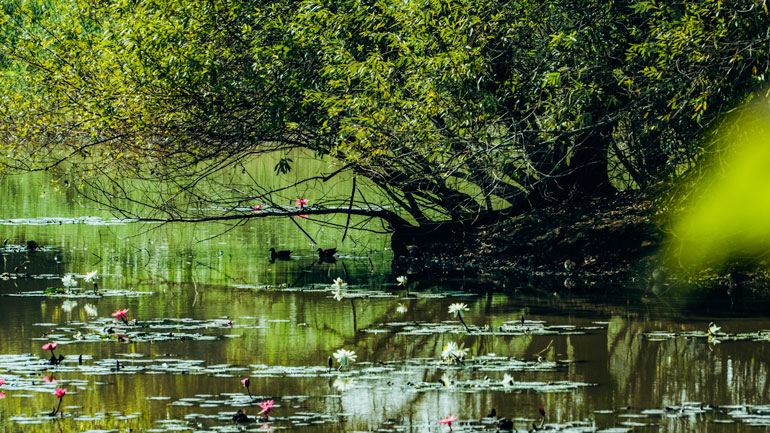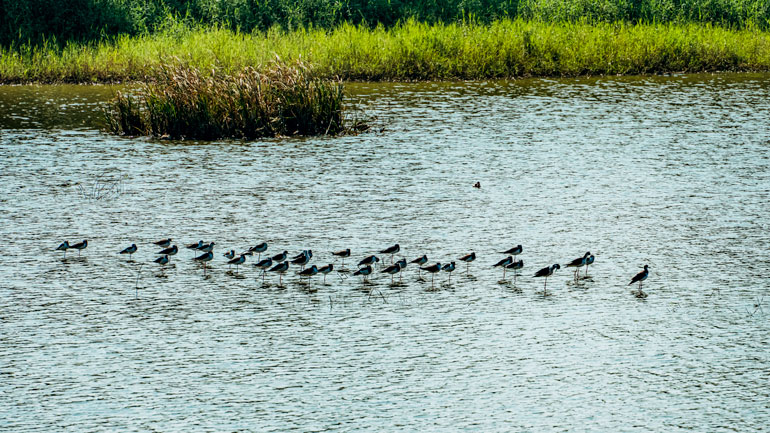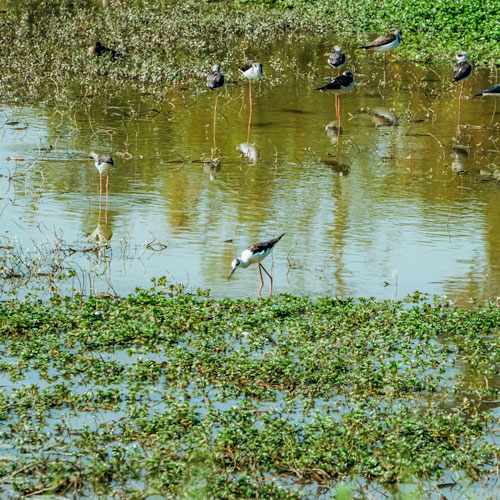 Individual visitors are welcome. For groups of 5-20 a reservation is required and guided tours (Chinese) can be arranged. These begin at a wood-built station with abundant information posted on the walls, including annual bird, nest, and egg numbers. From here you head through the wetlands, viewing the Jacanas and (sometimes) thousands of other comely waterfowl such as the Eurasian Teal and Great White Heron from wood-built birdwatching pavilions, your guide bringing powerful binoculars for close-up visual pleasures.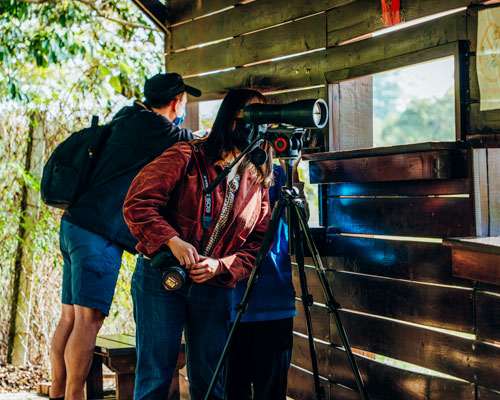 Pheasant-tailed Jacana Eco-Educational Nature Park
(水雉生態教育園區)
Tel: (06) 579-2153
Location: On Yulong Road in Guantian District, 1.8km west of the Prov. Hwy 1 intersection
(官田區裕隆路; 離省道1號十字路口1.8公里)
Website: jacanatw.org (Chinese)
Chuan Wenshan Forest Ecological Conservation Farm
The Chuan Wenshan Forest Ecological Conservation Farm covers a hill on what can be characterized as a foothills peninsula that sticks far out into the farm-plot flatlands like a peninsula jutting out into the sea. Tongue-in-cheek dubbed "Little Yangmingshan" – Yangmingshan is the verdant mountain massif on Taipei's north side, topped by iconic Yangmingshan National Park – this is private land, a one-time mango farm transformed by the owner into an enchanted little forest of soaring straight-trunk mahogany with two massive banyans in the center on high points that is interlaced with hard-surface pathways and narrow old roads. The century-old banyans are so large and heavy they must be supported by frames holding up branches.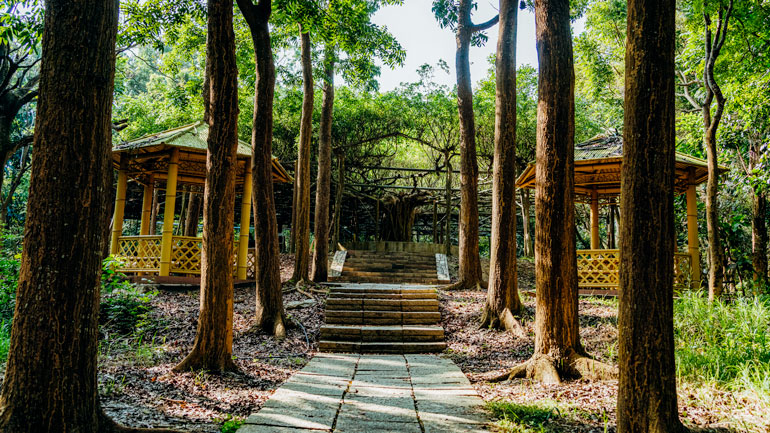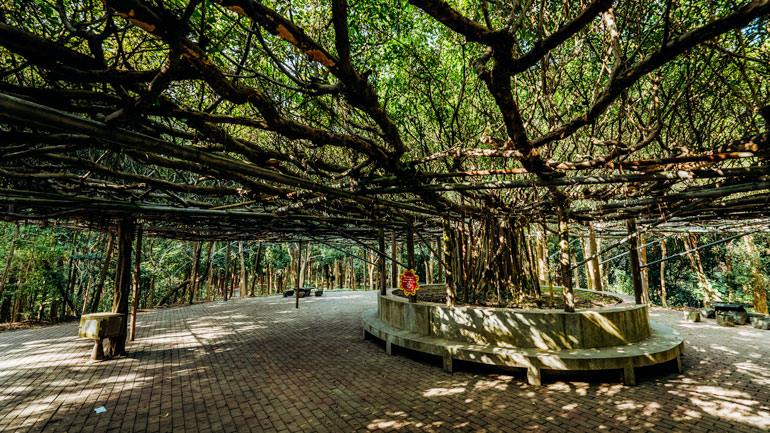 The forest enclave, used by many locals for their daily constitutionals, is the result of the farmer's participation in a government afforestation grant program. The eco-health returned to this land is evidenced in the constant birdsong and, even more noticeable, the comings and goings of ever-at-work squirrels overhead. The farmer-folk locals say that squirrels had long been almost absent from their lives until such initiatives as this and the nearby Jacana park were undertaken.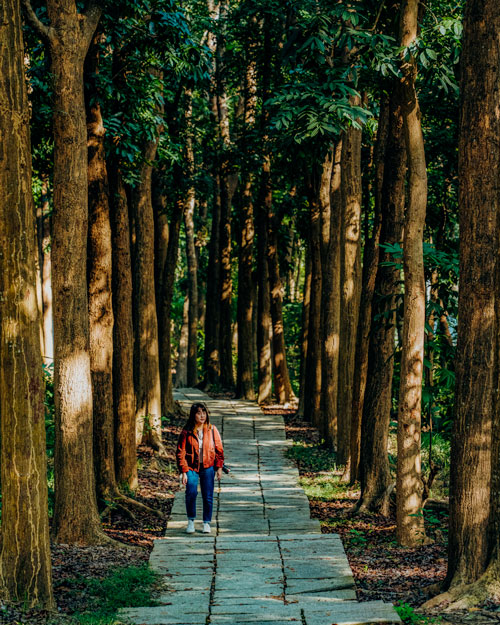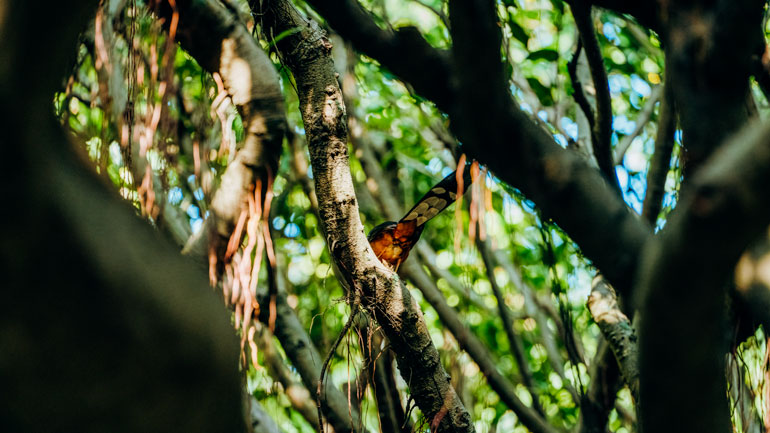 Guantian Visitor Center
If the foothills landform just mentioned can be likened to a peninsula protruding far out into a flatlands sea, the broad, low mounds dotting the plains just off this peninsula can be likened to islands floating amidst this sea. The expansive Guantian Visitor Center stands on one of these. Its bold architectural design and the inviting – and still expanding – landscaped meadow-centered grounds behind it have made the center a tourist draw in itself. This is the main visitor facility for the Siraya National Scenic Area, named for the area's Siraya indigenous people. Inside are exhibits on area-culture topics and a gift shop selling regional specialty products, especially agri-products.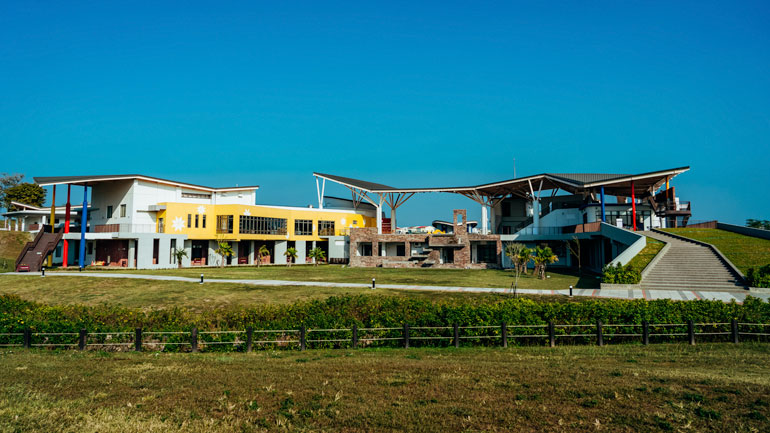 The architecture and landscaping are steeped in symbolism. For example, the height of the buildings represents the foothills, the flattish roof the undulating plains. The façade's prominent yellow represents the mango grown by Han Chinese farmers and the corn so important to the Siraya. The oversized deer sculptures on the meadow evoke the teeming herds that once roamed the western plains, so intrinsic to indigenous life.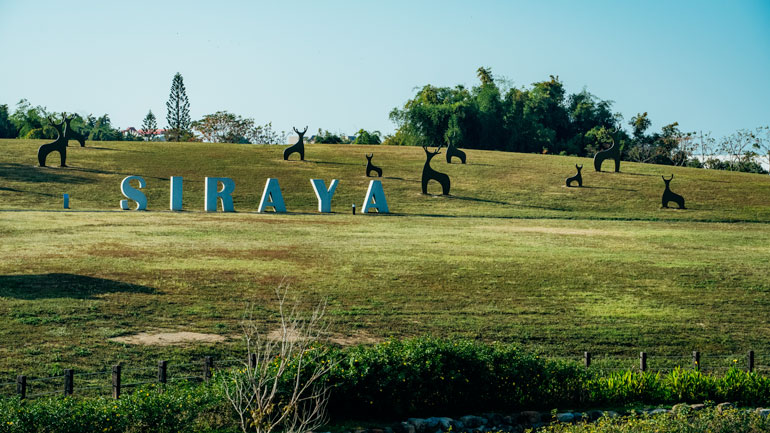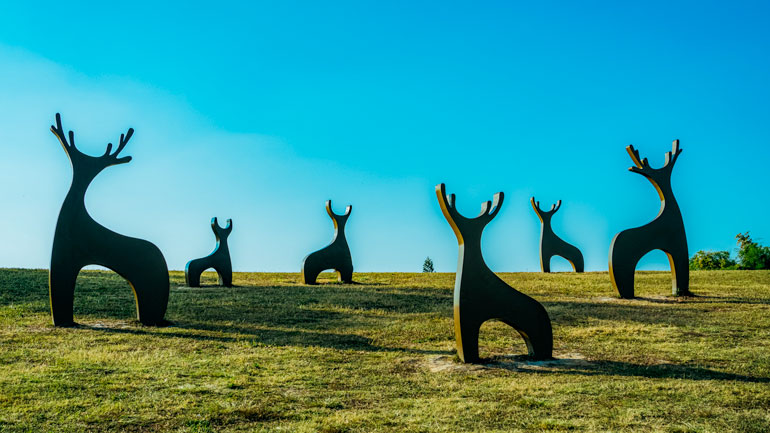 Guantian Visitor Center
(官田遊客中心)
Tel: (06) 690-0399
Add: No. 99, Futian Rd., Guantian Borough, Guantian District. Tainan City)
(台南市官田區官田里福田路99號)
Website: www.siraya-nsa.gov.tw
Wushantou Reservoir Scenic Area
A total of 30 waterways flow into the Wushantou Reservoir, the raison d'etre of the Wushantou Reservoir Scenic Area. Over 100 islands sprout from the reservoir's waters, all proud free-standing hills before its creation drowned their world. The intricate pattern of the islands has given rise to another name for the water body, Coral Reef Lake.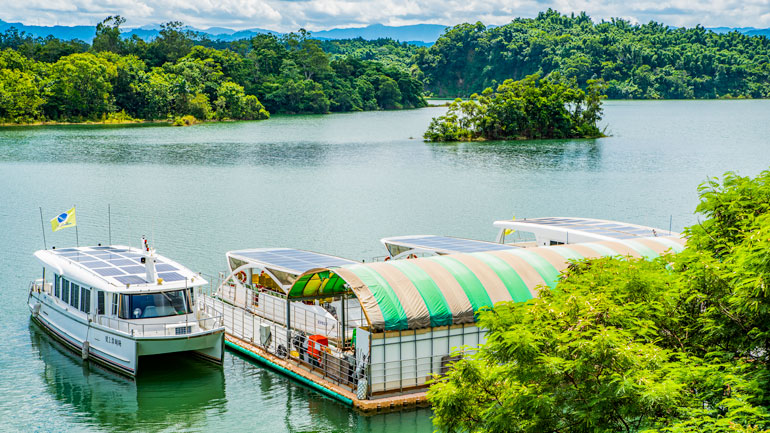 The water flowing from the 6,000ha reservoir, at the power-dam facility, forms a lovely high waterfall. Other lake-area land attractions are peaceful Zhongzheng Park, atop a hill, temple facilities, a barbecue area, camping area, lakeside trail, water park, and small aviary/garden. You can also head out on the waters for guided tours (Chinese) on large solar-powered barge-like craft that take you to places impossible to view otherwise, such as small channels between islands and hidden-away bays.
History buffs will much enjoy the Yoichi Hatta Memorial Park, located close to the dam. A Japanese civil engineer, Hatta designed/built the dam/reservoir and Jianan Plain irrigation system from 1920 through 1930. In the park is his residence, other restored wooden Japanese buildings, and a museum. His gravesite overlooks the reservoir; Hatta was killed at sea in 1942 in an Allied attack, his body later found and brought here per his family's request.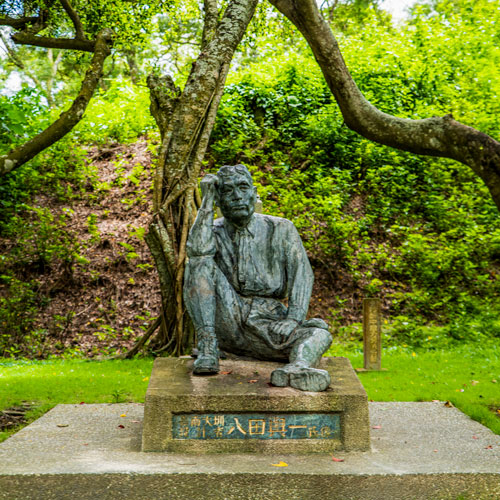 Hulupi Nature Park
The heart of Hulupi Nature Park is a large irrigation reservoir called Hulupi, which sits amidst a large swathe of flat land neatly cut into a grid-legion of small farm plots. The reservoir was excavated in the 1770s. In more recent times a road was built through its center, in the eyes of locals giving the body of water the look – from a bird's-eye view – of a giant gourd tied with a ribbon. Chucking out the original name, it was rechristened Hulupi, meaning "gourd wall/boundary."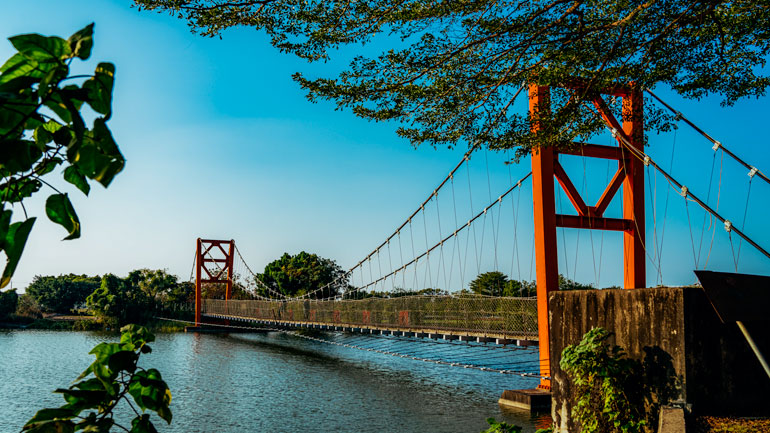 The mainland section of the nature park strip follows the contours of the reservoir. A pleasant tree-shaded winding pathway adjoins the shoreline, and leaps the reservoir via a photogenic bright-orange pedestrian-only suspension bridge, landing on a peninsula that juts far out into the reservoir. Water-filled rice and water caltrop farm plots are all around the nature park, attracting both pheasant-tailed Jacana and egrets in significant number. Around the shoreline of the reservoir are found silent fishermen and singing frogs in large number, attesting to the health of this environment, the latter hidden away in the many patches of rushes. The park has a visitor center where refreshments are sold, notably water caltrop ice cream.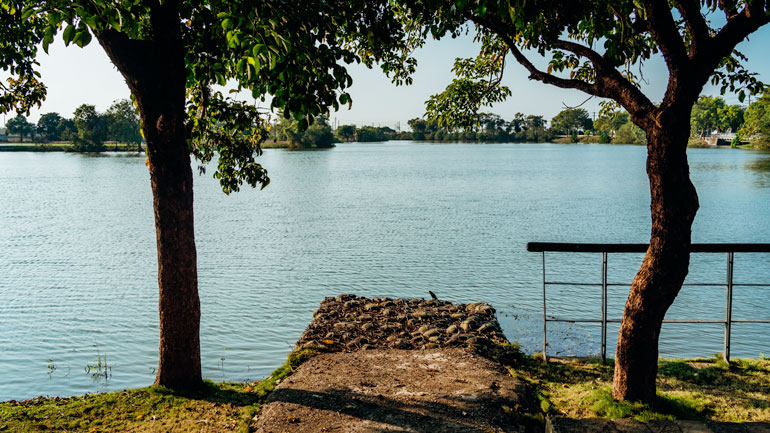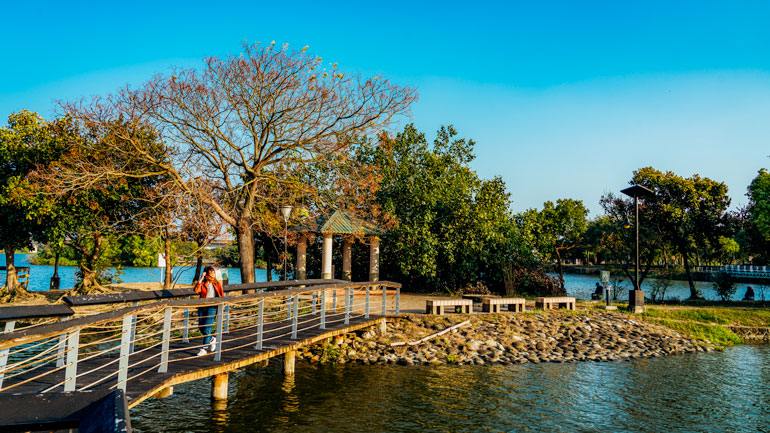 Xinhua District
Hutoupi Scenic Area
The Hutoupi Scenic Area, with the large Hutoupi irrigation reservoir its centerpiece, is located where the foothills that rise to the central mountains meet the western plains. This tranquil lake-like reservoir is surrounded by low hills on three sides, thick with forest cover, with numerous bay indentations that foster a sense of seclusion even on tourist-busy weekends and holidays. There is dense avian citizenry, with the range of colorful ducks such as the Mandarin Duck especially attention-snatching.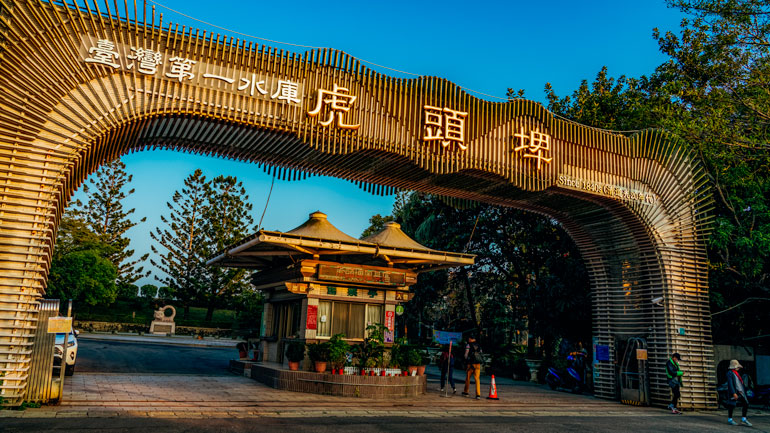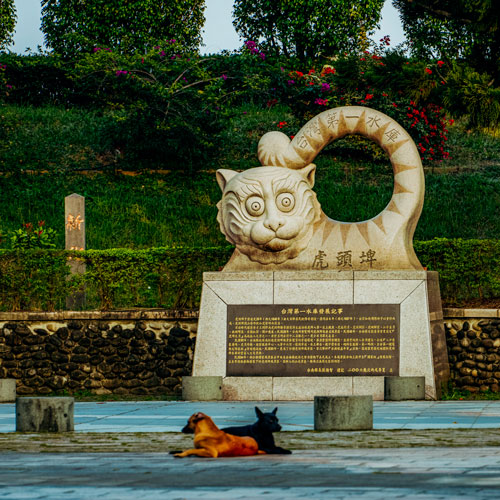 This was Taiwan's first reservoir, created in 1846 by building a thick and tall earthen embankment across the hill-opening on the west side. Its poetic beauty and abundance of tourist facilities has brought the nickname "Little Sun Moon Lake," after the famous and much larger lake in central Taiwan. There is a paved road that wends its way around the lake, used both for walks and bike-riding. Bike-rental outlets are located right outside the main entrance. Among the various other leisure facilities are pedal boat and canoe rentals, a quality café, tree-shaded barbecue area with picnic tables, and camping area.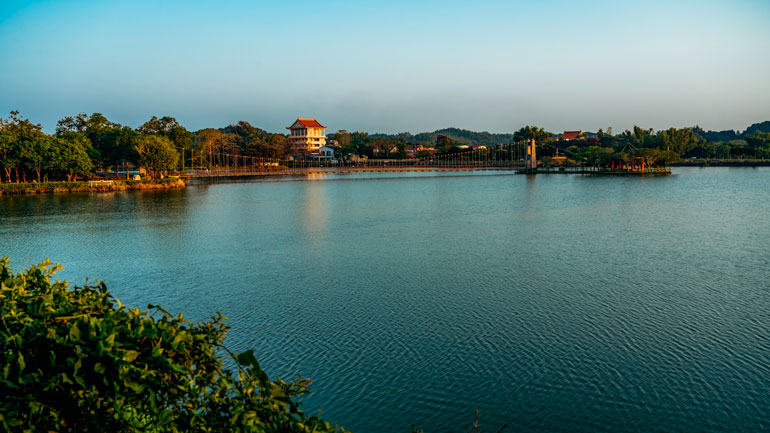 Hutoupi is known for its aesthetically elegant sunrises and sunsets, with photos dramatically enhanced by their reflections on the sometimes still, glass-like surface. Perhaps the premier spot for photo-takers is the small island with large viewing pavilion right at the center, providing full unobstructed views east and west down the lake. This is reached via a lengthy pedestrian-only suspension bridge that is an artwork in itself, built in 1905.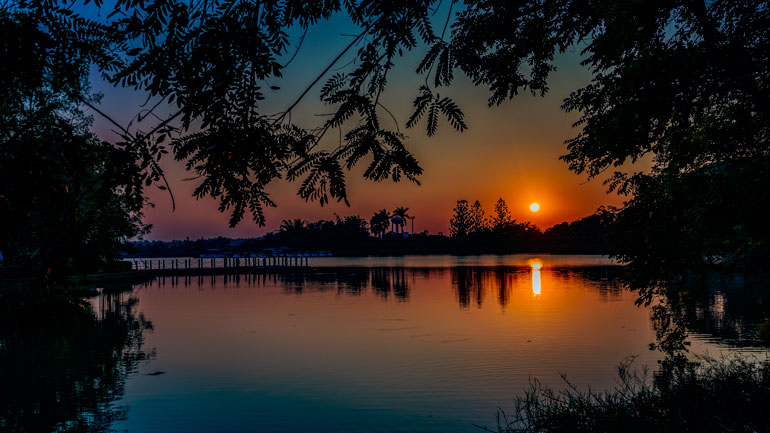 Dakeng Leisure Farm
Dakeng Leisure Farm is deeper and higher in the foothills. Though the signature crop in this region is the pineapple, this 10ha enterprise sports a man-made forest of bamboo and coconut and banana trees. Almost hidden away inside are the farm's numerous wooden buildings, large and small. Dakeng offers an organic restaurant, eco-tours, experience workshops on such topics as bamboo weaving and farm-produce cooking, and activities targeting youngsters such as animal feeding and chicken egg collecting.
The eco-tour, which lasts an hour or so, takes visitors higher into the surrounding hills, along a trail moderately steep that passes through tall bamboo. Along the way hikers come across a diverse array of facilities. There are chicken coops and pigpens, and a lush field where many of the ingredients used in the farm's restaurant are grown, among them rosemary, marigold, roselle, citrus mint, and watercress. There's also an obstacle course (rope tunnels, hoops of different sizes, wood-block steps, etc.) that's a hit with both little kids and adult kids and, tucked away a short ways inside the surrounding forest cover, a rope-built suspension bridge and a zipline promising a heartrate-upping experience. The high point of the hike, literally and figuratively, is an observation deck with sweeping views out over the undulating hills.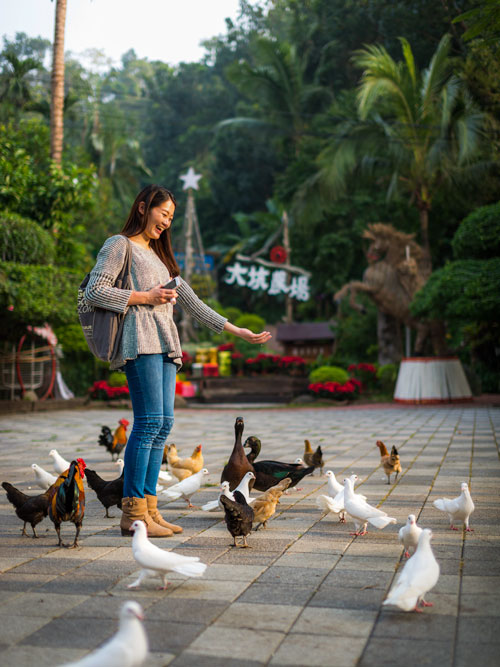 Among the facilities in the farm's central area is a compact outdoor spa, wading pool, and swimming pool with 6m-tall water slide, all fed with water from a nearby spring. Accommodations are also available: wood cabins, European-style cottages, and Japanese-style suites.
Dakeng Leisure Farm
(大坑休閒農場)
Tel: (06) 594-1555
Add: No. 82, Dakeng Borough, Xinhua District, Tainan City
(台南市新化區大坑里82號)
Website: www.idakeng.com.tw
Annan District
Taijiang National Park
Taijiang National Park (www.tjnp.gov.tw) takes up the strip of coastal land and sea out to 20m offshore immediately north of Tainan's urban area, stretching from the estuary of the Yanshui River to that of the Zengwen River. This is a watery world of estuaries, sandbars, tidal flats, old irrigation canals and small-craft shipping channels, mangrove swamps, wetlands, and aquaculture farms – much of these vestiges of what once was called the Inner Sea.
When Han Chinese began settling in Taiwan in the early 1600s this area was mostly open water. The outer edge of the Inner Sea was formed by a series of long and thin silt-created islands stretching north-south. Today, the urban core's Anping Fort (site of Dutch-built Fort Zeelandia) was on this line; Chikan Tower (site of Dutch-built Fort Provintia) was just off the mainland shore of the Inner Sea. In the centuries since, silting has largely filled in the sea, and pushed the coastline far west of Anping Fort.
Four of the national park's most popular attractions are the Sicao Green Tunnel raft tour, Sicao Lake boat tour, Qigu Lagoon, and Black-faced Spoonbill Reserve.
The long and narrow Sicao Green Tunnel is a long-disused section of Taiwan's first canal, built in the 1870s, used to transport sugar and salt from local farms. Guided tours (fee; in Chinese) lasting about 30 minutes are given using large motorized rafts similar to those used by local oyster farmers. The waterway is densely lined both sides with native mangrove trees over half-a-century old. Though a serene place, it is busy with wildlife, especially with herons and egrets looking for a meal and with fiddler crabs and mudskippers going about their chores on the slimy fine-mud banks.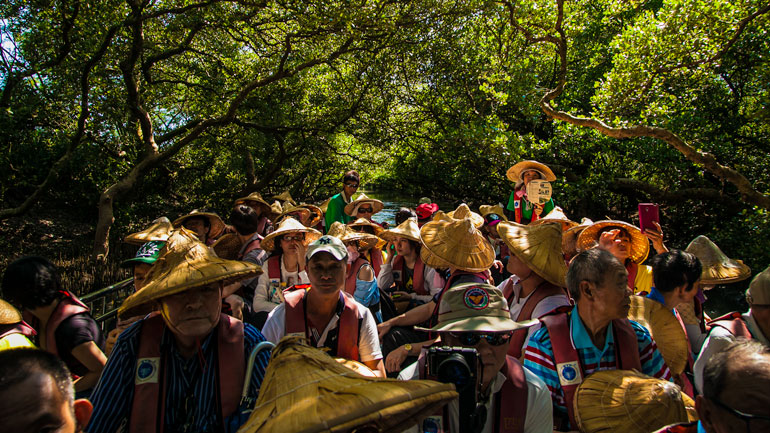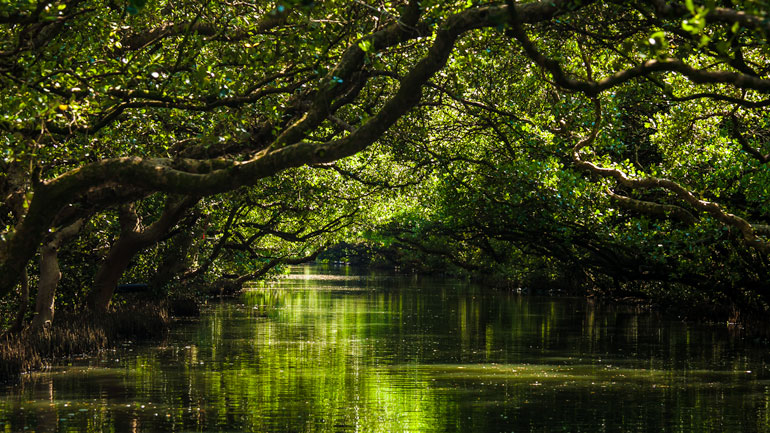 Locals refer to the estuary area of the Yanshui River, a point of convergence for the river and a number of old canals, as Sicao Lake. The launch-point for guided tours on large boats (fee; in Chinese), about an hour in length, is just steps away from that for the raft tours. The boats take you out on the open water and along narrow river channels framed by mangrove trees, and you can watch local raft fishermen, oyster farmers, and myriad color-magnetic waterfowl plying their trades.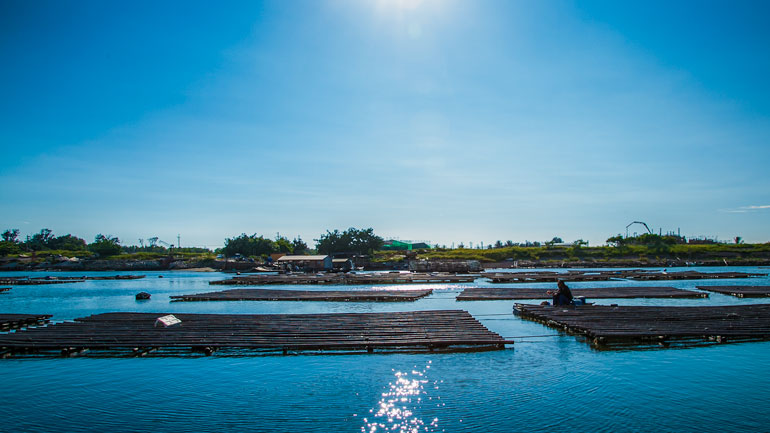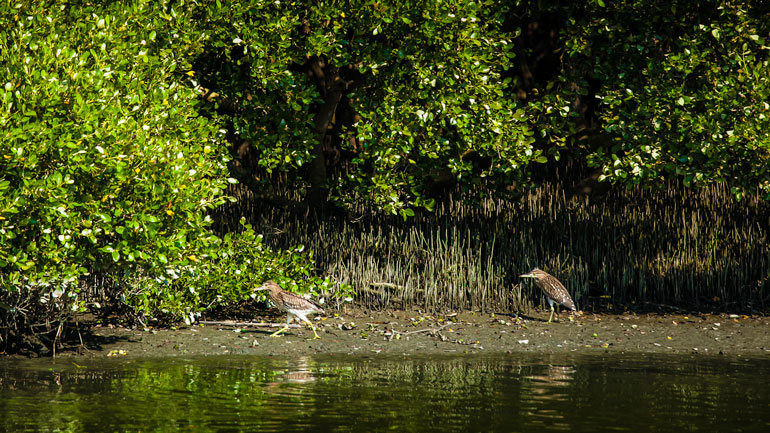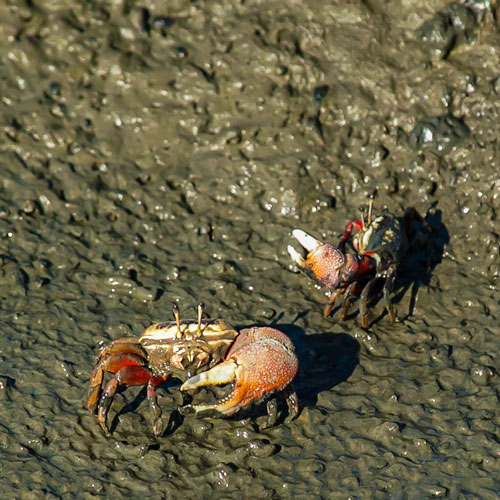 North of this area is the Black-faced Spoonbill Reserve, a key site in the ongoing international campaign to help the odd-gorgeous, critically endangered Black-faced Spoonbill, a waterbird that ranges from North Korea to Southeast Asia. The reserve is a lagoon and canal area. The small Black-faced Spoonbill Ecology Exhibition Hall, which juts out over the water, has useful displays with abundant English. The friendly volunteers manning the reserve's lookout platforms, which are installed with powerful binoculars, are also deep sources of information (Chinese). Other birds you may encounter are the Eurasian Spoonbill, Sacred Ibis, Grey Heron, and Great Egret.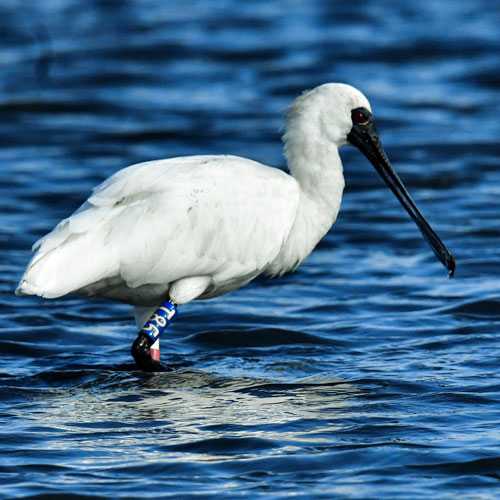 Just north of the reserve is the sea-like Qigu Lagoon, festooned with a veritable Roman legion of aligned oyster racks. Perhaps the best sunsets taken in along the entire Tainan coast are experienced at the lagoon's boardwalk-style Seaview Pavilion.
In the Urban Area
Barclay Memorial Park
The capacious, rambling Barclay Memorial Park is located in the Tainan urban area's East District, across from the architecturally arresting Tainan Cultural Center. Its name honors Rev. Dr. Thomas Barclay, a missionary from Scotland who lived in Taiwan from 1875 until his passing in 1935. His work in his southern Taiwan ministry has been compared to that of the better-known George Leslie Mackay in northern Taiwan. Among his many contributions to Taiwan society was the founding of the Tainan Theological College and Seminary (main building constructed 1903).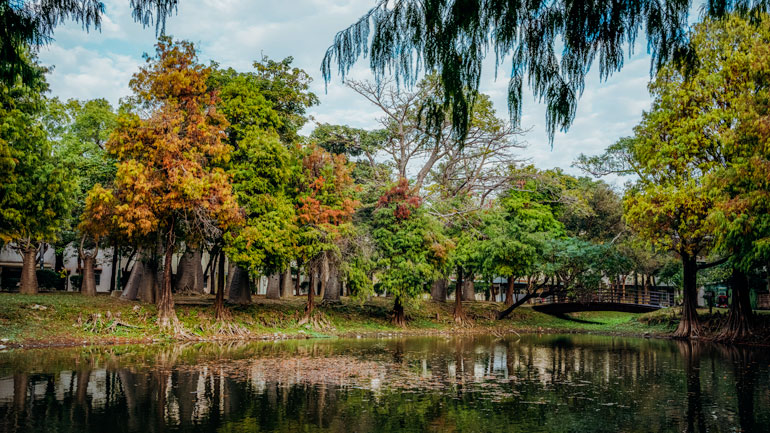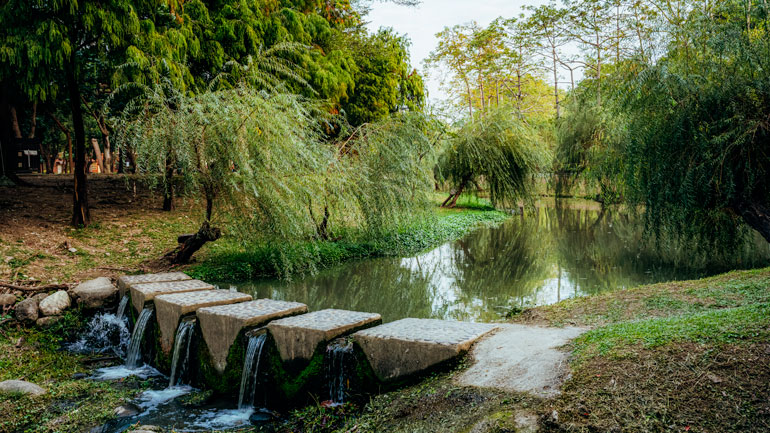 The vivaciously landscaped park, invariably flowing with exercisers, picknickers, and photo enthusiasts, is lush green in spring/summer and dappled with the reds and yellows of fallen bald-cypress leaves in autumn/winter. In one area is a small protected dense forest accessed via winding and zigzagging foot-high boardwalks. This park has been named one of Taiwan's 10 best urban-area parks in online voting, been bestowed a Taiwan Landscape Award, and been a Merit Award (Public Construction Category) winner in the prestigious FIABCI Prix d' Excellence Awards, dubbed the "Oscars of Real Estate."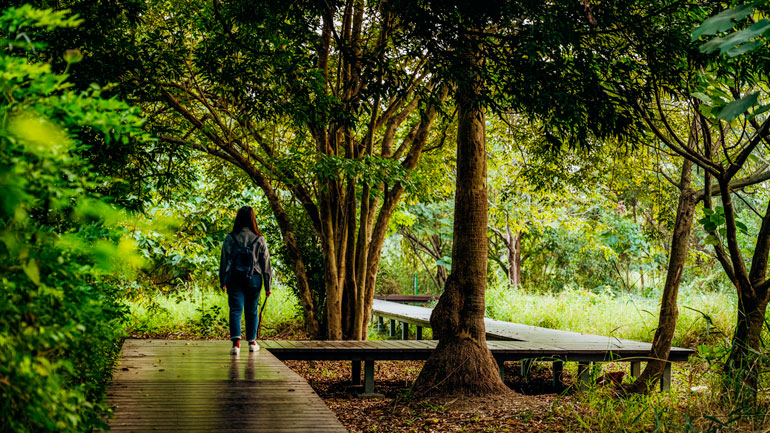 Qianqi Seed Museum
"Quirky" falls leagues short in describing the Qianqi ("Thousand Fields") Seed Museum (entry fee), northwest of the National Cheng Kung University campus. It's almost invisible from the street, hidden amidst a plot of land evidently invaded by jungle. Step inside through the narrow gate and you enter a chimerical realm that seems sprung from a Harry Potter story, a hideaway-cottage setting deep in an English forest where sorcerers might be found crafting peculiar mash-ups. Everywhere you look, inside the ramshackle cottage-style structures and courtyard, you see seeds – in drawers and on shelves, on benches and tables, hanging from wooden beams. Most everything manmade that you see has been created with recycled materials rescued from abandoned residences around Tainan.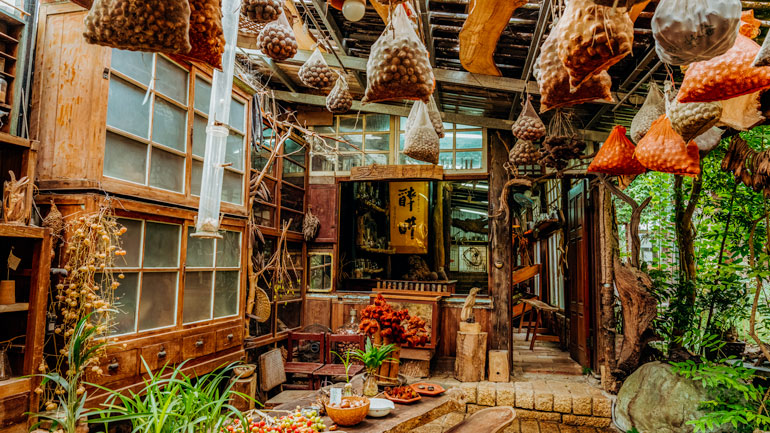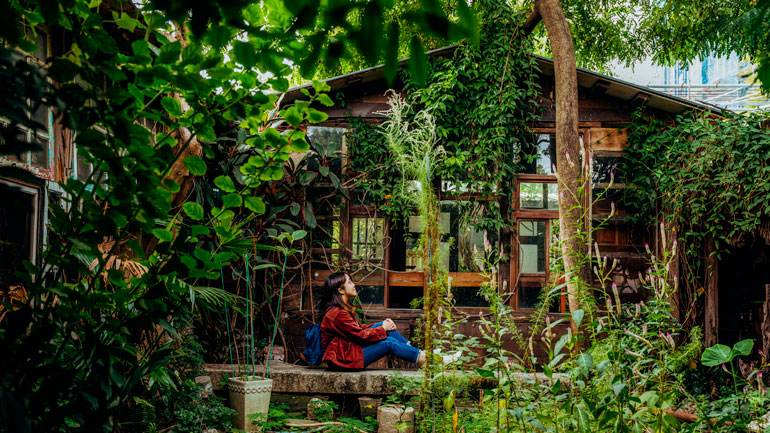 Over a span of 40 years this private museum's appropriately quirky team, a husband/wife duo and their son, have collected over 500 seed types from around Taiwan. About 100 types have been planted on-site. The photo-demanding mise-en-scenes you'll encounter are nigh boundless, but what all visitors find unforgettable are the stunning and almost iridescent large metallic-blue seeds of the travelers palm on display, in the gift shop.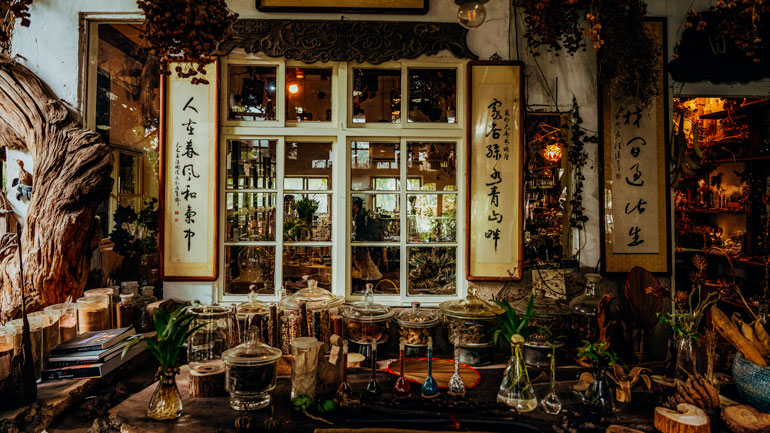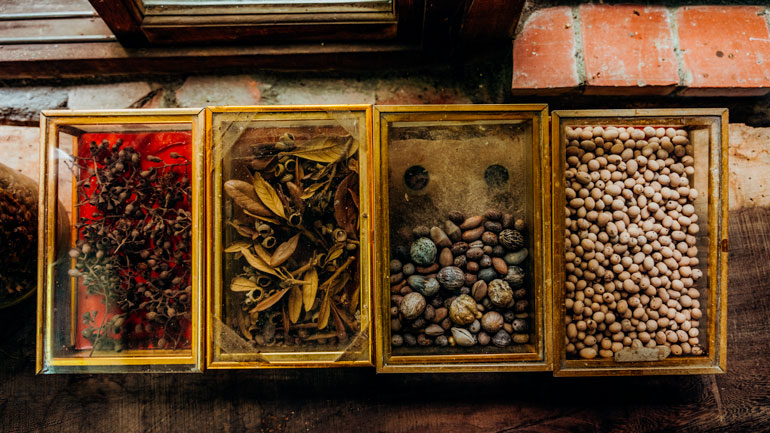 Your entry fee brings you a half-hour tour with seed diversity and reproduction as theme. For an English-language tour, call at least 10 days in advance. Plant-theme treasurables for sale, all made on-site, include hydrosols, soaps, mosquito-repellent incense, jewelry and other decorative ornaments, and teas.
Qianqi Seed Museum
(千畦種籽舘)
Tel: (06) 236-0035
Add: No. 29-1, Lane 451, Dongfeng Rd., North District, Tainan City
(台南市北區東豐路451巷29-1號)
Prior phone reservation required
Facebook: www.facebook.com/QianQiZhongZiGuan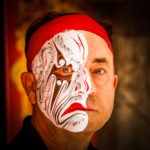 A Canadian, Rick has been resident in Taiwan almost continually since 1988. His book, article, and other writings, on Asian and North American destinations and subjects—encompassing travel, culture, history, business/economics—have been published widely overseas and in Taiwan. He has worked with National Geographic, Michelin, APA Insight Guides, and other Western groups internationally, and with many local publishers and central/city/county government bodies in Taiwan. Rick also handles a wide range of editorial and translation (from Mandarin Chinese) projects.