For your edutainment – a driving excursion up, up, and up yet higher into Hsinchu County's Shangping River watershed, from its key market town, Zhudong, at its flatlands end, to the Guanwu Recreation Area and just-below-heaven views of the glorious Holy Ridge, which connects a string of the Snow Mountain Range's highest peaks.
Text: Rick Charette, Photos: Chen Cheng-kuo
On the Way to Guanwu: Zhudong – Ruanqiao – Qingquan
The busy town of Zhudong in the foothills of Hsinchu County, just east of the high-tech coastal city of Hsinchu on the same river system, is located where Provincial Highway 3 jumps the Shangping River. The old town began life in the Qing Dynasty as a marketplace for farm produce grown in the area. A sudden boom started after Taiwan became a Japanese colony in 1895, when the new regime began vigorously extracting timber from high up in the Shangping watershed in what is today's Shei-Pa National Park. Zhudong filled up with sawmills and other related enterprises.
Leave Zhudong on County Highway 122, which intersects with Provincial Highway 3 just south of the latter's Shangping River bridge. A few kilometers on, the highway zips through small Ruanqiao, a Hakka farming village. In imperial times the Hakka were a persecuted Han Chinese minority, and in Taiwan many Hakka settlements were squeezed into the contested flatlands-mountain borderlands between the Han majority and hill-dwelling tribes. Today somnolent Ruanqiao is a minor tourist draw, dubbed Ruanqiao Painted Village. Buildings and walls throughout are festooned with bright-paint cartoonish artworks crafted by locals, many delightfully whimsical, depicting local farm life, Ruanqiao historical vignettes, and matters undecipherable.
The farm-plot-carpeted alluvial-plain floor of the Shangping valley spread out below Ruanqiao ends immediately inland. The valley suddenly closes with a veritable geo-handclap, rocky hillsides on either side brought tight together like two palms raised in prayer. The drive hereafter on Route 122 becomes much more winding, the sweeping vistas far more thrilling.
From Ruanqiao to Qingquan village, a drive of about 45 kilometers, you stay relatively near the valley base. At Qingquan you start driving uphill, climbing ever higher, reaching the entrance to the Guanwu area at about 2,200 meters in about 70 minutes without breaks.
After Ruanqiao, stop in at the homey, breeze-whisked It's Alice Café and Food, just off Highway 122, a Wonderland-esque chalet-style place that sits on a bluff looking down at the river. The amiable English-speaking proprietor serves Western foods; many of her recipes she picked up while on extended overseas adventures. Pretty much everything can be recommended, but dearest to this writer's heart (I'm a repeat area visitor) are the German Fruit Curry and Spicy Italian Sausage & Cheese Sandwich.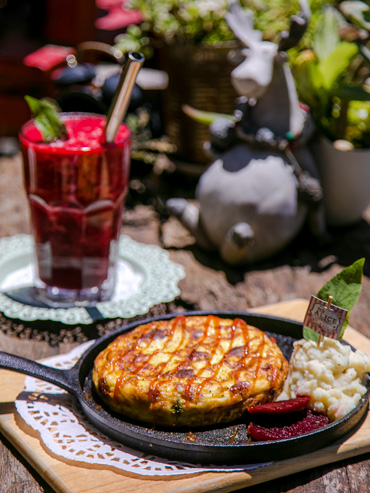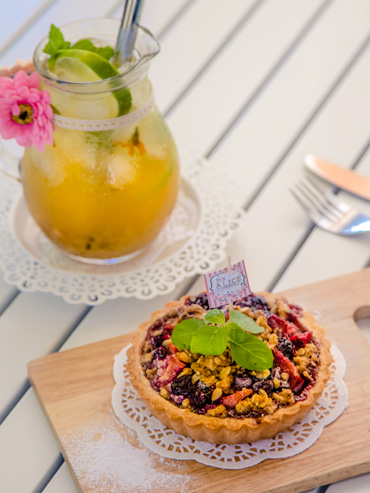 Tip: The homemade desserts are the signature treats, however, so be sure to leave tummy room for the delicious wildberry glazed tart and cookies.
Its Alice Café and Food
Add: No. 5-8, Neighborhood 1, Ruifeng Borough, Zhudong Township, Hsinchu County
(新竹縣竹東鎮瑞峰里1鄰5-8號)
Tel: (03) 594-9063
On entering Qingquan, a fork awaits. Highway 122 continues on the right, headed for the high mountains. Bear left and descend to the river. Here you'll see how the village is divided into two sections, gazing at each other across the stony Shangping riverbed, stitched together by three pedestrian bridges and two vehicle bridges. In addition to the tremendous mountain-backdrop scenery, Qingquan also entices with historical and cultural attractions.
This is an Atayal-tribe community. The Atayal, inhabitants of the hilly terrain of northern Taiwan, are the island's largest tribe by territory. Beside a large car park close to the river is a traditional Japanese-style dark-wood building that is today titled the Hall of Indigenous Peoples, home to displays on the Atayal and Saisiyat, a smaller tribe whose members also inhabit the Shangping watershed.
Across the river is a similar Japanese-built heritage structure, the reconstructed Former Residence of Zhang Xueliang. Zhang was a notable figure in modern Chinese history – in the pivotal 1936 Xi'an Incident the Manchurian warlord kidnapped Generalissimo Chang Kai-shek, seeking to force him to fight the invading Japanese. Most of Zhang's remaining years were spent under house arrest; Qingquan was his lonely home-far-from-home 1946-1957. Chinese-language info boards on his life and days here are found both inside and outside.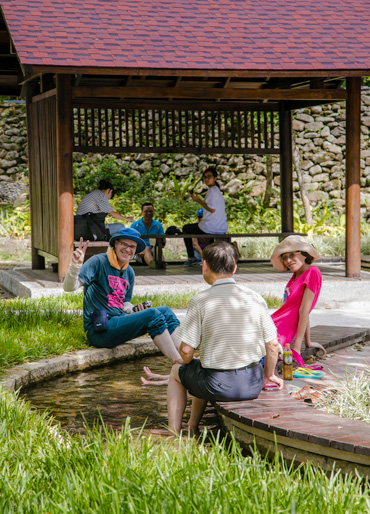 Qingquan is also a popular hot-spring destination. Residents consider it something of a miracle that, after disappearing for a long period due to geo-activity, the springs were brought back to life with the great shake provided by Taiwan's infamous 921 Earthquake in 1999. There are riverside indoor and outdoor facilities, with overnight accommodation available.
Tip: If time is too short for a proper hot-spring bath, you can sit down to a soothing foot soak at public facilities close to the former Former Residence of Zhang Xueliang.
Back on Highway 122, above the aforementioned fork, is the Holy Cross Catholic Church. Fitted perfectly atop a high-promontory tip, it looks out serenely over the Qingquan attractions described above. The original church, built close to the river by missionaries who'd left mainland China after the Communist takeover, was destroyed during a typhoon a long time ago. Father Barry Martinson, a Jesuit raised in San Diego – and a well-known figure in Taiwan – came here 42 years ago after spending time among the Yami (Tao) tribe on Orchid Island. He loves visitors, giving church tours, and talking about his Atayal flock and mission. Be sure to check out the ethereal stained-glass windows; Father Barry creates them, and new creations are requested by churches from all around Taiwan.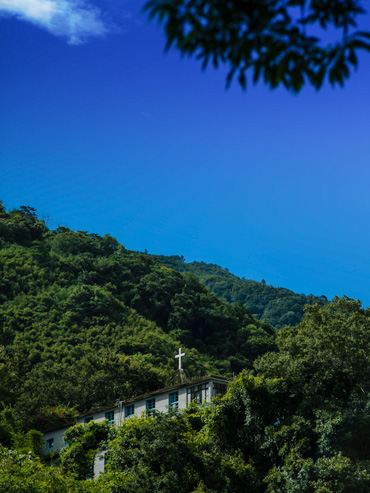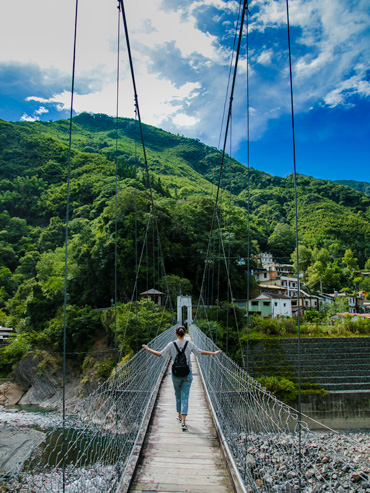 Tip: Right by the church and run by the church is the Fountain of Youth Hostel, perhaps the cleanest, most inexpensive, and most hospitable overnight accommodation in Qingquan. For more info, visit chingchuanhostel.catholic.org.tw.
Just Below the Peaks: Sheipa Leisure Farm
This high-mountain recreational farm of soaringly high repute, 20 minutes below Shei-Pa National Park's Guanwu entrance, is laid out in three tiers on an east-facing mountainside. Along the middle is the reception building, cabin/lodge-style accommodations, and another building housing the farm's café, two restaurants, and DIY-experience facilities. On the upper tier are landscaped gardens and small greenhouses. On the lower are organic orchards and farm plots, a warehouse with the owner's large collection of commissioned artworks sculpted from driftwood pieces, plus worker dorms and accommodations for long-stay guests (hikers often spend significant time in the national park).
The owner is a retired agriculture expert with a love of Taiwan's mountains, the national park, and the Zhudong/Shei-Pa region's history and culture. A high-level figure in both the public and private sectors, among other things he played a key role in launching Taiwan's blueberry and kiwi production in the 1980s. The energetic 85-year-old drives up from Zhudong daily; you'll see him zipping about on his scooter, constantly chatting with guests. Though below a major national park, this high-peak area has a limited array of accommodation/eatery options, and the owner opened the farm (purchased from Atayal people) to entice more fellow citizens to come experience the joys of the mountains, and provide a "base camp" facilitating exploration of Shei-Pa National Park's gems.
The cabin-style rooms are spread out along pathways well away from the café/restaurant area to ensure privacy. All wood-themed rooms are stylishly modern, and equipped with full in-room bathroom/shower facilities.
Prices start at NT$6,640. Included in the price are afternoon tea/coffee, blueberry jam- or vinegar-making experience, guided tours of the grounds and the forest trail above the farm, Chinese restaurant buffet dinner, a video presentation on the Guanwu Recreation Area, Chinese breakfast, and a Guanwu guided tour. For a little extra, you can upgrade to a Western-style buffet lunch and a la carte dinner (best entrees the smoked half-chicken and short-rib steak).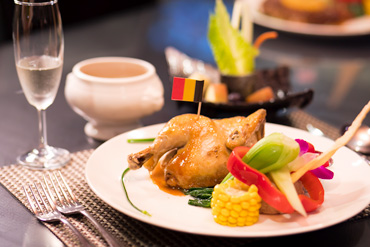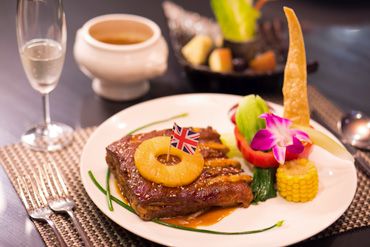 One of the farm's splendid unsung treasures is the constant birdsong, the winged guests attracted by the fruit of the orchards and the cherry blossoms, tulips, peonies, and other nectar sources in the landscaped gardens. Of course, not all birds are plant-life gourmands – on the research trip for this article, as the Travel in Taiwan crew pulled in, a large eagle floated by less than 10 meters above us, eyeing us and swishing on, evidently espying nothing nutritious.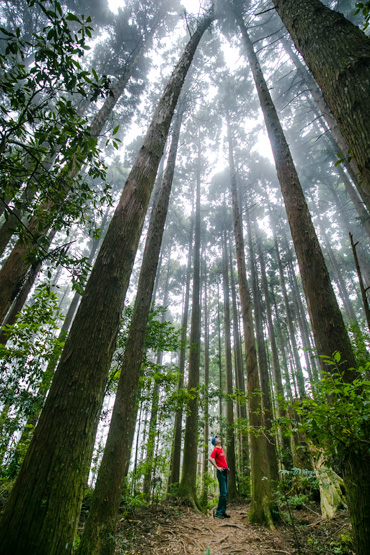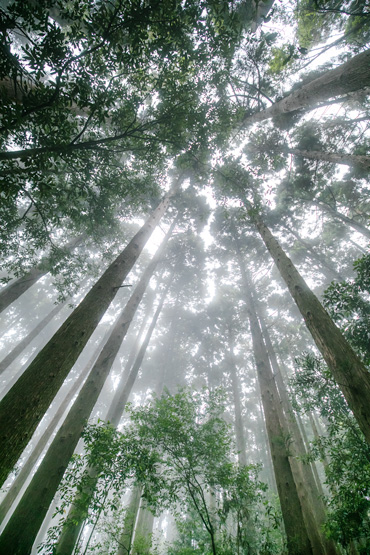 Highlights on the easy-grade, loop-trail secondary-forest walk, which takes about one hour, include more bird sightings, views from across the valley taking in the farm itself, introduction to local plant life (including "tomorrow leaf" – more later), and if lucky enjoyment of Taiwan's high-mountain "sea of clouds" phenomenon and sighting of animals as large as the furtive Reeve's muntjac, flying squirrels, and pheasants.
Sea of Clouds
The "sea of clouds" phenomenon is dubbed one of Taiwan's eight natural scenic wonders. Cool/warm air masses collide in Taiwan's deep valleys, creating tremendous tidal waves of cloud that surge upward, filling valleys to their brims and leaving mountain-tops as islands thrusting high out of swirling, shifting cloudy seas.
A number of farm specialties are featured at your afternoon tea/coffee break, served at the café. Hot waffles and tea are made with the farm's "tomorrow leaf," more commonly called ashitaba, a popular East Asia folk-medicine herb believed to help with digestion, stamina, eyesight, and much else. The "tomorrow" comes from its seemingly magical growth overnight. As well, dine on fresh blueberry jam and two-bite-sized blueberry pound cakes.
Tip: Photo buffs take note: the café's large outdoor terrace is perhaps the area's prime location for viewing the sunrise and seas of clouds – unless you're out at a national park trailside high-point, of course. Local stargazing is also first-rate; on this trip the Travel in Taiwan team reveled in the clear-sky viewing of the Milky Way.
Another Tip: If thirsting to take the tastes of Sheipa Leisure Farm home with you, beyond the DIY jam or vinegar you've crafted, visit the retail shop beside the café, where such tasty goodies as fresh-picked blueberries (NT$250 box), blueberry mini pound cakes (NT$250 box of 10), blueberry jam (NT$700 jar), and tomorrow-leaf tea bags (NT$350 box) are displayed.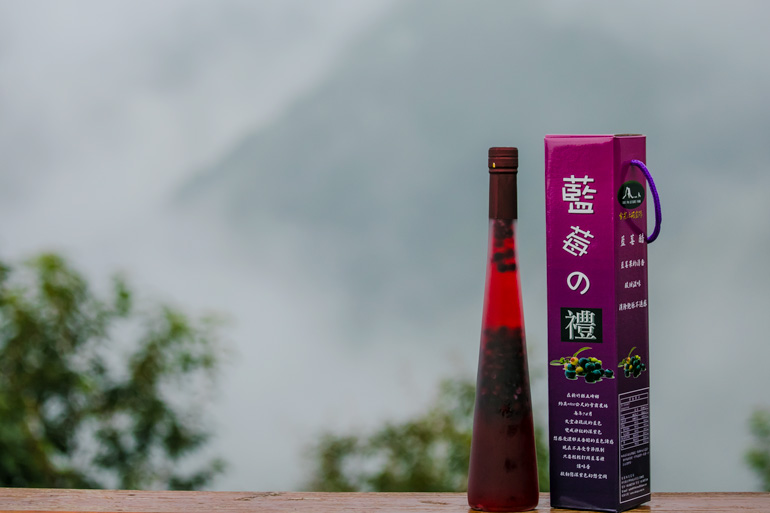 Blueberry vinegar
Sheipa Leisure Farm (雪霸休閒農場)
Add: No. 380-1, Minshi, Taoshan Village, Wufeng Township, Hsinchu County
(新竹縣五峰鄉桃山村民石380-1號)
Tel: (03) 585-6192
Website: www.sheipa.com.tw
Top of the Taiwan World: Guanwu Recreation Area
The spacious Guanwu Visitor Center is at the entrance of the recreation area. Bursting with information on park and region, with first-rate English, every second spent here will double your rewards when you probe on foot deeper. Learn – among many other takeaway info-gems – how Guanwu was originally called Maoyili by the Atayal, meaning "high-rising hills." How in days gone by this was a hard-to-access Atayal hunting area, and how the Japanese built a high-mountain police outpost on this site in the 1910s to control rebellious hold-out native warriors.
How the Japanese then launched regional logging, how until 1964 ropeways and pushcarts on narrow rails were used to bring logs down-mountain, and how the road you've just traveled up was blazed to enable access by trucks. How, once logging was commenced, Japanese mountaineers followed, and how Shei-Pa's peaks and the Holy Ridge were opened up by the Taiwan Mountaineering Association in the late 1920s/early 1930s with the help of indigenous guides.
The Holy Ridge
The Holy Ridge Trail (mountain permit required) runs north-south from Mt. Dabajian to Snow Mountain Main Peak. Averaging over 3,000m, with 31 peaks in total, the average between north and main peaks is over 3,580m. The ridge's sharp undulations, precipices, cirques, landslide areas, and other unusual terrain features make this a must-conquer prize among regional mountaineers. One of Taiwan's most difficult trails, it takes 5~9 days to complete. The distinctively shaped Mt. Dabajian is sacred to both the Atayal and Saisiyat, who consider it their birthplace. Its shape earned it the sobriquet "Wine Bottle Mountain" among early Han Chinese immigrants.
A salamander's quick dash away from the visitor center is the informative Guanwu Formosan Salamander Ecology Center. Did you know that Taiwan is home to five salamander species? And that one is the protected, dark-brown Guanwu salamander, denizen of the Snow Mountain Range's northern part, living at altitudes of 1,200 to 3,100 meters? I didn't, but now I do. Through displays featuring good English, learn who it preys on, who preys on it, the habitat-destruction threats it faces (logging in the past, increased typhoon and torrential-rain frequency today due to climate change, etc.), systematic habitat-restoration efforts since 2008, and much beyond.
Step out of the last gallery and you step into the airy, glass-fronted Yunwu ("Cloud and Mist") Café. Sit down to a heart-warming cup of fresh-made local-brand tea or coffee and such light foods as beef and chicken cheese rolls. The mist-swept terrace outside has umbrella-shaded tables from which white moistness rolling up from the waterfall-base valley before and the Holy Ridge, spread out like a model set far in the distance beyond, are savored. Wild avians of much-differing shapes and paint schemes flit about the humans looking for freebies (be a true friend – don't feed them!).
Tip: Premium high-mountain Oolong tea is grown on Guanwu-area farms, and the café doubles as a souvenir shop. Gift-box teas here start at NT$1,600 for a 150g canister (spring tea).
Now, on to the raison d'etre of this scenic area – the trails:
The short, boardwalk Yunwu Trail begins beside Yunwu Café, running in a loop up and down the high hill overlooking it. It provides clear looks down into the deep valley below, Mt. Zhen across the valley, and the Holy Ridge far beyond that. Explanations on these, with clear picture maps and English, are found at the trail's viewing decks.
The Guanwu Waterfall Trail starts beside a parking lot not far down the road beyond the visitor center. With a total length of 1.5km, it takes 1.5~2 hours to complete. Descend deep into a valley through a mix of broadleaf and fragrant coniferous forest, your reward found at trail's end – the lofty Guanwu Waterfall. The trail has long, easy sections interspersed with steep stepped sections, the most demanding toward the bottom.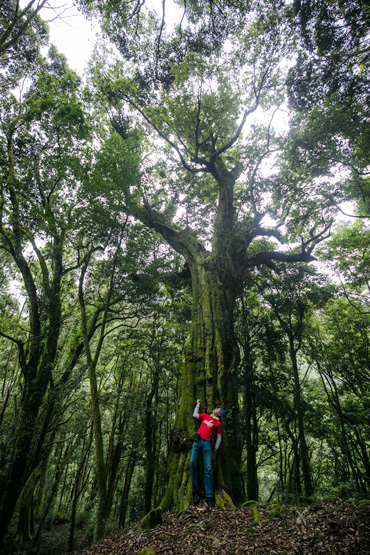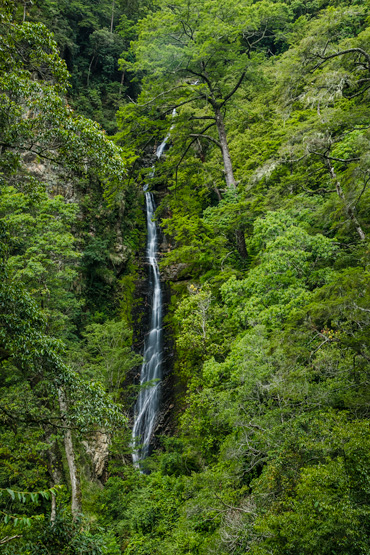 A short distance along the road past the waterfall-trail entrance is the starting-point of the short, easy 450m Honeymoon Path. This brings you to the head of Kuaishan Big Trees Trail, also reachable via another road from the Guanwu entrance. This 4km trail takes about 2.5 hours (return) to complete. The highlight, beyond the terrific high-point panoramas, is the trail's five gigantic thousand-year-old Formosan Cypress trees. History buffs will be thrilled that the path was once an artery for timber-pushcart tracks, with physical traces still in evidence.
Further along the road past the Honeymoon Path entrance to the waterfall-trail entrance is the Zhenshan (Mt. Zhen) Trail head. The geo-position of Mt. Zhen was indicated in the Yunwu Trail section above. This is a trail of open views, chirping birds, and flowers in blossom year-round that stretches 4.13km and takes about 4 hours to conquer (return). Your outward prize is the Mt. Zhen peak – if you thought the Snow Mountain Range and Holy Ridge views from the Yunwu Trail were exhilarating, here you'll find them extraordinary.
Tip: Be aware that beyond Yunwu Café and a beverage-vending machine in the visitor center no food and drink is available in the recreation area. Currently, there is also no overnight accommodation; the Guanwu Cabins, former forestry-worker dorm facilities, are being renovated and are expected to soon reopen, with food services to be provided.
Getting There
If self-driving, turn onto County Highway 122 just south of where Provincial Highway 3 bridges the Shangping River. The 122 is winding and very narrow in many spots, so drive carefully. Conditions are often foggy, especially in the upper sections.
If not self-driving, note that Sheipa Leisure Farm offers a free shuttle-bus service between the farm and Hsinchu High-Speed Rail Station (advance booking required). Lion Travel (www.liontravel.com) offers a two-day bus tour that takes in Guanwu Recreation Area and Qingquan (with English-guide service; it also handles customized tours). The Taiwan Tour Bus service (www.taiwantourbus.com.tw) features an English-language two-day tour visiting Zhudong, Qingquan, Sheipa Leisure Farm, and Guanwu Recreation Area.

Shei-Pa National Park
One of Taiwan's eight national parks, sprawling and exhilaratingly shaped Shei-Pa ("Xue-Ba" in Hanyu Pinyin romanization) is spread over 768 sq. km. Within it are 51 mountain peaks soaring above 3,000 meters, all members of the Snow Mountain Range. The park has three easily accessible recreational areas, Guanwu and Xuejian in Miaoli County and Wuling in the northeastern corner of Taichung City. These offer a beguiling range of activities, from picking fruit to spending time at info-rich visitor centers and small museums to hiking on trails of differing difficulty to tackling some of Taiwan's highest peaks if desired. Crisp air, pure-water streams and, spring/autumn, average temperatures of around 20 degrees Celsius under clear blue skies await. For more info about the national park, visit www.spnp.gov.tw.
Also read
Northern Cross-Island Highway + TAIPINGSHAN
taiwaneverything.cc/2016/10/27/northern-cross-island-highway-2/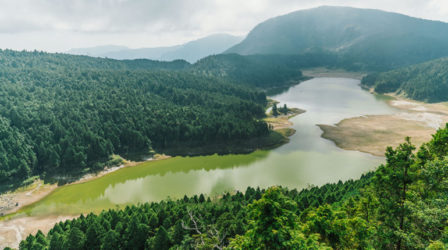 Beautiful Scenery in Northern ALISHAN
taiwaneverything.cc/2016/05/15/beautiful-scenery-in-northern-alishan/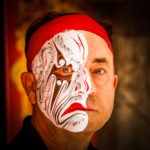 A Canadian, Rick has been resident in Taiwan almost continually since 1988. His book, article, and other writings, on Asian and North American destinations and subjects—encompassing travel, culture, history, business/economics—have been published widely overseas and in Taiwan. He has worked with National Geographic, Michelin, APA Insight Guides, and other Western groups internationally, and with many local publishers and central/city/county government bodies in Taiwan. Rick also handles a wide range of editorial and translation (from Mandarin Chinese) projects.