Let's Go Glamping at CMP Village inside Shangrila Paradise Theme Park!
One of Taiwan's oldest amusement parks is reinventing itself as a culture and aesthetics playground. Intermingling art, nature, and a touch of Hakka culture, the park provides endless selfie ops and a big mixed bag of activities that appeal to kids and adults alike. Pop in for a leisurely daytime getaway, or register online for the full experience – themed 2-day "courses" with overnight stays in which you bed down in a luxury tent.
Text: Nick Kembel Photos: Maggie Song, Shangrila Paradise
To many Taiwanese adults, Shangrila Paradise is a familiar name. Opened in 1990, it was catapulted to fame when episodes of the popular Taiwan game show Bai Zhan Bai Sheng ("A Hundred Battles, A Hundred Victories") were recorded here. Besides the rides, the park's main draw was a sizable European garden with meticulously manicured shrubs, appealing to Taiwanese visitors at a time when Western recreational culture was still considered a novelty.
Visitor numbers later plummeted, however, as newly opened amusement parks started to compete for crowds. In 2012 the CMP Group, a Taiwan-based iron-casting giant, purchased Shangrila as part of its foray into the leisure and hospitality sectors. Since then, the CMP Pujen Foundation for Arts and Culture has transformed the site into a multifunctional, ever-changing arts, education, and entertainment facility.
As part of its blueprint for the crafting of a new identity for the park, the foundation launched the CMP Village program at the beginning of 2017. The aim of this three-year experimental project is to integrate local culture, daily-life experiences, and tourism, bringing people together for a shared outdoors experience while showcasing the beauty of the park's environment. Some of the original theme-park facilities remain intact, and a representative selection of the best-loved old rides is fired up on request. Visitors nowadays, however, primarily come for the cultural programs and glamping experience (see below).
A Day Trip to Shangrila Paradise
Most visitors arrive by car or by taking a taxi (about 10 minutes) from the THSR (Taiwan High Speed Rail) Miaoli Station. Just to the southwest of the station you will pass a large tulou (roundhouse), a traditional type of architecture that is a defining cultural icon of the Hakka people, a Han Chinese ethnic minority. Hakka make up two-thirds of the population in Miaoli County, and Shangrila Paradise is a great place to get a taste of their culture.
Day trippers are advised to come on Saturday or Sunday (or holidays), when more facilities are open to the general public; on weekdays many are reserved for school groups. You enter the park grounds via a covered arcade filled with souvenir and snack shops and decorated with Hakka flower motifs. The official entry fee is NT$500 for adults and NT$280 for kids; but there are frequent promotions, and prices can be cut by up to almost half.
From the end of the arcade, a trail leads downhill to a vast circular field, once home to the theme park's European gardens. The only remnant of its horticultural-landscaping past is a lone marble goddess on the far side. Today she looks out over a terraced vegetable garden – park planners have consulted photos from pre-amusement-park days and are actively returning the area to its earlier look.
The centerpiece of the park today is an enormous bamboo-woven dome with walkway tunnels snaking out from it; one is partially built around trees, and the other leads to a tentacled sitting platform. Internationally acclaimed Taiwanese artist Wang Wen-chih, spent two months with a team of 20 workers creating the dome, which is titled Qing Tian Mu, translating roughly as "cover (through which you can) love the sky."
If you have visited the Taipei Fine Arts Museum recently you will have noticed a similar structure by Wang, Sanctuary, in front of the main entrance there. The one at CMP Village is larger, features four sky-observation holes rather than a single oculus, and pays homage to CMP's flagship product with a mosaic of hexagonal iron tiles at the center. Besides being an aesthetic marvel, especially when lit up at night, the dome serves as a welcome room for overnighters and a place to relax and gaze at the stars.
Around the dome, there is ample space for picnics, strolling, and letting the kids run free. At a kiosk you can buy locally made products such as coffee, fresh almond milk tea, organic dried roselle, Hakka-style tea leaves aged inside dried oranges, and products made of woven rush, the material used to make tatami mats.
A wooded trail leads to the venerable amusement park area. The half-dozen remaining rides, including bumper boats, a rollercoaster, and a spinning cylinder, look like they are on the brink of historical-relic status, but are still up and running for adventurous types – and, rest assured, perfectly safe. According to the foundation, the rides remain as a tribute to the park's past and for the nostalgia they evoke in older visitors.
Children also enjoy the nearby rope-fun area, itself a piece of art – the nets are entirely knitted by hand – spaceship-like water towers, and dinosaur-themed playground. At the playground is a café where drip coffee, among other refreshments, is served. If it's cutesy selfies you seek, panda statues, a large bespectacled gourd, and numerous other artworks are interspersed throughout the park.
Flower lovers rejoice – cherry blossoms, tung blossoms, and azaleas, to name but a few, can be enjoyed here seasonally, and in June visitors can walk through a tunnel of gourds. One path terminates at a small museum focused on Hakka culture, housed in a traditional sanheyuan, or three-sided courtyard residence. On exhibit at the museum are vintage rice-husking equipment, clothing, storage pots, a water wheel, and more.
Glamping at CMP Village
"Glamorous camping" is catching on in Taiwan, and if you haven't tried it yet, this would be a fine place to start. Spending the night allows you to stick around for the advertised fantastic sunsets over a mountainous backdrop, observe the artworks and natural surroundings taking on new life at night, partake in activities not available to daytime visitors, and retire in style under the stars.
Guests register for overnight-stay "courses" online. The themed programs are usually hinged on a Friday or Saturday night stay, with the occasional midweek/holiday option, and prices range from NT$3,800 to $5,800 per adult (NT$2,800-$3,500 per child). Options include Hakka blue-dye experiences, pottery making, tree climbing, and rush weaving.
One popular course, named "Shan Na Village," is focused on exploration of the park itself; shan na, Hakka for "mountainside," has been adopted for the park-cum-village nickname. Guest speakers are brought in to showcase crafts, foods, and other products from all over Miaoli. During this writer's visit, a bar owner from the Hakka village of Nanzhuang introduced herb-infused alcoholic drinks, and I sampled a body-warming mulled red wine made with white cardamom, clove, cinnamon, apple, and citrus fruit.
A typical-course schedule involves the following: guests arrive mid-afternoon, savor a welcome snack, enjoy a few hours of hosted theme activity, then are free to explore the grounds. After sunset they enjoy dinner and a campfire under the stars. Dishes change with the seasons, but the focus is on local and simple fare. After dinner, guests are given flashlights and led along a spooky path which emerges onto a carnivalesque scene of the merry-go-round and other rides lit up in the night. The next morning, things are finished up with another round of hosted theme activity.
The tents alone are reason enough to spend the night here. Arranged in a half-circle around the bamboo dome, each of the 15 yurt-like canvas structures accommodates up to four people, and comes with air-conditioning in summer and heating in winter. A huge bed fit for a Persian prince takes up nearly half the interior, with enough cushions provided to stage a pillow fight of epic proportions. The carpeted floor and mini-tent within the tent provide plenty of space for children to frolic. Hanging strings of lights are the finishing touch, and it is said that the sound of rain splattering above at night is the perfect soundtrack for an unparalleled night of sleep.
Guests are no less impressed with the restroom/shower facility. Chen Jian-zhi, a young professor of architecture at the National University of Tainan, cleverly remodeled a beverage bar into a toilet and shower facility that is a work of art, which he whimsically titled "Soaking in the Forest." The sinks, faucets, and mirrors in the makeup rooms are made with industrial and recycled materials from the old amusement grounds, and while freshening up you'll look out into a swath of green foliage. Neat rows of bins made of cloth are provided to store belongings outside of private, open-air showers. Showing droll humor, the women's and men's sides are marked with a large nut and bolt on the curtain doors; you don't have to let your imagination stray too far to figure out which represents the male or female.
Follow participants' village experiences by keeping up with the 1001 Nights Stories initiative, in which one picture story detailing a special activity, challenge overcome, meaningful story, etc., is posted daily on the CMP Village website. There were 361 stories out of 1001 posted at the time of this writing.
Shangrila Paradise (香格里拉樂園)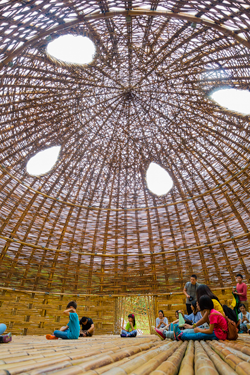 Add: No. 15-3, Rugushan, Neighborhood 1, Fenghu Village, Zaoqiao Township, Miaoli County (苗栗縣造橋鄉豐湖村1鄰乳姑山15之3號)
Tel: (037) 561-369; (037) 561-561
Website: www.shangrila.com.tw; cmpvillage.tw (both websites in Chinese)
Also read
SANYI: History and Hakka Culture in Miaoli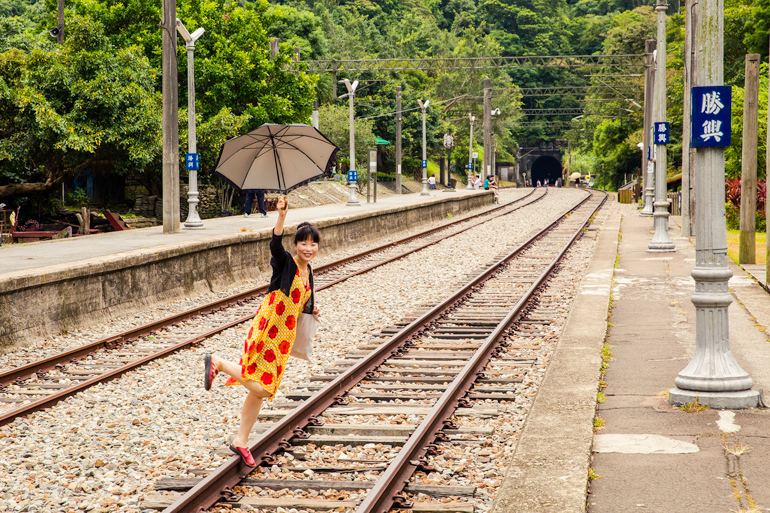 taiwaneverything.cc/2018/03/20/miaoli-sanyi/
Peaceful Pastures — FLYING COW RANCH in Miaoli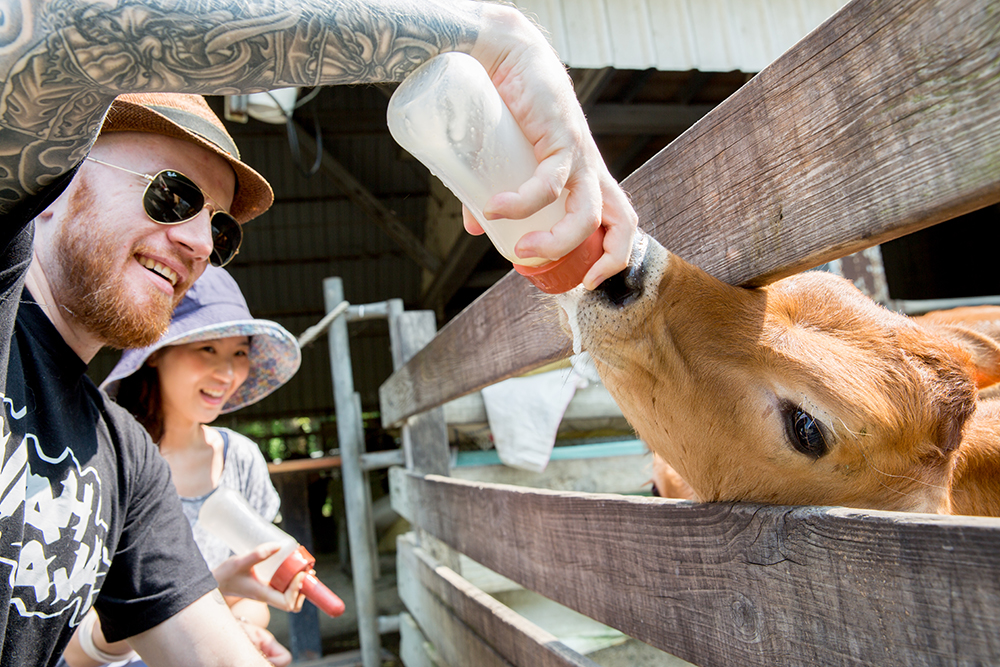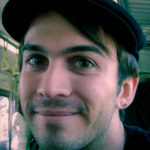 Kembel is passionate about tea, spending time with his kids, and all things travel. He has been to nearly 50 countries but called Taiwan home for the last decade. In 2011 he authored Taiwan in the Eyes of a Foreigner.