A Fine Family Vacation Hotel in Taitung County
Text: Rick Charette, Photos: Ray Chang
In an online poll conducted this year by the Taiwan travel company EzTravel, this lovely Mediterranean-look resort, located just south of Chishang, was declared "Taiwan's most beautiful hotel." Need one say more?
Here's more. Netizens lauded the quiet surroundings, low-rise architecture that enables sweeping views up and down the lush valley, and the luxurious outdoor-pool complex in the inner courtyard of the three-sided main building, umbrellas and swaying palm trees providing ample shade.
The rooms inside the main building are very spacious; some look over the inner-courtyard pools, some face outward toward the mountains, and all have comfy balconies. Beyond the main building and pool complex is a "village" of luxury villas, in Victorian, Balinese, and Mediterranean style.
There are two high-quality restaurants, one serving Chinese cuisine, the other Chinese/international buffets. An upscale spa complex is located in front of the main building, alfresco in the middle with roofs covering the spa pools along the sides (different temperatures, and such options as a "roselle" mineral-water soak, "milk" soak, etc.). Two of the many other amenities/services of special note are the hotel's well-stocked bike-rental operation and its daily 1-hour tractor-train tours, during which your guide introduces (in Chinese) the area's irrigation works, the Taiwan Sugar Chishang Pastoral Farm Resort, and other local spots of interest.
Papago International Resort (日暉國際渡假村)
Add: No. 107, Xinxing,, Chishang Township, Taitung County
(台東縣池上鄉新興村新興107號)
Tel: (089) 861-111
Website: www.papago-resort.com
Also read
Onsen Papawaqa — A Fine Hot-Spring Hotel in Miaoli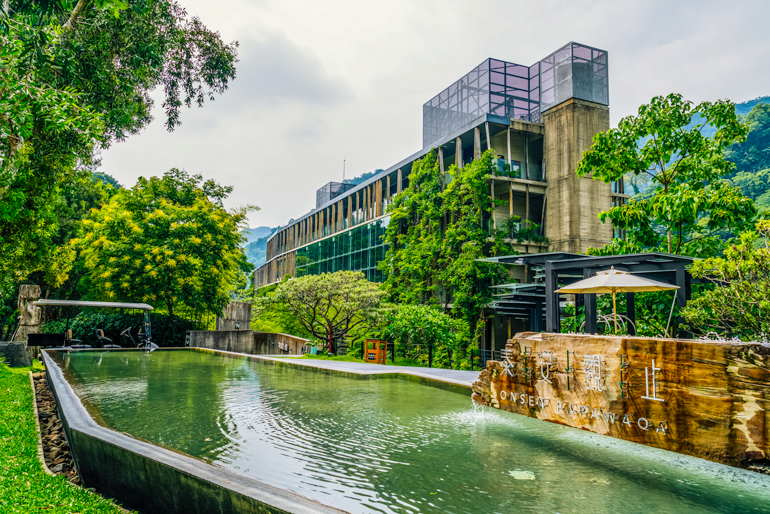 taiwaneverything.cc/2018/07/30/onsen-papawaqa-miaoli/
The Silks Place Taroko at Tianxiang