Oyster Harvesting and Other Tidal Zone Fun in Fangyuan Township
TEXT / RICK CHARETTE
PHOTOS / RAY CHANG
The keywords that define the coastal-bucolic world of slow-change Fangyuan Township and your upcoming tourism experience there: intertidal-zone oyster harvesting, "iron ox" eco-tours, "sea ox" rides, fresh harborside seafood and tidal-flats oyster/clam barbecues, Seaside Skywalk mangrove forest exploring, fiddler crabs, mudskippers, black-crowned night herons, blue herons, cattle egrets, glowing littoral sunsets ….
Our main feature article was a deep dive into "old-timey" Taiwan life in the historic town of Lukang, in west-central Taiwan's Changhua County, which is primarily rural with areas of light industry. We now head a short ways southwest to Fangyuan Township, another place where the "ways of the old days" are still very much part of the local lives lived. Long key to the Fangyuan economy is the vast intertidal zone along the Taiwan Strait coast. Each day when the tide goes out, oyster farmers fan out over the exposed muddy flats visiting their individual oyster-cultivation plots. Tourists can take guided eco-tours out into these zones. Other tourist-drawing eco-showcase facilities have also been built, such as the Seaside Skywalk through mangrove forest and a path behind the township's fishing harbor to its lovely lighthouse. Other destinations include a fetching arched pedestrian bridge across the Wanggong Fishing Harbor entrance, the striking harborside lighthouse, and a uniquely attractive wind-power turbine "forest."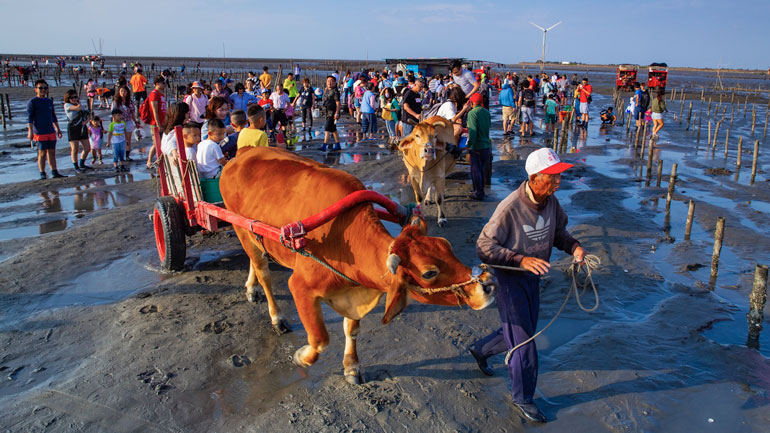 Oyster Harvesting Experience
Oyster cultivation is big business along the coast from west-central to southwest Taiwan, carried on for centuries without deep change. Silting is significant along this region adjoining the western plains, fed by the mineral-rich earth washed down from Taiwan's fast-growing central mountains. In Fangyuan Township, with each tidal rotation the Taiwan Strait waters recede almost as far as the eye can see, exposing nutrient-rich black mud that produces exceptional food bounty. Also exposed is what seems a boundless legion of oyster racks, oysters clinging to thick long strings. Each plot is the property of an individual farmer-family, which pays an annual fee to the government.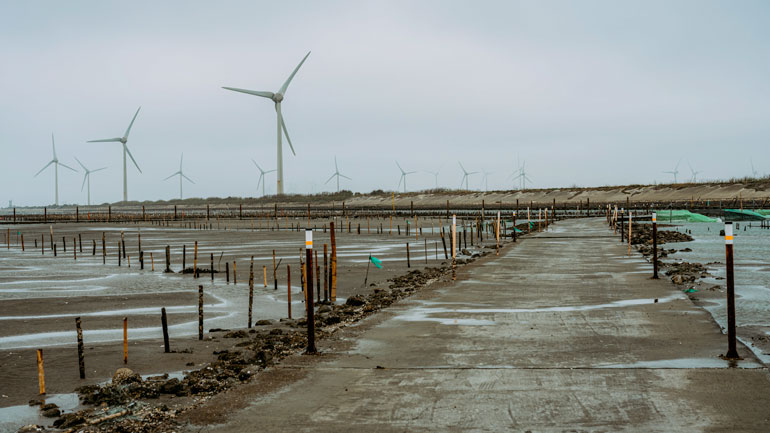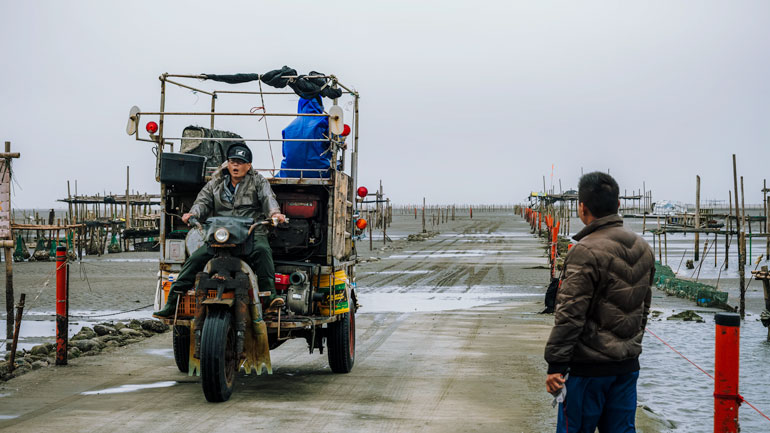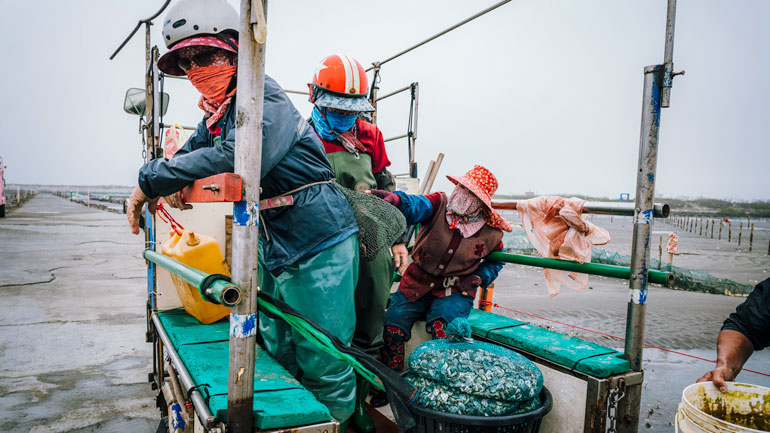 Highly edu-tational eco-tours into this zone are provided by the "Little Whale Fleet," a travel-service enterprise run by local oyster farmers, with a farmer as your personal guide and driver. You're picked up for your excursion at the Wanggong Fishing Harbor parking lot (see next section for other harbor tourist attractions/amenities). Your ride – an "iron ox." These are large, sturdy three-wheel vehicles with a driver's seat and a bed behind for equipment, harvested treasure – and tourists, with plank seating for three people along both sides. The diesel engine's loud "tuk-tuk" sound, and the vehicle's general look, evokes the famed tuk-tuks of Thailand.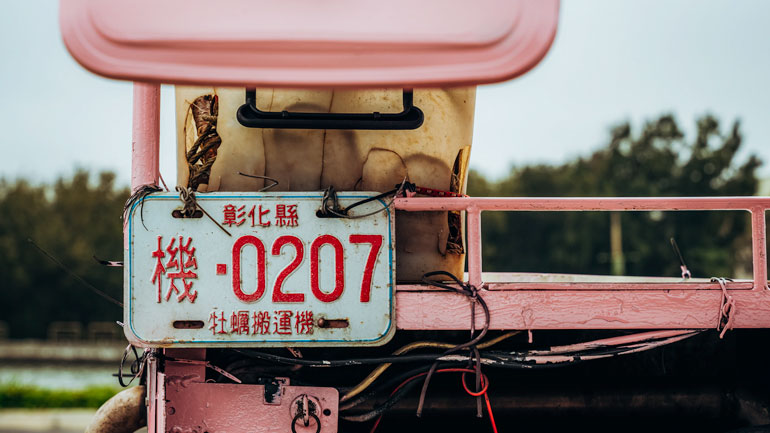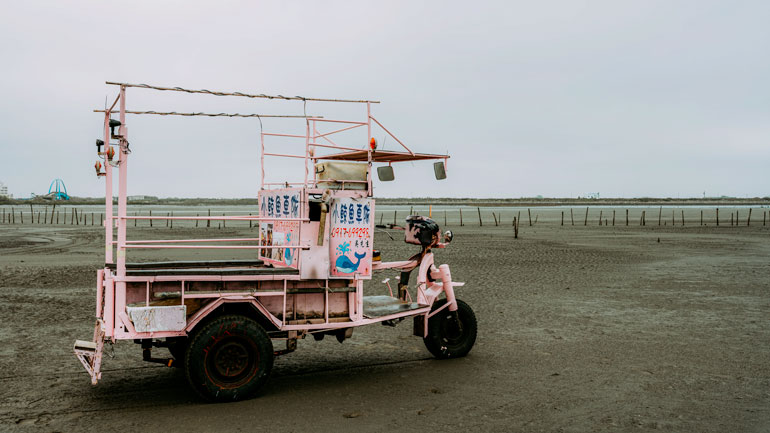 The cost is NT$200 per adult, NT$100 for elementary students, free for kids 6 and under. Outings last about three hours. The more people in your group, the more iron oxen and oyster farmer guides you get.
Once past the harbor area, the paved road you're on crosses the sea dike and dips down to and far out onto the muddy flats. Your guide takes you still much further than this, the mud firm under tires (and, later, running shoes/boots). Racks and strings of dangling oysters in countless number pass by, swaying slightly in the almost constant breezes (and often strong winds in winter). Be sure to bring wind and sun protection.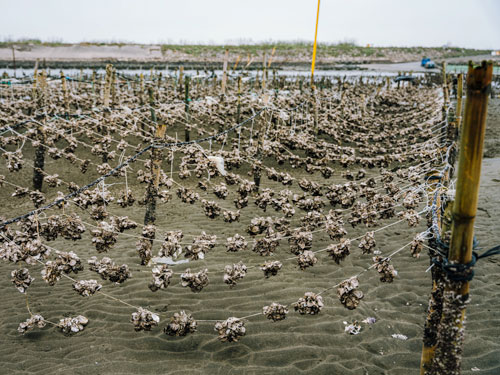 When stopped, first comes a fun session of clam and oyster digging (for the latter, using thin bamboo poles to locate).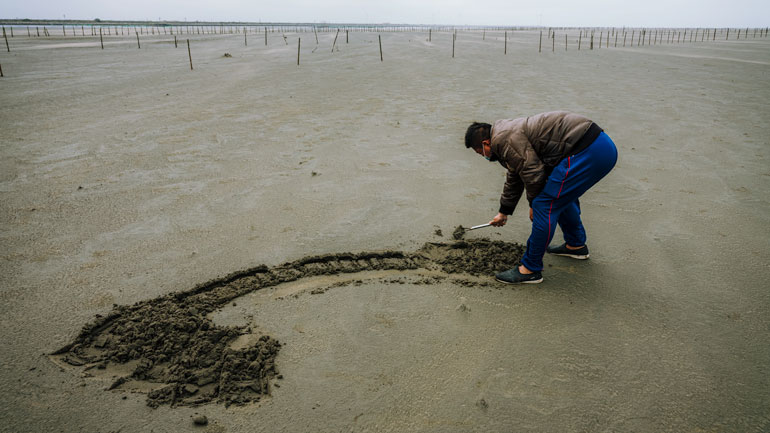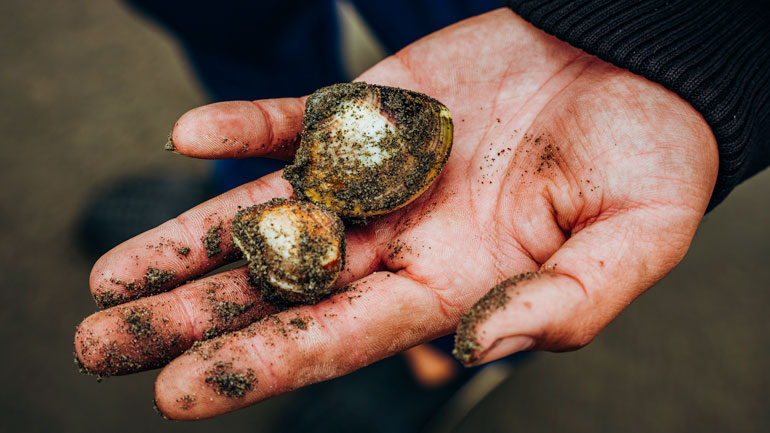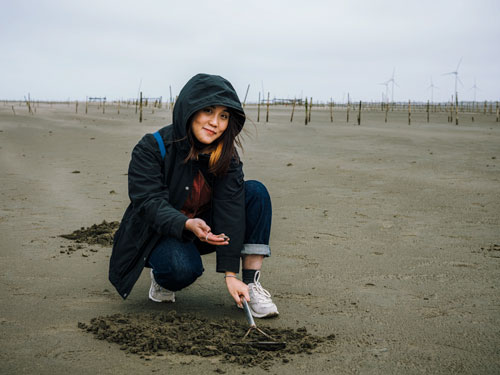 Then your farmer guide teaches you crab catch-and-release. Your main prey are the beautiful tiny pastel-blue/red/white Asian soldier crabs that march around the flats in small armies.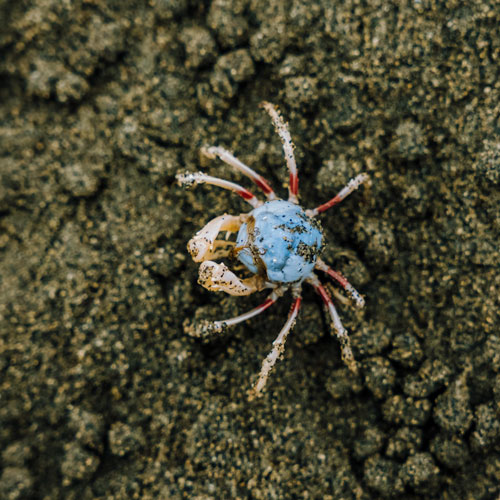 Then you head back to near the shoreline for an oyster/clam barbecue feast on grills set up amidst the racks right on the flats, learning how to cook them.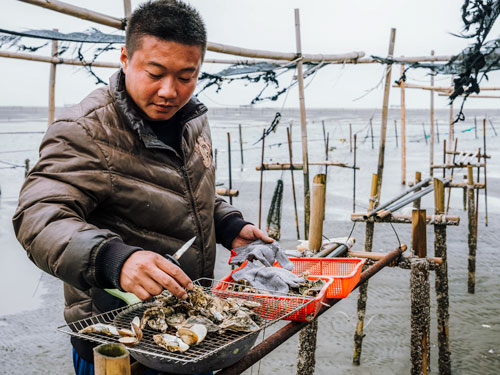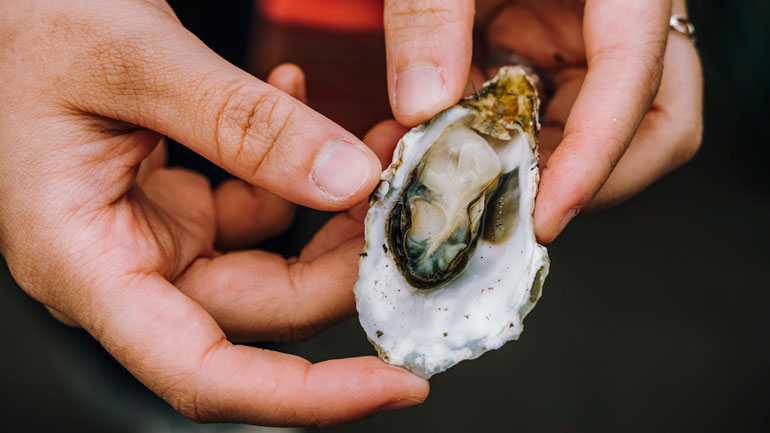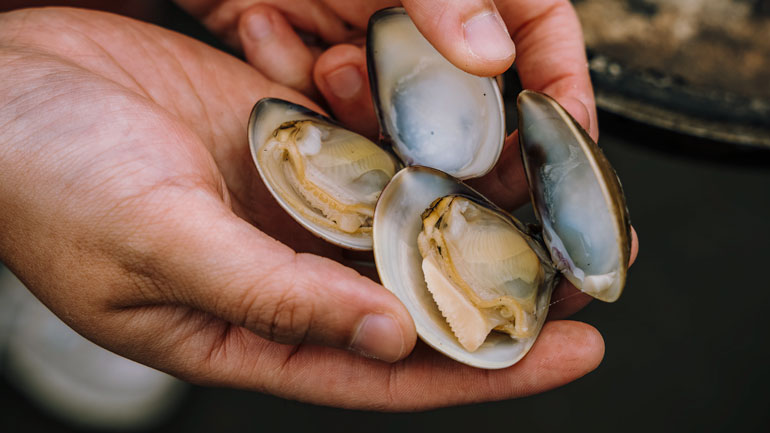 Your guide teaches you all about the different types of local bio-life, local farmer-family life, and anything else you might be interested in. Something that all visitors find particularly tickling is the origin of the "iron ox" term. Some local oyster farmers still use the traditional "sea ox" technique – yellow cattle pulling wooden carts. Check with the Changhua County tourism authority (tourism.chcg.gov.tw) about sea ox tours and the annual "International Sea Ox Culture Festival," held in October.
"Little Whale Fleet"
(小鯨魚車隊)
Tel: 0917-699-298
Location: No. 900, Yugang Rd., Wanggong Village, Fangyuan Township, Changhua County
(彰化縣芳苑鄉王功村漁港路900號)
Facebook: bit.ly/3rSLDSn
Also in Wanggong/Fangyuan Township
Wanggong Fishing Harbor
Wanggong Fishing Harbor is a good place for tummies hungering for fresh seafood. There's a food-service area with simple eateries in a night market-style set-up. Beside is a visitor center, which posts tide times – crucial info if heading out into the intertidal zone on foot, which many tourists do. A large sea-blue arch bridge leaps the small harbor's mouth, providing on-high views of the sea of oyster racks and boat traffic. Because the littoral waters are shallow and silting is serious, shallow-draft raft-like pontoon craft are the standard. Behind the food-service area is a paved eco-trail along a lagoon-like body of water, with mangrove trees and over-water lookouts, to the harbor's attractive lighthouse.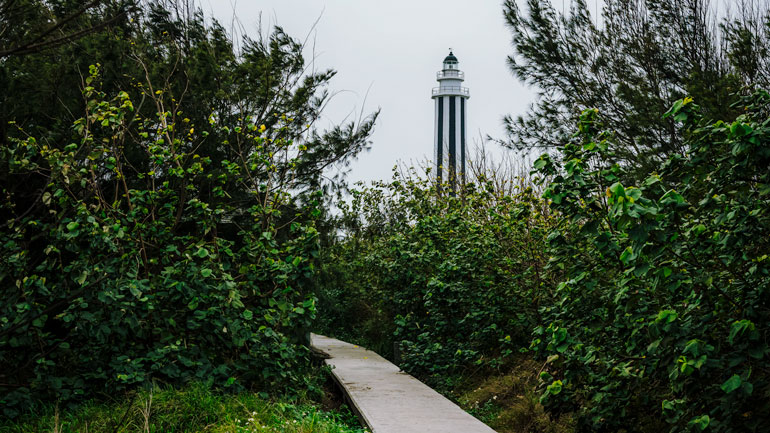 Wanggong Lighthouse
Wanggong Lighthouse stands high and proud 35.7m tall on the harbor's north side. A black-domed octagonal concrete tower built in 1983, it's painted in an unmissable bold zebra pattern, thick black and white bars vertical. Its powerful beam, sent out in a 5sec light/5sec dark pattern, is projected 16.6 nautical miles out over the Taiwan Strait. You pass directly in front of it on your Little Whale Fleet tour, just before heading down into the intertidal zone.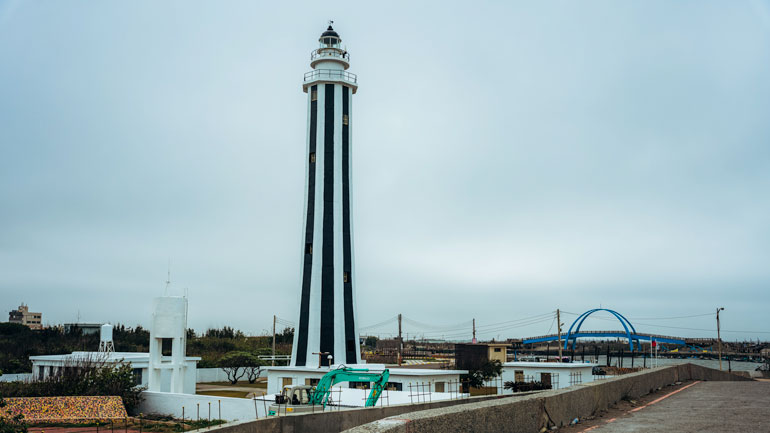 "Wanggong Small Wind Power Turbine Park"
The on-land coastal area north/northeast of the harbor sports a forest of tall, majestic wind turbines, and within this forest is an especially photogenic concentrated mini-forest of small-scale turbines, the "Wanggong Small Wind Power Turbine Park." There are about 400, painted in dark sky-blue and silver, each with three curved blades that come together at the top, giving them the look of sleek upside-down egg whisks. Adding to the mise-en-scene is the fact that the turbines stand right in a grid of aquaculture ponds, the bases for some rows right in the water. If it's your lucky day, fishermen out on their rafts will add even more color to your unique "yes, I was there" shots.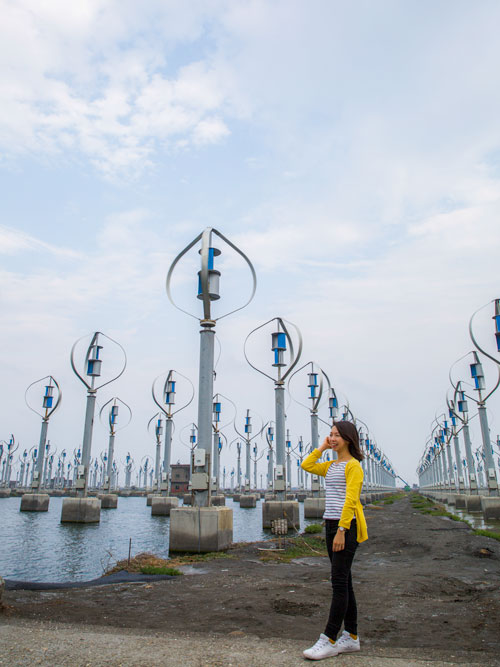 Seaside Skywalk
South of the fishing harbor is the Seaside Skywalk, a popular boardwalk trail through thick mangrove forest opened in 2021. Park at the massive Putian Temple, on the landward side of the sea dike here, a big draw for local bus-tour travelers that has a fair-like cluster of food-vendor stalls. The Fangyuan Wetland is Taiwan's largest intertidal wetland zone, stretching 6km. The Seaside Skywalk starts bedside the head of another oyster-farmer-use paved road that shoots out deep into the estuary intertidal zone here, their boats tethered and sitting on the shoreline mud.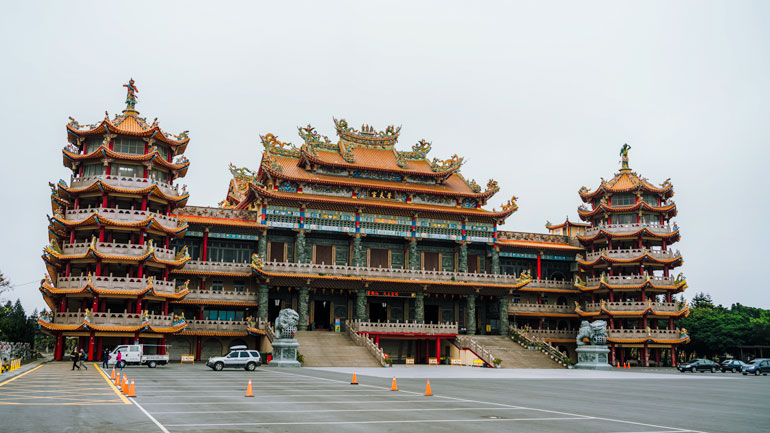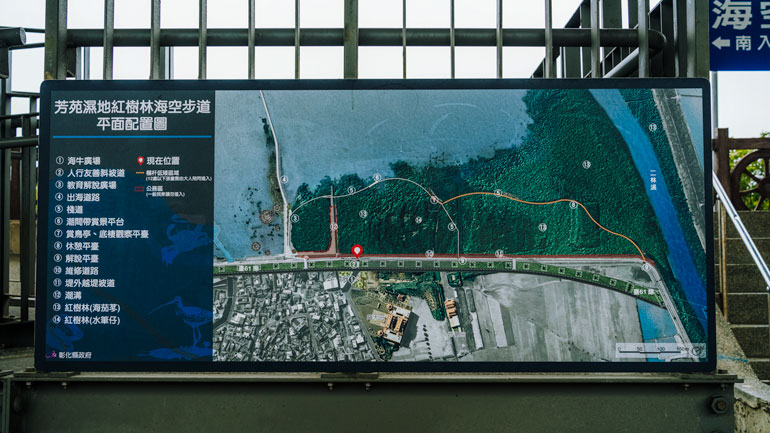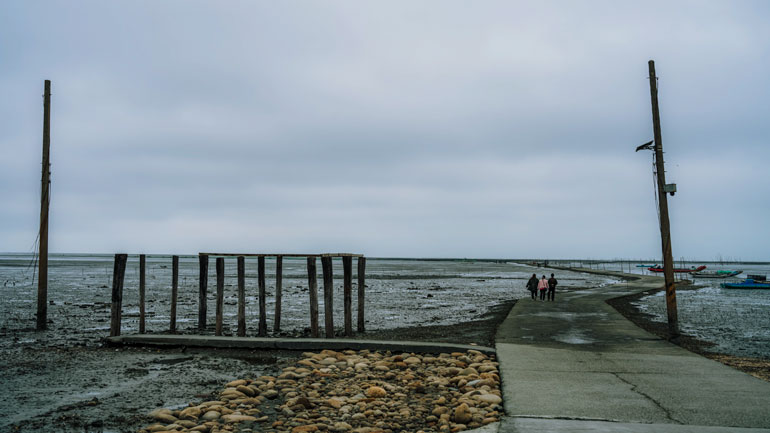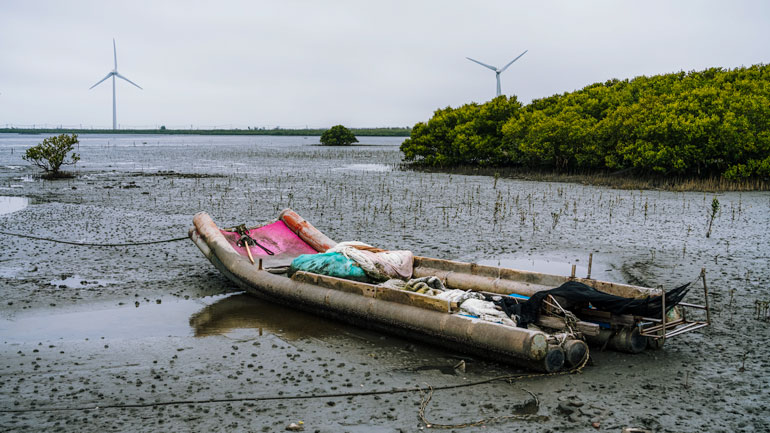 The skywalk, which took four years to complete, curves along about 2m up. Mudskippers, fiddler crabs, hermit crabs, and sentinel crabs abound, as do such waterfowl as little egrets, cattle egrets, black-crowned night herons, and blue herons. Signboards provide detail (with English) on the natural ecology, oyster cultivation, "sea ox" tradition, etc. A tall two-story viewing platform is specially angled to capture the lovely glowing sunsets.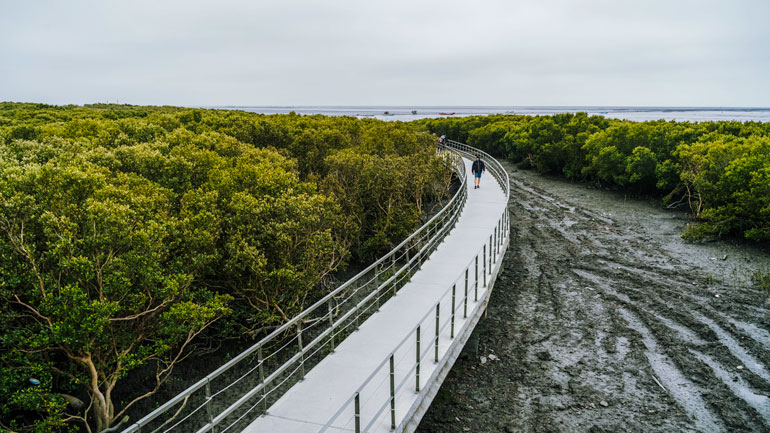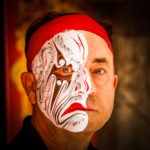 A Canadian, Rick has been resident in Taiwan almost continually since 1988. His book, article, and other writings, on Asian and North American destinations and subjects—encompassing travel, culture, history, business/economics—have been published widely overseas and in Taiwan. He has worked with National Geographic, Michelin, APA Insight Guides, and other Western groups internationally, and with many local publishers and central/city/county government bodies in Taiwan. Rick also handles a wide range of editorial and translation (from Mandarin Chinese) projects.