Way Down South, in the East
Text: Rick Charette; Photos: Ray Chang; Maggie Song
The southern reaches of Taitung County on the East Coast is a region of high-mountain backdrops, flatlands carpeted with paddy fields, Pacific Ocean views, palm trees, and gently curving highways that are much quieter than those in the island's more heavily populated areas. Here you can experience the cultures of indigenous peoples (including a visit to harvest festival celebrations, indigenous singing and dancing, an educational forest walk on a "sacred" mountain, and feasting on native cuisine), cycling through farmers' fields, the local live-music scene, surfing, distinctive arts and crafts, hot-air balloon flights and much more.
Taitung City
Small Taitung City is the county's only city and its main transportation hub (rail service, domestic air service, intersection point for the region's two major highways, and launch point for ferries to Green Island and Orchid Island). It is also the starting point for this Travel in Taiwan expedition.
Its alluring natural surroundings and unique blend of laid-back people, who primarily come from Han Chinese groups and the various regional native peoples, have led to comparisons with multiracial Hawaii. One in five denizens is a member of one of Taiwan's indigenous Austronesian tribes.
National Museum of Prehistory
Taitung's wonderful National Museum of Prehistory was built to showcase important local archeological finds. You can visit a protected section of the actual digs nearby, at the Beinan Cultural Park. The museum is one of Taiwan's premier locations to learn about the ways and means of the island's original peoples, from prehistoric into historic times. Highlights include a mock-up of a dig site that you descend into along glass-floor walkways, dioramas depicting prehistoric life, and a full-scale oceangoing canoe specially created by Orchid Island's Yami tribe (also called the Tao) for the museum.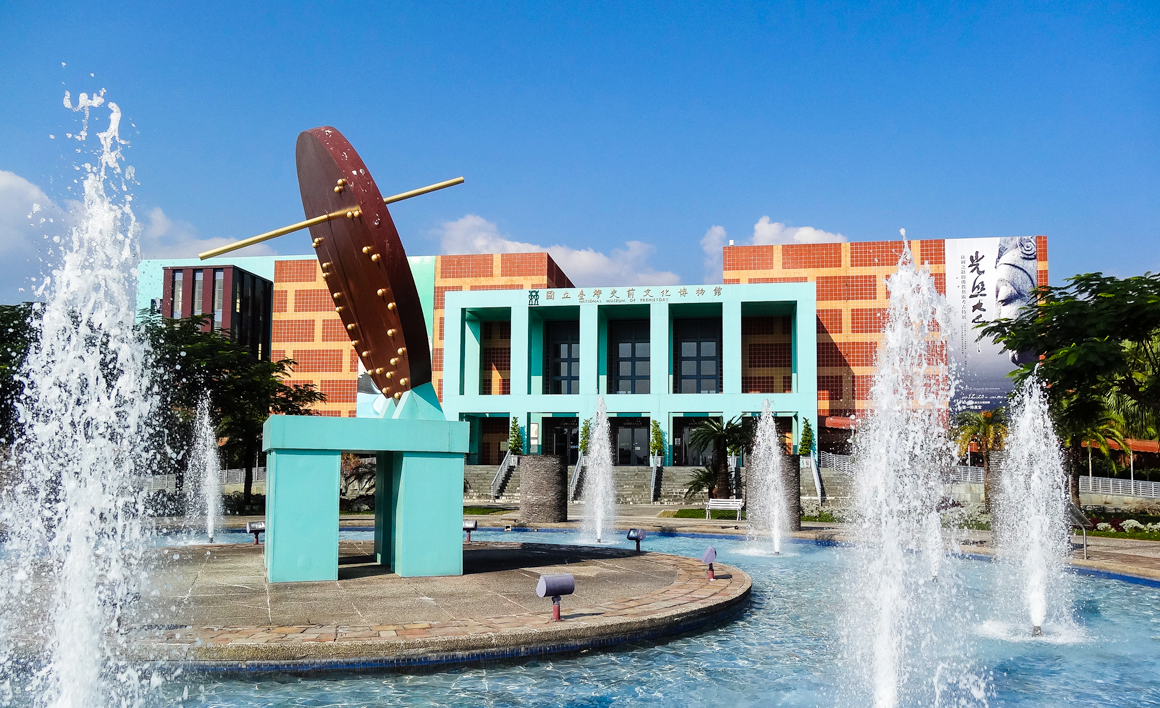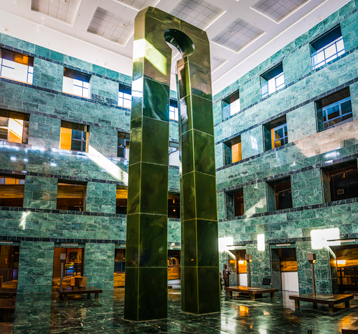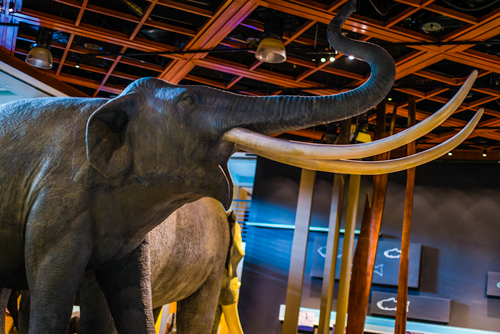 National Museum of Prehistory (國立臺灣史前文化博物館)
Add: No. 1, Bowuguan Rd., Fengtian Borough, Taitung City
(台東市豐田里博物館路1號)
Tel: (089) 233-466
Website: www.nmp.gov.tw
Tiehua Music Village
The deep musical talents of the region's indigenous peoples have brought national and international renown to numerous local musicians. Visit Tiehua Music Village for a melodious taste of Taitung's vibrant live-music scene. Its spacious home was originally a dormitory complex for railway workers. Come in the evening for the Wednesday through Sunday shows (tickets NT$200~NT$350), and come during the day (free entry) to meander the complex and admire the public artworks. The village has a bar, two shops selling local produce and crafts, a Fri/Sat/Sun bazaar, workshops, art exhibits, and occasional theatrical performances.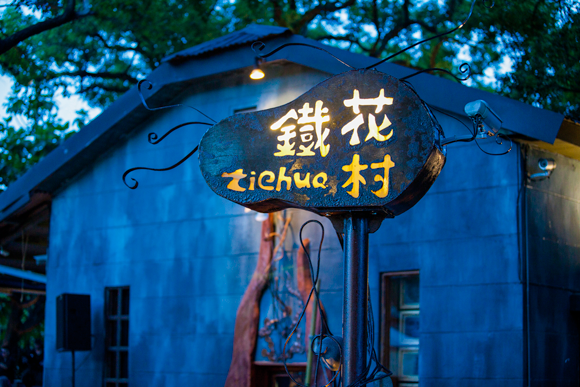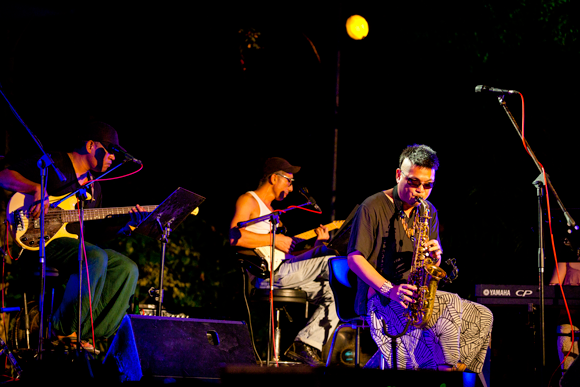 Tiehua Music Village (鐵花村)
Add: No. 26, Ln 135, Xinsheng Rd., Taitung City
(台東市新生路135巷26號)
Tel: (089) 343-393
Website: www.tiehua.com.tw (Chinese)
Seashore Park
At the Seashore Park enjoy superlative views to the ocean horizon and southward along the mountain-backed coast, as well as a quiet spell in the Paposogan. This is a spacious rattan-domed viewing platform that is a fine place to take in the sun's daily rise and stage romantic photos as it sets.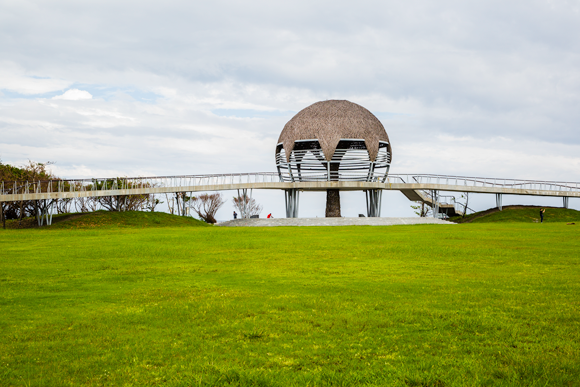 Accommodation
On this trip we stayed one night at the Inn By The Village in Taitung City.
Read about the hotel here: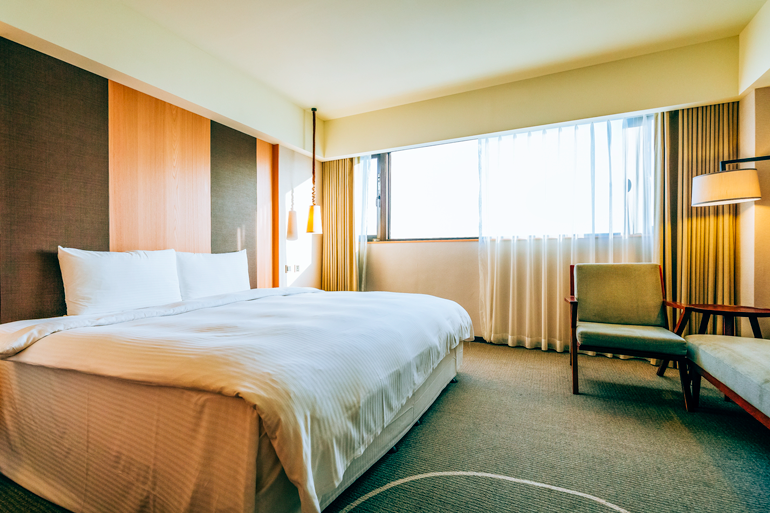 North of the City Along the Coast
Xiaoyeliu
Traveling north of Taitung City along Provincial Highway 11, you'll soon arrive at Xiaoyeliu. This is a natural scenic area right on the coast where land meets ocean. Along the shore are extensive rock formations – honeycomb rock, mushroom rock, tofu rock, and cuestas. There is a visitor center with well-crafted scale models and rock samples introducing the geological features of both Xiaoyeliu and the Coastal Mountain Range, which runs along the coast from just north of Taitung City to just south of Hualien City.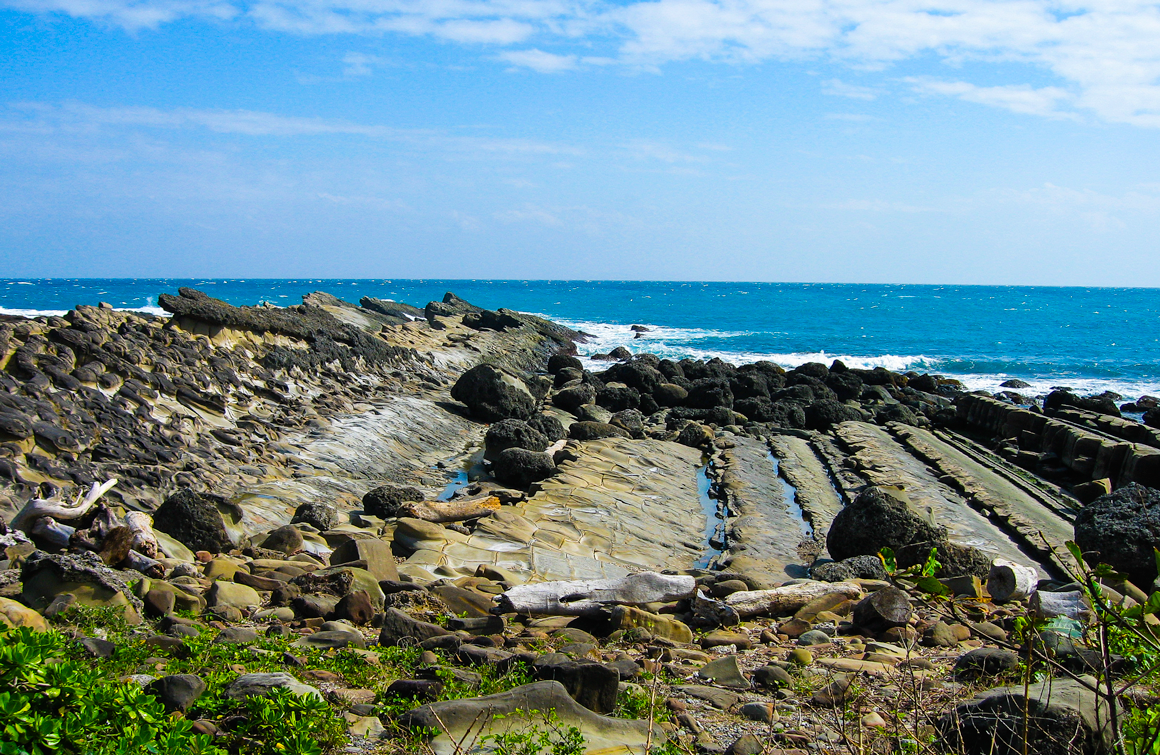 Jialulan
Jialulan is a seaside art park that is also an eco-engineering showcase. It's on a remediated waste-soil site created during construction of the adjoining air-force base. Artworks are spread out over the expansive grassland. Most are made of wood, notably driftwood, a favorite material with Taitung artists. Photographers love to take shots of the art pieces with Green Island in the background, the blue of the ocean and the green of the island creating a compelling contrast. The island, though about 33km from the mainland coast, is seen clearly on blue-sky days.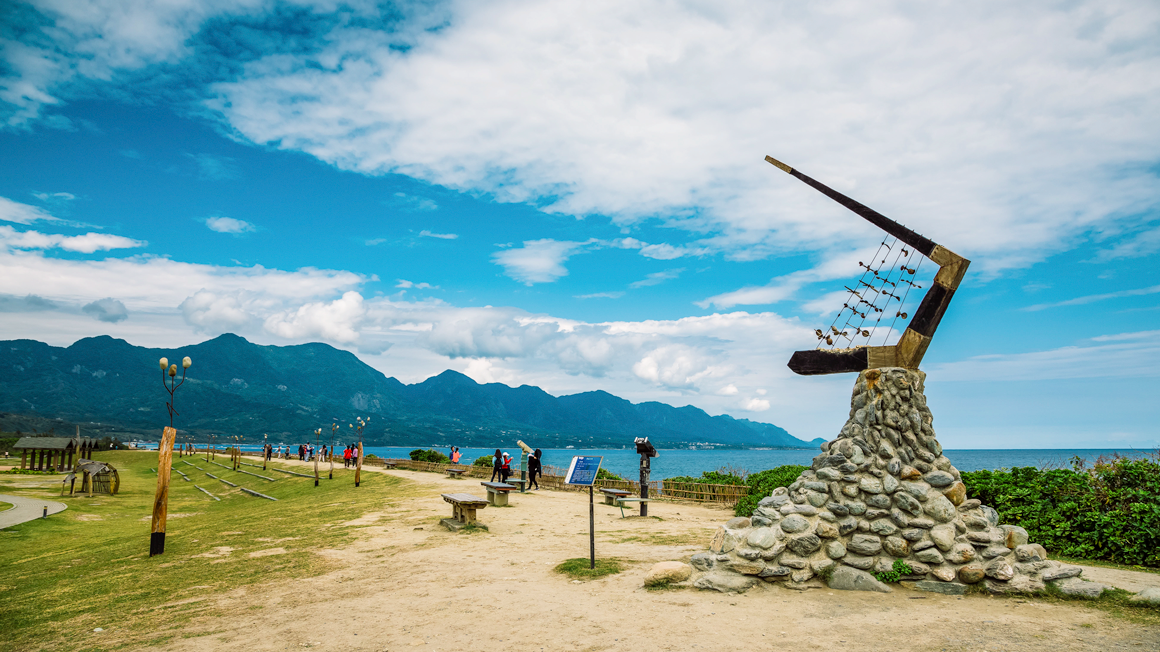 Jiamuzi Bay
Small Jiamuzi Bay is a place of stunning archetypal tropical scenery where the mountainside slopes dramatically right down to the surf. Coconut trees line the narrow beach, and the coral reefs just offshore pop into and out of sight as frothy waves arrive.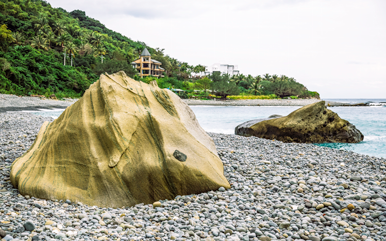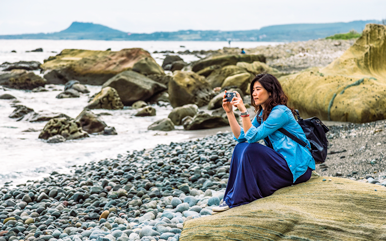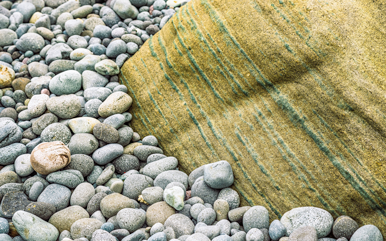 Water Running Upward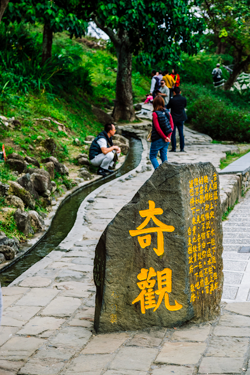 The Water Running Upward attraction is just south of the village of Dulan. This is a long, narrow irrigation channel that runs the mountainside. Tourists view it in a small park just off the coastal highway. The gurgling waters do indeed seem to defy gravity and run uphill, the slope's tilt juxtaposed against that of the nearby road tricking the eye.
Dulan
Dulan village has established a reputation as a little bohemian paradise in the last decade or so. It is one of the East Coast's largest Amis-tribe settlements and attracts many artists and surfing enthusiasts from the "outside world." Locals say this means anywhere beyond the high central mountains that keep the East Coast so quiet, limiting the number of tourists.
The coastal highway does double-duty as the main drag, home to a growing collection of small bars, cafés, eateries, and shops that cater to the surfer/artist crowd. Taiwan's biggest surfing event, the Taiwan Open of Surfing (www.taiwanopenofsurfing.org), is staged not far to the north, at Jinzun Fishing Harbor. It attracts top-tier talent from around the globe.
The sprawling, big-shouldered old Dulan Sugar Factory, at Dulan's southern end, no longer makes sugar. This protected heritage complex is today a creative oasis for local and expatriate artists and craftspeople. There are artist workshops, a cultural-creative boutique, a café, a craft brewery, Taiwanese and Japanese restaurants, a snack-food kiosk, a driftwood stage, and other attractions. The big action happens Saturday night, with free live-music sessions featuring both local (indigenous and Han Chinese) and expatriate talent.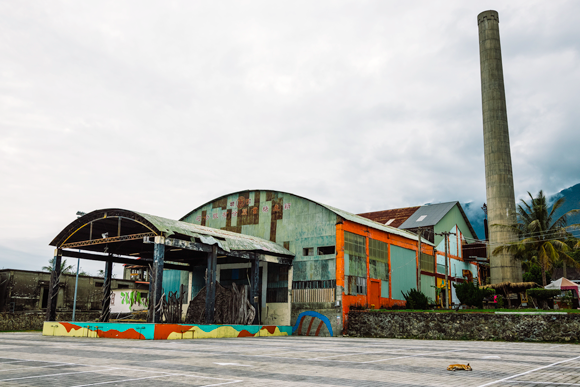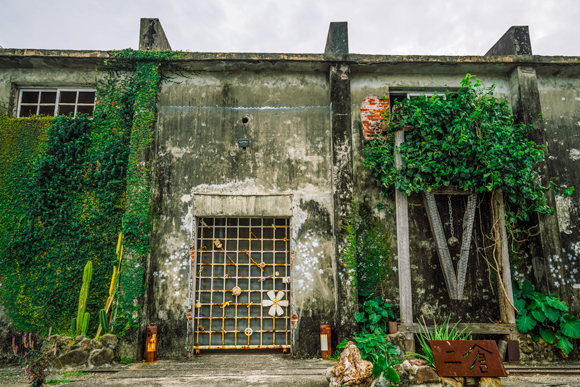 Amis Harvest Festival
The Amis people, Taiwan's largest tribe, are spread throughout Hualien and Taitung counties on the East Coast. Each year villages stage Amis Harvest Festival celebrations in mid/late summer, and Dulan's are among the most elaborate, spanning three days. Taiwan's tribal peoples have been inviting tourists to these gatherings only since the early 2000s. Visitors to Dulan are welcome on the first two days, but the proceedings are more solemn, and photography is discouraged. It is the third day that draws the big crowds, with photography welcome. The colorful three-hour extravaganza kicks off with a grand march into the village recreational ground by members in full traditional regalia, followed by exuberant ritual singing and dancing. The street in front is lined with snack stands, a number selling tribal treats.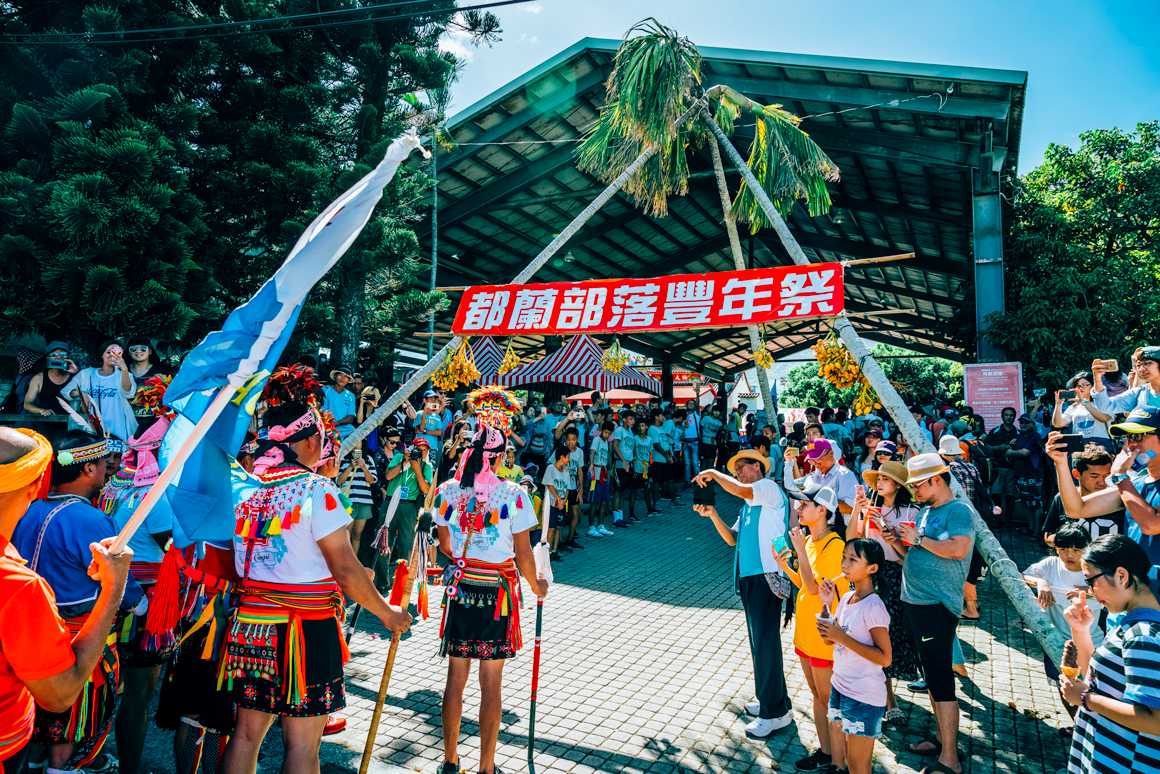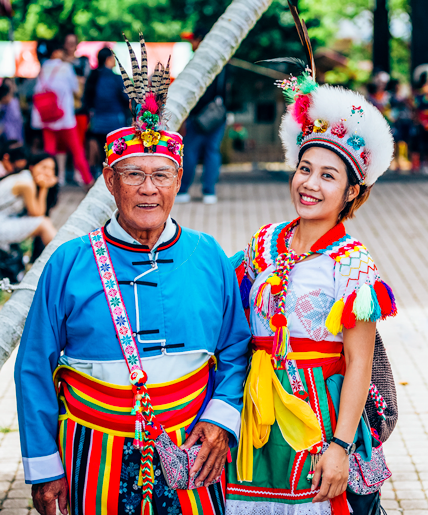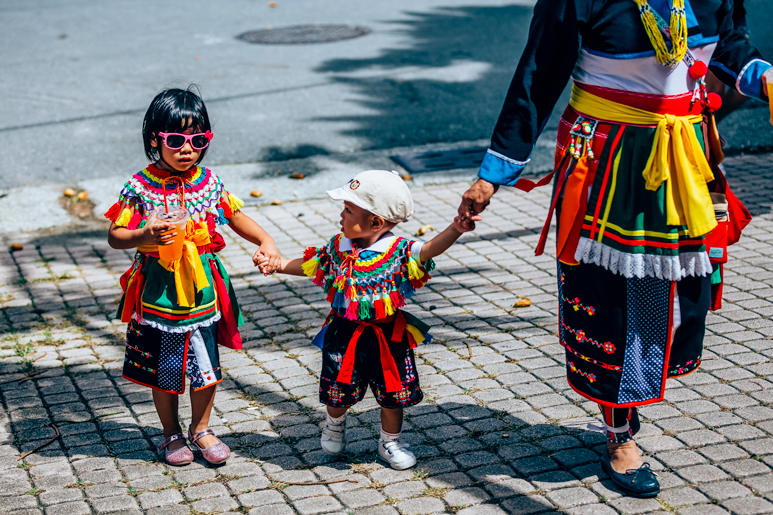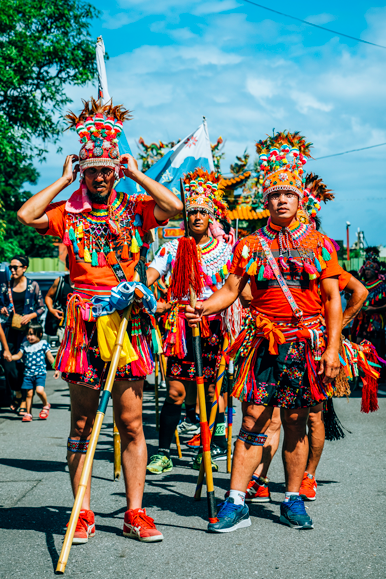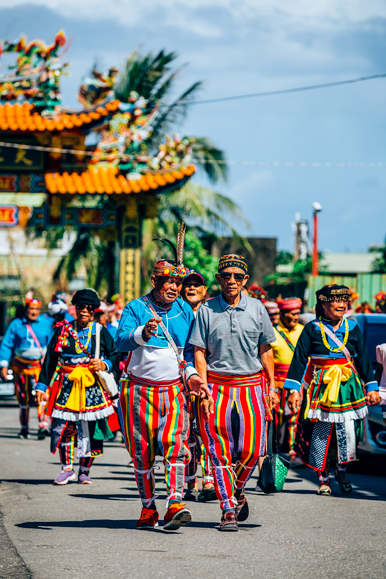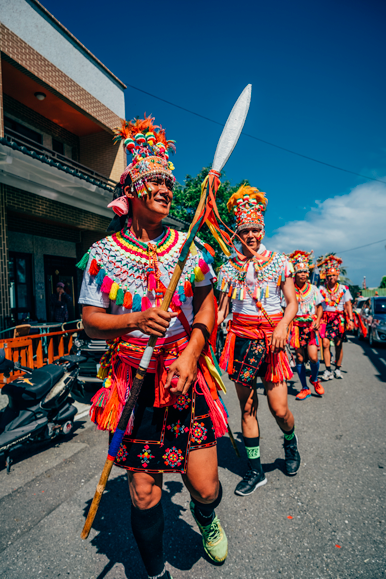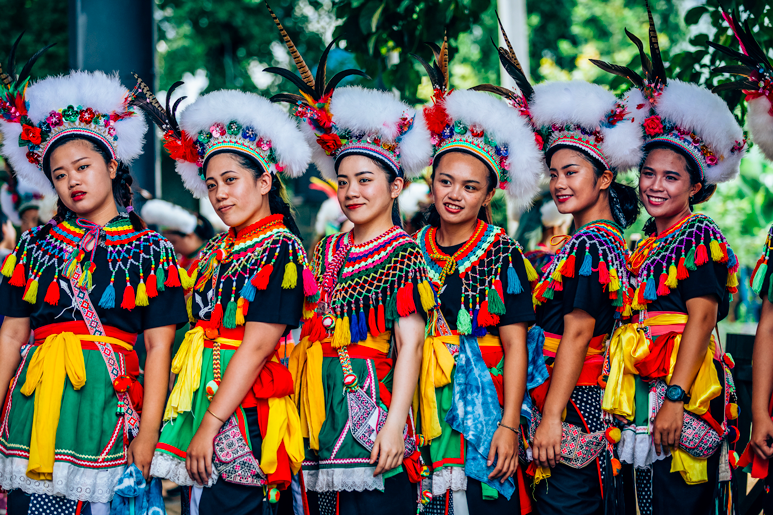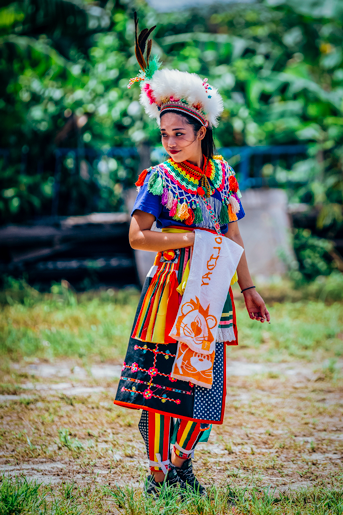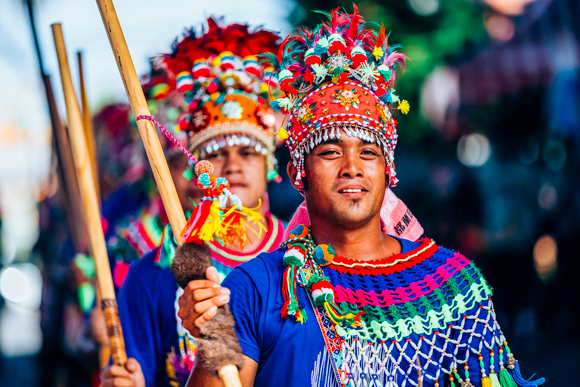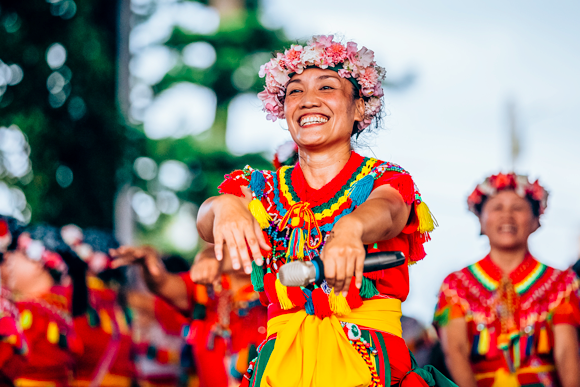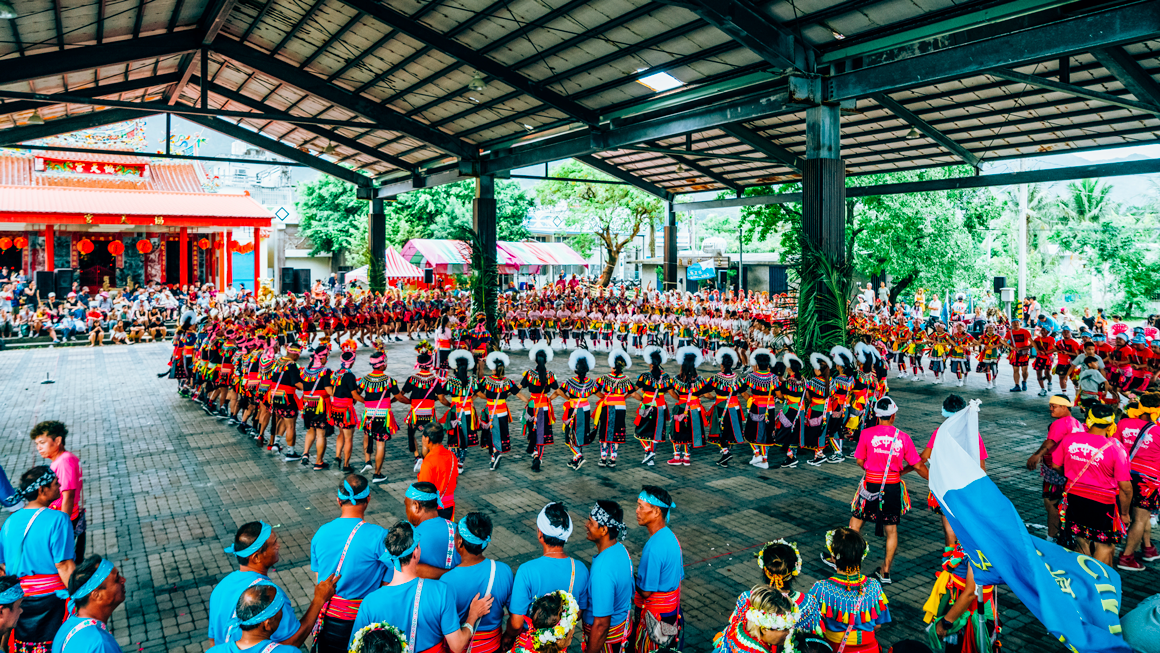 ---
North of the City Up the East Rift Valley
Luanshan
Luanshan is a Bunun-tribe village perched on the lower slopes of Mt. Dulan, a peak in the Coastal Mountain Range's southern reaches. It looks down over bluffs to the floor of the Beinan River, which flows out to sea at Taitung City, and looks across at the Luye Highland, venue for the annual Taiwan International Balloon Festival. Mt. Dulan is sacred to both the Bunun and the Amis; the west side is traditional Bunun land, and the east side, Dulan village at its base, is traditional Amis land.
The Luanshan Bunun invite outsiders on guided ecology/culture experience tours (a fee is charged) on their lands, referred to as an "open-air forest museum." Travel in Taiwan chose the forest walk with traditional Bunun feast (9am~2pm; if no feast, the activity ends at noon). On the walk, our guide, dressed in traditional warrior garb, explained the local tribal history, medicinal, dye, and other useful plants, the village's ongoing forest-protection efforts, and much more. We also visited a magnificent sacred grove of giant banyan trees, some 1,000-plus years young. Before sitting down to what was truly a chief's feast we were regaled with songs of greeting, plus harvest, hunting, and courting songs, and given an archery lesson using traditional-style bows.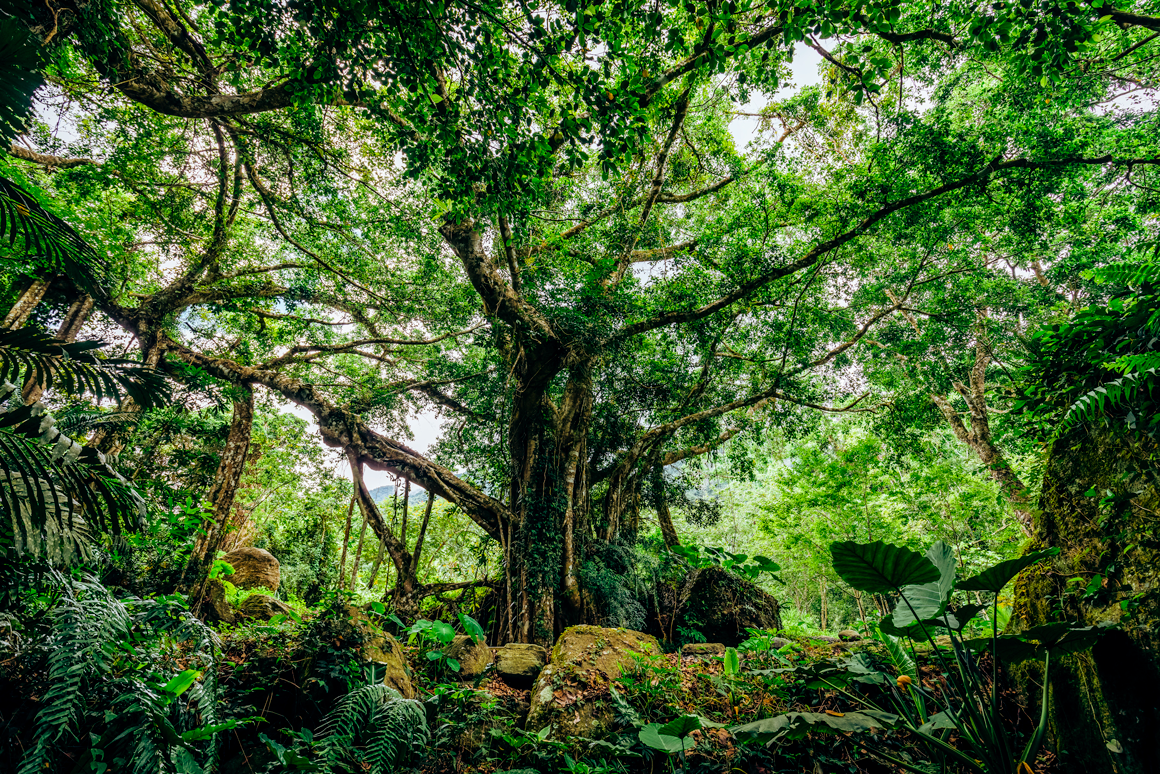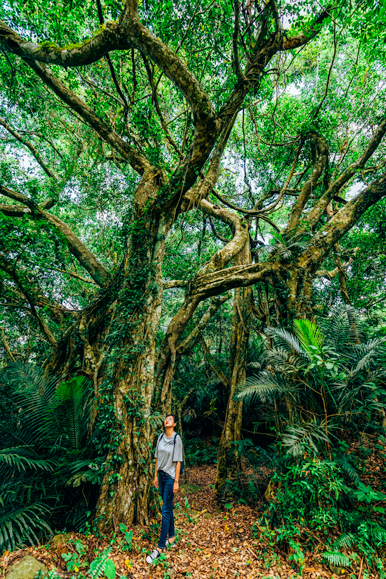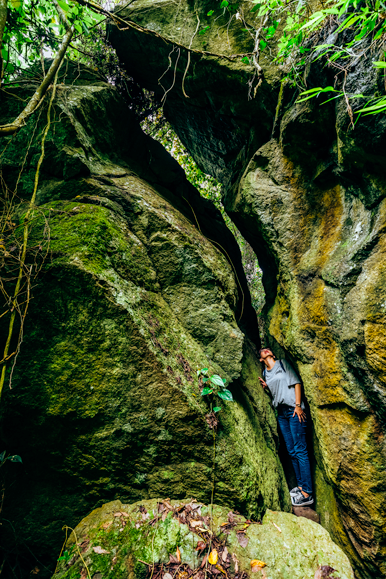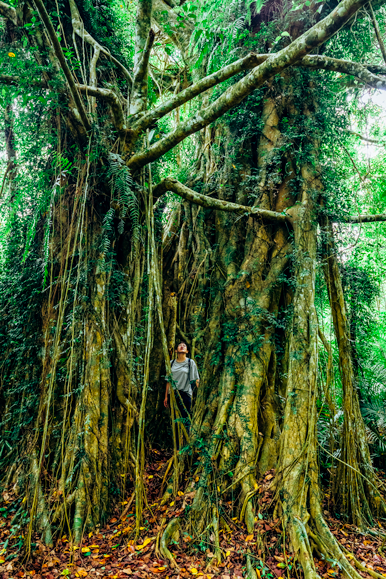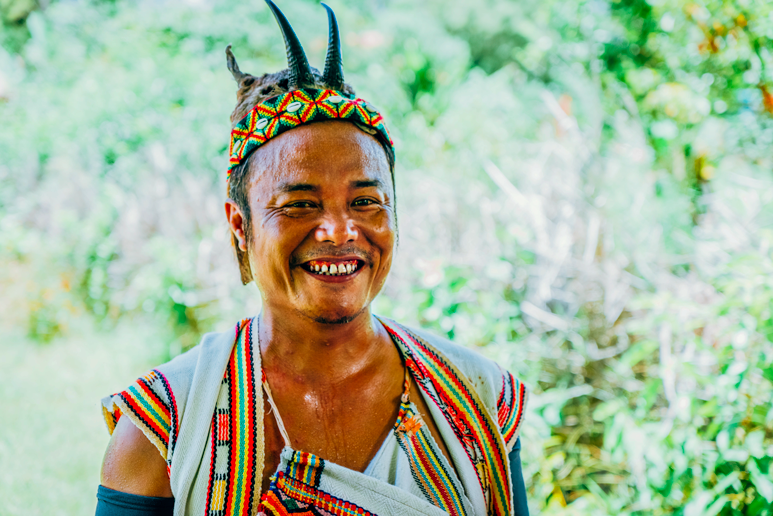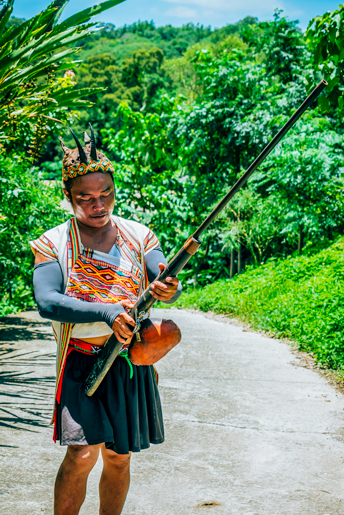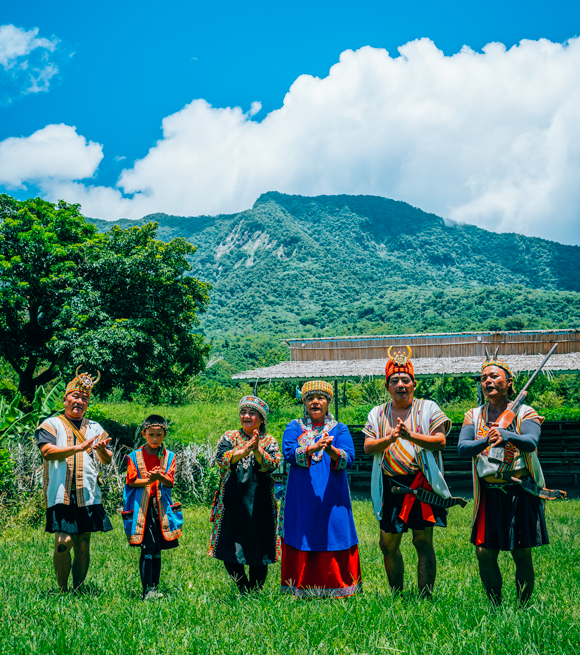 Taiwan International Balloon Festival
This summertime event has become one of Taiwan's most popular annual festivals in recent years. It's staged on the Luye Highland, in a district also known for tea farms. The US-based Travel Channel has praised this jubilee as one of "12 Amazing Hot Air Balloon Festivals Around the World." Visitors can take flights in the colorful works of art, and there are also outdoor evening concerts, projection-mapping spectacles, and dancing-water shows. The 2018 lineup of novelty balloons, a key festival draw, included Stuart the Minion, Noah's Ark, Christ the Redeemer, and the house from the movie Up. Hot-air balloons are also flown at the site throughout the rest of the year, weather permitting. For more about the festival, visit balloontaiwan.taitung.gov.tw.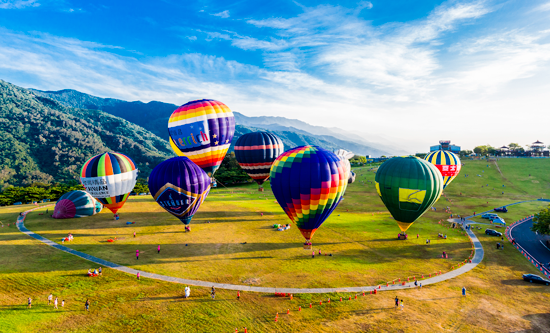 Taiwan East Coast Land Arts Festival
This annual festival, first held in 2015, celebrates the region's magnificent scenery and the rich cultural and artistic traditions of its tribal peoples. Artists from around Taiwan and lands around the globe are invited to create on-site installation artworks symbolizing aspects of the lives and characters of the peoples of eastern Taiwan. Each must at the same time blend in with the surrounding natural environment. Selected artists take part in the Artist-in-Residence Program, residing for months in different villages getting to know the people and the land. Other highlights include the Moonlight Sea Concert series, Open Art Studio events, Creative Art Markets, and Artist Mini Tour weekend guided tours. For more info, visit www.teclandart.tw.

Chishang
The East Rift Valley's flat terrain and painting-like scenery makes it a popular leisure-cycling destination, with many routes to choose from. Two of the most popular are at the towns of Chishang and Guanshan, located close to each other. The long loop routes, almost entirely free of vehicle traffic, bring you into picturesque paddy-field tapestries interlaced with networks of gurgling-water irrigation channels, and to many sites of historical and/or cultural interest. There are numerous bike-rental outlets around the starting points, located at the edge of each respective town. Most biking needs will be satisfied, up to pedal bikes for four people and e-carts for six.
Bolang Dadao ("Brown Avenue")
Just outside of Chishang town, on the cycling loop, is one of the rift valley's most photographed roads, Bolang Dadao ("Brown Avenue"), made famous in a Mr. Brown Coffee commercial and an EVA Air commercial starring Japanese-Taiwanese pop-idol heartthrob Takeshi Kaneshiro.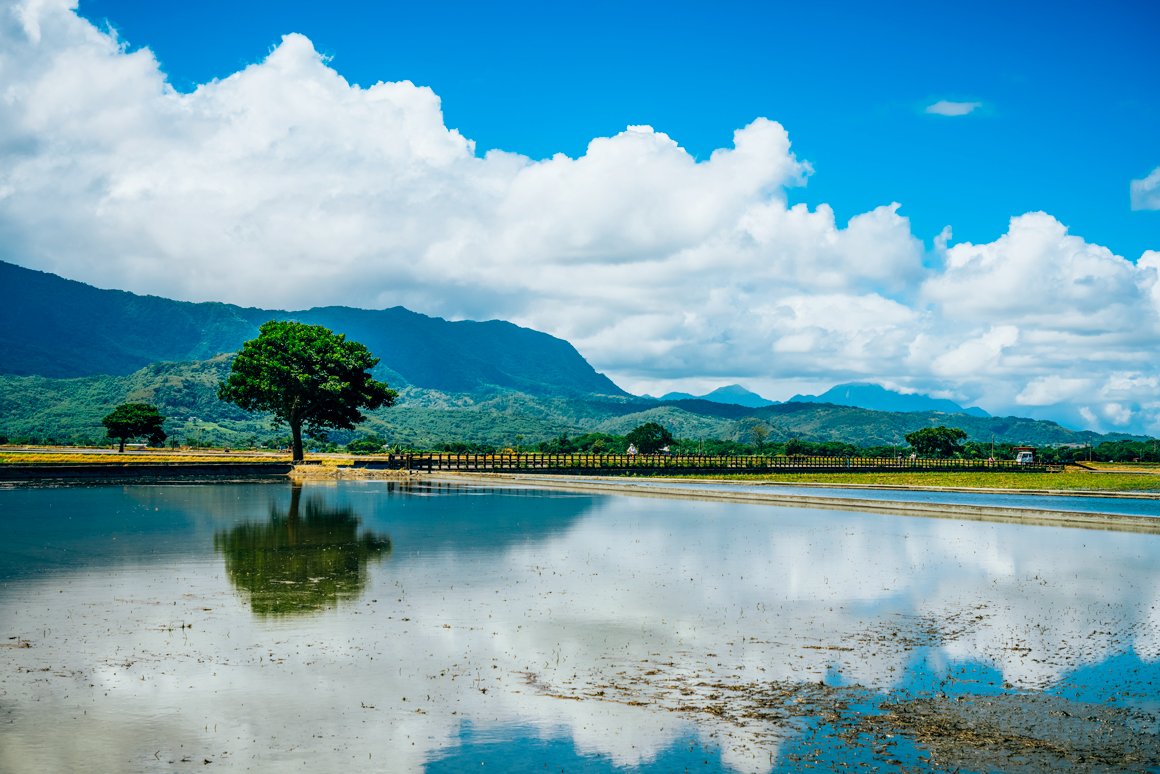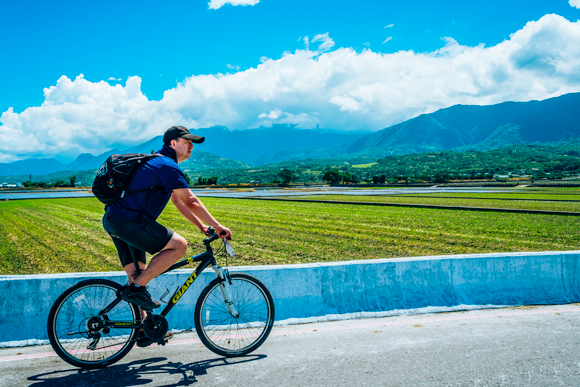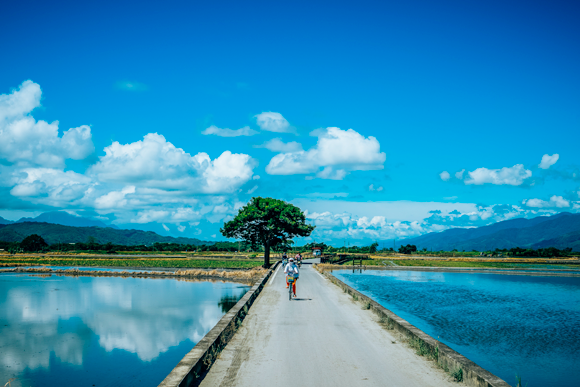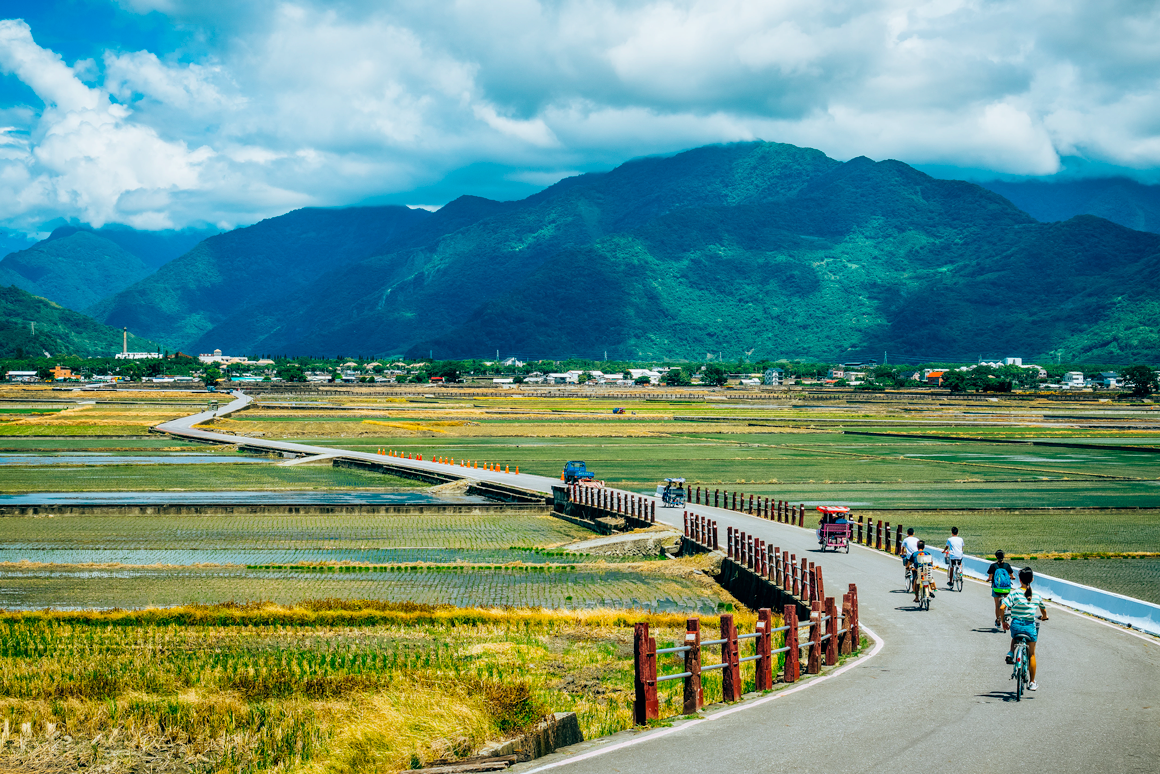 Watch the EVA commercial with Takeshi Kanehiro here (the scenes at Chishang start at the 00:50 min. mark):
Dapo Lake
The loop also takes you around small Dapo Lake, directly east/southeast of the town. "Chishang" literally means "on the lake." The tree-surrounded body of water is at the end of the suggested cycle route, and is a pleasant oasis at which to cool off after all your pedaling.
This lake was over twice its present size in the 19th century. Early residents caught small fish and shrimp in this natural wetland, using them with the local rice to make tasty "Chishang rice dumplings" that were sold to passing travelers. Many of today's local biandang (see below) sellers include these treats in their offerings, though the fish and shrimp now come from elsewhere.
You have two options for getting right out onto the lake, renting a pedal boat or a raft. With the rafts, which have sun-protection roofs, you do your own paddling. You're also provided with a long bamboo pole that will enable you to push the raft, gondolier-style, into the thick forest of lotus plants on the lake's east side. Dapo Lake was long used for lotus and water chestnut cultivation.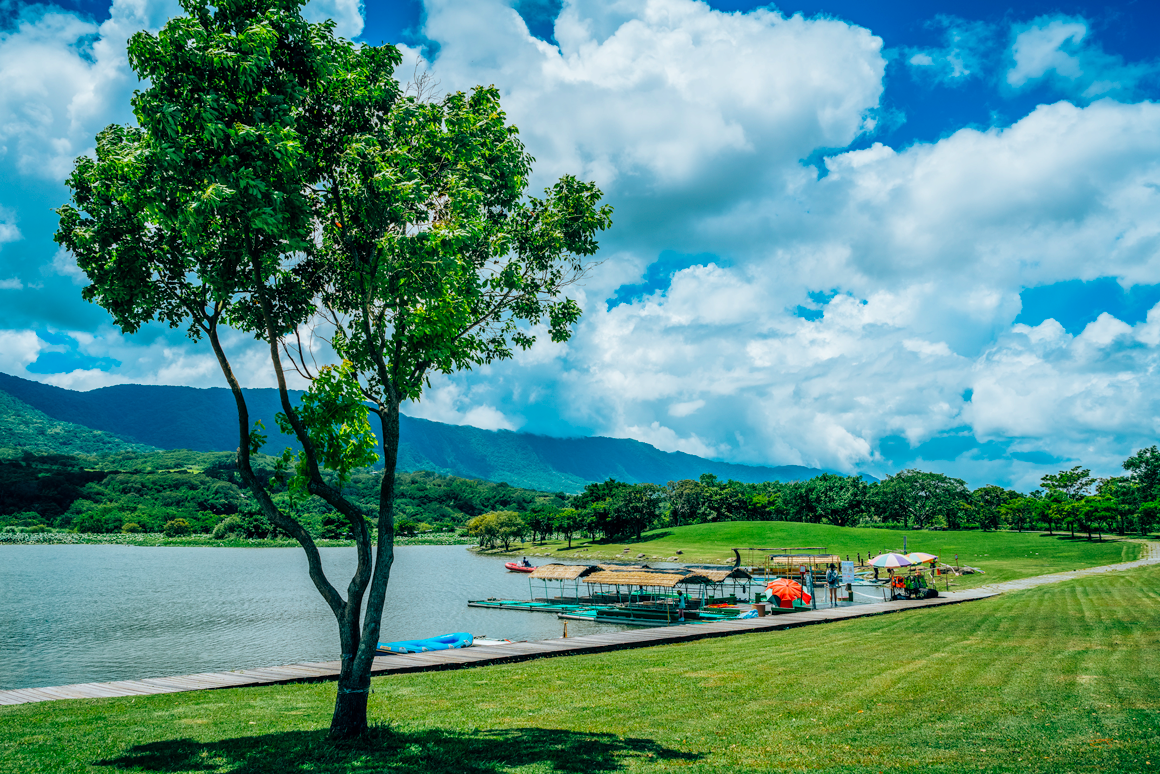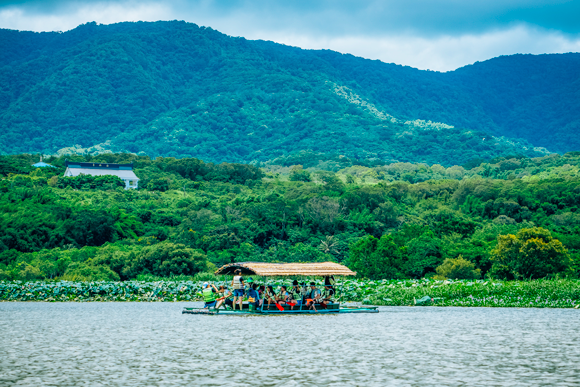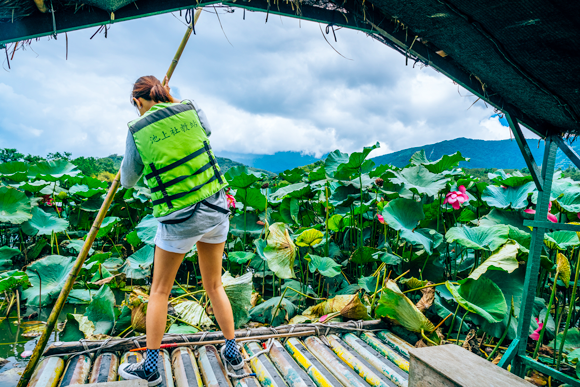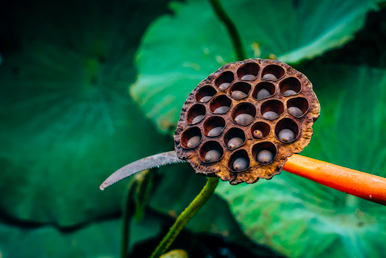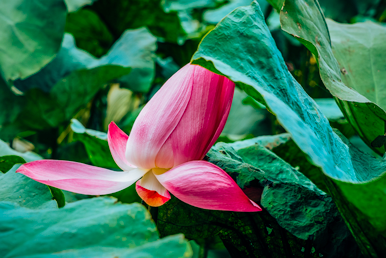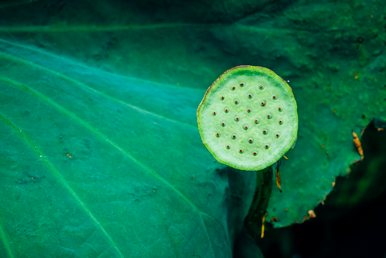 Chishang Riceball Museum
Many Taiwanese swear that Chishang-area rice is Taiwan's best, and around the island you'll see signs above small eateries proclaiming Chishang Biandang. Biandang is the Mandarin Chinese rendering of the Japanese bento, or boxed lunch; the use of Chishang is a promise that Taiwan's best rice has been used as your boxed-lunch bed. Two main reasons are given for Chishang's rice quality: the pure, mineral-rich waters from the central mountains distributed by the local irrigation-channel system, and the region's superior soil, created via silting from two young mountain systems that have sprung up "fresh from the sea," in geological terms, on the east and west sides.
Near the aforementioned bike-rental operations is the iconic Chishang Riceball Museum, which is in fact a restaurant-cum-museum. The old blue-painted railway cars outside the large two-story wood-façade facility make finding this spot a cinch. The museum/restaurant interior is stuffed with old-time farm-country memorabilia.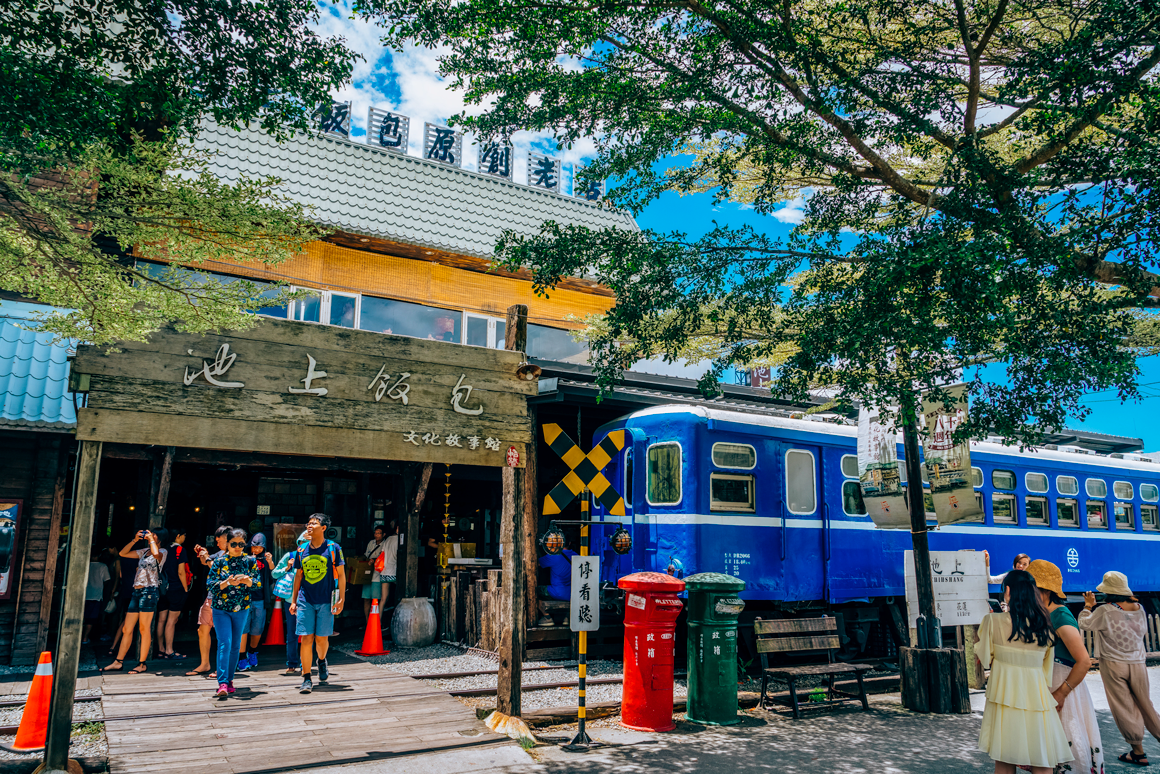 Explanation for the passenger carriages parked out front: During Taiwan's period of Japanese rule, Chishang rice was sent to the Japanese emperor as tribute. Building on this quality, Chishang bento/biandang were developed, which were sold from the local train-station platform to passengers on passing trains – a practice followed around the island. Chishang biandang is the specialty at Chishang Riceball Museum, and the carriages are "outdoor" dining spaces. Each biandang typically contains, at a minimum, a chicken leg (or pork cutlet or fish), a sausage, a soy-stewed egg and beancurd, pickled cabbage, and rice.
Explanation for "riceball" in the museum name: In days past, people would often bring what was called a "riceball" to work for lunch. This was rice, stuffed with such goodies as meat chunks and pickled vegetables, that was usually wrapped in a banana leaf.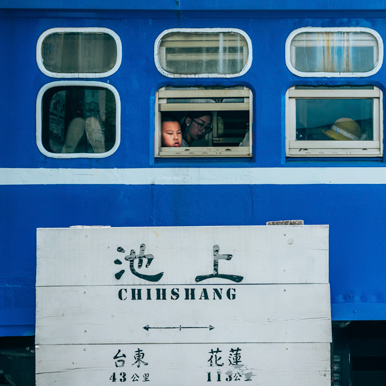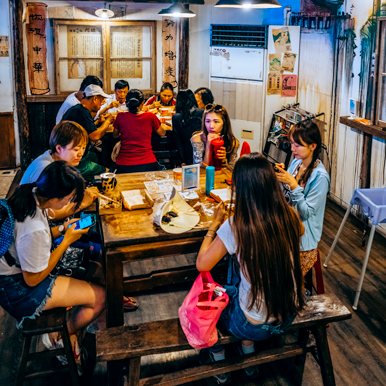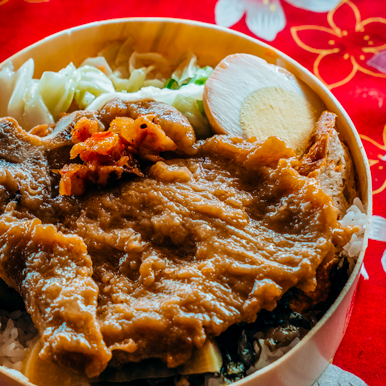 Chishang Riceball Museum (池上飯包文化故事館)
Add: No. 259, Zhongxiao Rd., Chishang Township, Taitung County
(台東縣池上鄉忠孝路259號)
Tel: (089) 862-326
Website: www.wu-tau.com/gallery.php; Chinese
No. 9 Gourmet Coffee
My gourmand vote for best coffees in the rift valley goes to Chishang's No. 9 Gourmet Coffee. The "9" comes from "Provincial Highway No. 9," and the café is in the very first building as you enter Chishang from the north along said highway. The husband in the owner-duo is an interior designer, and he has let his creative juices flow in his pet project. Enter via a boardwalk over a mini-wetland pond into a quiet oasis of red-brick walls, exposed piping, coffee roasting/grinding machinery, and global-explorer decorations. The various coffees are artworks in themselves, and tasty food treats such as fresh-made waffles and pizza are on the menu. The rooftop-terrace seating gives you an invigorating valley panorama.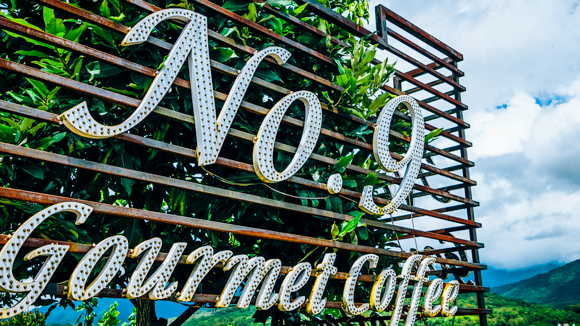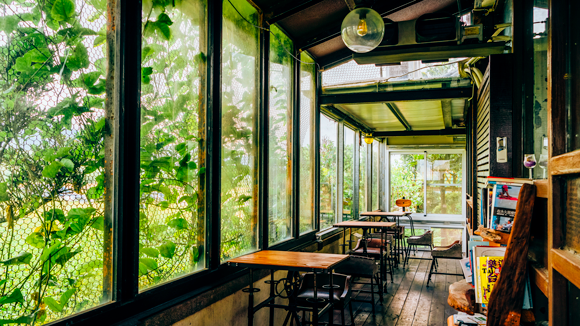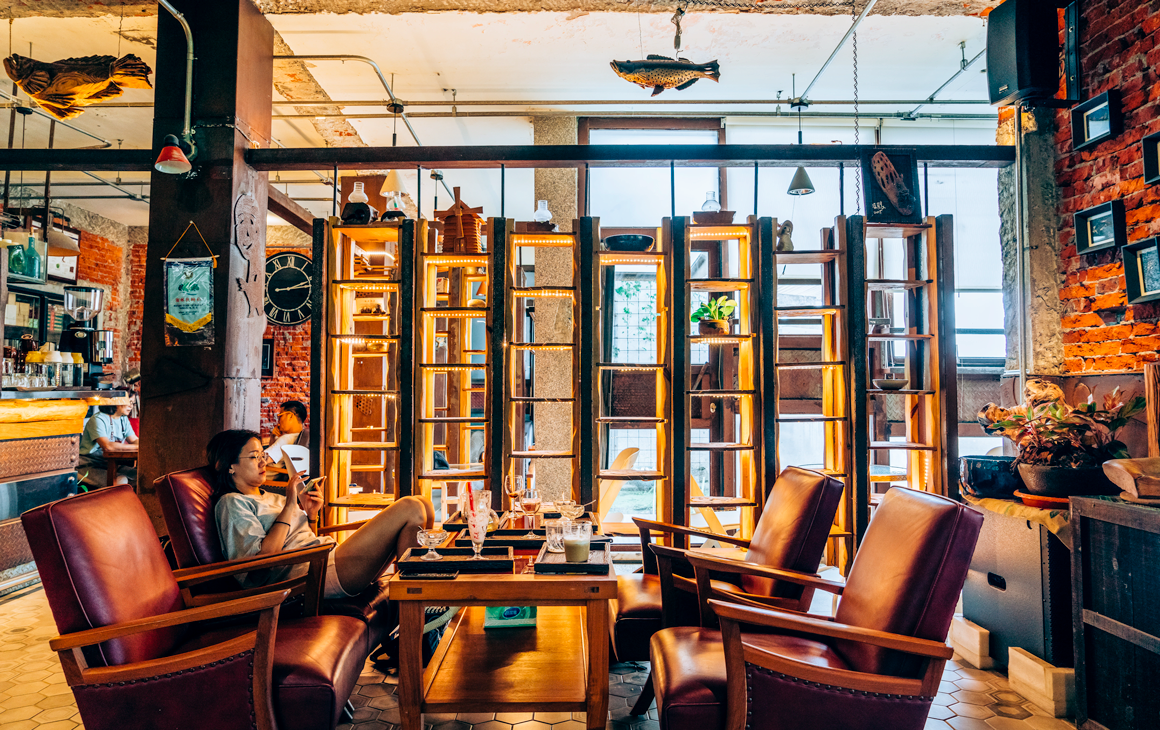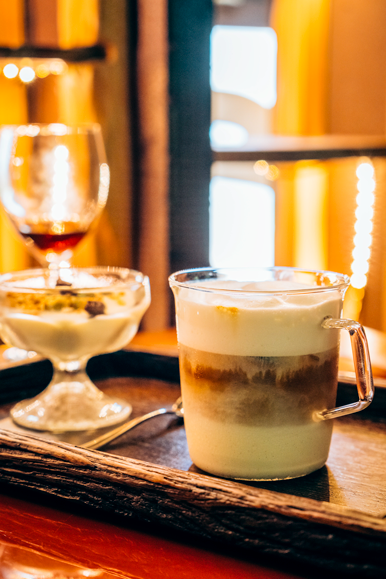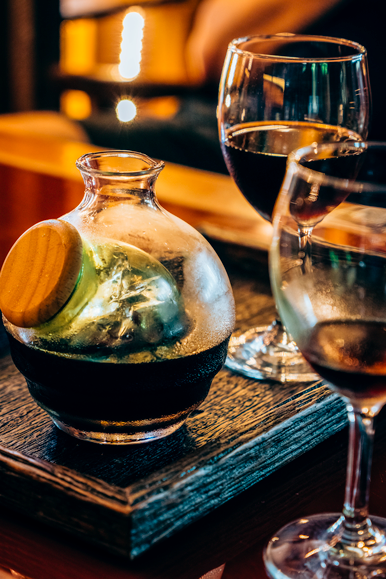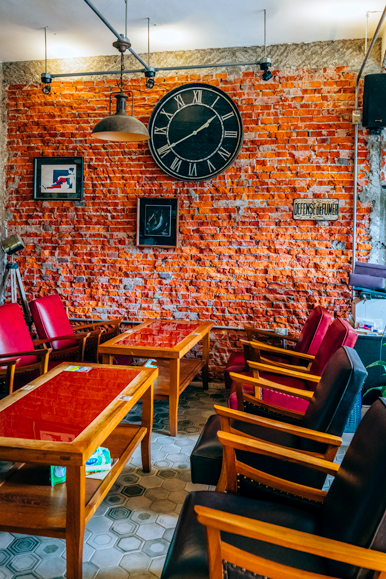 No. 9 Gourmet Coffee (池上鄉九號咖啡館)
Add: No. 56, Neighborhood 6, Qingfeng Village, Chishang Township, Taitung County
(台東縣池上鄉慶豐村6鄰56號)
Tel: (089) 862-035
Website: no9.verytop.tw
---
Accommodation
On this trip we stayed at the Papago International Resort in Chishang.
Read about the hotel here: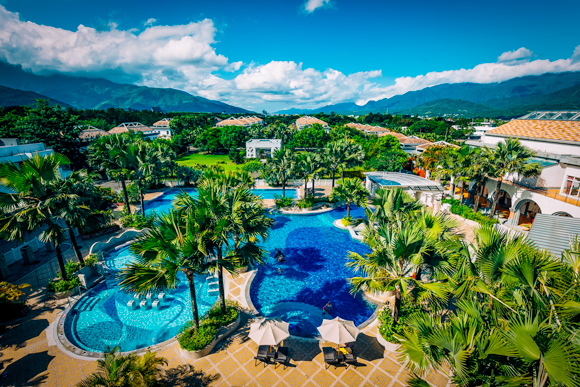 Getting To/Around Taitung
There are numerous daily Taipei-Taitung flights (45 minutes one way), and regular rail service to/from Taipei, the fastest trains taking just 3.5 hours. Quality car-rental chain outlets are located outside the Taitung Railway Station, along with scooter-rental enterprises. For those not self-driving, note that the Taiwan Tourist Shuttle service will get you right to, or close to, almost all of the places we've introduced (www.taiwantrip.com.tw).
---
Also read
TAITUNG Train Ride — Lovely Countryside!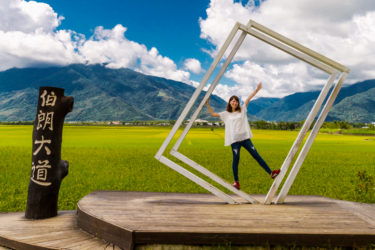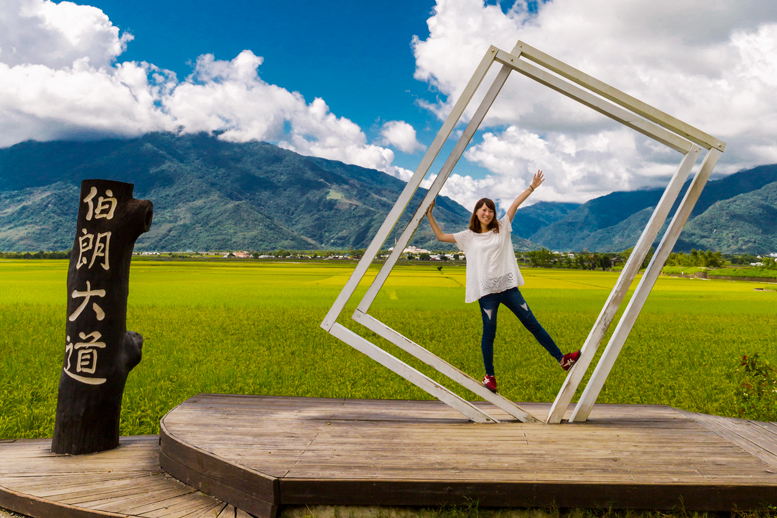 Biking in GUANSHAN, Taitung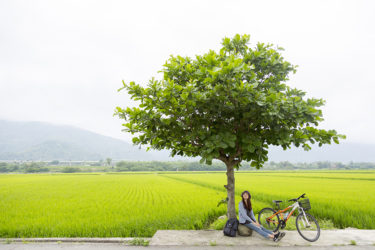 Further reading on other sites:
[Urban Exploration] Synapticism:
Dongxing Theater 東興大戲院
[The Beautiful Island] Polish Girl in Taiwan:
Dulan Forest – Archeological Site and Sugar Factory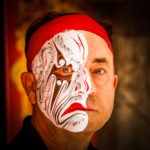 A Canadian, Rick has been resident in Taiwan almost continually since 1988. His book, article, and other writings, on Asian and North American destinations and subjects—encompassing travel, culture, history, business/economics—have been published widely overseas and in Taiwan. He has worked with National Geographic, Michelin, APA Insight Guides, and other Western groups internationally, and with many local publishers and central/city/county government bodies in Taiwan. Rick also handles a wide range of editorial and translation (from Mandarin Chinese) projects.