Take a Taiwan Cruise … On Railway Tracks!
TEXT / RICK CHARETTE
PHOTOS / CHEN CHENG-KUO

Traveling by train – for work, personal matters, and pleasure – has long been an intrinsic part of Taiwan life. In recent years something new, the concept of "cruise-style rail travel," has taken firm root. If full-package "let us do the driving" island touring sounds like your kind of thing, grab yourself a coffee or tea, sit yourself down with this article in hand, and let us tell you all about it.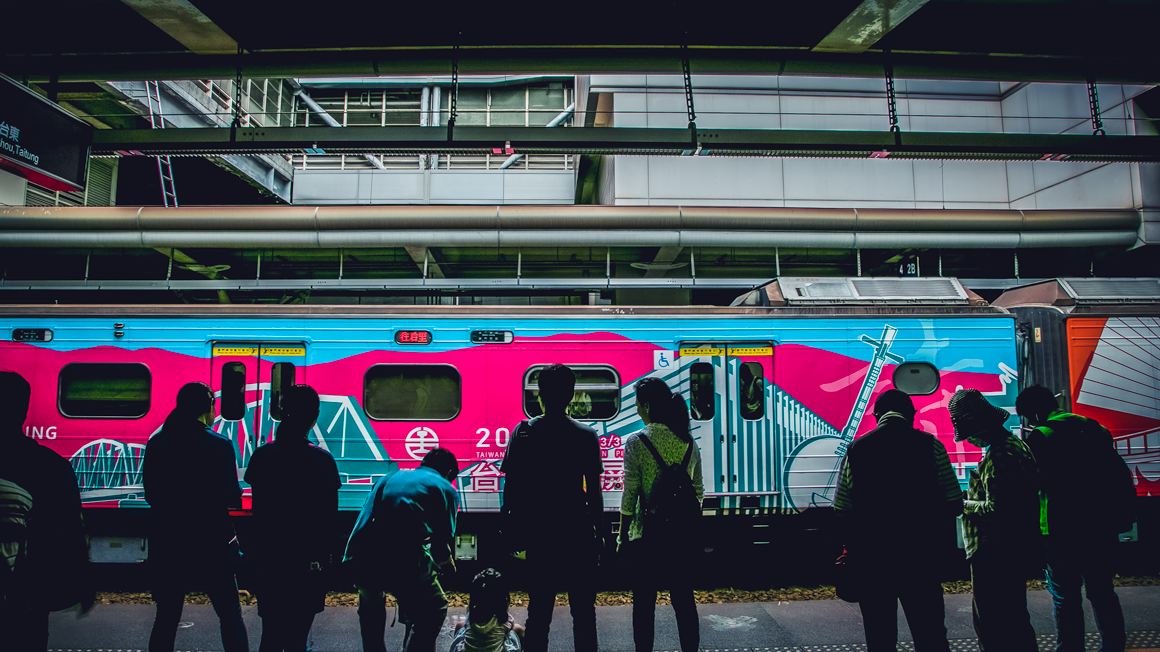 The people of Taiwan enjoy a comprehensive, first-class rail transportation network, encompassing regular rail, high-speed rail, mass rapid transit (metro), and narrow-gauge tourism-oriented branch line services, and make enthusiastic use of it. In rural areas, especially along the less densely populated East Coast region, the regular-rail facilities are used both by locals and self-help travelers much in the same way as a bus service.
In 2010, the Taiwan Railways Administration (TRA), operator of the regular-rail and branch line services, imported a new travel concept: cruise-style rail tours. The rail-cruise experiments rolled out were a hit, and the program has grown steadily since.
Two of the TRA's prime goals in introducing the land-cruise excursions were promotion of the relaxed "slow travel" lifestyle with the Taiwan public and the generation of more people-traffic at lesser-used rail stations, with concomitant increased opportunity for station-vicinity businesses. The popularity of the program and gradually expanding number of outings developed means that major, secondary, and true "off the beaten track" destinations are now packaged together, providing a unique and rewarding holistic view into Taiwan life for travelers from overseas.
The seamless package trips include transportation, accommodation, and food. Save yourself all the planning hassles and other bothers involved in getting yourself to so many places in one trip. All you have to do is show up at the launch station, and at the end of the adventure you are delivered right back at the same spot.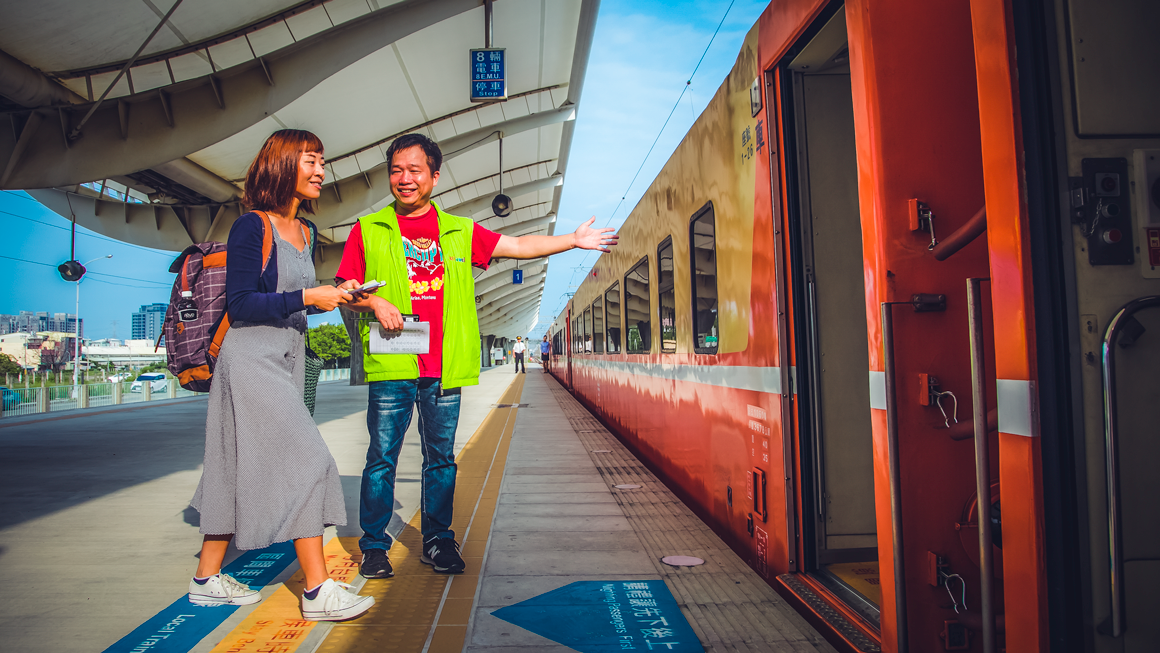 A few years ago the TRA commissioned EZ Travel to design its budget-friendly cruise-train itineraries and run the actual tours. Established in 2000, EZ Travel is today one of Taiwan's leading travel agencies, both in quality and size, and the recognized leader in handling rail trips. It's long been known for expertise in customized leisure and corporate trips, as well as for its round-island outings.
To give readers a full picture of what one of these cruises is like, a Travel in Taiwan team recently joined a 2-day weekend adventure showcasing the South Link Line, the southernmost section of Taiwan's round-island railway loop, between the cities of Kaohsiung in the west and Taitung in the east.
The cruise served up scenic, cultural, hot-spring, and railway-related enjoyments. The keystones of the non-stop scenic attractions were the beautiful coastlines along the Taiwan Strait and Pacific Ocean, the rugged and nigh-empty southern mountains, and the Zhiben Forest Recreation Area. The key cultural foci were southern small-town life and the region's artistic life, including the worldview of local indigenous artists. Taiwan's beloved hot-spring culture was explored with time spent in the celebrated Zhiben Hot Springs resort area, with accommodation at its premier hotel. Rail buffs were especially enthralled with the bonus features exclusive to EZ Travel's dedicated cruise trains, including a photo-opp stop at a mountain station not visited by regular trains, a long 25kph roll along an especially grand Pacific-side section of track, and special traditional-style railway biandang (boxed lunches).
Taichung Launch & Kaohsiung Museum of Arts
Our cruise began with embarking on a dedicated train at Taichung's Xinwuri Railway Station. Cruise-trippers could board at any TRA station between Taichung and Kaohsiung's Xinzuoying Railway Station. South of Taichung the countryside opens up, our land-cruiser rolling through neat fields of paddy rice and colorful fruits and vegetables. In the background we could spot the jagged peaks of the central mountains, soaring ever higher toward the east.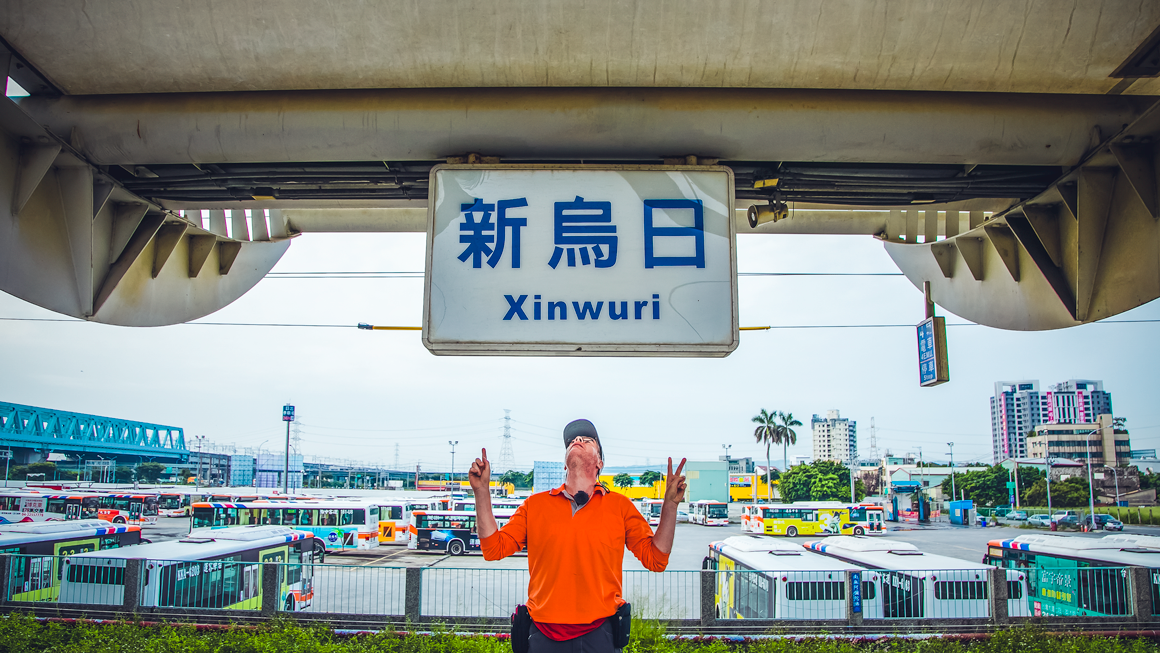 The fun began in earnest on our Kaohsiung approach. The dedicated guide for our carriage formally introduced the trip, our group-travel rules, and our first sightseeing stop – the Kaohsiung Museum of Fine Arts (KMFA; ammpc.kmfa.gov.tw). At Kaohsiung's Xinzuoying Railway Station the EZ Travel crew escorted us on a platform transfer and 3-stop ride by local commuter train to the Museum of Fine Arts Railway Station.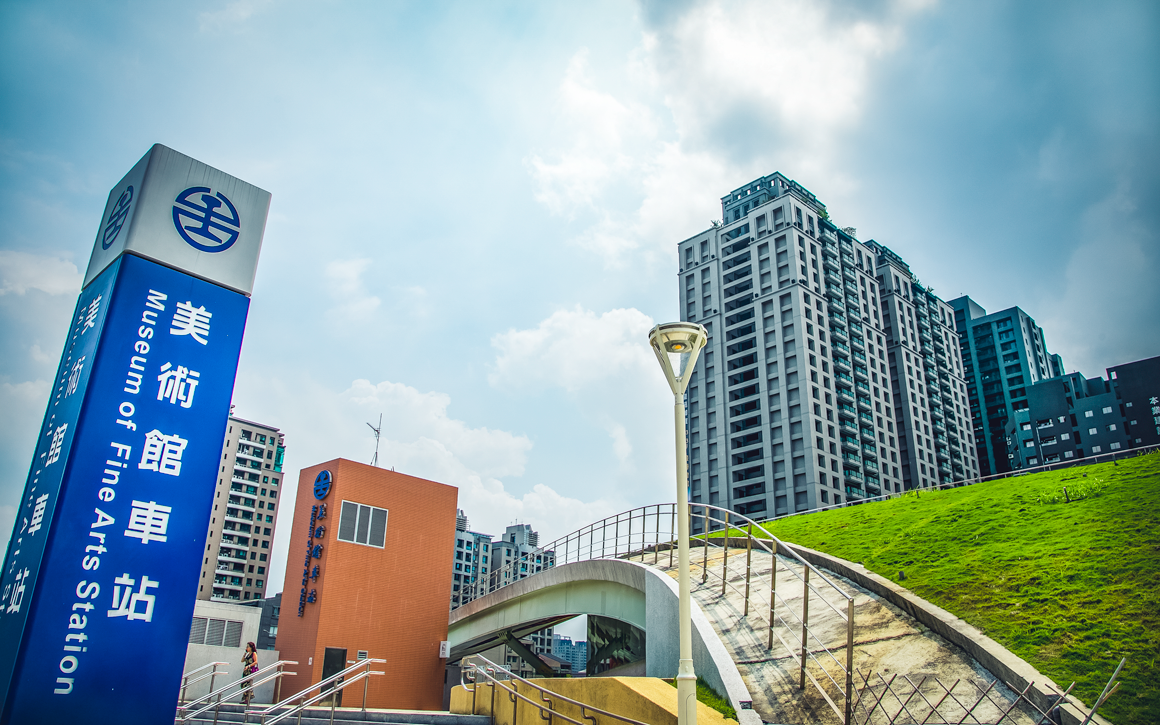 The KMFA is in 40ha Neiwipi Cultural Park, once the site of a large wetland and irrigation ponds. Among the park's other attractions are the Children's Art Museum, Sculpture Park, Ecology Park, and Austronesian Cultural Area. Walk the beautifully landscaped grounds, along the large, tranquil lake and pathways lined with Madagascar Almond trees, inspecting some of the 37 large-scale installation sculptures, which have English introductions.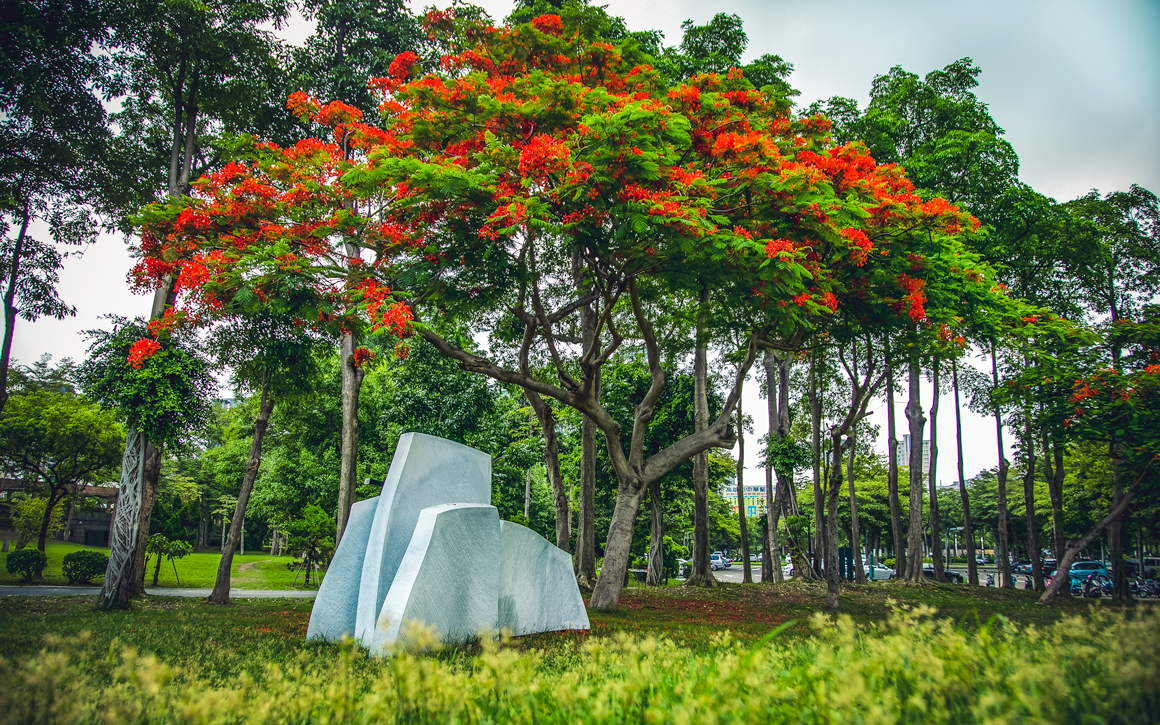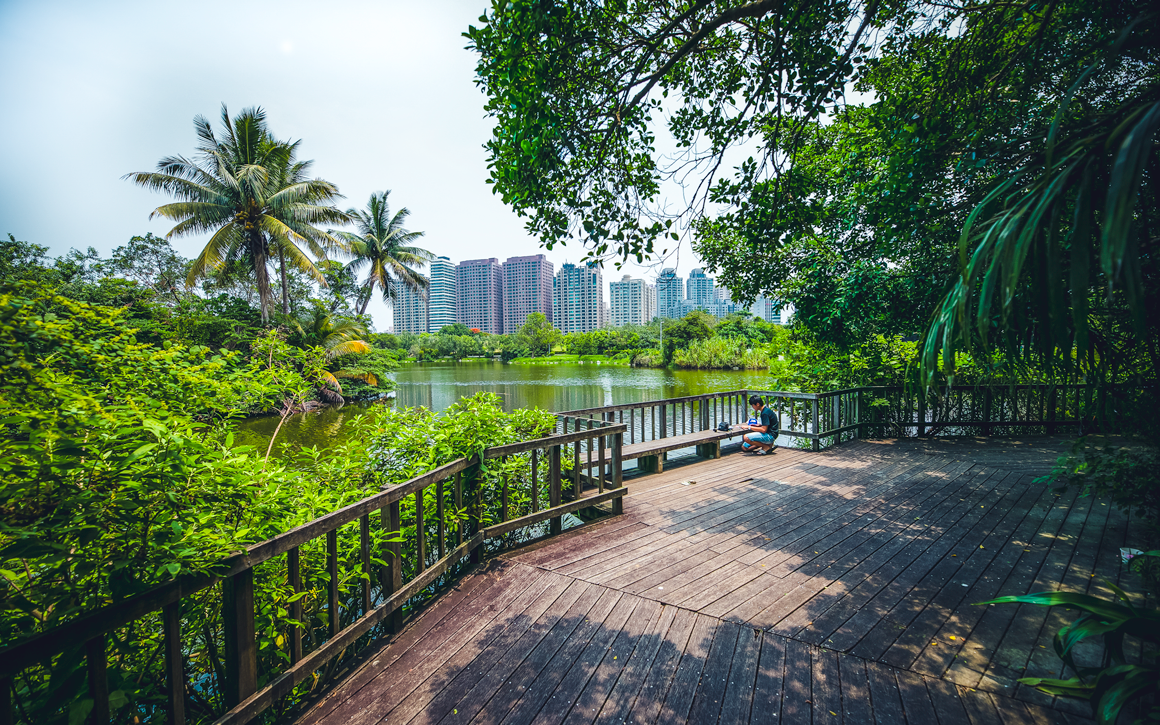 The 4-story museum primarily celebrates contemporary works by Taiwanese artists, with a strong focus on creations by artists from the south, including indigenous artists. At the facility's core is the Sculpture Hall, entered from the spacious first-floor lobby, which soars four stories high and is topped with a large skylight, draping the artworks in natural lighting.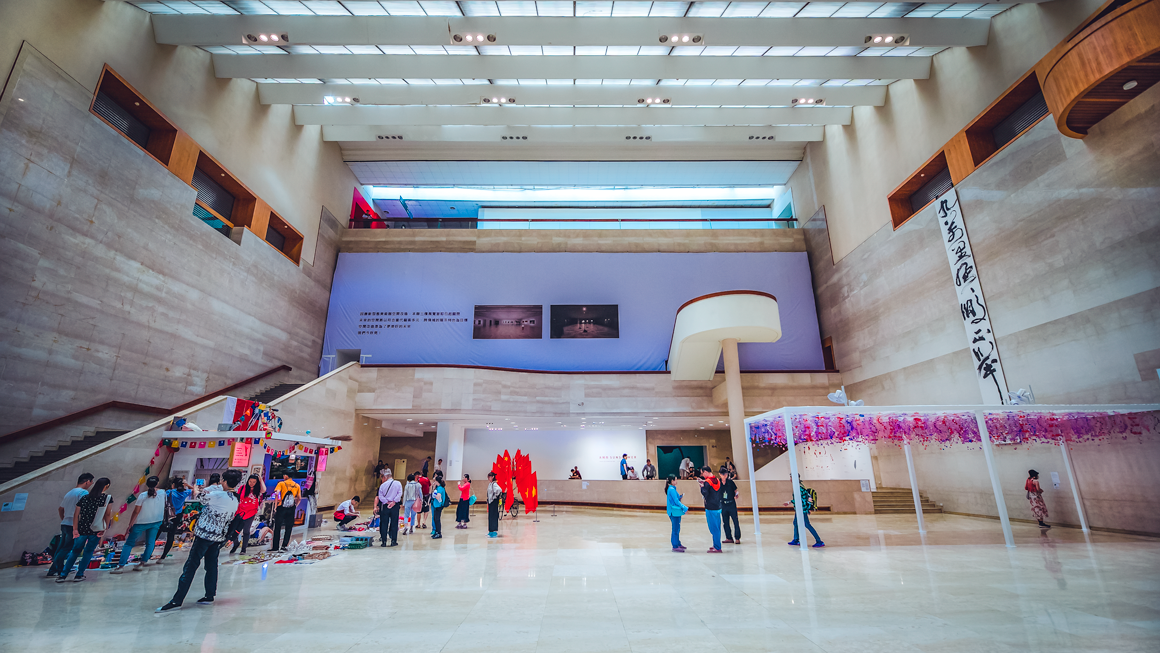 South Link Line
Taiwan's first rail line, connecting Taipei and Keelung, was built in the late Qing Dynasty by Taiwan's governor. The Japanese built much of today's network when they ruled Taiwan from 1895 to 1945. Round-the-island rail travel only became possible in 1991, when the South Link Line was opened. This made east-west travel much easier for residents of the island's southern half, and presented a fresh exploit for rail-travel enthusiasts, taking you quickly from the azures of the Taiwan Strait through rugged, largely unsettled mid-height mountains – via many a tunnel – to the inshore marble-green and offshore steel-blue waters of the Pacific side. The line officially extends from Fangliao town, south of Kaohsiung, to Taitung City, but most travelers begin/end their trips in Kaohsiung.
Down the Coast from Kaohsiung, Across the Mountains, and Up the Coast to Zhiben
South of Kaohsiung, as the train moved through more luxuriant farmland the central mountains and sparkling Taiwan Strait started to close in on one another. Not far south of Fangliao town, a Day 2 stop to be introduced later, they met. The train jumped from the plain to hug mountainside above the rocky coast. The panorama was striking, large Little Liuqiu island out in the strait, Kaohsiung's skyscraper cluster looking like a miniature model-set to the north. After a few minutes came a turn inward for the cross-mountain run.
The many tunnels mean this region's sparsely populated low mountains are conquered quickly. A special scenic stop was made at Fangye, a traffic-control signal station not visited by regular trains. Westbound trains burst from the mountain-base tunnel beside the station, the South Link Line's highest, making for thrill-inducing head-on photos.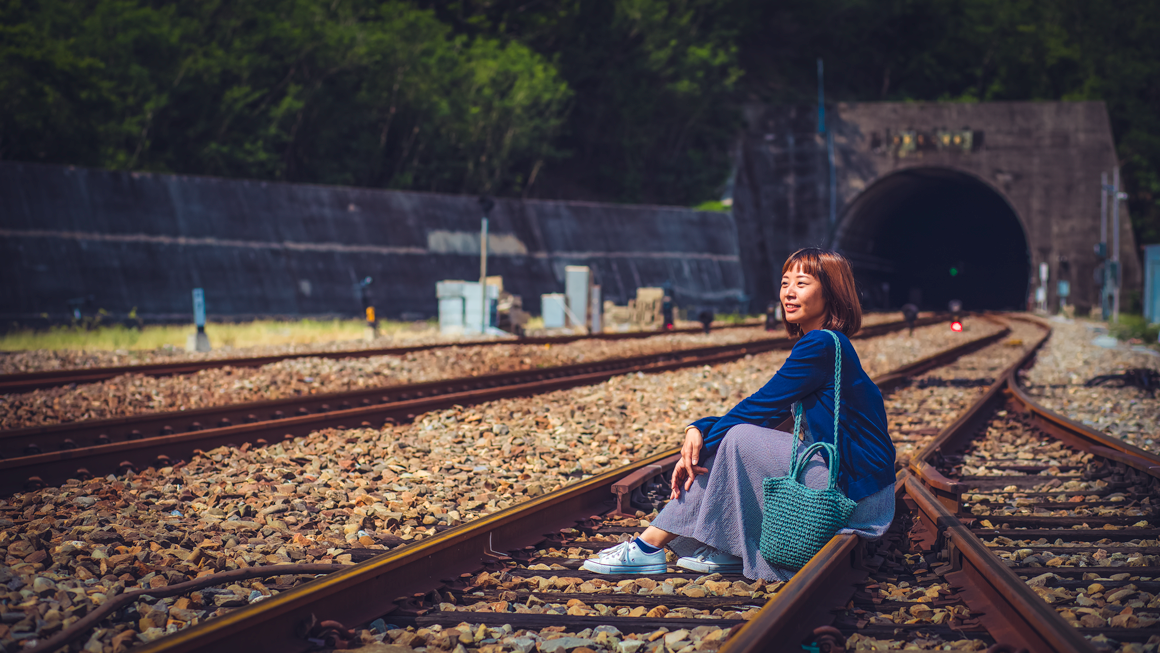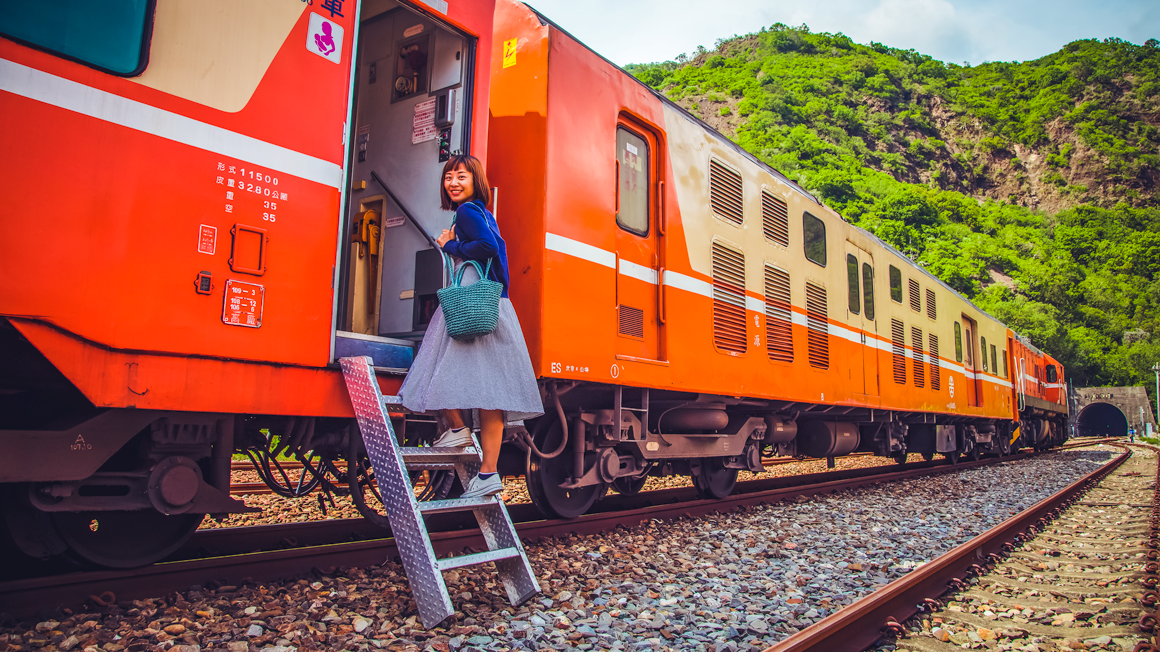 After our train popped out on the east coast it trundled along for some time, northward bound, high above the pounding Pacific breakers. The most exquisitely "tropical Eden-esque" of the between-tunnel sections is just south of pretty Duoliang Railway Station; on the Day 2 return the train sauntered along here at just 25kph, maximizing viewing time and pleasure.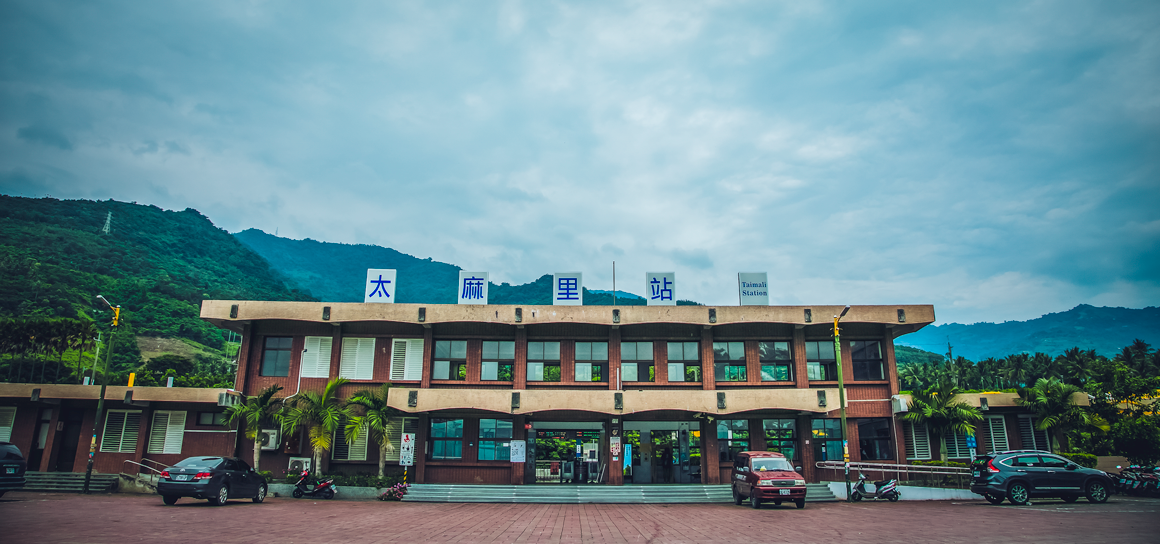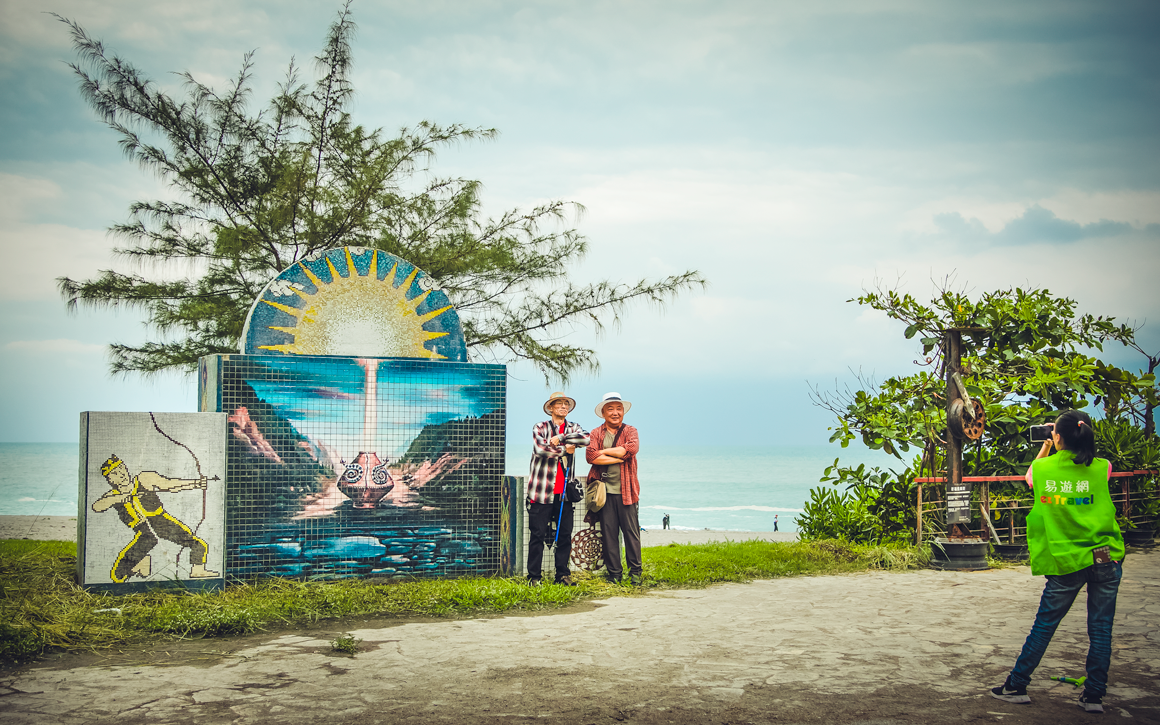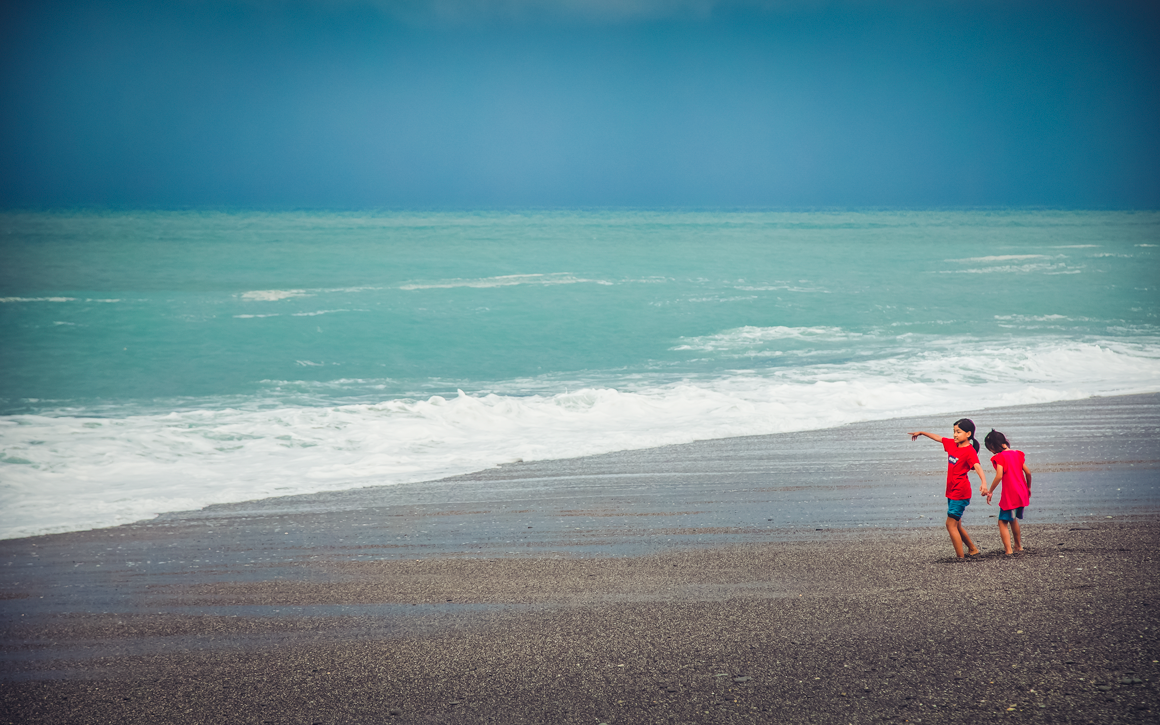 The steep cliffsides give way to farm-decorated sloping mountainside around Taimali, a Paiwan tribe village. Everyone disembarked and boarded the coaches that then road-cruised us to all destinations until the Day 2 train return. First up was the Millennium Dawn Memorial Park, on the section of a wide, kilometers-long, coconut palm-fringed beach fronting the village. The name commemorates Year 2000 first-sunrise celebrations held here.
Zhiben Hot Springs & Forest Recreation Area
The evening of Day 1 and early morning of Day 2 were spent in the renowned Zhiben Hot Springs resort area, just south of Taitung City. It's a short distance from the coast, at the mouth of a long, sinewy mountain valley carved out by the Zhiben River. The exposed rock of the riverbed runs high up the valley sides, demonstrating how the waters swell dramatically when typhoons visit.
The Japanese developed the area as a healing resort during their period of colonial rule – one of their earliest-targeted mineral-spring locations – after systematically mapping Taiwan's natural resources upon takeover. These resort developments were the fountainhead of Taiwan's hot-spring culture, now so intrinsic to the Taiwanese character. The local indigenous natives had long been using the healing waters, digging soak pools in the gravelly riverbed. Our cruise group stayed at the forest-surrounded 5-star Hotel Royal Chihpen (www.hotelroyal.com.tw), long-reigning empress of Zhiben's forest of hot-spring hotels.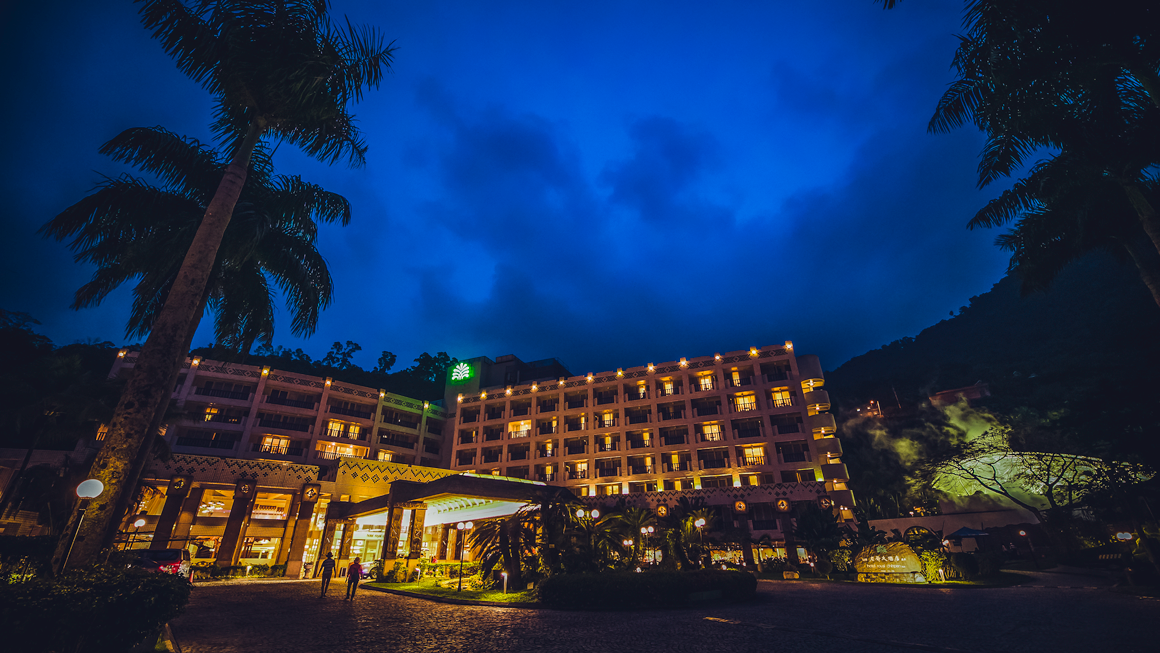 A short distance further inland from the hot-spring area, the valley deepens dramatically and the valley road ends. The 110ha Zhiben Forest Recreation Area (recreation.forest.gov.tw), our Day 2 morning entertainment, was reached across a brilliant-red bridge that soars across the chasm. We perused the visitor center first, home to displays on the local geology and flora/fauna, then explored the trail-web that brings you to and fro, high and low, across the mountain slope. The steep Brave Man's Slope Trail is the star (792 steps!), leading you past magnificent white-bark banyan trees born centuries ago.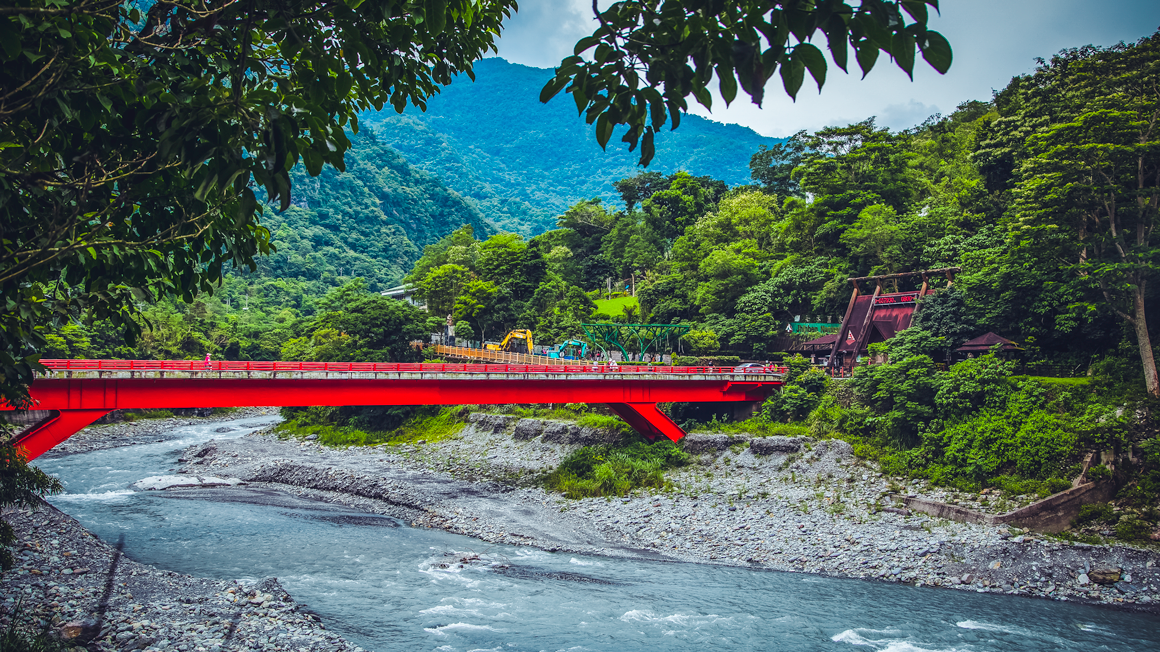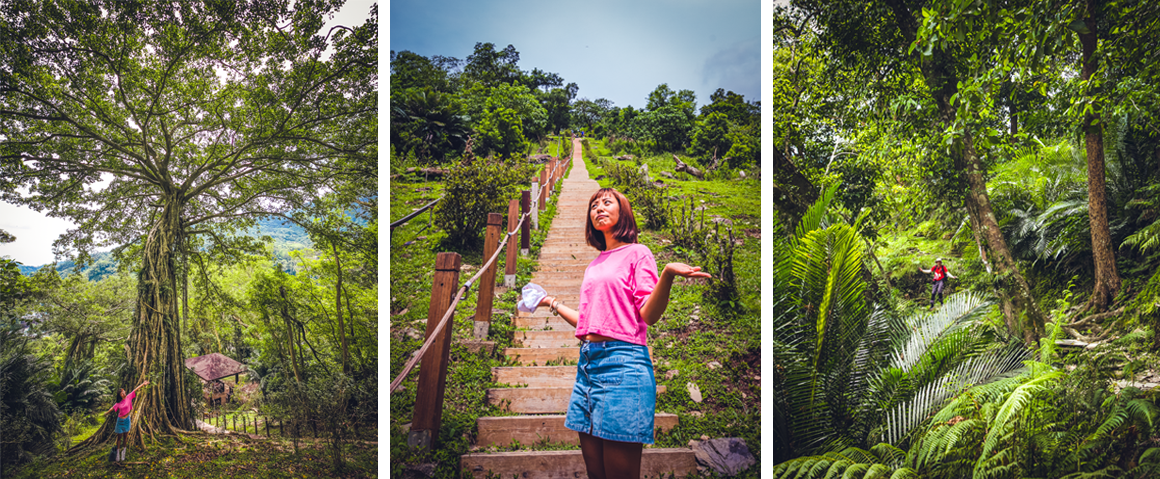 The last sightseeing stop on our rail-cruise trip was Fangliao. The big draw here, immediately left of the station, is the Fangliao F3 Art District, a complex of re-charactered rail-employee dorms, offices, and other facilities now home to tourist-oriented artist studios, cafes, and eateries.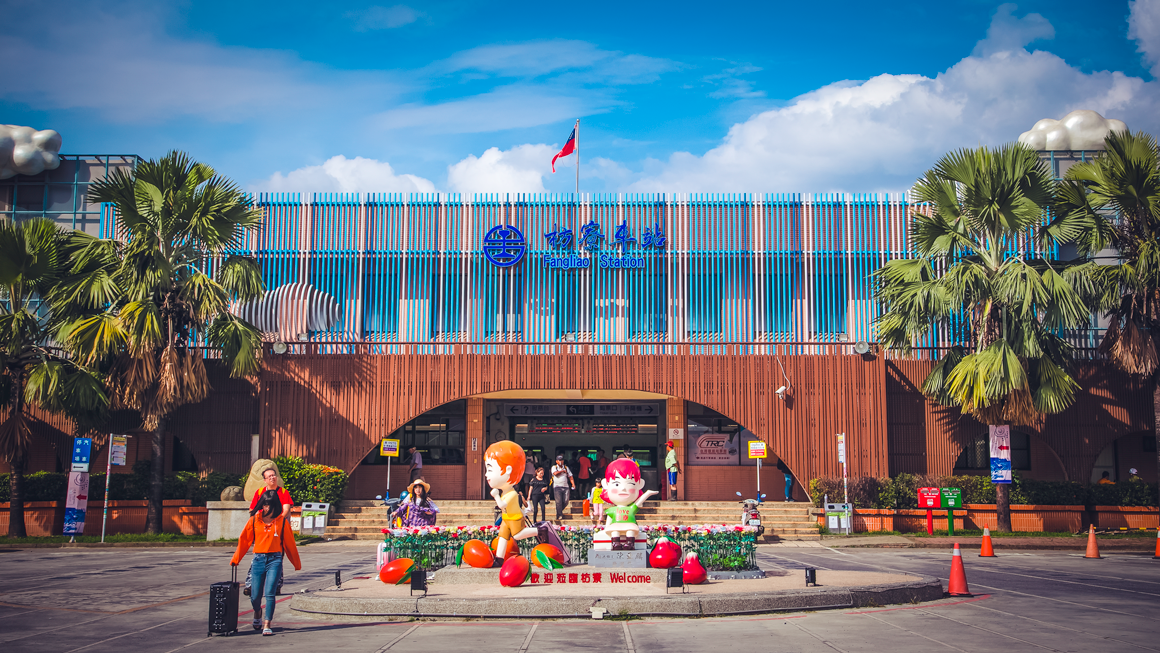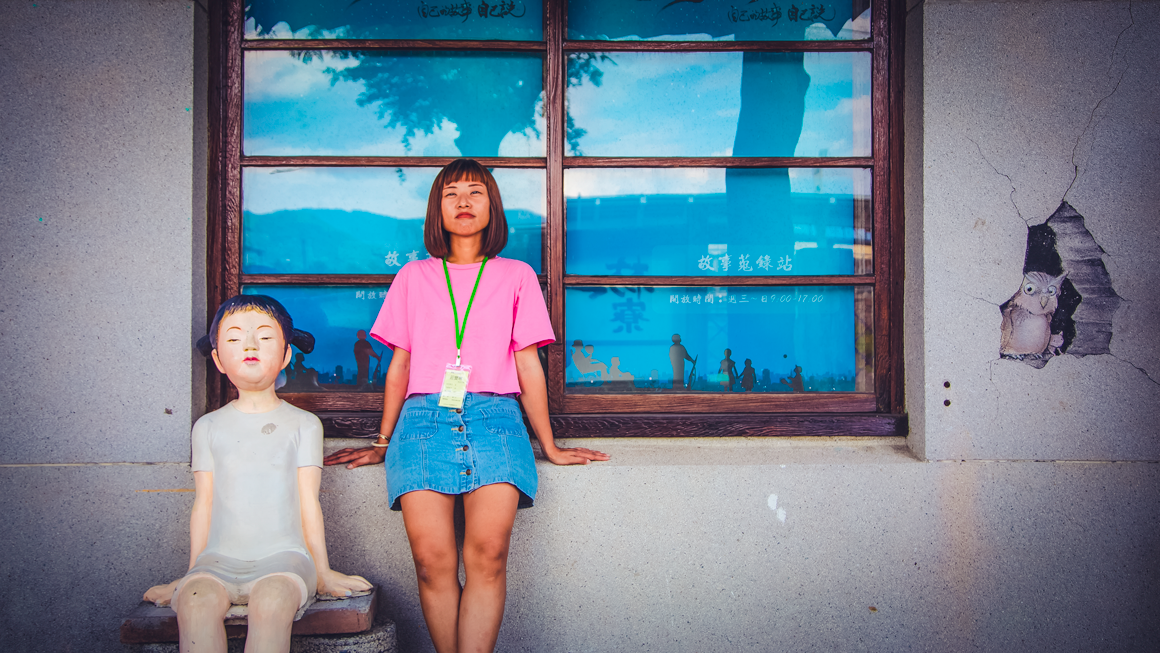 Other Rail-Cruise Travel Options
EZ Travel is constantly offering new cruise-train package options. Special foci are season-specific regional tourism highlights and local festivals. An example is the famed daylily-bloom season on the mountain slopes around Taimali, the Paiwan tribe village visited in this article. New itineraries are published three months prior to departure. A summertime highlight is the use of steam engines on selected outings, in June/July; early booking is a must for these.
Check out all that's on offer at this website address: www.eztravel.com.tw/event/cruisestrain/. Small discounts are offered to earlybird registrants, those booking more than one person to a hotel room, etc. Large discounts are offered for youngsters, and only a token fee is required for infants. Note that currently EZ Travel offers only limited English, on its website and among its office and tour-crew staff.
To give you an idea of the tour-option diversity, we've selected two outings from the autumn menu for brief introduction. One explores the island's east side, one the west, and although the two are in close proximity as the eagle flies, your sights, experiences, and memories will be worlds apart.
September 13 launch (3-day outing)/ Taitung Night Visit to Xiaoyeliu – East Rift Valley Granary Festivities Music Concert – National Museum of Prehistory
This is a Friday~Sunday cruise that falls on the Mid-Autumn Festival long-weekend holiday. Launch is from Taipei Main Station. On Day 1, the first sightseeing stop is Toucheng Old Street, the first commercial street in the first Han Chinese settlement on Yilan County's Yilan Plain, dating to the early 1800s. In Taitung County, Sanxiantai, the Platform of the Three Immortals, is one of the East Coast's most iconic tourist sites. Reached via a dragon-resembling arched pedestrian bridge, its volcanic-rock bluffs are said to resemble three petrified Daoist deities who visited here in the mythic past. Xiaoyeliu, just above Taitung City, is a geology-art masterpiece – a tidal-zone park rich with honeycomb rock, mushroom rock, tofu rock, and cuestas. It is visited at night, multiplying the magic.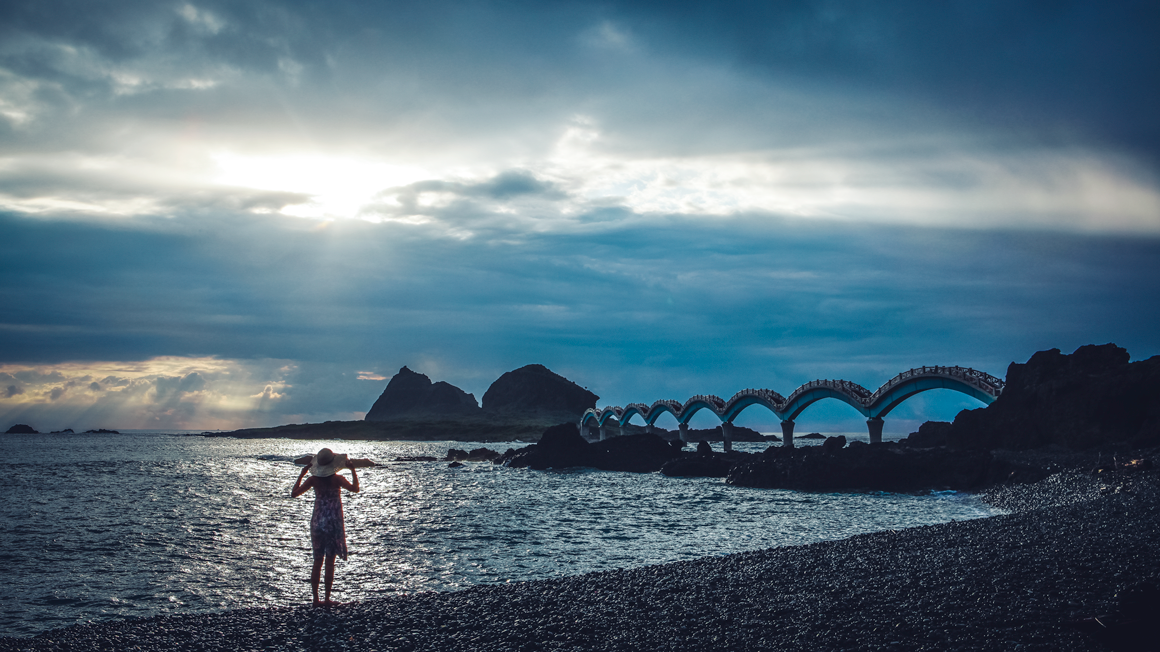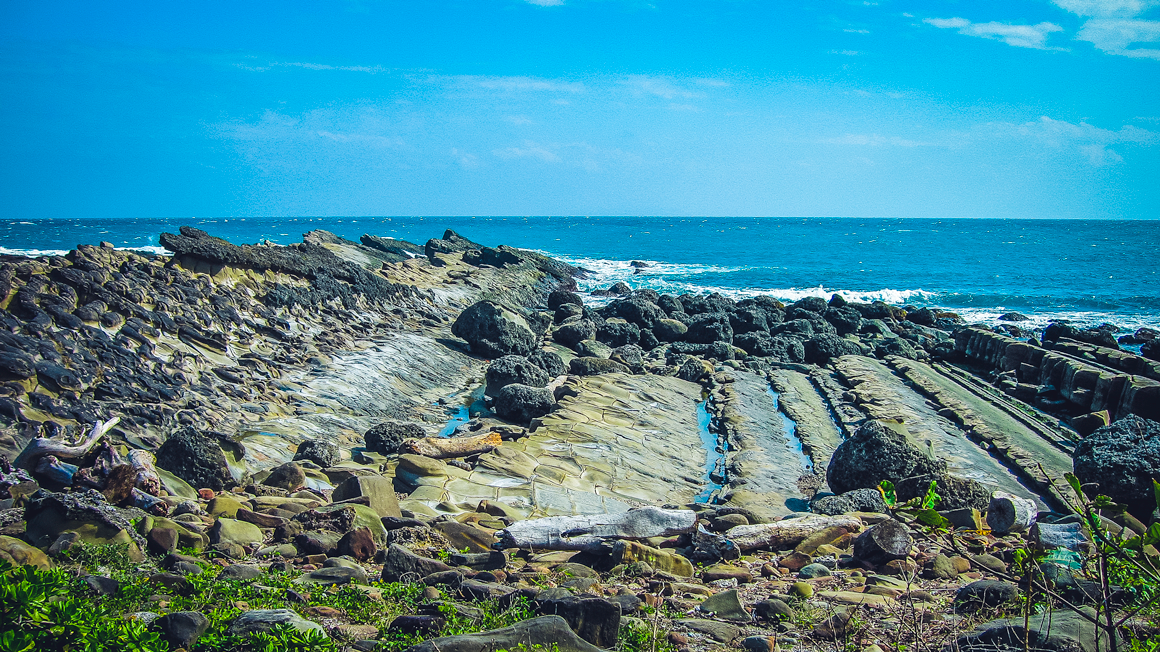 Day 2 experiences include a visit to the Dulan Sugar Factory, a sugarcane-processing complex opened by the Japanese now home to myriad cultural-creative enterprises; the Yuan Sen Applied Botanical Garden, a low-mountain 5ha tourist-oriented edu-tational attraction dedicated to medicinal herbs and biotechnology; the Rice County School, which teaches about Guanshan Township's history as a paddy-rice breadbasket, with DIY activities aplenty; and a nighttime pop-music concert in Chishang town that is part of the annual East Rift Valley Granary Festivities.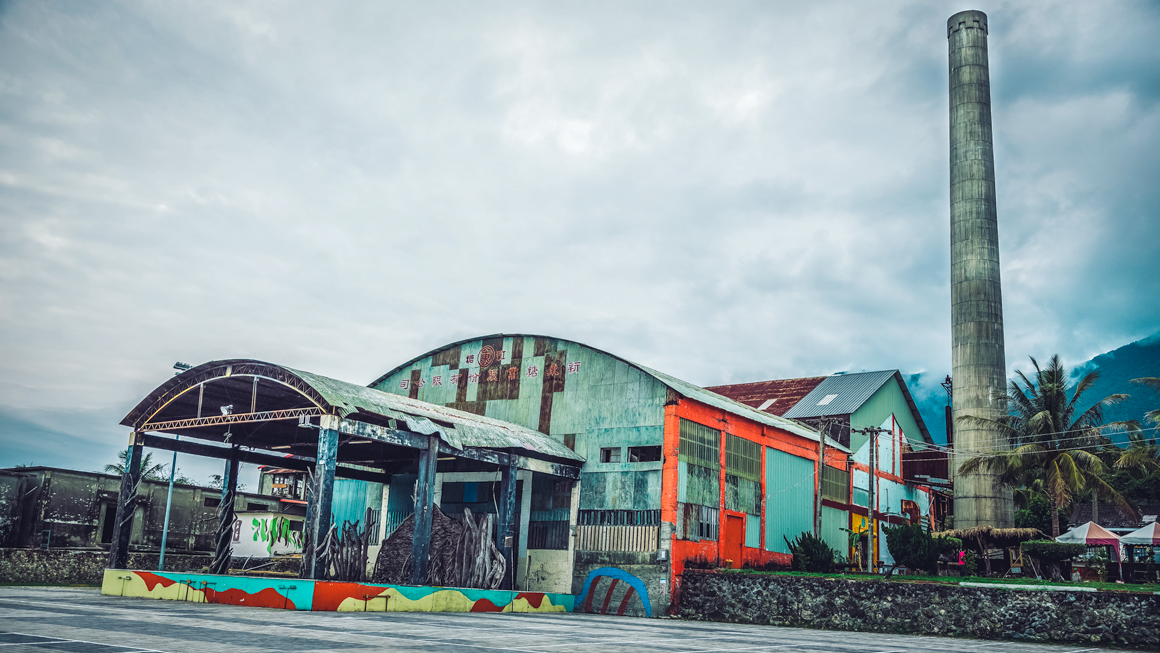 There are two Day 3 stops. First is the Taiwan Museum of Prehistory, a world-class Taitung City facility that explains the region's indigenous-peoples presence. Second is the Tangweigou Jiaosi Hot Spring Park, in central Jiaoxi, a popular Yilan hot-spring town near Toucheng.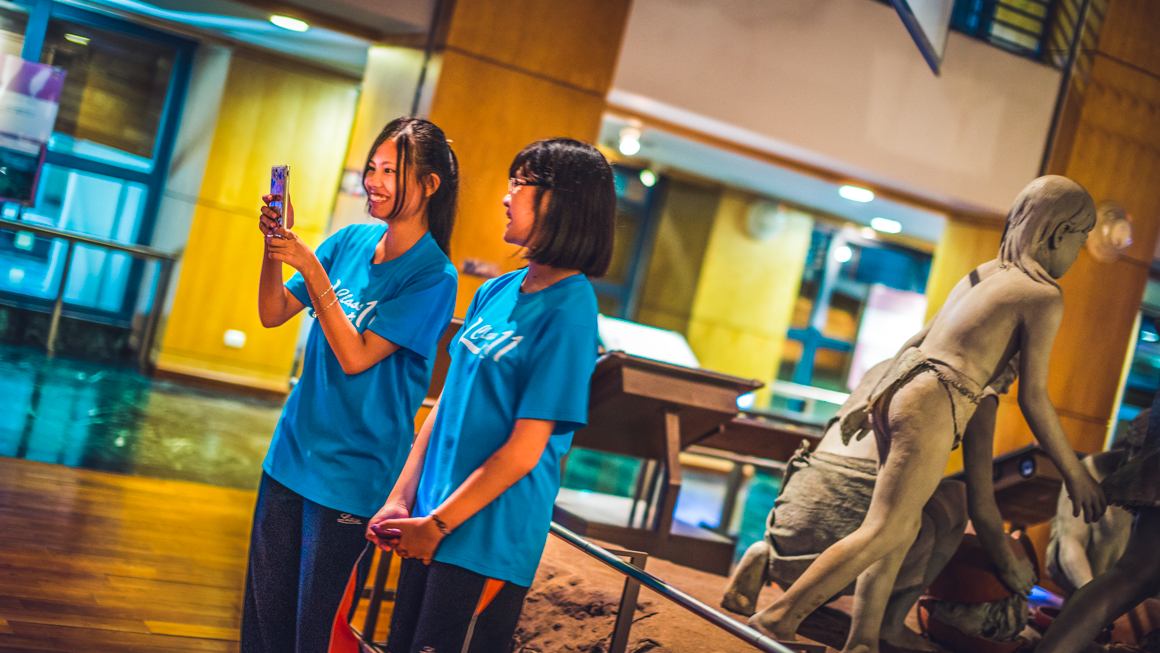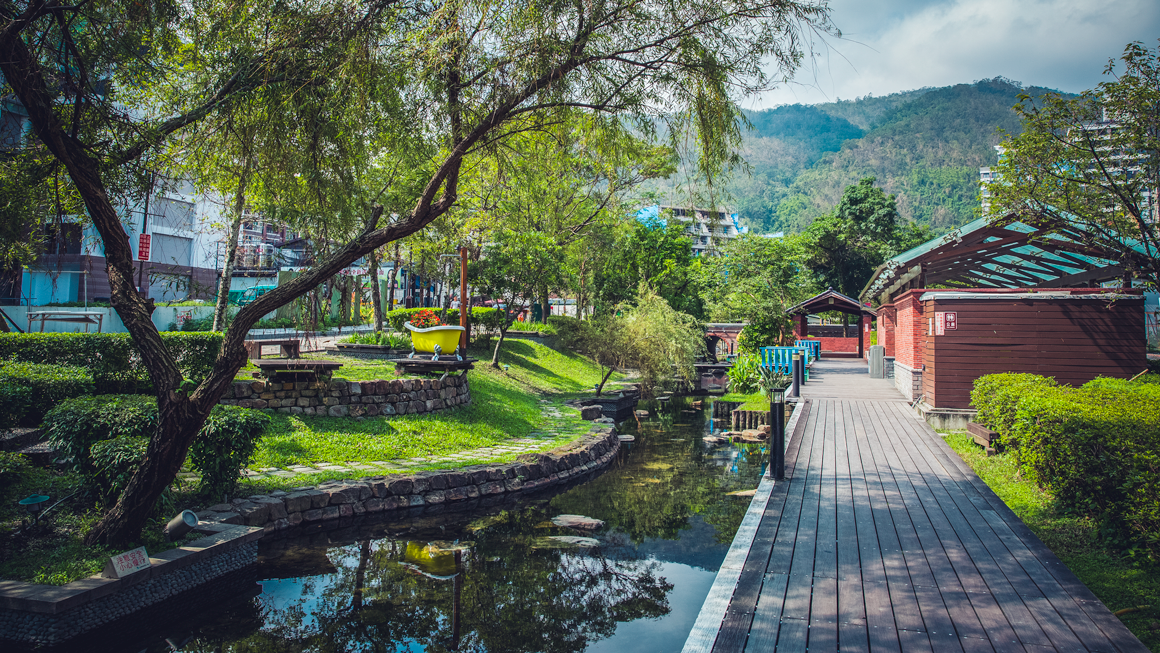 September 28 launch (2-day outing)/ Chiayi Culture Tour – Alishan Forest Railway
This is a Monday/Tuesday outing launched from Taipei Main Station. On Day 1, the first walkabout attraction visited is Chiayi Park. Chiayi is a small city in the middle of the western plains that was built on surrounding-region farm produce and its railway connection to the mountainous Alishan region, constructed by the Japanese in the early 20th century to extract its timber.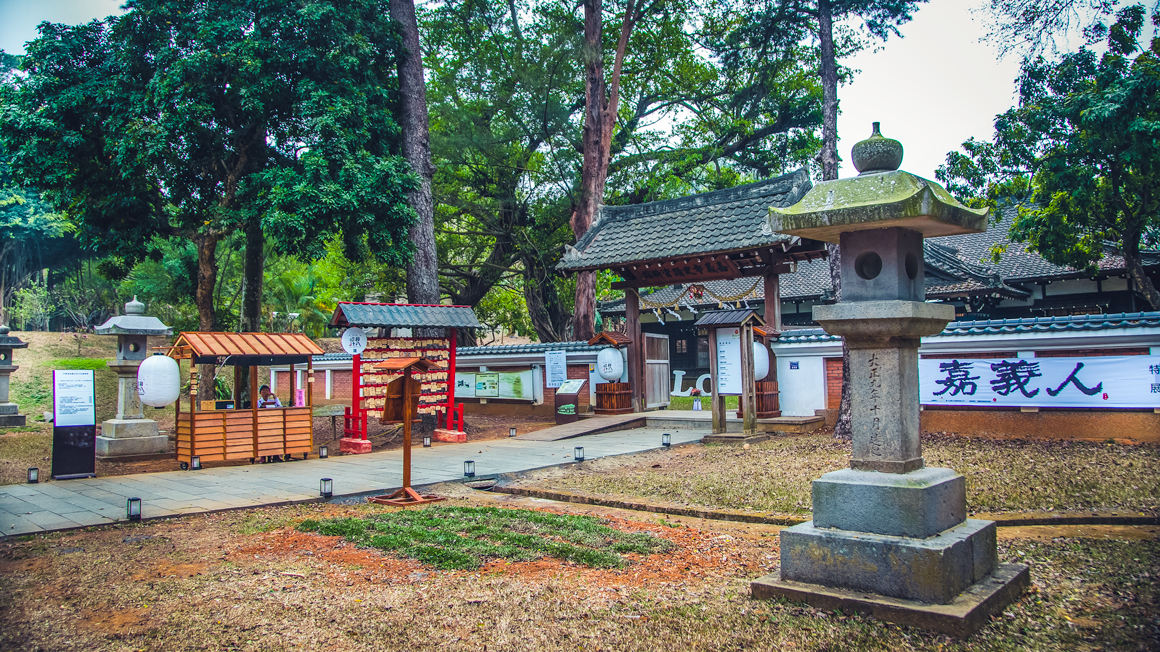 Chiayi Park, also opened by the Japanese, is a landscaped beauty laid out in tiers. The 62m-high Sun Shooting Tower stands where a Shinto shrine once stood. Its shape symbolizes Alishan's giant trees, its name an indigenous-tribe myth. The elegant wood-built Showa J18 – Chiayi City Historic Archives Building originally housed the shrine's offices and fasting rooms. Not far from the park is the Chiayi Old Prison, the only one remaining of five Japanese-run prisons. The last inmates were moved out in 1998.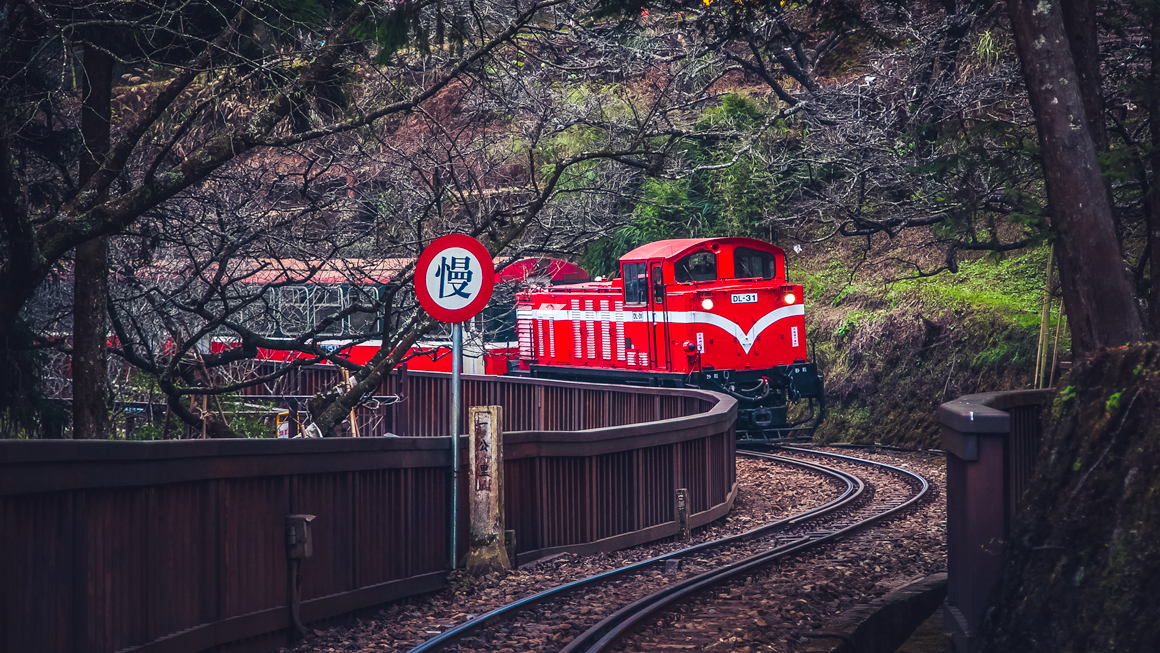 The Alishan Forest Railway, a magnificent work of engineering, is today an iconic Taiwan tourism draw. The incredibly twisting narrow-gauge line runs 71.4km from Chiayi City up to today's Alishan Forest Recreation Area, at an altitude of about 2,200m, on the way traversing 49 tunnels and 77 bridges. On Day 2 you ride the line from Chiayi up to Fenqihu village, at about 1,400m. Originally established to serve as a half-way point repair and maintenance depot, Fenqihu is spread out over a mountain slope, has a narrow Old Street stuffed with tiny tourist shops, and is surrounded by pleasant forest paths. Also visited is Zhangnaoliao Station, at 543m, a rarely encountered zig-zag station.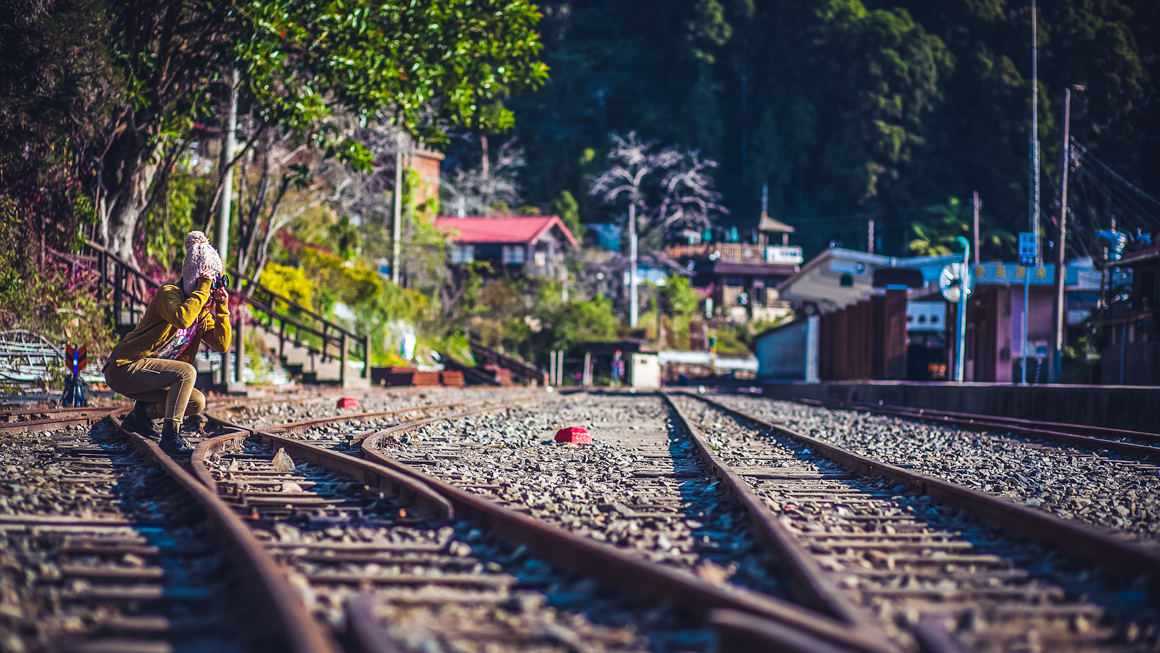 Railway Biandang
Then the Japanese ruled Taiwan they introduced their bento, or boxed lunch, tradition. Called biandang in Mandarin Chinese, a derivative of the Japanese name, today they're sold everywhere. But initially they were a railway specialty, sold on platforms to travelers. In recent decades a surge in interest and pride in local history has led to a resurgence of the railway biandang. Eateries clustered around stations sell their versions, and the TRA prepares its own, selling over 10 million annually on its trains and at station kiosks. The classic version contains a bed of rice, meat cut (deep-fried chicken leg, pork cutlet, etc.), and assorted side goodies such as soy-marinated egg, tofu/beancurd, and pickled veggies. EZ Travel provides "special edition" deluxe railway biandang showcasing the specialties of the region you're traveling.

Practical EZ Trip Things to Know
Each dedicated "cruise-liner" train has six cars, with a maximum of 277 other cruiser friends on your trip (ie, beyond you and staff). Embark and, on the return run, disembark at different designated stations; for example, on the South Link Line trip this meant anywhere between Fengyuan Railway Station in Taichung and Kaohsiung's Xinzuoying; your hop-on and -off points need not be the same.
There is one EZ Travel guide per car, available at all times. Your guide also looks out for you and your fellow train-carriage friends when traveling on the bus to/from sightseeing spots, though when at the spots themselves you can wander on your own, with EZ Travel staff posted at various points to watch out. You can opt out of any of the bus-travel sections, but are responsible for catching up with the group on your own; bus departures at follow-on points will not be delayed for you.
EZ Travel provides water on the trains and buses, and the TRA provides on-train snack/drink/souvenir service. When visiting both train and bus sightseeing points, luggage can be safely left on-board.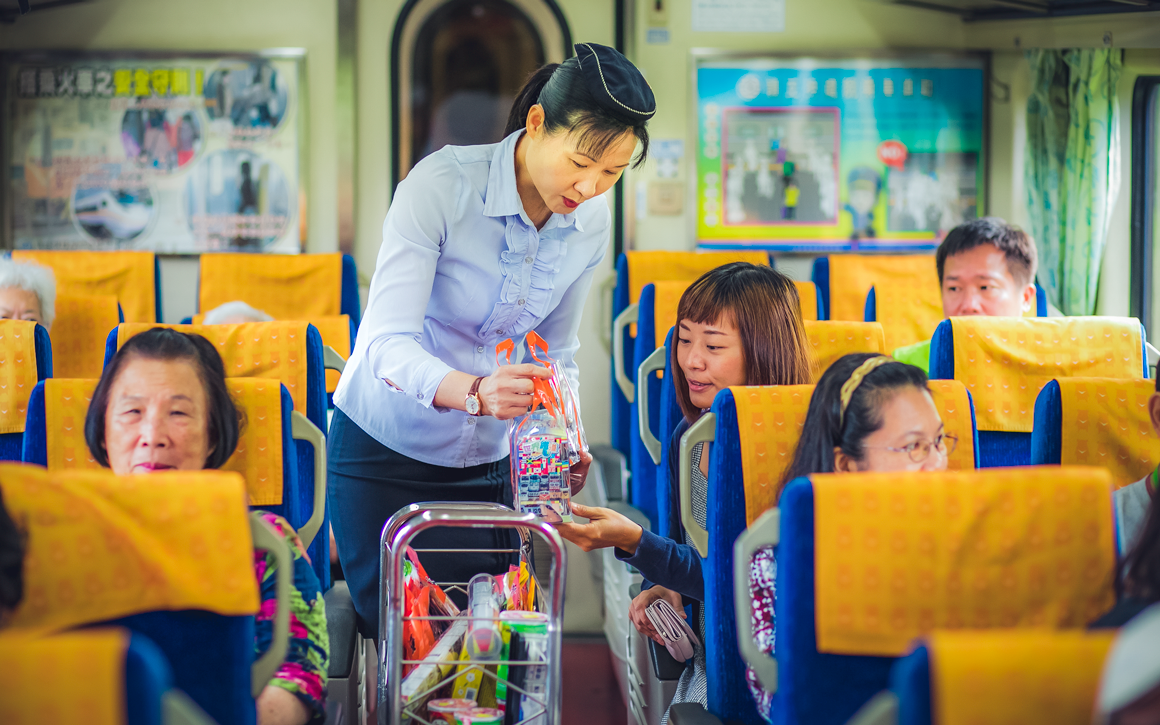 All meals are provided as part of your travel package, from the Day 1 lunch to final-day dinner. On the South Link Line trip the first and last meals were the on-train railway boxed lunches introduced earlier. The Day 1 dinner and Day 2 breakfast were in the Zhiben hotel's first-rate Chinese/international buffet restaurant. The Day 2 lunch was at a restaurant serving Chinese banquet-style and indigenous dishes.
Further reading on other sites
The Beautiful Island/Polish Girl in Taiwan: Daylilies season in Taidong's Taimali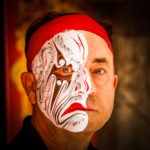 A Canadian, Rick has been resident in Taiwan almost continually since 1988. His book, article, and other writings, on Asian and North American destinations and subjects—encompassing travel, culture, history, business/economics—have been published widely overseas and in Taiwan. He has worked with National Geographic, Michelin, APA Insight Guides, and other Western groups internationally, and with many local publishers and central/city/county government bodies in Taiwan. Rick also handles a wide range of editorial and translation (from Mandarin Chinese) projects.