A Highway 9 Foray – Around Taitung City and Further South
TEXT / RICK CHARETTE
PHOTOS / ASKA CHI

What better way to spend a few of your precious Taiwan days than by exploring the tranquil Taitung City area, a place of palm trees and cool ocean breezes, on two wheels?
The easy-grade flatland areas of the Hawaii-like Taitung City region in Taiwan's southeast, mountain and sea almost always immediately at hand, have made this a mecca-like destination for those with a fire for two-wheeled self-powered touring over the past two decades. Island-wide interest in healthy cycling and other outdoor-exercise pursuits has skyrocketed during this time.
Following, we're going on a cycle outing along Provincial Highway 9, with short forays just off it, around the easy-living small city of Taitung and then down to points south. The 9 in this area, broad-shouldered and cyclist-friendly, is part of the renowned round-island Taiwan Cycling Route No. 1, unveiled by the central government in 2015. It runs along the city's west side, exits south into rural countryside, and just south of the famed Zhiben Hot Springs resort area hits the coast. The distance between downtown Taitung and our southernmost stop, Duoliang Railway Station, is about 40km.
For the sake of clarity, in this tour we present all attractions in order north to south. Naturally, when you leave these pages and go on the road yourself you can mix them as desired. We've a score of places to cover and just four Travel in Taiwan pages to do it, so we'll be moving along at a brisk pace. Try to keep up with the group!
Taitung City
First up is the 280ha Taitung Forest Park, on the city's north side between the Beinan River and its built-up core. Locals call this the "Black Forest," after the many tall, dark-hue beefwood trees. This site was originally developed as a coastal protection forest, with these evergreens predominant.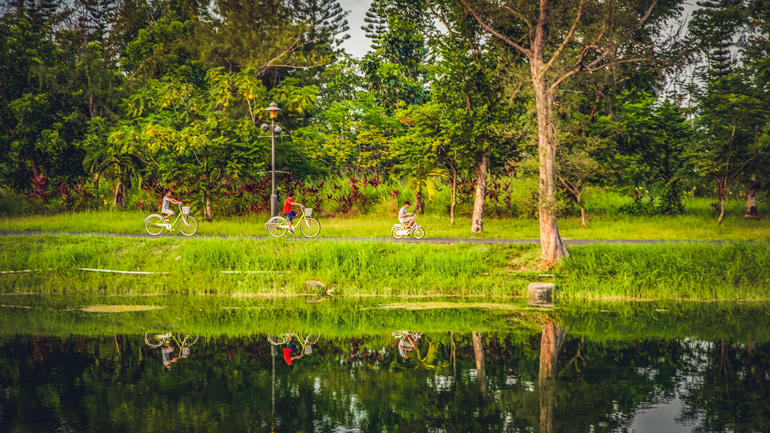 The popular 21km Taitung Mountain-Ocean Bikeway wends its way through the forest. This loop bikeway heads west to near the current railway station, then down a now-boardwalked old rail line to the Railway Art Village in the city core, which we'll visit. From the forest park's east end it heads south along the coast through the Seashore Park, which we'll also visit.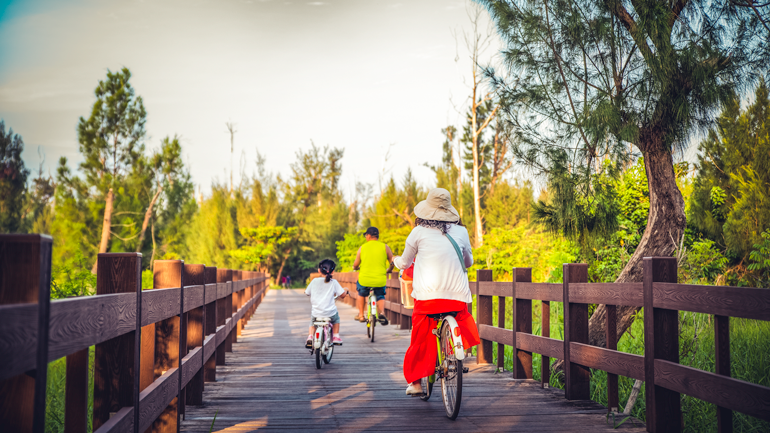 In the east end are small, shallow, crystal-clear lakes fed by underground springs. Serene Pipa Lake is the most aesthetically engaging. Sprinkled with wood-built lookouts, busy with fish and bird life – most notably a large flock of snow-white egrets that at times become quite loquacious – you'll feel you've stepped into a shanshui painting. From a bird's-eye view, the lake's two sections loosely resemble a pipa, a classical Chinese musical instrument. Flowing Lake, far larger, a perfect rectangle, and merrily dubbed the "World's Largest Swimming Pool" by locals, has public swimming and water-fun facilities (separate fees).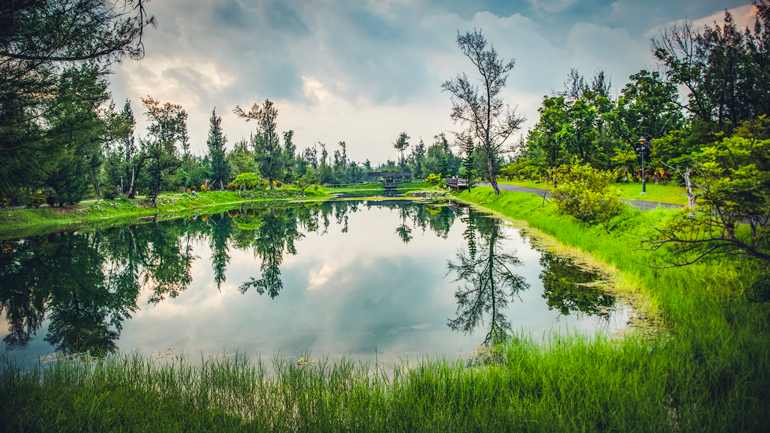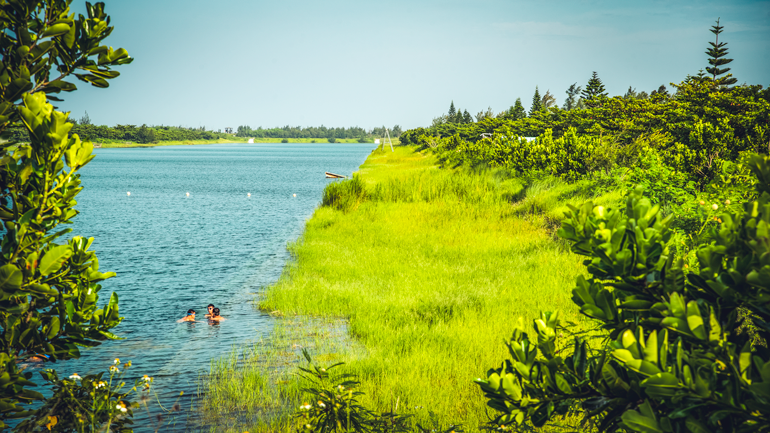 From Pipa Lake, it's just a short bikeway spurt to Taitung Seashore Park. Unlike the forest zone, this park is wide open, with sweeping views of the sea, mountain-backed coast southward, and mountains to the west over the low city. The moment you pop out from the trees the park's highlight is before you – Paposogan. This is a large rattan dome with a shady viewing deck. Inside is a large rattan tree; the tree represents Earth, and the dome the surrounding universe. The orb becomes an ethereal beauty at night, glowing yellow from within.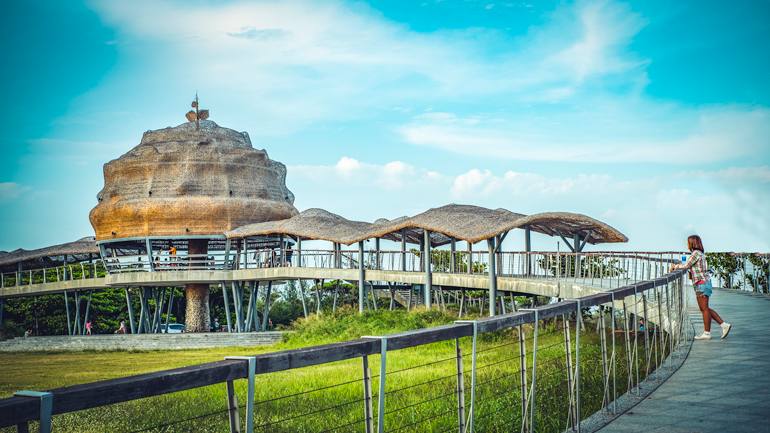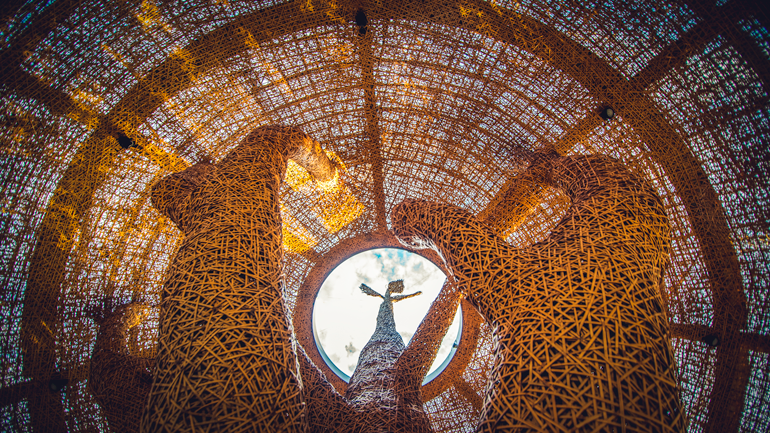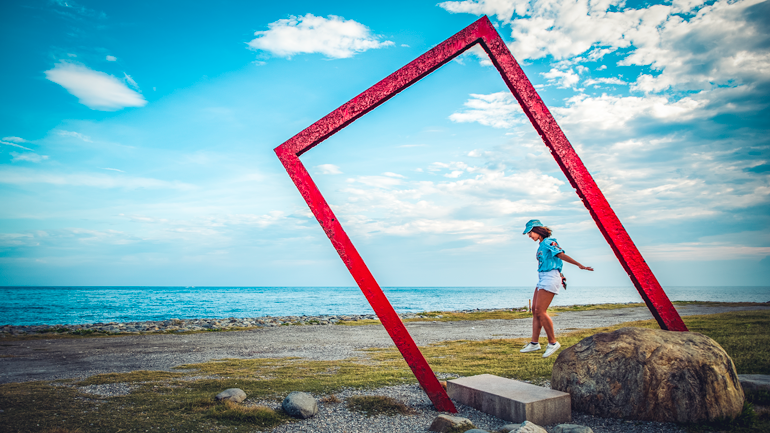 Time for a bite to eat. We'll snack like the locals do, stopping at two iconic small eateries. First up is Chen Family Scallion Pancakes Oden Stinky Tofu, opened in 1986, just a few hundred meters from Paposogan on Siwei Road, a wide road with wide sidewalks. You snack sidewalk-alfresco, seated on plastic stools at small metal tables. Prices are far lower than in the big cities; NT$100~150 brings you a mini-feast.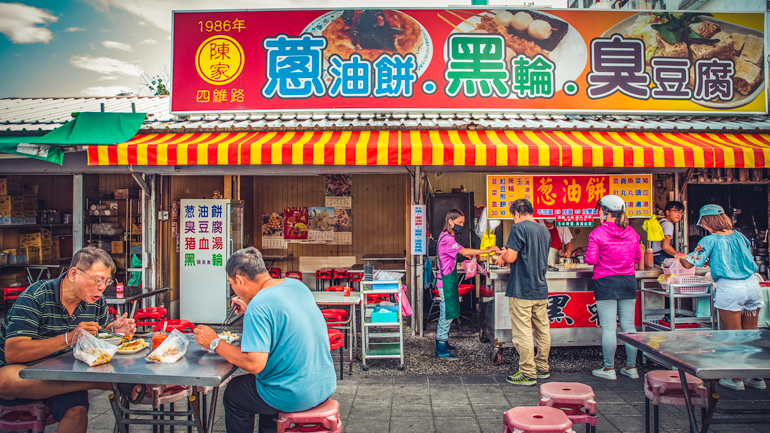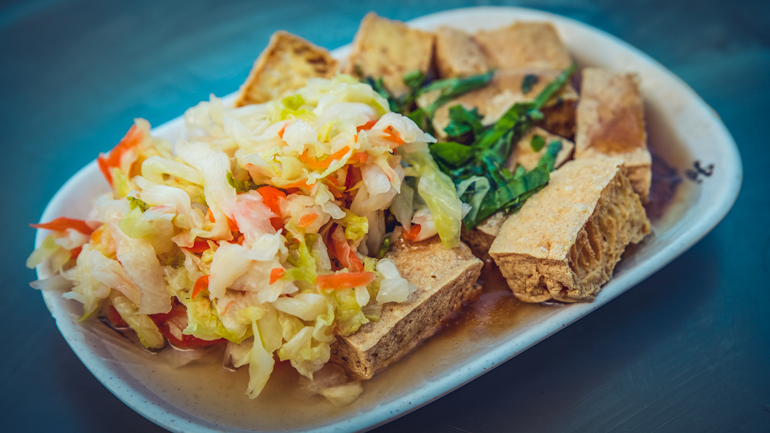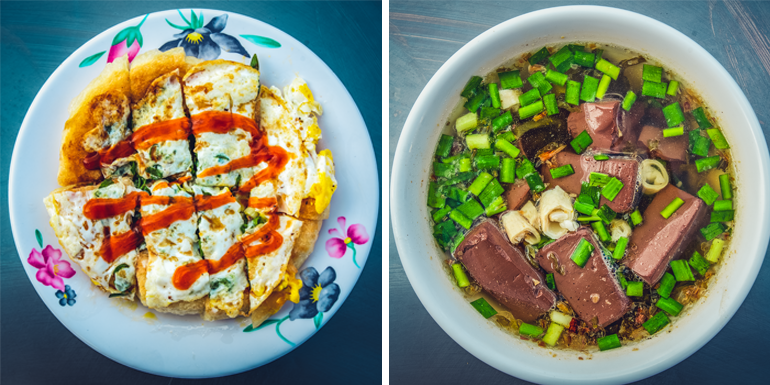 Chen Family Scallion Pancakes Oden Stinky Tofu
(陳家四維路蔥油餅黑輪臭豆腐)
Add: No. 492, Sec. 1, Siwei Rd., Taitung City
(台東市四維路一段492號)
"A-Sang Shaved Ice" is closer to the city center, nearer our next sightseeing stop, the Railway Art Village. It's in an area chock-full of small traditional-style eateries. The cheery A-Sang is a face familiar to most Taitung denizens, having faithfully manned her out-front-of-shop vendor stand for about 40 years now. Cooling shaved-ice treats, topped with such traditional sweetened goodies as adzuki and mung beans, peanuts, and chewy jelly chunks, is the perfect antidote for biking-day heat.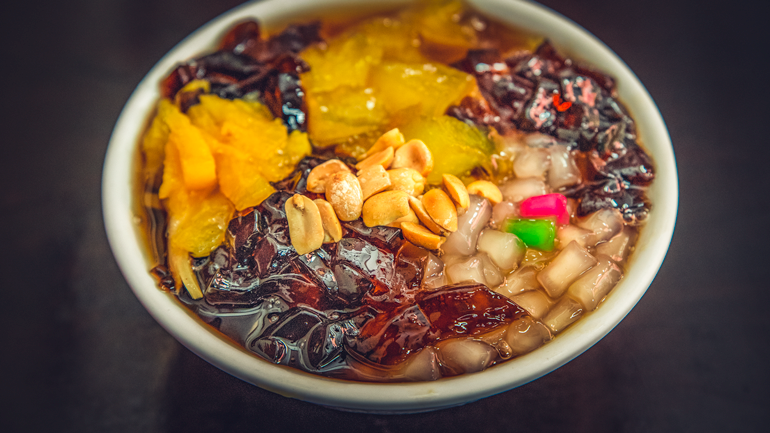 A-Sang Shaved Ice (阿桑剉冰)
Add: No. 204, Guangming Rd., Taitung City
(台東市光明路204號)
Tel: (08) 932-9490
Taitung City sits on a small plain, and the isolated, parkland-covered Liyu (Carp) Mountain, almost right in the city's center, though just 75m high is an unmissable landmark. The protuberance is the "mountain" in the aforementioned mountain-ocean bikeway, and also key in explaining the aforementioned word "Paposagan." In earlier times an Amis-tribe village existed at its base; the word means "in the direction of the hill."
Today, at its east-side base is the Taitung Railway Art Village and Tiehua Music Village. These are on the site of Taitung's former railway station and large surrounding complex of warehouses, administrative buildings, and other facilities, retired a few decades ago when unable to handle Taitung's increasing passenger and freight traffic. The complex is now given over to an array of cultural-arts pursuits.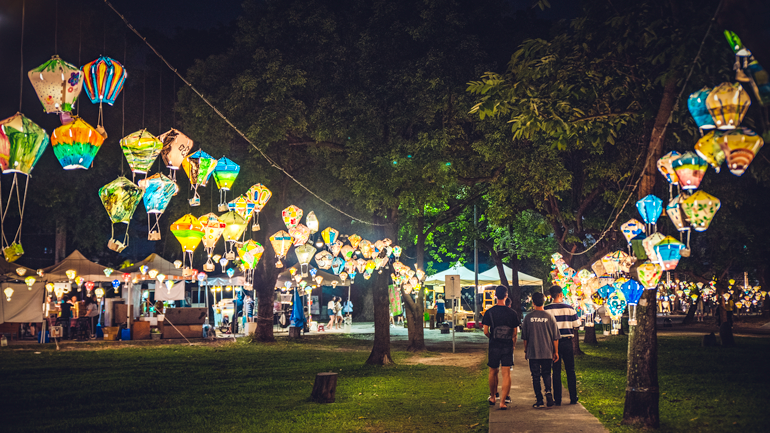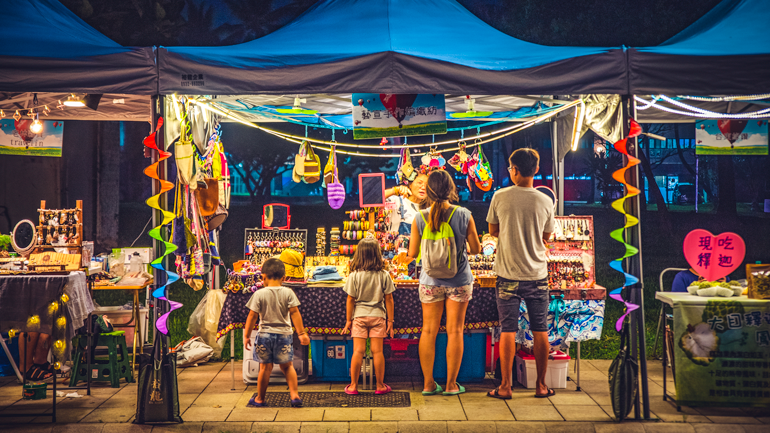 An old station hall and the platform, warehouses, and adjacent tracks have been converted into the art village. The neighboring music village, in a renovated railway-worker dormitory cluster, is today Taitung's key live-music venue, showcasing both emerging and established artists. Before the music village is an expansive lawn prized as a picnicking site by Taitung citizens. Bazaars are regularly held along the broad walkway that runs through the complex, featuring traditional handicrafts, local agri-products, and cultural-creative designer items. The lawn/walkway area is festooned with small lanterns in the shape of hot-air balloons, created by local students, celebrating the annual Taitung International Balloon Festival (see East Rift Valley section below).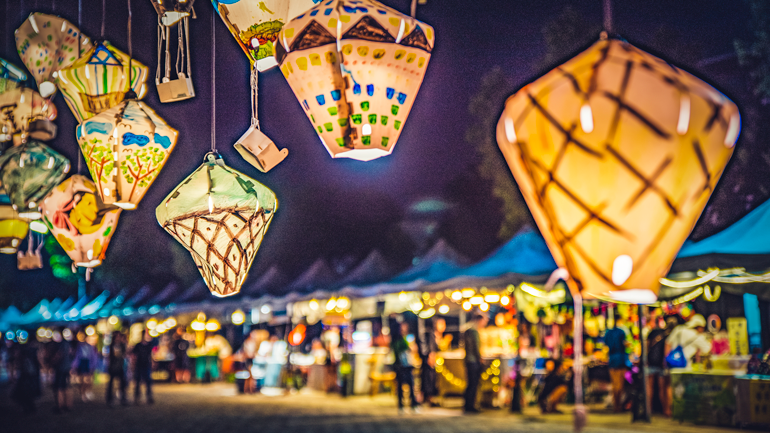 Beside the music village is the Fun Taitung café/bar, in a lovingly restored Japanese-style wooden structure built as a railway official's residence. Filled with period furniture and decorations, it serves premium coffees by day and operates an outdoor bar-counter and seating by night, serving Taiwan craft beers and local-brand ice creams and popsicles. This is a favorite nighttime haunt for Taitung expats, who set up alfresco to watch the walkway action – both revelers and the various street musicians.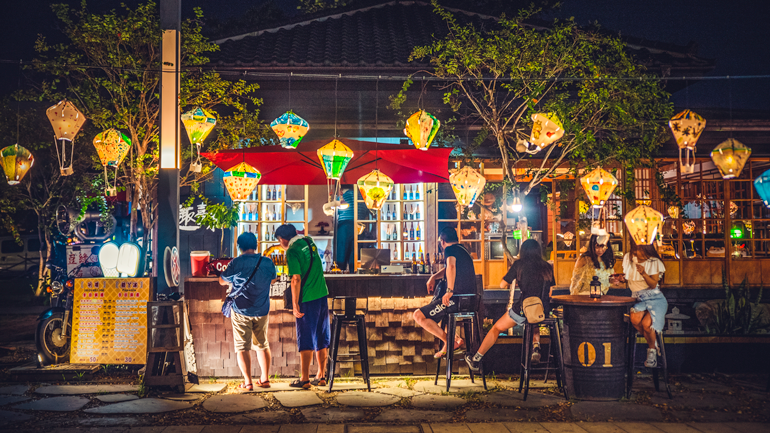 Fun Taitung (趣台東)
Add: No. 350, Tiehua Rd., Taitung City
(台東市鐵花路350號)
Tel: 0912-583-269
South of the City
Time to hit the open road. The soaring 50m-high Zhiben Forest Road Waterfall is in the Zhiben Hot Springs resort area, about 17km south of the city. Head uphill via the side road beside the Yawan Spa Hotel; the clearly marked "Zhiben Forest Road" (Chinese) begins about 300m beyond. The well-maintained, tranquil, shady route, which is car/bike accessible, has a number of lookout spots over the resort hotels and Pacific beyond. The roadside waterfall is about a kilometer in. Macaque spottings are pretty much guaranteed.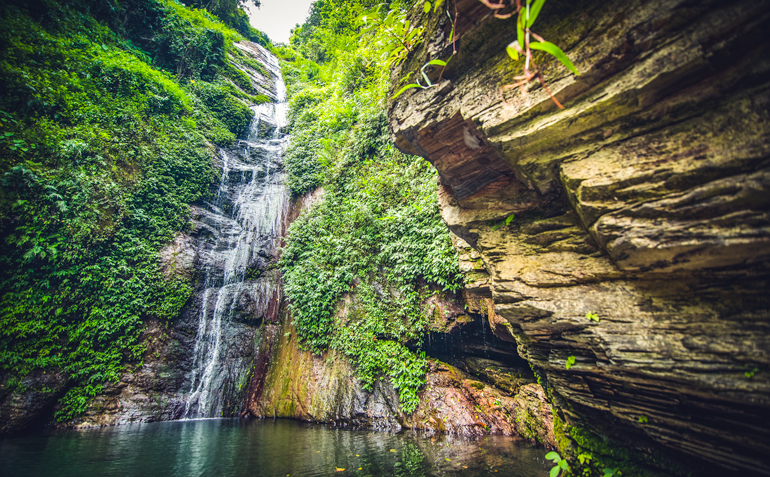 Back on the 9, immediately south of Zhiben the mountains come down to the sea, leaving just enough space for beach, highway, and groupings of houses here and there. When this happens, look left – you'll see the long, gentle arc of lovely Huayuan Bay, a favorite sightseer stopping-point. Best is the small highway-side park across from where County Route 62 (Dakeng Road) intersects with the highway, which has public-art installations popular as photo props. Head up Dakeng Road to the Huayuan Lookout and fabulous views up-coast and down, Pacific waters of hues from pastel-green inshore to deep steel-blue out toward the mighty Kuroshio Current before, and steep farm-sculpted mountain slopes behind.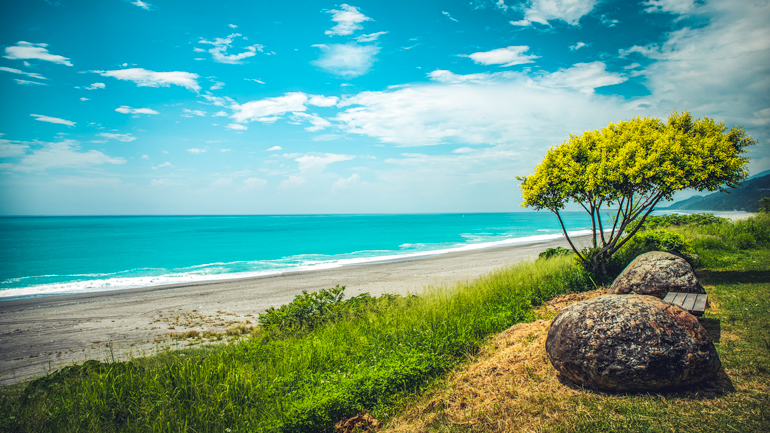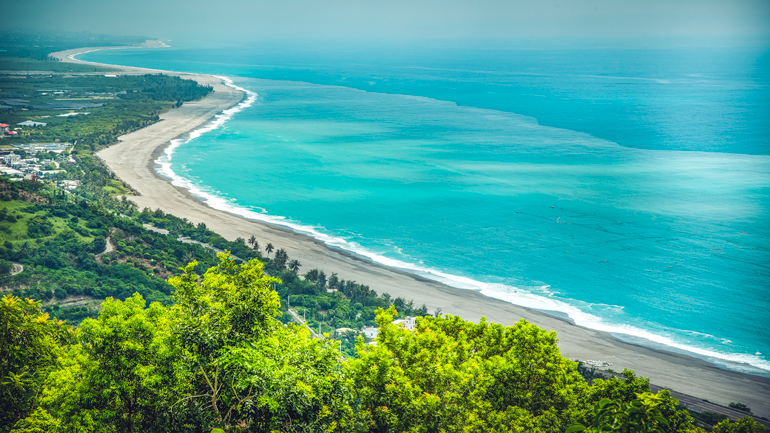 The indigenous village of Jinlun is beside the 9, on the Jinlun River's north side, a few kilometers from our final stop, Duoliang Railway Station. Photo buffs set up near the river close to the village for thrilling framings of the wide, generally dry riverbed and, above it, two high-pillar bridges that fly over it in tandem, with blue Pacific waters beyond. The lower is a railway bridge. The other is the stunning Jinlun Bridge, a two-year-old section of the 9 that is 3.25km long and soars above the river at 40m high. Photographers wait patiently for trains to shoot out from the mountain tunnel on the river's south side. It is the old section of the 9 that brings you down to the river.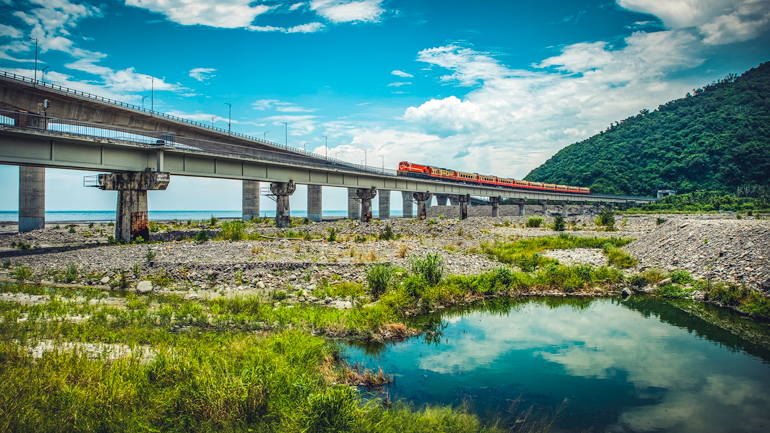 The Duoliang Railway Station, perched high above the highway up a steep switchback road, handles passengers no more. No trains stop. But today there is more people-traffic than ever, for this has become a busy tourist attraction. The station's roof sections now serve as viewing platforms, and a posted train schedule let's you know when your choo-choo models are due to chug past with blasting horns, "posing" for terrific shots southward taking in train, tracks, far-off mountain-tunnel entrance, winding coast-hugging highway, wave-pounded beach, and vast ocean.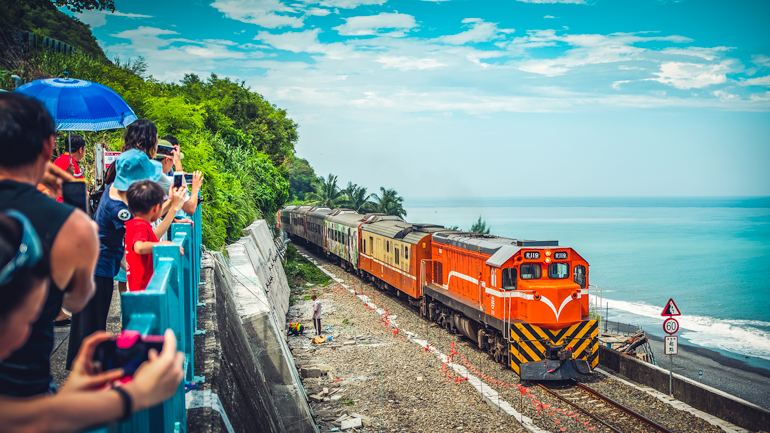 I said earlier that the station was our last stop, but this was a fib. One more switchback brings us above it to a breezy rest session savoring the mountain herb-infused ice coffee, creative indigenous cuisine (try the dragon-fruit doughnuts), and sumptuous view at the Sunrise Driftwood Workshop. In a repurposed elementary school, it was opened after 2009's devastating Typhoon Morakot to give indigenous artists a place to create sellable works made from driftwood and abandoned materials.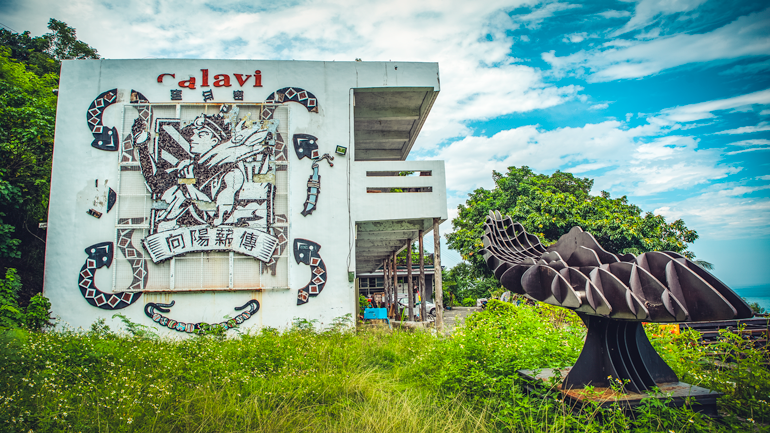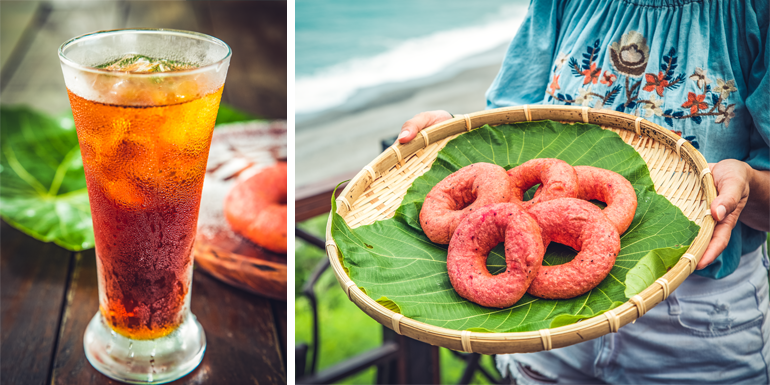 East Rift Valley
North of Taitung City, the 9 meanders through the pastoral lyricism of the peaceful East Rift Valley, with the East Coast's only other city, small Hualien City, just beyond its northern end. In the valley's southern area, your two-wheeled self-propelled steed – or any other chosen tool of transport – will bring you past such major tourist destinations as the Luye Highland and the towns of Chishang and Guanshan. The Luye Highland means tea plantations, hang-gliding joy, and the summertime Taitung International Balloon Festival. Chishang and Guanshan mean dedicated bikeways transporting you through picture-perfect paddy-field tapestries (rentals available at both).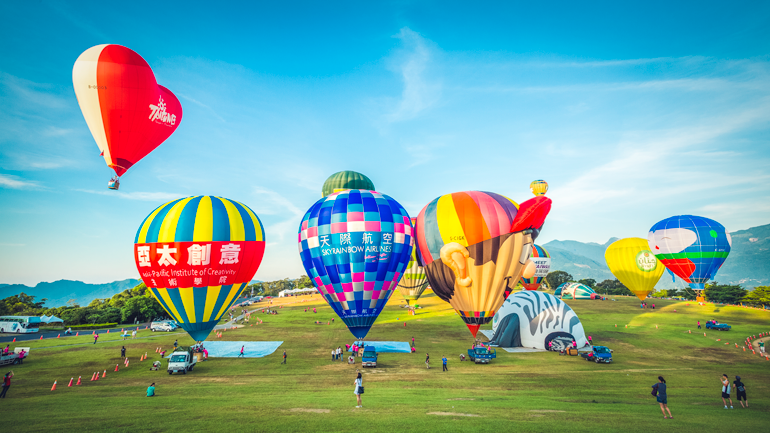 Getting There & Around
There is regular domestic flight service between Taipei and Taitung Airport, with car-rental service at the latter and regular bus service into Taitung City's core. The Taitung Railway Station is a key stop on the round-island loop of the regular-rail service, with bus service into the downtown core. Outside the station are reputable car/scooter-rental agencies, plus a bike-rental operation (Giant). There are also good bike-rental operations at the city's forest park, seashore park, and various downtown points.
For more info, the best online launch-point is the Taiwan Tourism Bureau website (taiwan.net.tw). As well, visit Travel in Taiwan back issues for more detailed visits to many of the places visited in this file (issuu.com/travelintaiwan).
Also read:
The Treasures of SOUTHERN TAITUNG COUNTY
Railway Travel: The SOUTH LINK LINE (Pingtung-Taitung)
TAITUNG Train Ride — Lovely Countryside!

Taiwan Style 西方與東方的巧遇: "Jinfeng" to Jinluen "金峰" 到金崙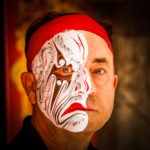 A Canadian, Rick has been resident in Taiwan almost continually since 1988. His book, article, and other writings, on Asian and North American destinations and subjects—encompassing travel, culture, history, business/economics—have been published widely overseas and in Taiwan. He has worked with National Geographic, Michelin, APA Insight Guides, and other Western groups internationally, and with many local publishers and central/city/county government bodies in Taiwan. Rick also handles a wide range of editorial and translation (from Mandarin Chinese) projects.