There Are Reasons Aplenty to Visit Taitung County's Northernmost Townships
TEXT / FRANCESCA CHANG
PHOTOS / ASKA CHI

Taitung County, stretched along Taiwan's southeast coast, offers scenic beauty in great diversity, with bright-blue ocean waters, terraced rice fields, and towering mountains. Possessing the longest coastline of any county on the island, Taitung is a popular destination for tourists looking for cycling, surfing, hot-air ballooning, and a host of other outdoor-activity adventures. Apart from the better-known tourist areas close to Taitung City, visitors should also explore the county's lesser-known coastal townships in the north, Changbin and Chenggong, where the dramatic beauty and the warmth of the local residents will delight. You'll find fine beaches, picturesque fishing harbors, majestic coastal mountains, stylish homestays, and cozy cafés.
Jingang Boulevard
Quaint Changbin Township is in the far north of Taitung County. The population here mainly consists of members of the indigenous Amis tribe, and the township is home to some of Taitung's most picturesque landscapes, attracting visitors from near and far. Most notable is Jingang ("King Kong") Boulevard, accessed by taking County Road 13, which starts just north of the coastal highway's 85km marker. The "boulevard" is a minor road situated between the ocean and the coastal mountains, one of which, Mt. Jingang, is said to resemble the head of a gorilla (hence the name of the road). On both sides of the road are terraced rice fields, known collectively as the Changguang Terraced Fields.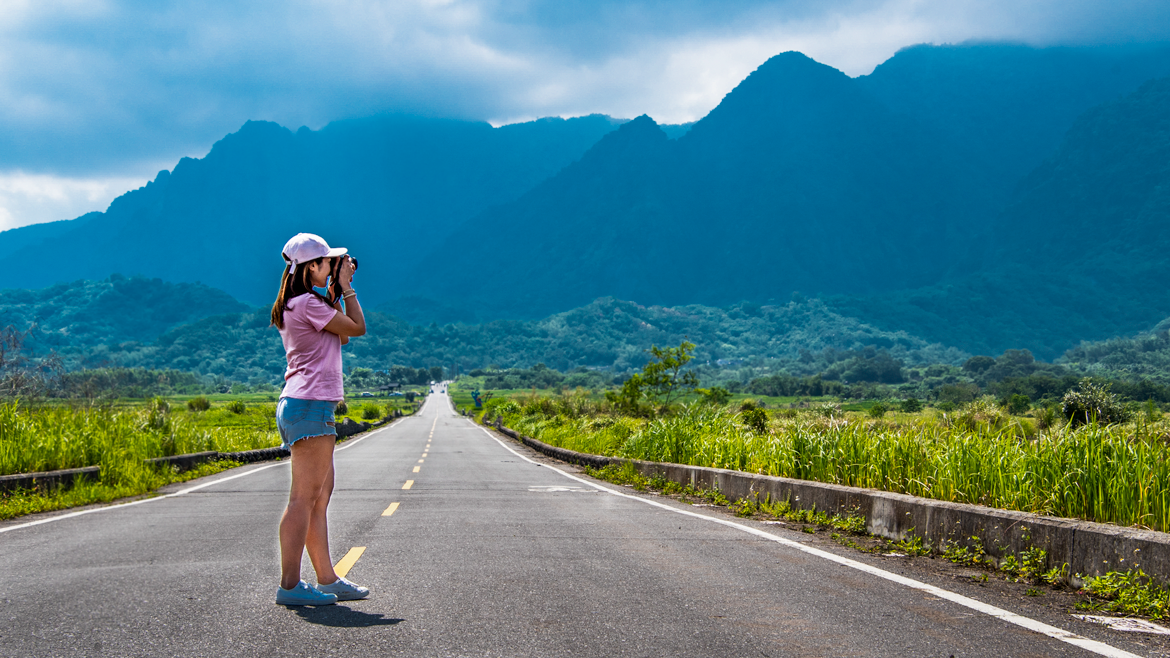 Although in recent years this road has become quite popular with Instagrammers and bicyclists (it is part of the 5km Zhongyong Bikeway), it remains a quiet spot most of the time and you'll likely enjoy the pristine scenery all by yourself, with the possible exception of a friendly rice farmer or two out in the fields.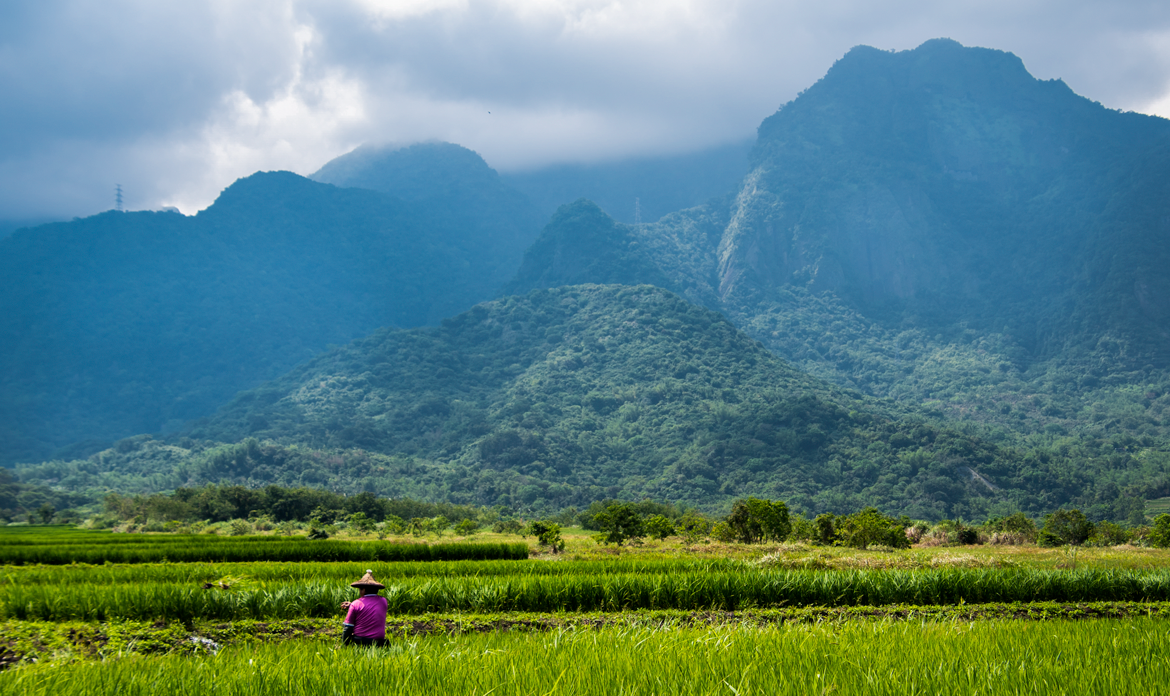 Close to the highest point of the road's most photogenic 1.5km-long straight section is a rest pavilion. This is among the best spots for taking in the scenery and shooting photos. The ideal times to come are when the rice plants in the fields are young and have a refreshing green color, or when it's close to harvesting time and they are a golden-brown.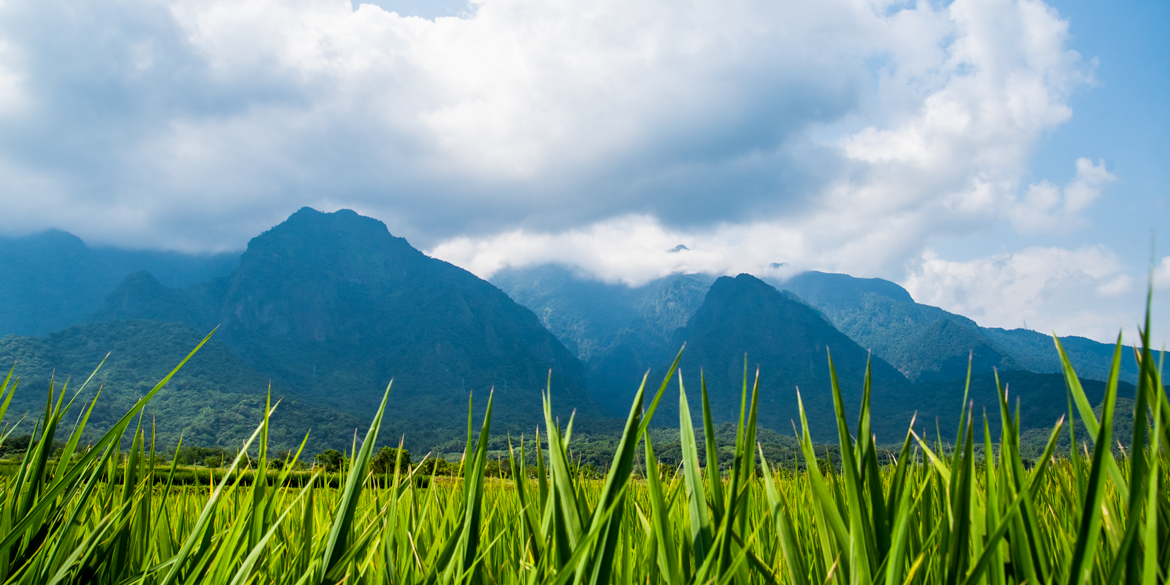 The golden ears swaying in the breeze, creating "golden waves," are perfectly complemented by the blue waves of the Pacific Ocean in the far distance. This being an area with almost no light pollution, in the evening the road turns into a starry-sky avenue with the heavens seemingly merging with the sea.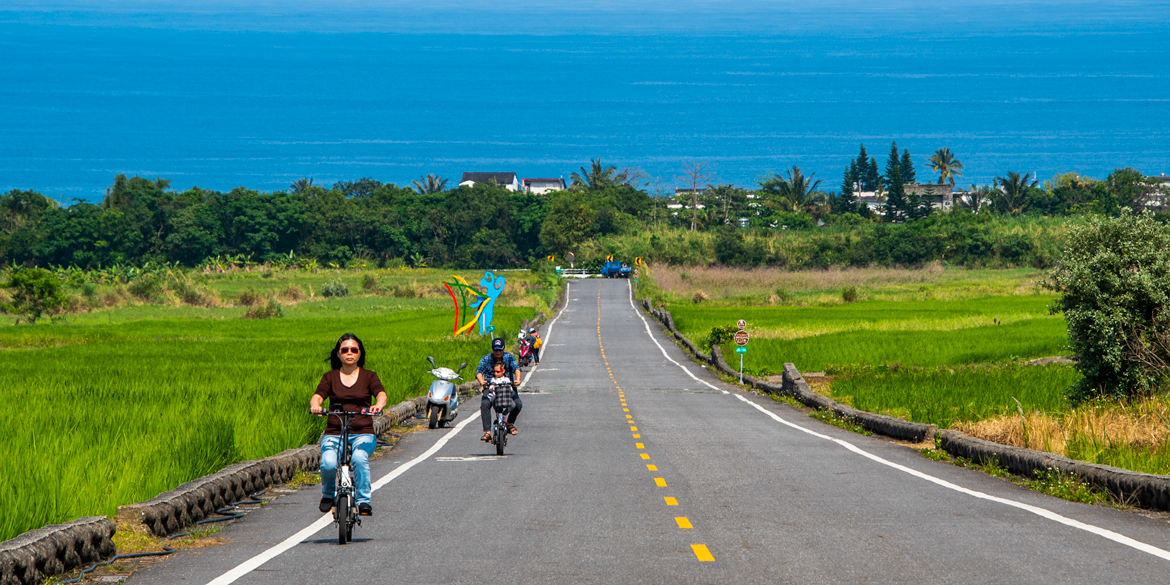 Duli Beach
Chenggong Township, south of Changbin, is known for its picturesque beaches, with bright turquoise waters that seem to sparkle brighter than at beaches further south. One of these is Duli Beach, located on a small secluded bay southeast of Duli village. Surfers in the know come here to catch the waves, light bonfires, and chill out under the star-filled night sky. Because of its smaller waves and a laid-back, vibe the beach mainly draws surfers who want to take it easy. It is also attracting increasing numbers of Instagrammers because of a visual effect that has become known in Chinese as "Sky Mirror." During low tides in daylight hours the wet, flat beach has crystal-clear reflections of blue sky, white clouds, and silhouettes of frolicking people, creating perfect photo ops. One hour before or after the lowest tide is the ideal time for capturing this effect. To make sure you come at the right time, you can check the day's tide schedule on the Central Weather Bureau's website (www.cwb.gov.tw).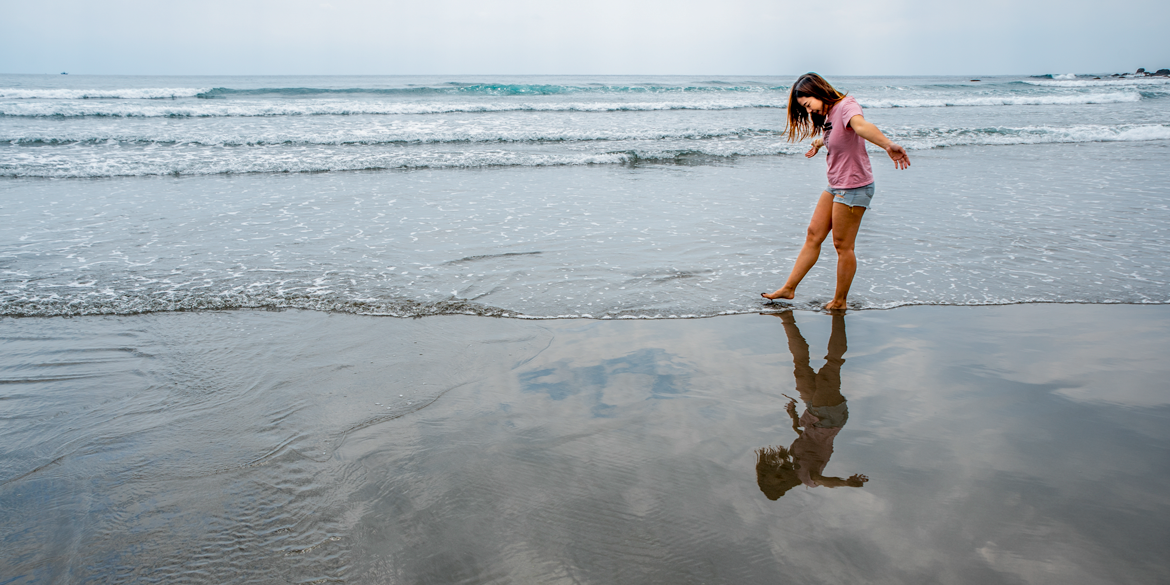 East Coast National Scenic Area Administration
Just five minutes from Duli Beach is the headquarters of the East Coast National Scenic Area Administration (www.eastcoast-nsa.gov.tw). Visitors can stop by the visitor center there to find information about the entire scenic area, which covers most of the coast between the cities of Hualien and Taitung, a wonderland of coastal terraces, beaches (sand and pebble), capes, and sea-eroded caves. Sitting on a gentle slope backed by high mountains, the administration's buildings are inside a spacious park that once a year is the venue for the East Coast Land Art Festival (www.teclandart.tw). The festival features installations by local and international artists that celebrate the east coast's natural geographic landscape. A key festival attraction is the Moonlight Sea Concert, a series of concerts that take place around the full moon of four consecutive months. During the concerts you'll be able to view the moon rising above the Pacific Ocean, weather permitting, creating an unforgettable romantic scene.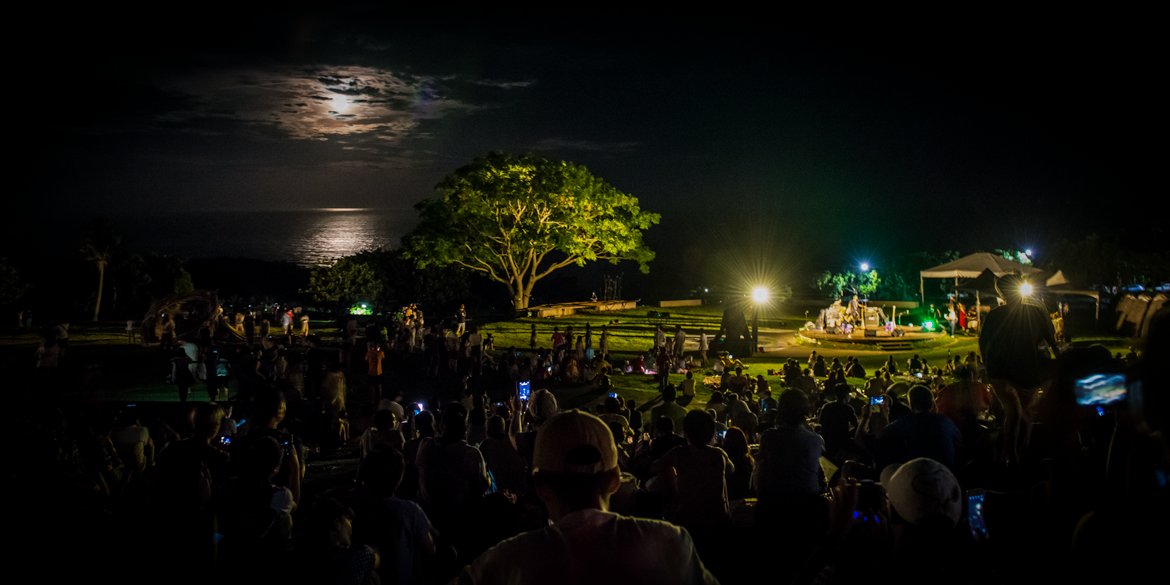 O'nok Studio and Café
The majority of Changbin's population consists of members of the indigenous Amis tribe, a people that have strived to preserve their history, practices, and culture. O'nok Studio and Café, located on Highway 11 (85km marker), is an establishment where you can witness how traditional Amis tribal culture is preserved in today's modern world. The wood and stucco building was created by an Amis couple on a mission to share their tribe's legacy. For the past ten years the couple has been serving homemade food and offering DIY activities inside their café/studio.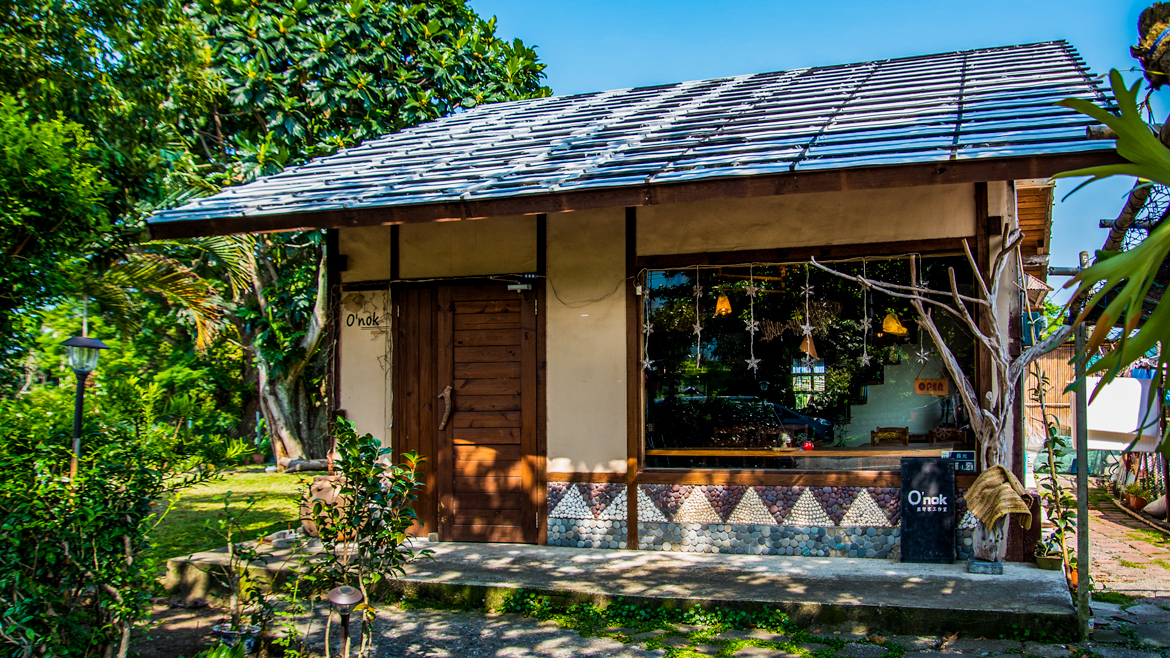 The freshly baked cakes and desserts are a true delight. In addition to freshly brewed coffee, O'nok Studio and Café also serves up unique cold-brewed teas that provide a glimpse into the Amis way of living. One tea is made from a native herb that resembles lemongrass, with fresh stevia leaves added to sweeten the drink. While sipping your tea the owners will gladly share stories about the indigenous way of life, including how the herbs in the tea have been foraged in the forest.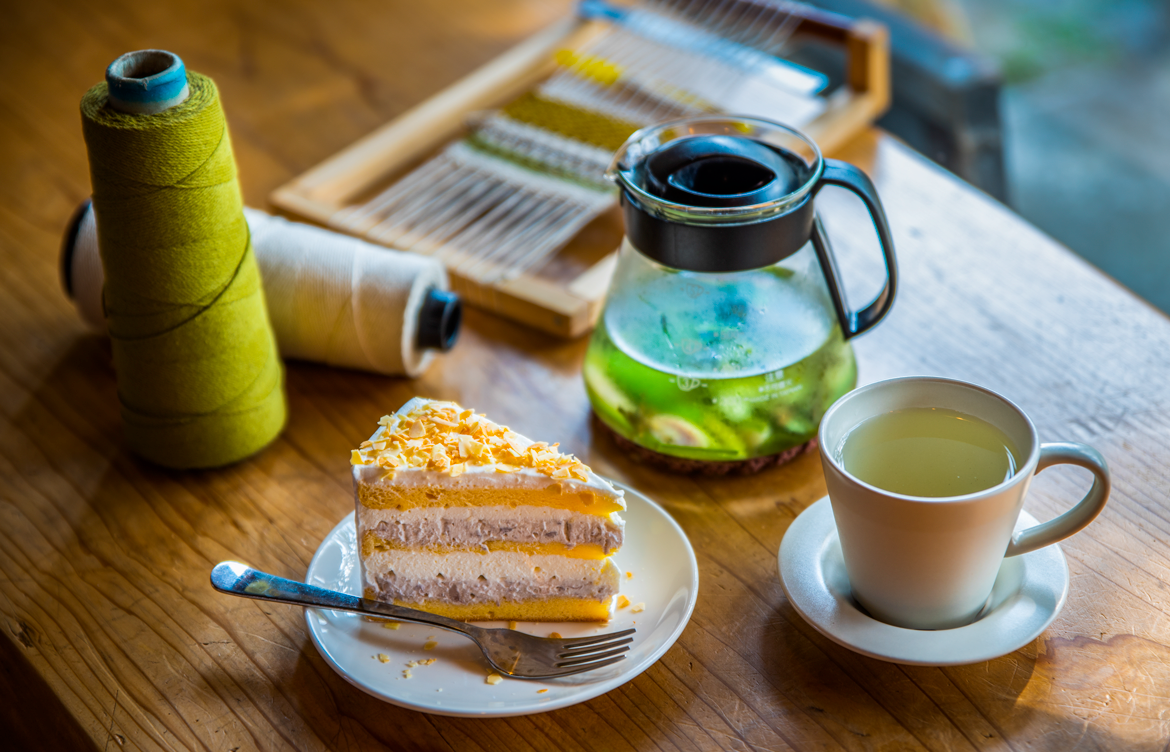 You can also learn about the art of weaving. In the back of the café is a large loom used to weave traditional Amis clothing worn during ceremonies. During the DIY sessions that are held, you'll be taught how to weave cup holders and bracelets on a smaller tabletop loom using a technique passed down by generations of Amis women.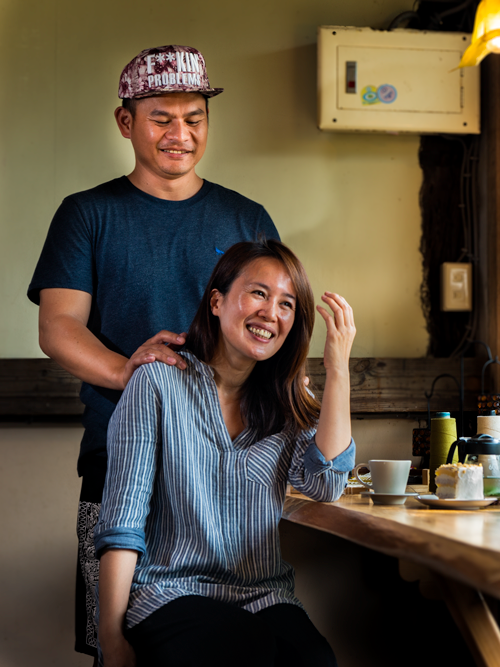 A final note – if you like cats you will definitely fall in love with this place. Not only are the feline friends raised by the couple extremely cute, they are also very approachable, and might even jump on your lap for a place to take a nap.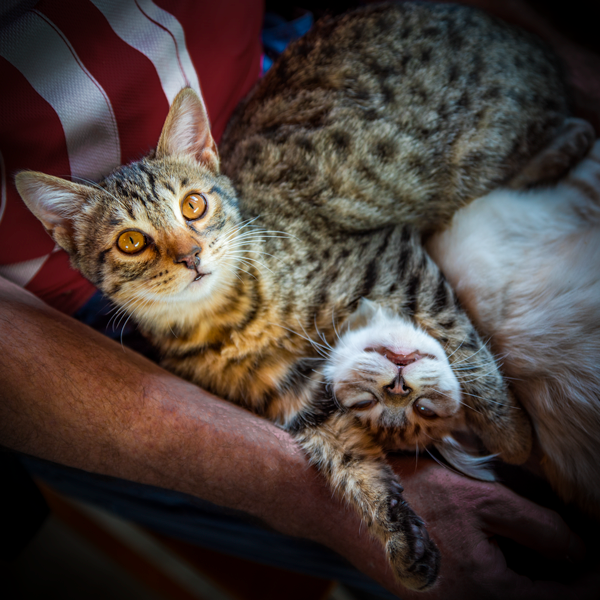 O'nok Studio and Café (巫驽客木屋)
Add: No. 134-1, Changguang, Changbin Village, Changbin Township, Taitung County
(台東縣長濱鄉長濱村長光134-1號)
Tel: 0988-451-555
Facebook: www.facebook.com/OnokWoodHouse
Shinlong Garden Café
If you like the idea of taking your coffee or tea from a high vantage point overlooking the Pacific Ocean, there are few destinations better than Shinlong Garden in Changbin. This is a true off-the-beaten-path location that requires a 15-minute drive on a narrow, winding road that starts just south of the coastal highway's 74km marker.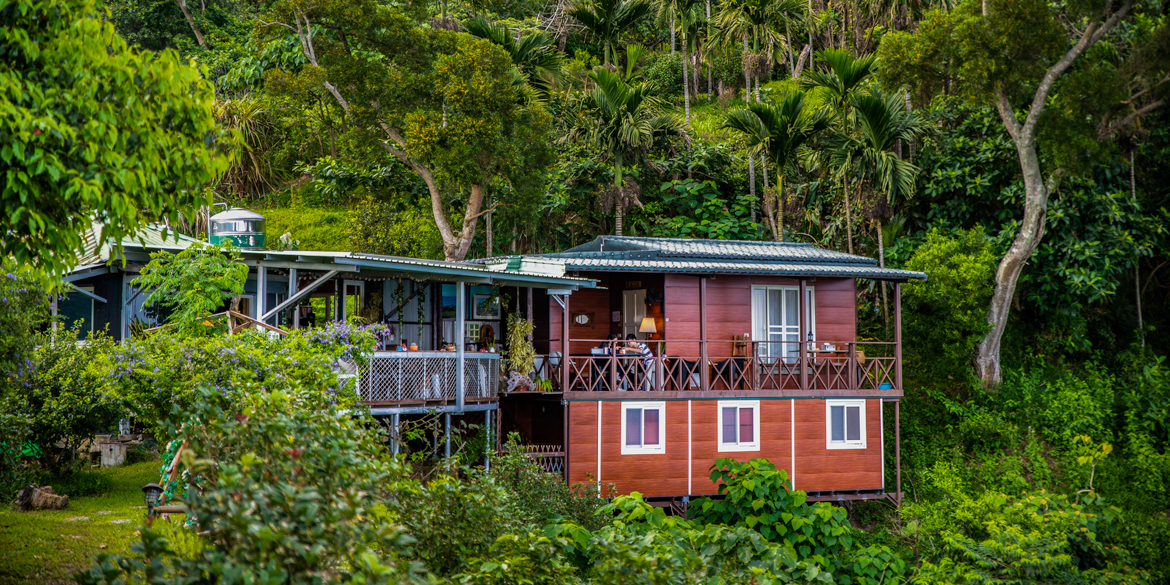 Once there you'll be rewarded with breathtaking views of Changbin's beautiful coastline. There is a main building with a dining area inside and a terrace overlooking the ocean. From the building, an elevated wood-plank path leads to a pavilion, and further on you'll come to a round wooden deck with a star dragon sculpture ("Shinlong" is a transliteration of the Chinese for "star dragon"), a great place to take photos.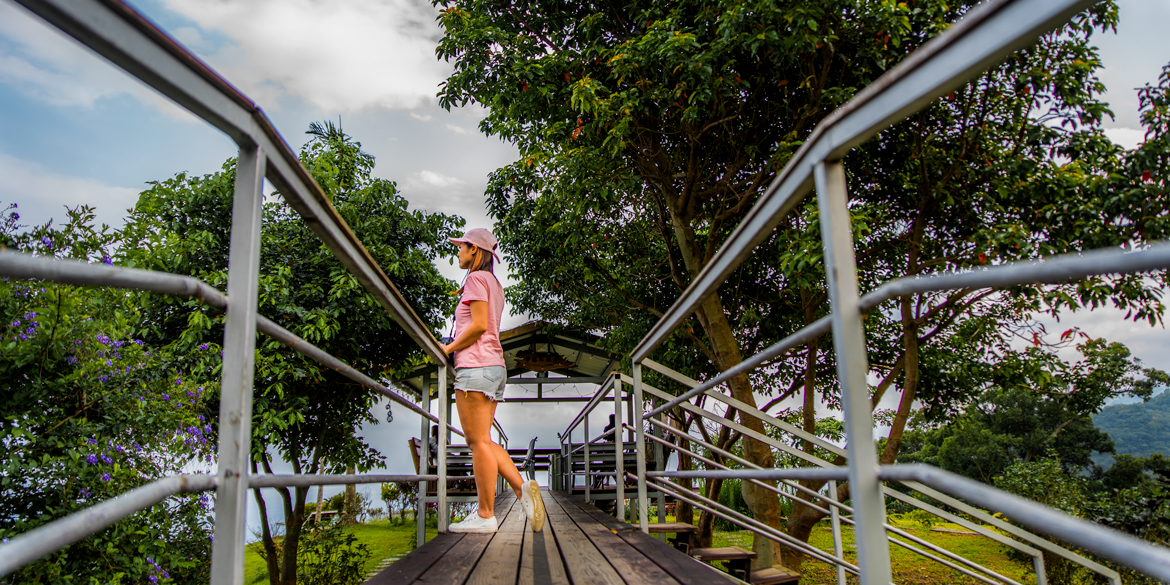 Scattered on the surrounding grassy areas are wooden chairs, recliners, and patio swings allowing you to rest and enjoy the scenery. Along narrow stone paths you can also appreciate bright pink, purple, and white lilies, hibiscus, and dandelions. A bit further down the hill from the wooden deck you'll first come to a bell hanging from a wooden frame, and even further downhill a path leads you through a small forest area to a romantic spot where you can sit on a bench and take in the coastal scenery looking in a southerly direction.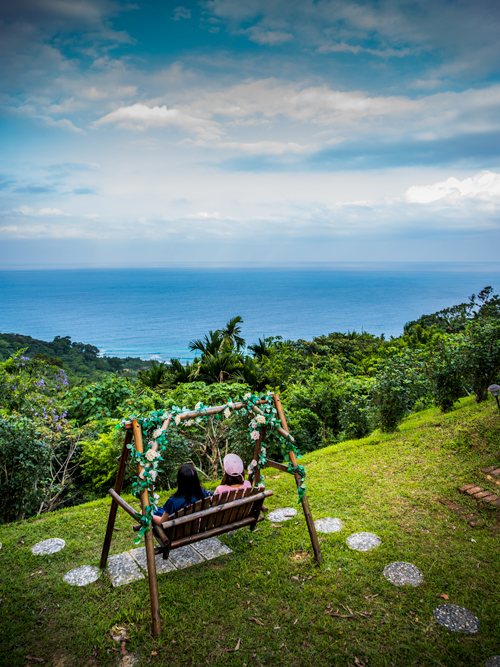 Shinlong Garden serves coffee, tea, and other beverages, as well as yummy cakes, daily from 10am to 5:30pm. For lunch, reservation in advance is required. Food options change from season to season. For example, kimchi fried noodles and Japanese-style fried pork noodles are available for lunch during the summer, while rich tiramisu and cheesecake is served during afternoon tea in the spring.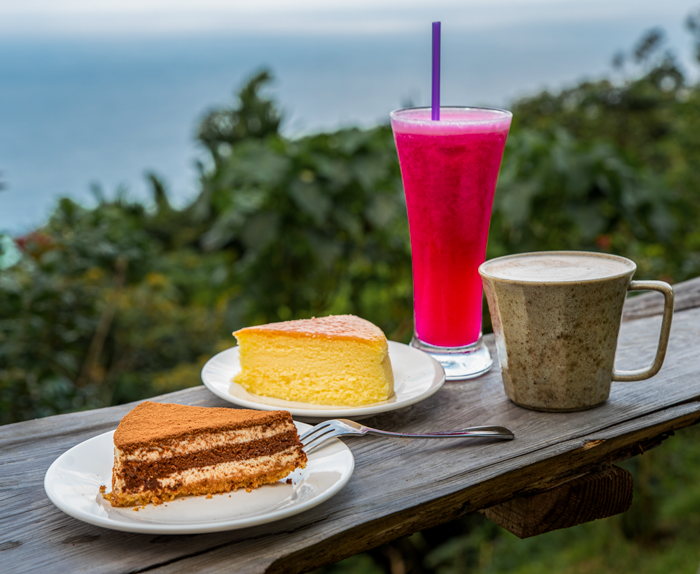 Shinlong Garden (星龍花園秘境餐廳)
Add: No. 118-20, Changyuan Village, Changbin Township, Taitung County
(台東縣長濱鄉樟原村118-20號)
Tel: 0983-695-378
Admission: NT$150 (including one beverage)
Facebook: www.facebook.com/shinlong2017
Makerahay Indigenous Restaurant
Makerahay Indigenous Restaurant, located in the village of Sanjian, less than 2km north of O'nok Studio and Café, offers visitors an intimate, up-close experience with indigenous residents of Changbin and the food they serve. This colorful restaurant is adorned with the bright, symbolism-rich colors of the Amis tribe. It has a patio with a straw-covered roof and a bar with rustic chairs made of driftwood. The food is cooked by tribe members right in front of you – the exotic dishes include fried bamboo shoots, "dragon whisker" asparagus with pickled tomatoes, barbecue pork, sticky rice, and flying-fish soup. The proprietors also offer visitors a tour of their village, and in the evening might even invite you to sing and dance with them.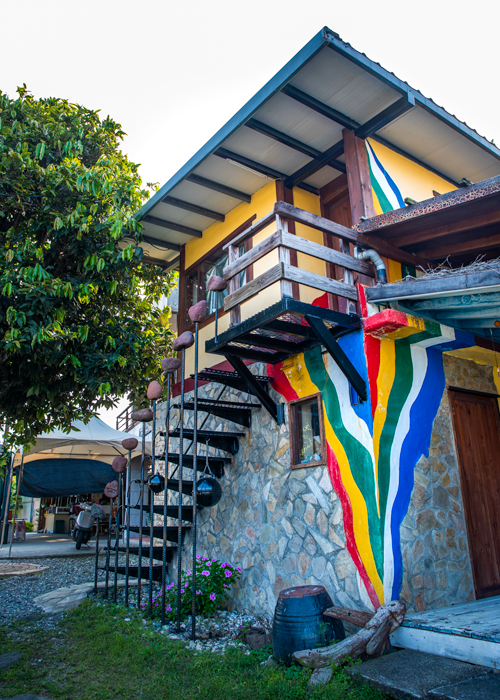 Makerahay Indigenous Restaurant (真柄壹號倉)
Add: No. 58-2, Zhenbing, Neighborhood 3, Sanjian Village, Changbin Township, Taitung County (台東縣長濱鄉三間村3鄰真柄58-2號)
Tel: (08) 983-2397
Facebook: www.facebook.com/magelahai
Pisirian
Pisirian is an indigenous village located next to the sea northwest of the iconic Sanxiantai arch bridge (see below) in Chenggong Township. In the village's early years, goats used to roam the area surrounding this indigenous settlement, which explains the name "Pisirian," meaning "a place of goat husbandry" in the Amis language. Examples of the Amis residents' artistic talents can be seen in the village, including large- and small-sized goats made from driftwood on the dike that separates the ocean from the settlement.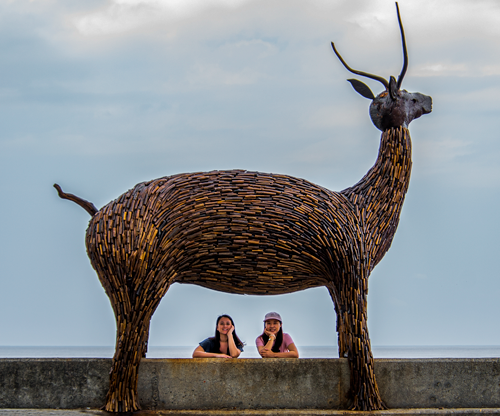 As well, when walking through the small village you will notice a number of cute wall paintings. In 2013 the famous Taiwanese artist Jimmy cooperated with Pisirian to create 11 artworks in various locations around the village, including paintings and goat sculptures, as part of a campaign to bring public art to this Amis community.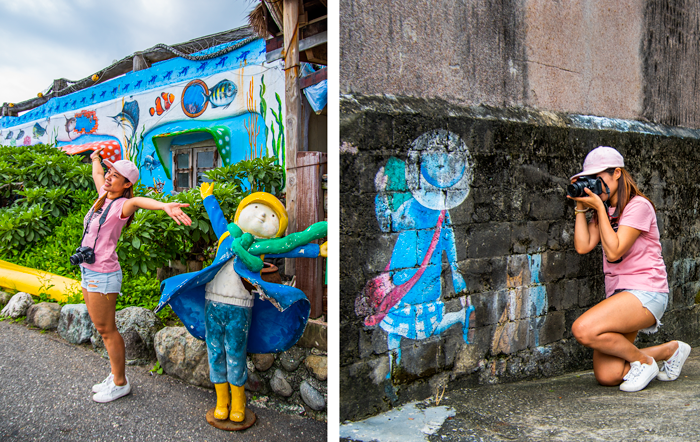 As with many indigenous villages throughout Taiwan, Pisirian has experienced population aging. A decade ago the "PawPaw Drum" program was initiated, an attempt to help in the education of the children whose parents are working in other parts of Taiwan, and to foster a love for cultural tradition and musical expression. As part of the program, performances by the drum troupe, along with drum workshops, are organized for visitors.
Yiwan Postcard Church
The Yiwan Postcard Church is a small place of worship in Chenggong's Yiwan village, one of many churches you might see along the east coast highway – a Catholic church is just a few hundred meters to the north in the same small village. Estimates are that 70% of Taiwan's indigenous population adheres to the Christian faith, the reason for the large number of churches in this part of Taiwan. The church is a short walk from the highway (north of the 101km marker), opposite a picturesque crescent bay adorned with Hawaii-like palm trees. What makes this tiny church interesting, and beloved by photographers, is its façade, which appears to be as flat as a postcard, hence the name.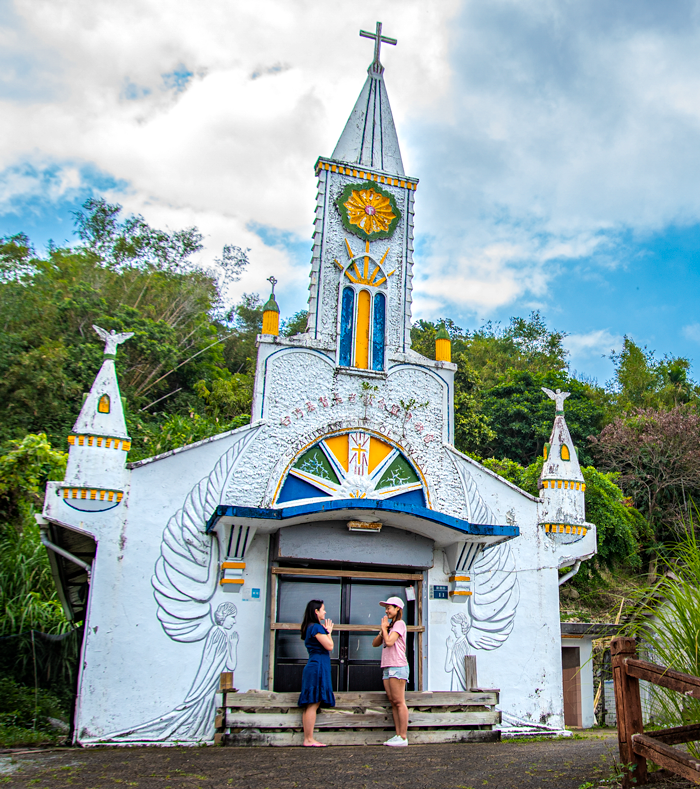 Sanxiantai
Sanxiantai, located on the coast 4km northeast of Chenggong town, is one of the top tourist sites on Taiwan's east coast. It's a small island connected to a headland on the Taiwan mainland by a 400m-long footbridge. Before this iconic eight-arch bridge was built in 1987, locals would wait for low tide to reach the island on foot.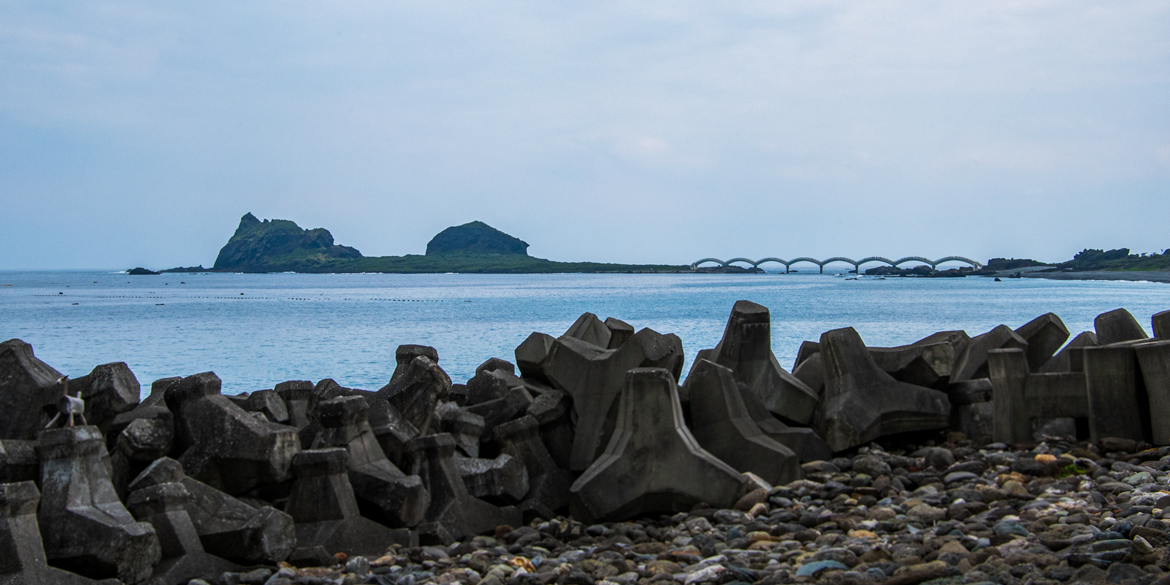 The eight arches of the bridge are said to represent the eight immortals in Chinese Daoist mythology. Three huge rocks make up the island's most prominent feature, and according to legend, these represent three immortals who once stepped on the island – hence the name "Sanxiantai," which means "Terrace of the Three Immortals" in Chinese. The folklore of the local indigenous people tells a different story, however. According to their belief, the eight wave-like arches make the bridge resemble a sea dragon that is said to live in a cave on the seabed, protecting the island. Crossing the bridge feels a bit like walking out to cross the ocean, with large rocks and oftentimes tumultuous waters below you.
Once on the island you can follow a wooden boardwalk, passing strange rocks and tropical vegetation. Coming closer to the far end of the island turn right, leaving the boardwalk, and scramble across the sharp-edged black rocks, close to the water, to reach a steep staircase that leads to a small lighthouse. There you can enjoy an amazing panoramic view of the vast Pacific Ocean in front and the long mainland coastline in the distance behind. The whole island can be explored in about two hours.

Sanxiantai is a well-known spot to watch the first sunrise of the year. Many people will gather on the pebble beach close to the mainland end of the footbridge in the early hours of January 1st, kept warm by musical entertainment and the anticipation of a grand show when the rays of the year's first sun break forth across the ocean.
Xingang Fishing Harbor
Chenggong town, southwest of Sanxiantai, is one of the few sizable towns between the cities of Hualien and Taitung. It has an important fishing harbor, Xingang, with a fleet of modest-sized fishing boats, most painted blue in whole or part. Visitors come for the lively auctions held between 3 and 4 each afternoon, to witness how buyers and fishermen haggle over the fresh catch of the day. The exciting exchanges and the amazing variety of marine life brought to land give you a glimpse into the daily life of the people of Chenggong.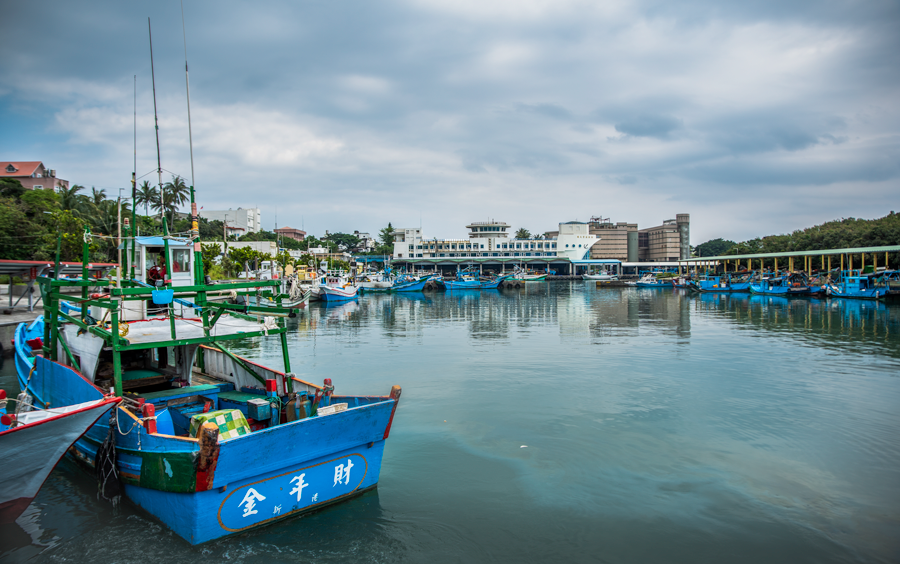 Katzer Restaurant
A lively fishing harbor means that high-quality seafood is almost certainly available in town each day, and it is therefore not surprising to find many excellent seafood restaurants in Chenggong. One establishment not to be missed is Katzer, a long-established eatery that continues a long family tradition: preserving fish using a pickling, smoking, and sun-drying method. Katzer specializes in fresh mahi-mahi, serving it fried and over rice, and in traditional Taiwanese dishes such as thick soup with meat dumplings, oyster omelet, and braised pork on rice (the restaurant was selected as one of Taiwan's best during the Taiwan Braised Pork on Rice Festival in 2019). Fish liver is also a specialty, and a favorite among local residents.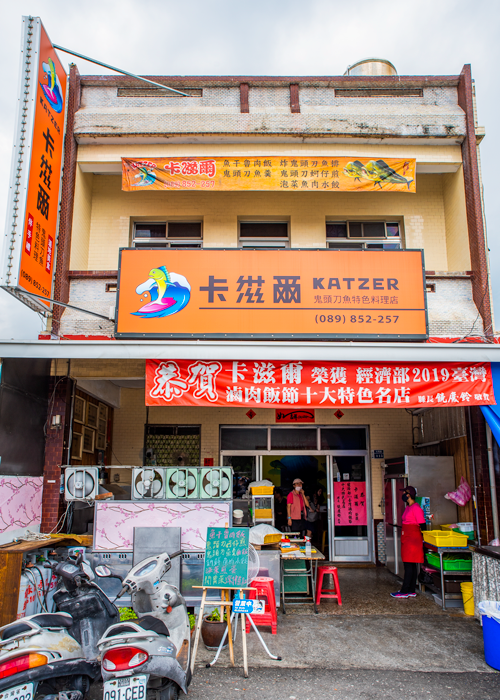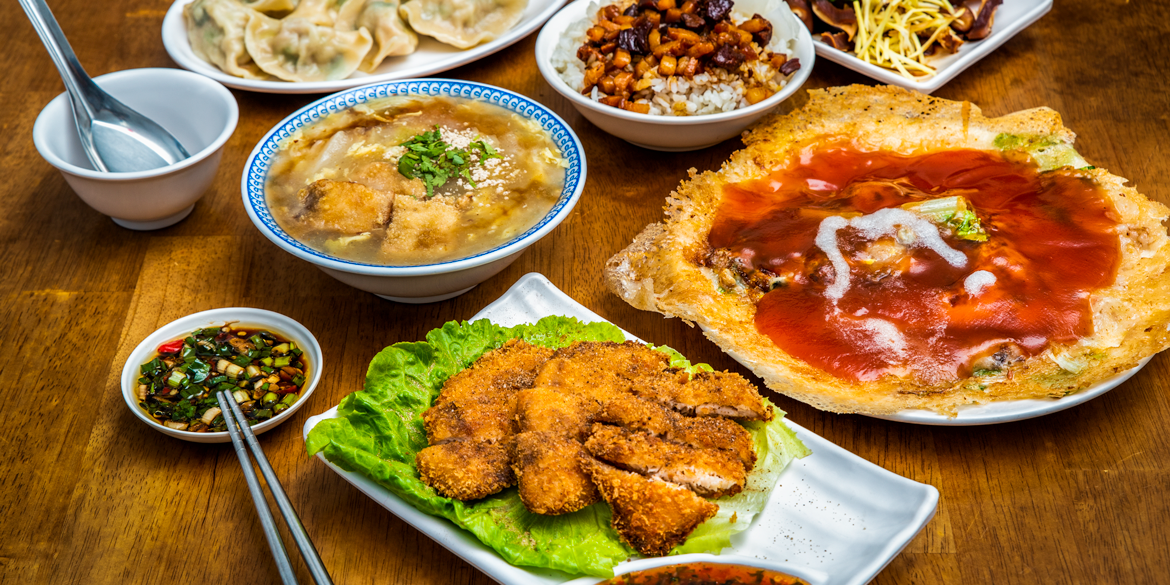 Katzer's decor has a nostalgic feel that takes visitors back to the 1950s, with such items as a vintage rotary phone, radio, TV set, and photographs from that decade on display. The highly unusual restroom is the talk of the town, with a bathtub converted into a fishpond and vintage caps from beer and other types of bottles glued to the wall in artistic designs.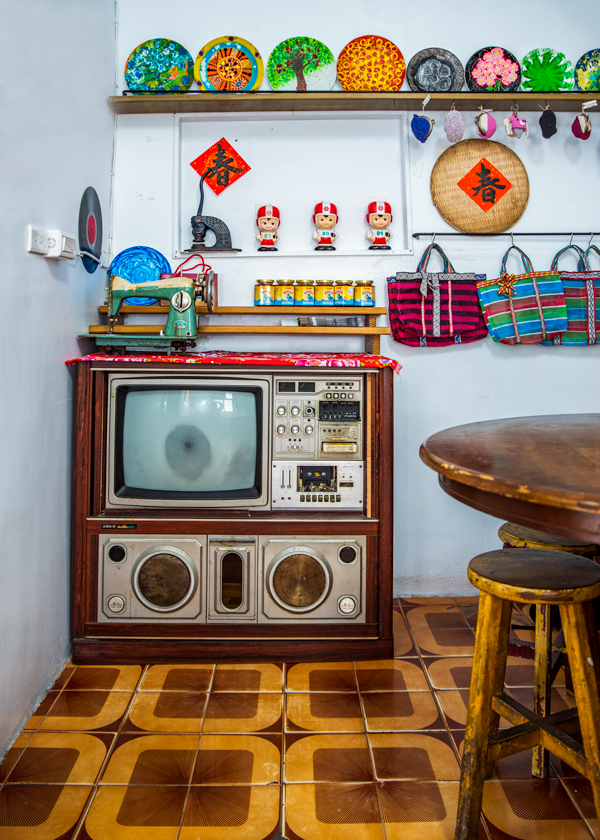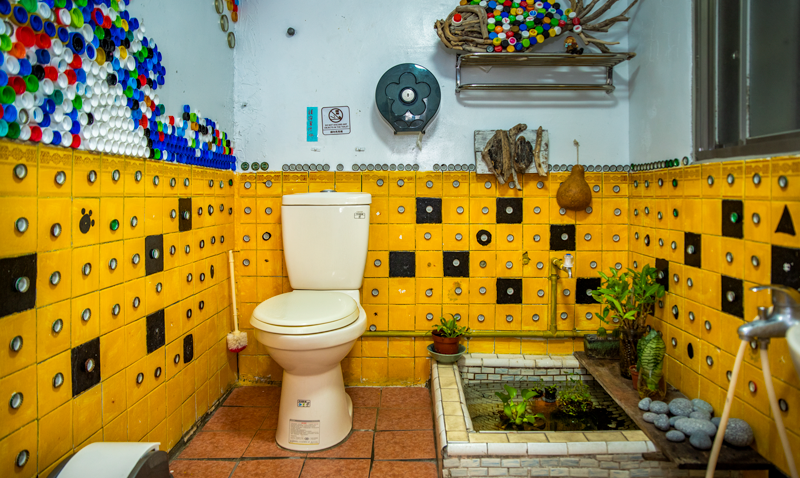 Katzer (卡茲爾餐廳)
Add: No. 115, Datong Rd., Chenggong Township, Taitung County
(台東縣成功鎮大同路115號)
Tel: (08) 985-2257
How to Get There and Get Around
While there is public transport connecting the towns and villages along Taitung's coast, services are infrequent. Renting a car or a scooter, or hiring a taxi driver, are more convenient options for getting around. Note that larger car-rental companies allow renting a car at one branch and returning it at another in the region. For example, you can rent a car in Taitung City and return it in the town of Yuli or in the city of Hualien. The coastal highway is part of the popular round-Taiwan bicycle route, and bicycling in Taitung is highly recommended; the main coastal highway has moderate gradients and is devoid of heavy traffic.
Also read:
Sun, Sea, and Scenery along TAITUNG'S Coast
GREEN ISLAND
Scenic Route 9 in TAITUNG COUNTY
DONGHE Township, Taitung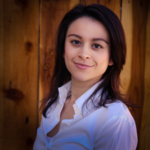 Francesca is an attorney from California who left a life of pushing papers behind a desk to travel the world. Currently, she combines her passion for travel and community service at her base in Taipei, Taiwan, where she is a regular volunteer at a local homeless shelter and elderly assistance organization. Still an activist at heart, she is committed to eco-tourism and giving back to whatever community surrounds her. She has volunteered with rescue elephants in Thailand, taught English to orphans, and fed the homeless in Asia. Follow her "active" lifestyle on IG!