Taking Advantage of Public Bike Rental Systems in Taiwan
TEXT / HAN CHEUNG, PHOTOS / VISION

With a terrific combination of shared-bike systems and dedicated bikeways available in cities in its north and along its west coast, Taiwan has become an urban cyclist's paradise. Thoughtfully planned bike routes connect to public transportation hubs, green spaces, and tourist sights, opening up new possibilities for travel on the island.
With over 2,000 automated bicycle-share stations spread across 12 municipalities and counties in Taiwan's north and along its western coast, as well as on the offshore islands of Kinmen, getting around town and launching impromptu urban-cycling adventures has never been easier.
YouBike was launched in Taipei City's ritzy Xinyi District with just 11 stations and 500 bikes as a trial program in 2009. After a slow start, the service was expanded quickly along Taipei Metro (MRT) lines, while fares were adjusted and registration options expanded. The bikes have become immensely popular over the years, providing a green and healthy option for commuters and opening up new travel possibilities for visitors. The signature orange-and-yellow two-wheelers are now an essential element in Taipei's street scenery – though the recently launched 2.0 version bikes come in pearl-white and yellow. Available in parts of Taipei and Kaohsiung, the upgraded YouBike 2.0 system is even more convenient, with enhanced rental options and improved vehicles as well as solar-powered stations.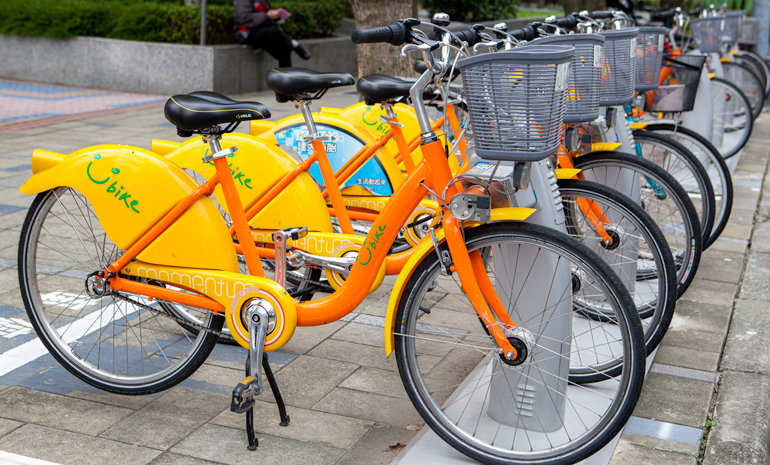 YouBike took over New Taipei City's Newbike system in 2014, and expanded to Taoyuan City in 2016. Conveniently located near public transport stations as well as in commercial districts and near public spaces and popular sights, the 359 stations in Taoyuan are scattered across the expansive municipality. YouBike continued to push south afterward, reaching the cities/counties of Hsinchu, Miaoli, Taichung, and Changhua. Kaohsiung's CityBike system was replaced by YouBike in June. Expansions are planned for Yunlin and Yilan in 2021.
Tainan, Pingtung City, and Kinmen operate their own systems, T-Bike, Pbike, and K-Bike, respectively.
GENERAL INFORMATION AND TIPS
Except for Pbike, which only accepts the iPass card, all of Taiwan's bike-share systems accept payment by the EasyCard. Both types of card can be used for pretty much all public transport, and are available at any chain convenience store. The systems also accept credit cards for one-time rentals, but if you're staying more than a few days in Taiwan it's definitely advisable to purchase an EasyCard, as the card also serves as an electronic wallet.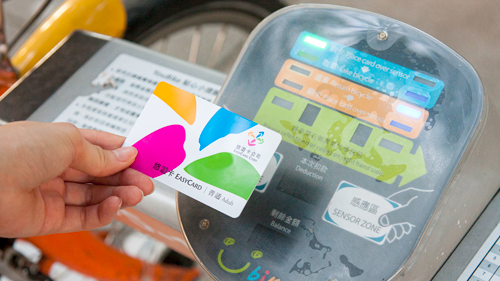 The rental systems are quite similar – registration is completed at kiosks at each station, upon which the user can start renting bikes after a short wait. Online registration is also available, as well as the use of smartphone apps. Rental procedures vary slightly between systems, but mostly involve placing one's card on a reader at a dock or kiosk. YouBike 2.0 has its smart control panels located on the bikes instead of on the docks.
The YouBike app makes things even easier. Users can register cards, check their transaction history, and look up rental stations on their mobile phones. The app also conveniently indicates how many bikes and docks are available at each station, saving riders from an empty trip. Make sure you check the tires, seat, brake pressure, and lights before setting off, as these bikes see extremely high usage. You'll have to wait 15 minutes after returning one bike before taking a new one. Note that a YouBike with its seat turned backwards indicates it is broken.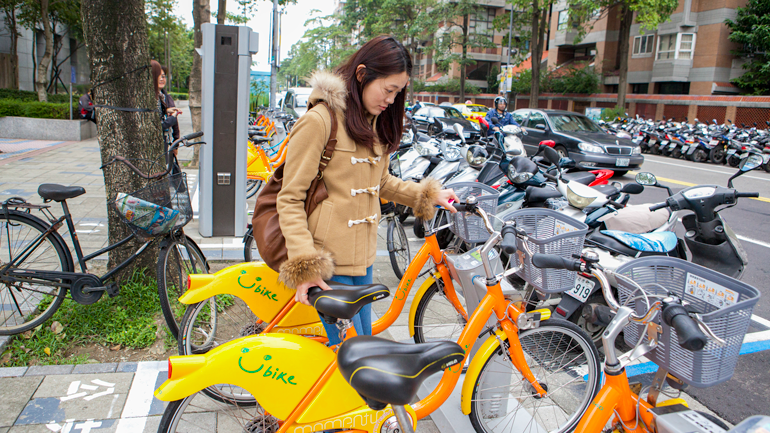 The best thing about these bikes is that they are extremely affordable. Renting a YouBike costs NT$10 per 30 minutes within the first four hours, while a Pbike is free for the first half hour. The K-Bike system is even more generous, offering bikes free of charge for the first hour.
NORTH TAIWAN
Taipei/Xinyi District/Xinyi Road Bike Path
The bustling Xinyi District is where Taiwan's shared-bike system began. Home to Taiwan's tallest building, a huge 24-hour bookstore, and tons of trendy clubs, high-end restaurants, and fancy malls, the area is also quite bike-friendly, with cycling lanes along and between the main thoroughfares, including Ren'ai and Xinyi roads. Hop on a YouBike and explore the area to experience one of the liveliest and most fashionable parts of Taipei.
The star attraction of the area is undoubtedly the iconic Taipei 101 tower, which at 508m was the world's tallest building from its opening in 2004 to 2010. Today, it ranks 11th among the world's skyscrapers. The postmodern bamboo- or pagoda-shaped glass-and-steel structure is an impressive sight from below, but wait until you ride the ultra-fast elevators that carry you to the 89th floor observatory in just 37 seconds – also a world record when it was completed.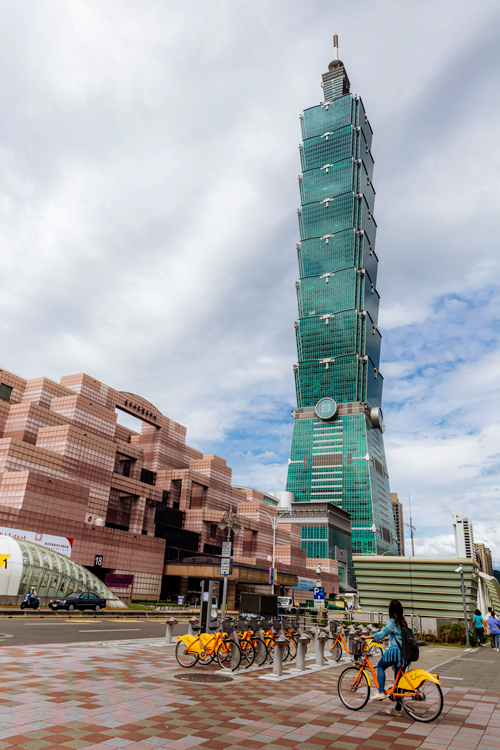 The expansive views of the sprawling metropolis and the mountains beyond are stunning, but the coolest feature is perhaps the world's largest tuned mass damper, which stabilizes the tower against high winds and earthquakes. The spheric structure is visible from different angles from the 87th to 91st floors. Last year, the 101st floor was finally opened to the public, and if you're brave enough you can walk outside (tethered) on the gangway surrounding the building.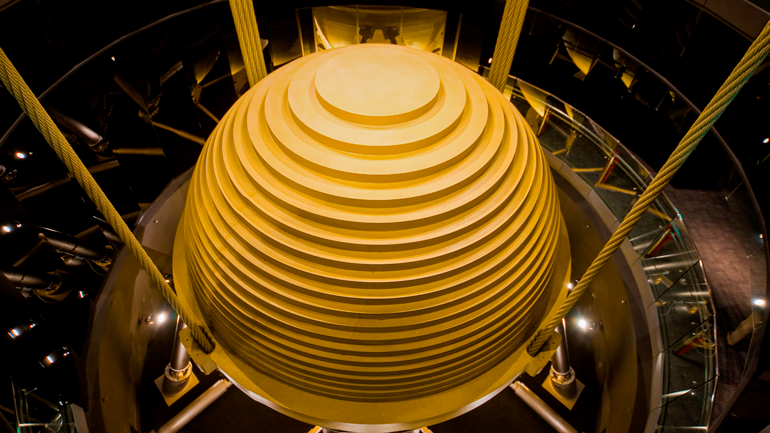 Just to the southwest of Taipei 101 is the 44 South Village, a section of a former military dependents' settlement turned cultural-creative park, featuring artsy boutiques, a local-food market famous for its bagels, performance spaces, and open-air markets. The narrow pathways between the heritage concrete buildings are a joy to wander through, and make for a stark contrast to its glamorous modern-architecture neighbors.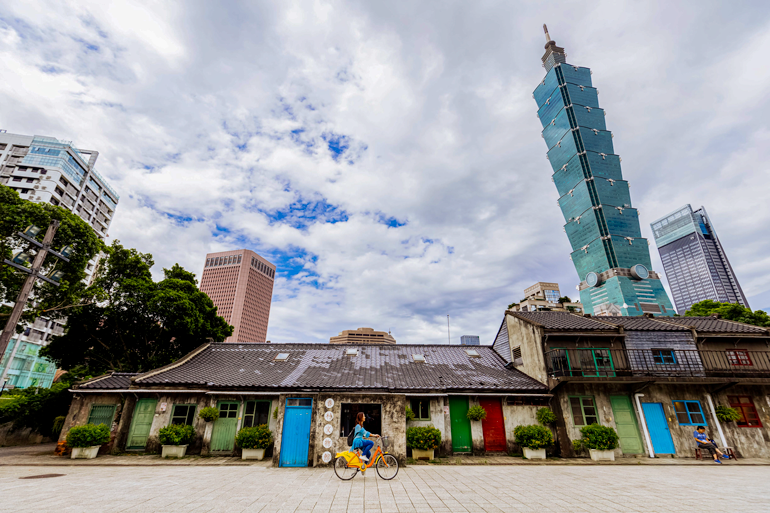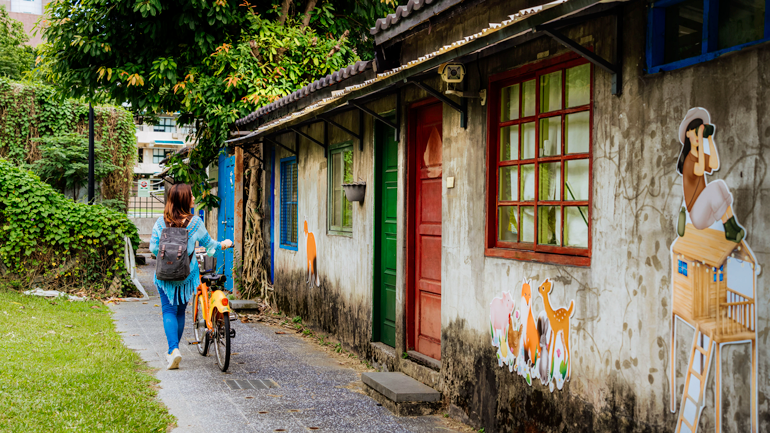 After Eslite's flagship Dunnan South Road store shut its doors in May after 31 years in operation, the bookstore's 24-hour mantle passed to the Xinyi branch. Located amidst a cluster of high-end shopping malls, this multi-floor Eslite outlet also has a food court, coffee shops, an art gallery, and a mall selling all kinds of local and/or creative designer products.
Xindian River
Riding the Xindian cycle paths is a pleasant journey (along both sides of the winding Xindian River), a major river that defines Taipei's south border. Start from the scenic area of Bitan, home to a wide section of the river resembling a lake. Swan-shaped pedal boats are one of the more popular features at Bitan, along with an 83-year-old suspension bridge that provides lovely views of the area and the beauty of the surrounding hills. Bitan is right beside MRT Xindian Station.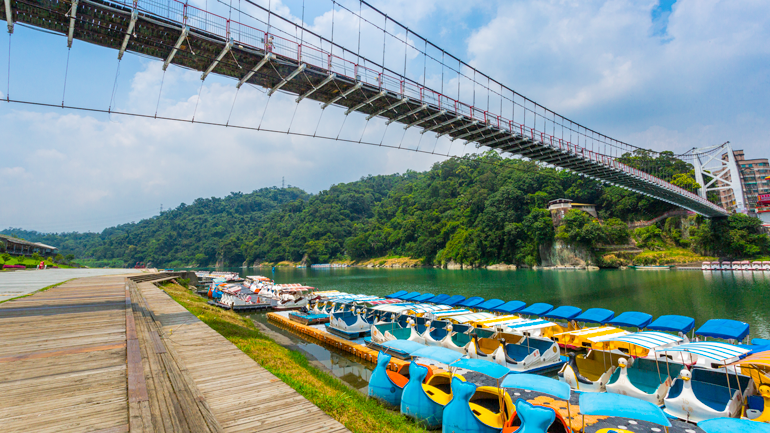 From there, it's an enjoyable ride north along the river, passing by high-rise residential areas, through verdant riverside parks, and by modernistic bridges, making for an ideal escape from the congestion and noise of the city. The floodgates dotted along the path allow cyclists to exit from the riverside route back into the concrete jungle, where YouBike stations should be readily available (there are no YouBike stations right along the riverside bike path).
The route passes by Treasure Hill, a one-time illegal squatters settlement that has been turned into an artist village well worth exploring, but you might want to return on a different day to spend at least an afternoon wandering the twisting alleys and visiting the myriad artist studios and shops.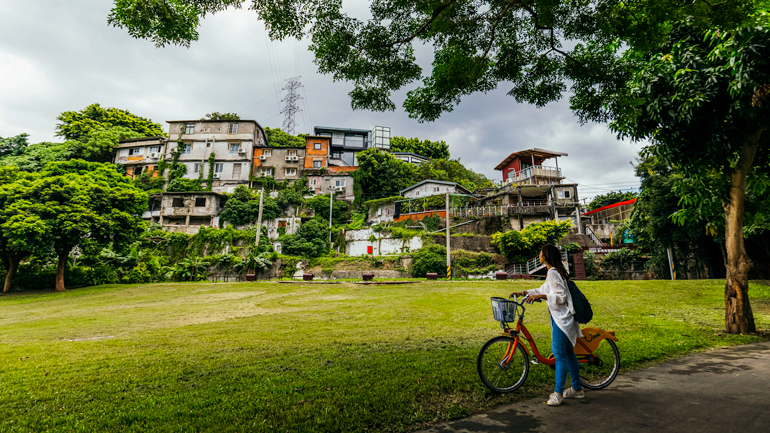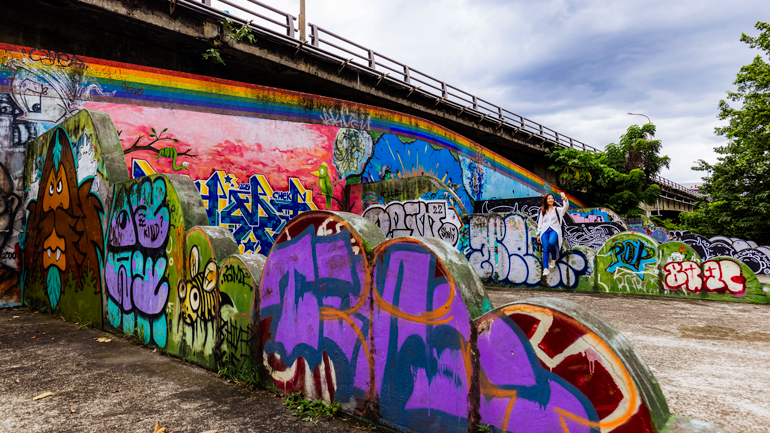 Nearby is the Gongguan night market and commercial district, the Museum of Drinking Water, and the Gongguan Waterfront Plaza, where you can take a break at an outdoor shipping-container bar and eatery area.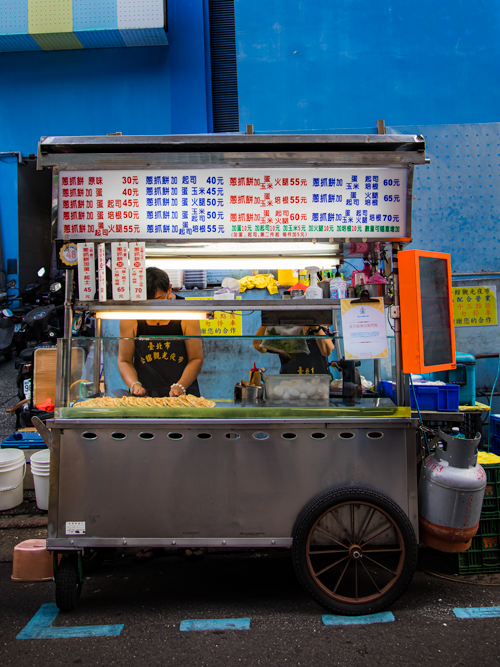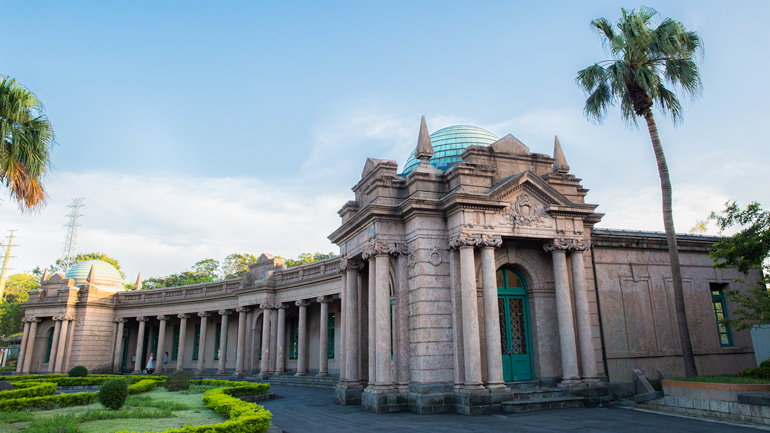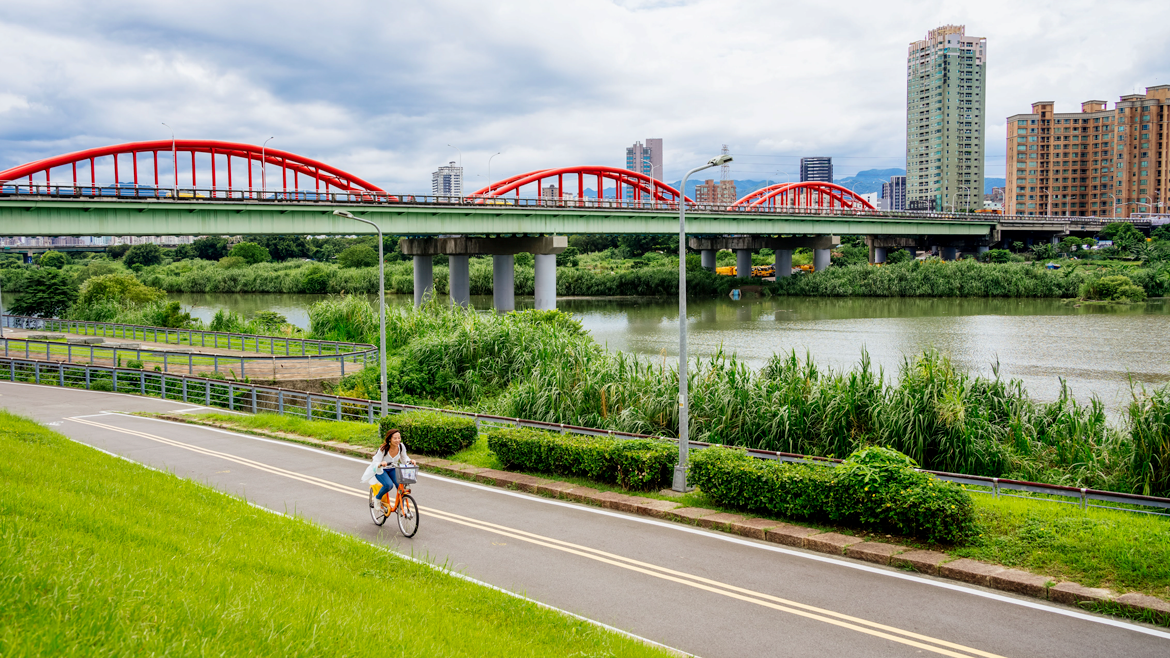 The flower fields at the Zhongzheng Riverside Park and Guting Riverside Park are great for selfies, and further north one can explore the historic Wanhua District, which feels like it's trapped in time, bursting with old buildings, shops, and markets, plus atmospheric heritage temples. There's so much packed in this area that it also warrants a separate visit (read article on page 10 for more about the area).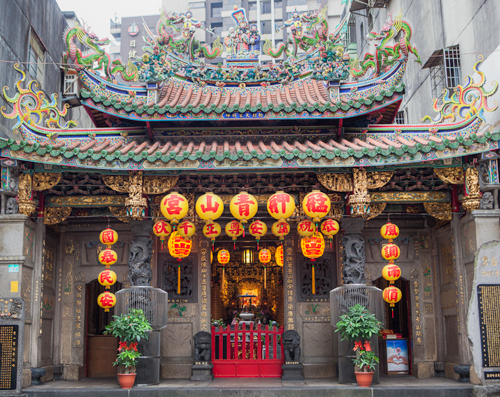 The path technically ends at the Huajiang Bridge, but if you have time and stamina you can continue and follow the Tamsui River north all the way to the popular portside getaway of Tamsui on the north coast, or you can cross the bridge and head southwest along the Dahan River. The path on the north side of the river will take you to the charming pottery town of Yingge.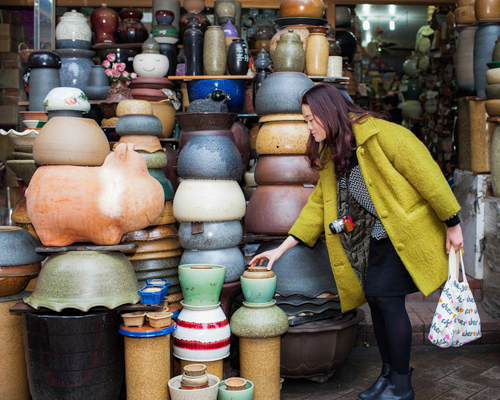 If you stay on the south side you'll first follow the Dahan, then the Sanxia River, with the path ending in central Sanxia. This town is famous for its ornate Zushi Temple and its picturesque Old Street, renowned among other things for its tasty bull-horn bread, shaped like croissants.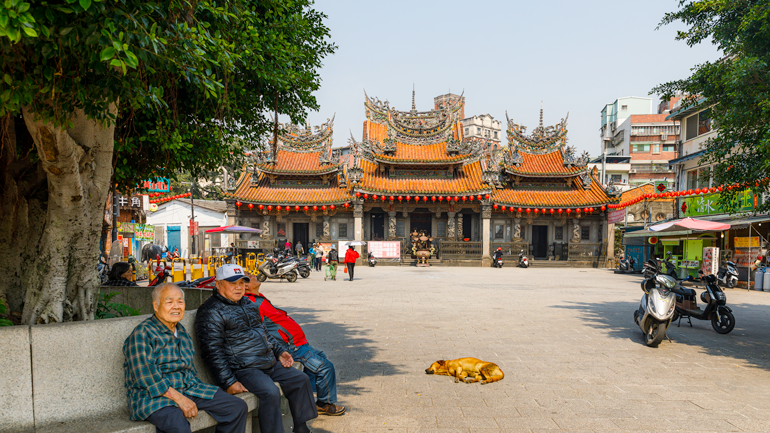 WEST COAST CITIES
Taichung / Taichung Art Boulevard
Grab a YouBike in front of the National Taiwan Museum of Fine Arts in Taichung and head down the Art Museum Parkway, a refreshing green corridor in the middle of the city lined with restaurants, galleries, bookstores, and boutiques. The brick path winding through the middle of the parkway takes pedestrians and cyclists past a series of large-scale public artworks. At night the atmospheric street lighting gives the place a calming, romantic ambience, and during the weekend it bustles with cultural-arts activities such as street performances and concerts.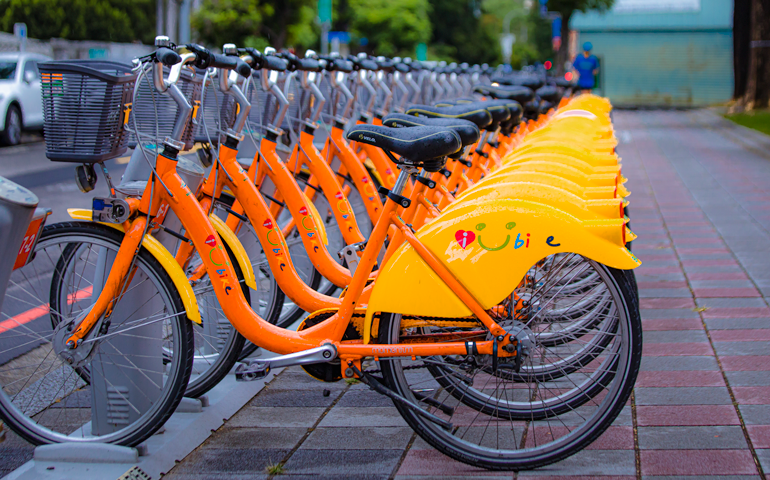 After returning your bike, wind down at one of the parkway's many eateries offering global dining options, which range from Taiwanese and Taiwanese indigenous cuisine to Greek, Indian, French, and Thai. Of course, don't forget to check out the art museum itself, which is one of the largest of its kind in Asia. It boasts an outdoor sculpture garden and features mostly modern and contemporary pieces by Taiwanese artists, although it also hosts special exhibitions by overseas talent.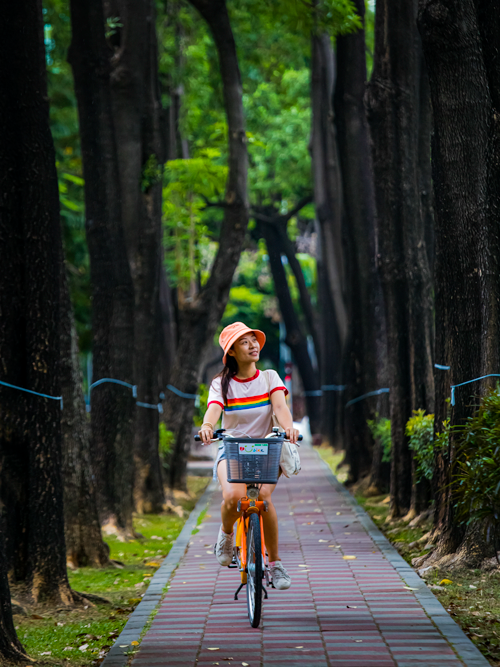 You can continue cycling on to the adjacent Calligraphy Greenway and beyond, all the way to the National Museum of Natural Science with plenty of sights to keep you busy along the way.
Tainan / Meili Park Bikeway
Explore the heart of Tainan on the 11.9km Meili Park Bikeway, a loop that circles most of the major sights in the urban core not far from the train station. T-Bike stations are dotted across the area, and if you're arriving by train and want to start your trek right away, there's one right outside the station building. The loop passes through several large green spaces, including the city's oldest and largest park, Tainan Park, which was built in 1917. Just north of the train station, this is a great place to relax and enjoy nature as well as explore historical relics as well as Chinese-style stone bridges and pavilions.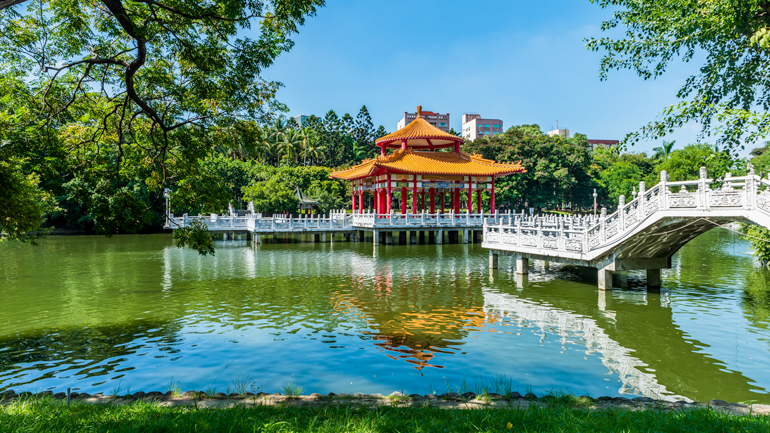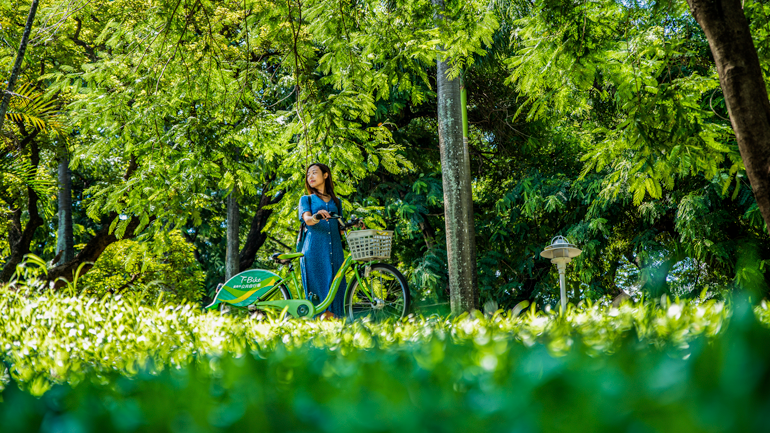 You'll pass by the heritage-rich Shennong Street, which is bursting with creativity with artists and designers opening shop in refurbished 100-year-old houses. Grab a bite or some coffee here, soak up the atmosphere, and maybe plan to return for a drink later at one of the funky bars.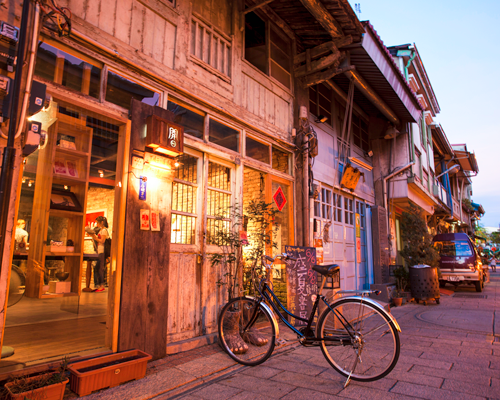 The 88-year-old Hayashi Department Store is worth a brief stop before visiting the nearby Tainan Confucius Temple, which was built in 1666 and was the first of its kind in Taiwan. The complex contains over a dozen buildings, including the school known as Taiwan's First Academy. A short walk away is the Koxinga Shrine, which is dedicated to the Ming Dynasty loyalist who expelled the Dutch from Taiwan in 1662.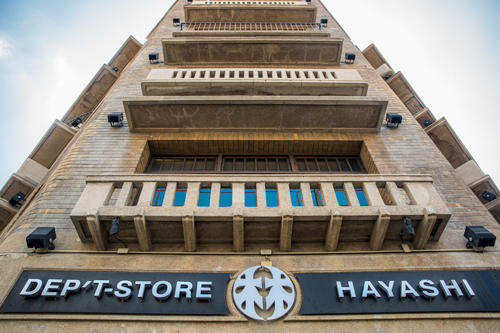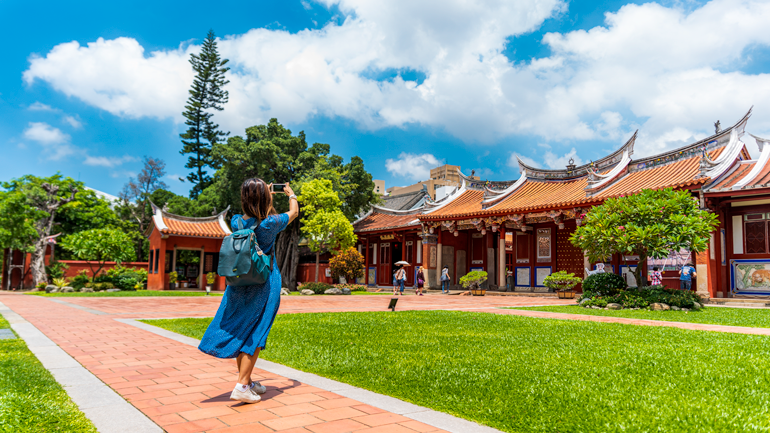 Kaohsiung / The Star of Qianzhen Bikeway
The Star of Qianzhen bike bridge is not only one of the best places to watch the Kaohsiung skyline at night; the curvy, organically-designed structure itself becomes a stunning illuminated sculpture that's magical to ride through. The bridge connects three major bike paths, and also connects to Kaohsiung's light rail system as well as to a KMRT station, where YouBikes are available for rent.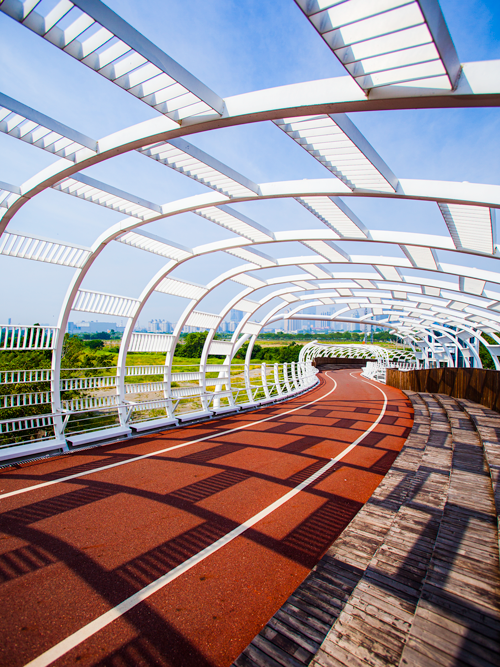 From the bridge, follow Kaisyuan Road southwest to reach the Dream Mall, the largest shopping mall in Taiwan and home to the 102.5m-tall Eye of Kaohsiung Ferris wheel, which provides panoramic views of the city and ocean. From here, you can get on the 6km-long West Harbor Line Bike Path, which heads toward The Pier 2 Art Center and other attractions.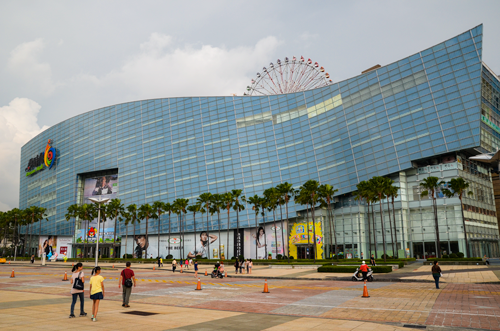 Head northeast and you'll arrive at the Kaisyuan and Jinzuan night markets, which combine to make the largest night market in Taiwan. There are over 1,000 stalls to choose from – try not to get overwhelmed!
Finally, follow the Qianzhen Canal southeast and you'll come to the Taroko Park, a mall and a fun-filled theme park featuring F1 race car-style go-carts on a 600m track, a bowling alley, minigolf, sports facilities, an innovative kids play area, and way more. It's impossible to get bored here, as there's something for everyone.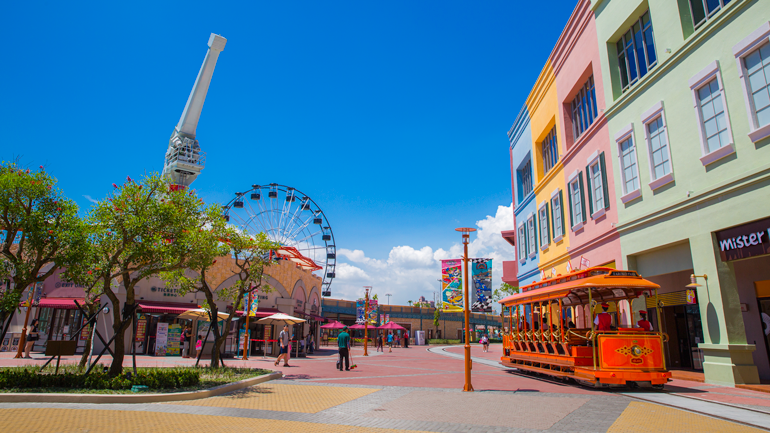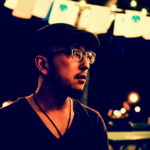 Han Cheung moved back to his adolescent stomping grounds of Taiwan in 2015 from frigid Wyoming, where he was the editor of the small town Rawlins Daily Times. He has a Master's in Journalism from the University of Missouri and has reporting experience in the US, Latin America, and Taiwan.